What is the warmest kitchen flooring? 3 options that will keep your house toasty and feel cozy underfoot
These three materials are top choices for a warm kitchen that's pleasant to be in when winter rolls around, even without underfloor heating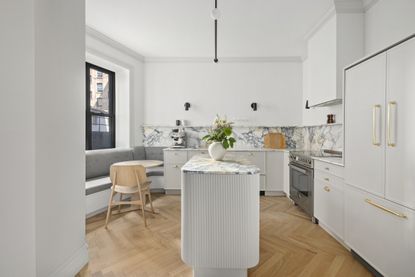 (Image credit: Havwoods)
Creating a cozy kitchen is a many layered process, and the type of flooring you choose is a a large part of that.
Some kitchen flooring ideas, like wood and vinyl will offer a warmer feel underfoot in comparison to the tile or stone flooring (unless, of course, you are using underfloor heating).
Without the extra boost of underfloor heating, which kitchen flooring will retain heat the best to make sure you're don't wake up in the morning to an ice cold floor underfoot? The experts suggest three top picks below.
Creating a cozy kitchen is a many layered process, and your kitchen flooring ideas are a large part of that.
Some options, like wood kitchen flooring and vinyl kitchen flooring, will offer a warmer feel underfoot in comparison to the tile or stone flooring (unless, of course, you are using underfloor heating).
Without the extra boost of underfloor heating, which kitchen flooring will retain hest the best to make sure you're toasty in your cooking zone this winter? The experts suggest three top picks below.
What is the warmest kitchen flooring?
1. Cork
A relatively new material being used in modern interior design, cork flooring is sustainable and stylish - as well as being a natural insulator that, depending on how much you use, could even help save money on heating.
'Approximately 10 – 20% of heat can be lost through the floors if they are not insulated to a reasonable standard,' says James Scully, the founder of Recork. 'Incorporating a material like cork into the home can majorly assist with heat loss and keep feet warm in the process. One of the first things that is noticeable about cork is it feels warm to the touch.'
'Cork is an exceptional thermal insulator thanks to its honeycomb structure, made of millions of air-filled cells,' James adds. 'These cells mean the cork planks retain an optimal temperature all year round feeling warm underfoot, holding their heat for longer than other materials such as timber, laminate and LVT flooring – while at the same time providing acoustic insulation allowing sound to be absorbed.'
2. Vinyl tiles
LVT (Luxury Vinyl Tiles) may not have traditionally been the most popular kitchen flooring in high-end homes, but vinyl kitchen flooring is experiencing a surge in popularity - and is a warming choice for a colder space like a kitchen.
'A wild card that is starting to make its way onto even our highest end projects is LVT,' says Seth Ballard, AIA and principal of Ballard + Mensua Architecture. 'The wood veneered vinyl is waterproof with many designs to choose from - and can handle spills, pets and under floor heat well.'
'LVT is one of the best flooring solutions when it comes to keeping your home warm,' confirms Lorna Williams, Head of Product Design at LVT brand Amtico. 'LVT contains at least five durable layers of high-quality materials such as PVC vinyl and resin compounded with plasticisers and stabilisers. These materials are then compressed under pressure and high temperature to create a hard-wearing flooring product. Each luxury vinyl tile is manufactured with multiple backing layers, which makes it extremely durable and flexible. Crucially, it also makes it comfortable and warm underfoot.'
As Seth Ballard noted, you can also use underfloor heating with LVT tiles for extra toasty toes. 'For those looking for an extra touch of comfort, unlike some natural materials where underfloor heating can cause warping or cracking, LVT is compatible with underfloor heating,' says Lorna.
3. Wood
Wood kitchen flooring is a timeless classic that can also work as a good natural insulator.
Both engineered wood and solid wood floors will help to retain heat. 'Wood is a natural insulator,' says Anthony Scott, Global Product & Innovation Director at Havwoods. 'This means the room won't lose residual heat through the floor.'
Stuart Pumpelly, Team Leader at Four Brothers Design + Build says heat retention of engineered and solid wood is simialr, but clients choose them for various different reasons.
'The majority of our clients use wood flooring in the kitchen, 80% use solid hardwood floors and 20% use engineered,' he says. 'The main driver for the solid hardwood is that it is the same thickness as the flooring we are connecting with, meaning the existing flooring is 3/4" thick vs the thinner 5/8 engineered, so engineered flooring is not always an option.
'In new builds, where "toothing in" to an existing flooring is not required, our clients are more inclined to consider engineering,' Stuart adds. 'We recommend engineered flooring when the flooring width exceeds 5", any solid wood flooring above 5" will have a noticeable gap in the dryer months. In all cases, regardless of the width, engineering flooring is more stable and less likely to gap during the dry/colder seasons.'
'Wood is definitely much warmer to the touch than tile or stone, however, a heated floor system under tile or stone is much easier and less costly to install,' Stuart says.
How important is underfloor insulation for keeping the kitchen warm?
'Insulation is critical to keeping the heat in the kitchen flooring,' says Four Brothers Design + Build's Stuart Pumpelly.
'We always recommend that crawl spaces under high-traffic areas get fully conditioned where possible, this process includes encapsulating the space with spray foam on the wall, a heavy plastic vapor barrier on the floor, and a ducted heating and cooling supply and return that is connected to the houses HVAC system to condition the space.
He continues: 'If conditioning a crawl space is not possible or within budget, then a full cavity of closed-cell spray foam is recommended.'
And Anthony Scott says: 'Expansion gaps are of course essential in any flooring installation, but it is important to note that baseboards should be scribed as accurately as possible to enhance the look and eliminate any possibility of air movement from underneath.'
The Livingetc newsletter is your shortcut to the now and the next in home design. Subscribe today to receive a stunning free 200-page book of the best homes from around the world.
Ruth Doherty is a lifestyle journalist based in London. An experienced freelance digital writer and editor, she is known for covering everything from travel and interiors to fashion and beauty. She regularly contributes to Livingetc, Ideal Home and Homes & Gardens, as well as titles like Prima and Red. Outside of work, her biggest loves are endless cups of tea, almond croissants, shopping for clothes she doesn't need, and booking holidays she does.