Painting tips from interior designers who know all the insider tricks
Looking for painting tips? Follow advice from these top designers and decorators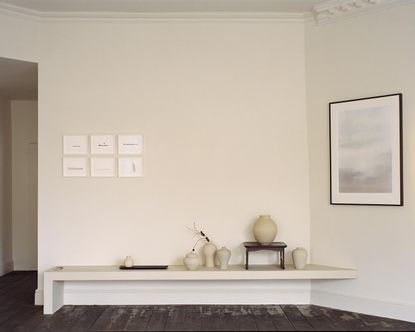 (Image credit: Fred Rigby)
Knowing how to paint a room is key to any refurb, and so these painting tips will prove invaluable. We all know a space can be transformed instantly and often dramatically with a change of colour and paint is the simplest way to change the look and feel of a room on the smallest budgets.
Although the change to a room is instantaneous, the decisions that get you there often aren't. If you have creative ambitions, picking the perfect colour, matching finishes, considering other contrasting aesthetics and factoring in lighting can require careful thought and a lot of research.
Here we speak to 10 interior designers about how to make paint go further by layering finishes, dividing walls by mixing textures and leveraging that fifth wall - the ceiling - for added drama.
Pair two finishes to create a dynamic space, by Holloway Li
Paint a horizontal line around the walls of the room, using two different colours which complement one another, thus creating a more dynamic space.
'You can elevate this approach by combining a more expensive finish such as a luxurious textured paint with a more cost effective paint,' says Alex Holloway, creative director at Holloway Li. 'It also allows you to opt for a darker, more confident colour which you may otherwise be hesitant about using - pairing with a lighter colour on the upper part of the wall lifts the height of the space, preventing the shade from feeling too oppressive.'
Use masking tape as a stencil to create a datum line, by Studio Thorn
Speaking of creating sharp contrasts, or datum lines, there are secrets to doing them well.
"Masking tape isn't just for protecting," says Sophie Rose of Studio Thorn. "We used wide masking tape to separate two muted pastel colours and then left the space under the tape bare leaving a memento of the process and a contrast line between the two."
Transform a traditional space with a playful border, by 2LG Studio
'We love to be disruptive with paint,' say Jordan Cluroe and Russell Whitehead of 2LG Studio. 'You don't have to follow the lines you are given. It's often great to experiment with texture and form.'
Organic shapes are beautifully calming to live with and a great way to inject interest into a plain wall. 'Here, we took the line that would traditionally be a picture rail and because it had been removed (not by us!) We used the line that would have been there and disrupted it with our signature wiggle. In order to keep this the focus on one statement, we painted out the door, skirting boards and fireplace in the same lilac colour, keeping the impact super bold. We would encourage you to experiment and get creative.'
Don't neglect the ceiling by Natalie Tregett
The ceiling is the fifth wall and arguably the most important in terms of impact.
'If you neglect the ceiling, it's like putting the wrong shoes with a dynamite outfit,' says Natalie Tredgett. 'A painted ceiling in anything but white is unexpected and will make the use of paint go that little bit further with creativity.'
'I encourage you to look up. Ceilings naturally cast a shadow. Do capitalise on this natural occurrence and go with a darker colour than perhaps you were thinking and lighter on the cornice. A darker colour actually makes the ceilings look higher and brings depth and warmth to the space. This contrast is bold and playful. It adds an impactful layer that is striking but requires minimal effort.'
Create a jewel box effect with bold colour in small spaces by Campbell Rey
'We love to embrace colour and texture, and it's amazing how certain colours have the power to influence your mood,' says Charlotte Rey of Campbell Rey.
'A mustard yellow entrance can bring a lot of optimism to a home. In smaller spaces like a library or bar, a gloss or lacquered finish can create a jewel-box like feeling in the way it reflects light and provides movement as you pass through the space.'
Layer paint and finishes to elevate neutral schemes by Fred Rigby
Make sure you have a smooth wall to start - when building layers of neutral paint to get depth of colour, it really makes a difference.
'Pick a neutral but in a range of shades throughout the room - personally I prefer to leave the ceiling white, so it reflects more light down onto the walls,' says Fred Rigby. 'I also like to match the skirting boards or wood-work to the walls, but using an eggshell to pick them out as highlights.
Create an atmospheric bedroom using Lime Paint, by Bergman and Mar
'I have a small obsession with limewash paint which is traditionally used in kitchens and bathrooms for its breathable quality but it's aesthetic is amazing in living spaces,' says Petra Arko, creative director of Bergman and Mar. 'It is completely natural, made with clay, minerals and natural pigments, and has no VOCs. It is so much fun applying it too. The finish is similar to polished plaster, imperfectly perfect! The texture is so wonderful and can instantly transform a space into warm home. We used Bauwerk Paint in this bedroom in Dusk.
Build your palette based on the mood you are trying to convey, by Fran Hickman
Paint is perhaps the easiest way to transform the atmosphere of a room, so when selecting a colour, think of what kind of feeling you want to inspire.
'Here we used creams, cool grey paint shades and dusty peach to make a showroom feel welcoming and familiar as soon as you enter, but then painted the dressing rooms a deep Art Deco pink, to instil a sense of opulence and drama,' says Fran Hickman. Though the shades you choose may not be as strong, building your colour palette based on the mood you are going for works just as well in a home.'
Blur edges of small room using Dark Colour, by These White Walls
A tiny spare bathroom starved of natural light can seem like a bit of lacklustre space, and you may be tempted to keep it pale to make it feel more spacious, but don't do it.
'See this space as a wonderful opportunity for a bit of drama and go dark with your paint palette,' says Rose Murray of These White Walls. 'I had a windowless loo in my Hackney flat and painted the walls and ceiling full black! This blurred the edges of the room, making it feel more spacious, and the ping of the white ceramic and chequerboard floor created a theatrical feel that will leave your guests clapping.'
Use colour to create zones, by Ester Brunzkus
In this apartment a bathroom is centrally located within the living space, accessible through two doors it creates a distinct box.
'Instead of being absorbed into the rest of the interior - the bathroom walls are painted black and the dramatic colour helps create division of space and the wall towards the living room becomes a backdrop for artwork,' says Ester Brunzkus.
Things to Consider
How to prep a room for painting
It's worth spending a little extra time by prepping your walls to get a better finish. If you're painting onto newly plastered walls you will need to apply a primer and undercoat with a roller to create the best surface to stop the plaster soaking up the paint like a sponge. If you are re-painting a wall re-move any grease, crayon or mucky fingerprints with a sugar soap solution. Once all walls have been cleaned, give the surface a final clean with warm water to remove any soap traces. Leave the walls to dry thoroughly. To ensure a neat and professional finish, use painters tape to tape along skirting boards, window and door frames.
What are the best tools to paint a room?
You will need; tape to mask off skirting, window panes and trims. A drop cloth to protect floors and any furniture. A paint tray, paint roller and refills. Small brushes for tidy finishes and most importantly a ladder!
How to paint a wall with a roller
Wash roller sleeves prior to using them with water to de-fuzz and fit the roller to the frame. Pour paint into the end of the roller tray being careful not to overfill. Dip the roller lightly into the paint, the paint should cover less than half of the roller. Then roll it backwards and forwards on the tray to evenly distribute the paint on the roller. Roll the paint onto the wall in a large zigzag pattern, then fill in the space with criss-cross strokes.
The Livingetc newsletter is your shortcut to the now and the next in home design. Subscribe today to receive a stunning free 200-page book of the best homes from around the world.
Rohini Wahi is Content Editor for Livingetc Online. With a decade-long career in the interiors and design industry working as a journalist for premium lifestyle publications then delving deeper into the business as a trend forecaster, Rohini has amassed a wealth of global design knowledge that informs her work. She loves a period drama and keeps a tidy home.