4 things people with amazing-smelling couches do - 'they get rid of stale, musty smells', say experts
Discover the tips and tricks professionals use to prevent bad-smelling sofas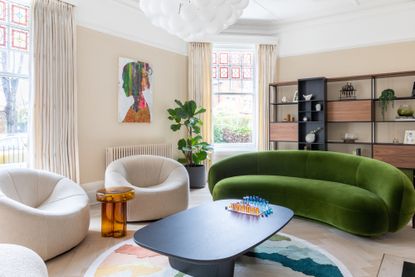 (Image credit: Kindly)
A beautiful couch deserves a beautiful scent, but it's often the most neglected item in our living room. We spend so much time sitting on our sofas that it's no surprise they don't smell fresh (especially if you have pets that like to lay claim to their favorite spot). Rather than try to mask bad sofa odors with a poor-quality linen spray or overpower them with a room air freshener, however, why not face the issue head-on and make your sofa smell great?
We all know there's nothing worse than snuggling down to watch a movie and catching a musty whiff of your upholstery. When it comes to how to make a house smell good, sofas shouldn't just look the part in your living room but also smell amazing, too, so it is time to upgrade your sofa's scent once and for all. Fortunately, it's easier than you might think and experts say it only takes a handful of cleaning products you probably already have lying around. We asked them to reveal what they are so you can steal their secret sofa-scenting tricks - trust us, they'll make your couch smell delicious.
1. Regular cleaning
This might seem like an obvious way to keep your couch smelling fresh, but it's alarming how many people never clean their living room sofa. The sofa is a seat for all the family, often including pets, which creates a build-up of dirt, dust, and grime and, in turn, bad smells. To keep those odors at bay, it's important to maintain a regular cleaning schedule, especially if you have a studded sofa or one with lots of seams.
'One of the most effective ways to keep your couch smelling fresh is by regular vacuuming,' says expert cleaner Muffetta Krueger, owner of Muffetta's Domestic Assistants. 'Use the upholstery attachment on your vacuum cleaner to remove debris from all the nooks and crannies of your couch. This not only keeps it clean but also prevents odors from developing.'
2. Baking soda
Baking soda is the secret weapon for professional cleaners and when it comes to banishing couch odors, this simple household item is something of a hero product. 'Baking soda is a fantastic natural odor absorber,' explains Muffetta. 'It works by absorbing and neutralizing odors, leaving your couch smelling fresh.'
It's easy to feel intimidated when cleaning the coach, but this trick couldn't be simpler. 'Sprinkle a generous amount of baking soda over your couch and let it sit for at least 15 minutes to soak up all the odors,' she says. 'Afterward, vacuum it up, and you'll notice a significant improvement in odor.' No need for special equipment or specialist skills. This cleaning will take you no longer than half an hour and will give you long-lasting results that will help your whole home smell good.
3. Sunlight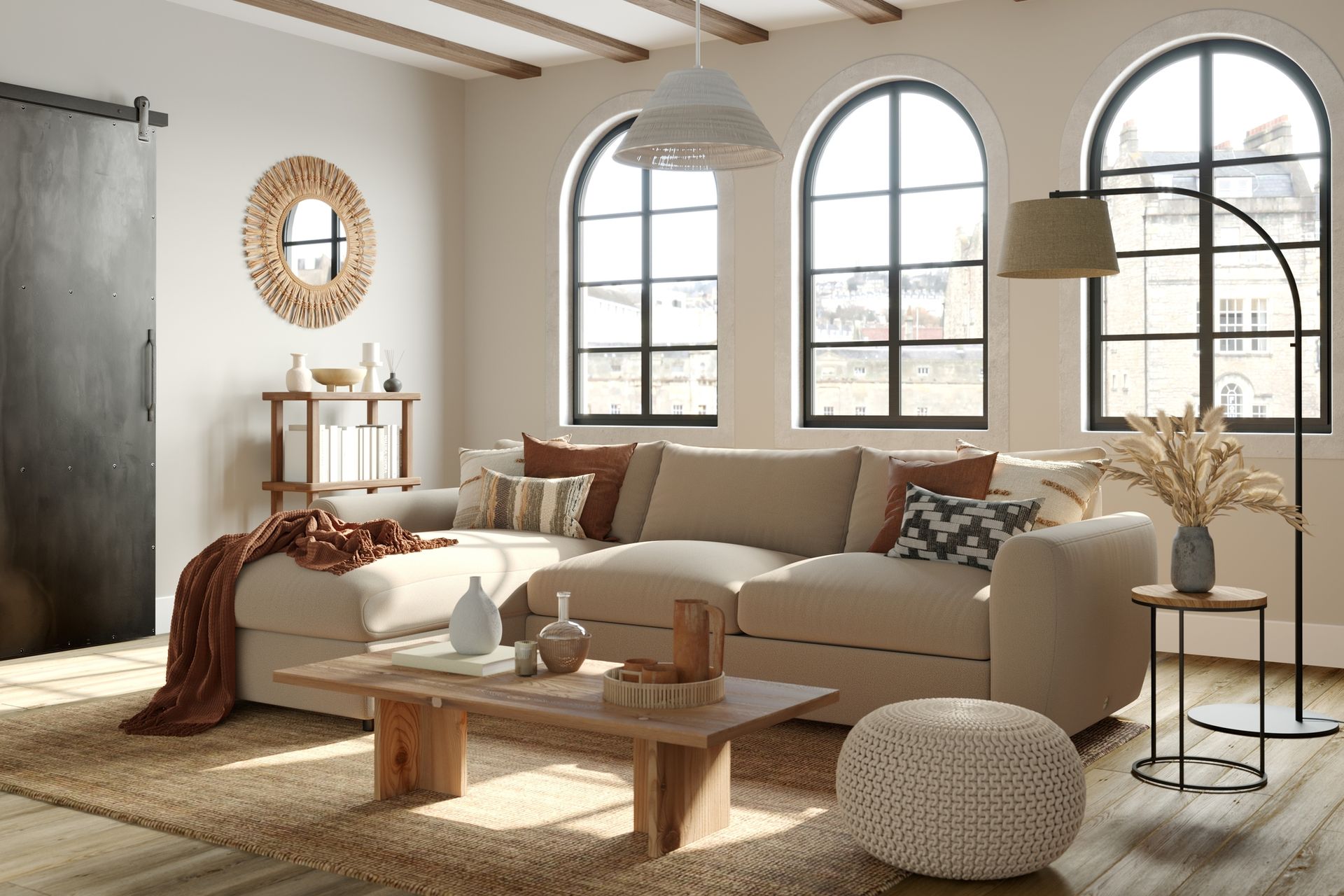 Fresh air and sunlight are two of the best cleaning tools in the book that are often overlooked. Almost all musty smells can be dispelled with a good airing, so make to place your sofa in a sunny spot and crack a living room window often.
'To get rid of stubborn stale smells in your couch, pick a sunny day and place the cushions and pillows outside in direct sunlight for a few hours,' says the president of Ivy Cleans, Hashi Mohamed. 'The fresh air and sunlight will kill bacteria and eliminate orders, leaving your couch immediately fresher.' If you've opted for a living room sofa trend with a material like boucle or velvet, remember you might want to air them more often since the fibers will harbor more dirt and dust.
4. Fabric fresheners
Something all our experts advise against is masking the bad smells with excessive fabric sprays and fresheners. This step is only to be used when following a proper cleaning routine where bad odors have been successfully neutralized. 'Overusing perfumed sprays or air fresheners can mask odors temporarily but not eliminate them,' says Muffetta. 'It's best to address the root of the problem.'
There are many fabric freshener sprays on the market, but you can also make your own with more natural ingredients. 'Create your own spray by mixing water with a few drops of essential oils like lavender or eucalyptus,' suggests Shayne Jeramos cleaning specialist at Bright Cleaners. Lightly misting over your couch will add a subtle and pleasant scent. Why not switch up your fragrance based on the season, too? For scents that make your home smell like fall, opt for sweet and spicy notes.
'I would recommend always testing a small, inconspicuous area first to ensure the spray won't stain the fabric,' Shayne adds. It doesn't matter how good your couch smells if there are splatter stains across it!
What to avoid
Making your couch smell good is just as much about what you avoid as what you do. You already know not to smother your couch in over fragranced sprays but there are a few other things to avoid to maintain a good smelling sofa.
'Neglecting spills is one of the biggest mistakes I see,' says cleaning expert Muffetta. 'Promptly clean up spills to prevent them from seeping into the upholstery and causing long-term odors.'
Another common issue I falling behind on is regular maintenance. Neglecting your sofa in your living room clean will result in a persistent odor problem, so utilize the upholstery vacuum attachment often and keep the dirt at bay.
By following these tips you'll restore the inviting and comforting quality of your couch. A bit of attention will enhance your living room and provide a more enjoyable and inviting environment for you and your guests. It will also extend the lifespan of your sofa - it's a win-win!
Top products for a good smelling couch
The Livingetc newsletter is your shortcut to the now and the next in home design. Subscribe today to receive a stunning free 200-page book of the best homes from around the world.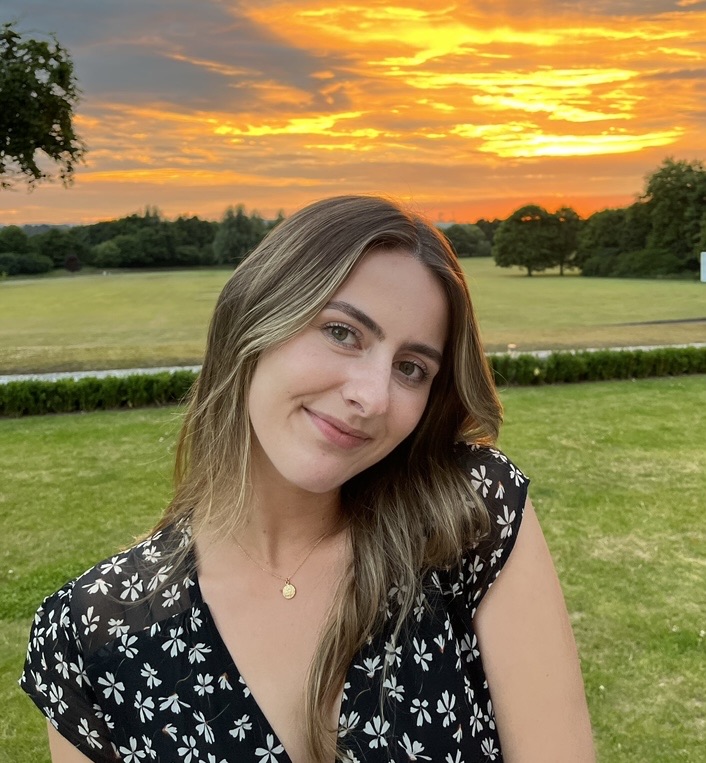 Amy recently completed an MA in Magazine Journalism at City, University of London, with experience writing for Women's lifestyle publications across arts, culture, and beauty. She has a particular love for the minimalist aesthetic mixed with mid-century furniture, especially combining unique vintage finds with more modern pieces. Her previous work in luxury jewellery has given her a keen eye for beautiful things and clever design, that plays into her love of interiors. As a result, Amy will often be heard justifying homeware purchases as 'an investment', wise words to live by.