Is 5.1 or 7.1 surround sound better? An expert breaks down the differences
The choice between 5.1 and 7.1 surround sound isn't as simple as it sounds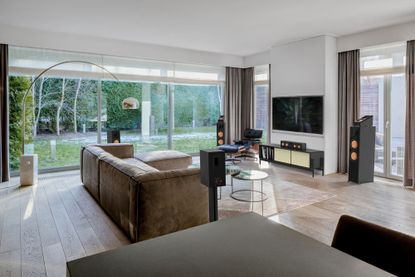 (Image credit: Klipsch)
Is 5.1 or 7.1 surround sound better? It's one of the big questions you're likely to have when buying a new system.
Your gut instinct probably tells you the latter is the best surround system and, generally speaking, you're correct. But not all setups are created equal, and there are very good reasons as to why a 5.1 surround sound system may be better suited to your needs.
Here, we break down the differences, and look at when and where each system best flourishes.
What's the difference between 5.1 abd 7.1 surround sound?
All surround sound systems have numbers attached, which go from 2.1 all the way up to 11.2 or even higher. The numbers denote the quantity of speakers involved, so 5.1 means a total of six sound sources (five speakers and a subwoofer), while 7.1 offers a total of eight (seven speakers and a subwoofer).
These speakers are placed around you in order to offer a more immersive soundscape than you would get from a TV's built-in speakers, or even the best soundbars. Directional audio means that if something happens beyond the screen in a movie or a game, your sound setup will mimic it for a far more immersive experience.
Usually, both 5.1 and 7,1 surround systems share the configuration for the first five speakers: one central directly underneath the TV, two more on each side of the screen and the remaining two placed parallel with the viewer. 7.1 systems go one step further, placing two more speakers behind, although some systems also require wall or ceiling mounting for audio from above.
Find out more about how the best subwoofers can boost your home audio system's bass.
When is a 5.1 surround sound system better than a 7.1?
So 7.1 surround sound is better, then? In most cases, yes: 7.1 surround systems offer richer, and more immersive audio. But it's not a hard and fast rule, and may not be suited to your specific circumstances.
For starters, it really does depend on your budget for your home theater set-up. 7.1 systems are almost always more expensive, and if one isn't, there's probably a good reason for it. An expensive 5.1 surround system will likely beat a cheap 7.1 system when it comes to sound quality.
Secondly, you need to factor in the size of your room. The thing about having directional audio is that speakers need a bit of space between them, otherwise you actually make the sound worse by muddying the sources. As a rule of thumb, rooms that are 350 square feet or larger will benefit from 7.1 audio, and anything much smaller should stick with 5.1.
Then there's the complexity. This isn't necessarily a problem if you're comfortable with AV technology, but 5.1 systems are more common and tend to be sold as all-in-one solutions, whilst with 7.1 you may have to mix and match speakers yourself. That not only potentially makes things that bit harder to set up to your liking, but will leave you with less support if things don't work out.
Finally, there are wires to think about. More speakers mean more cables, which can be annoying to deal with and to keep out of sight. Wireless options exist, of course, but these not only require their own power source to function, but also offer poorer sound quality and the ever-present threat of dropouts.
So, is 5.1 or 7.1 surround sound better?
That means that while 7.1 surround sound is objectively better than 5.1 in the perfect test space, it may not be right for you. Get the tape measure out and make sure you're optimized for 7.1 before you start researching the best surround sound systems for your budget.
In a larger room, 7.1 surround sound is undoubtedly better, offering a more immersive experience and richer sound quality overall. But it's almost always more expensive, trickier to set up and unsuited to smaller spaces.
The Livingetc newsletter is your shortcut to the now and the next in home design. Subscribe today to receive a stunning free 200-page book of the best homes from around the world.
Freelance contributor Alan has been writing about tech for over a decade, covering phones, drones and everything in between. Previously Deputy Editor of tech site Alphr, his words are found all over the web and in the occasional magazine too. He often writes for T3 and Tom's Guide. When not weighing up the pros and cons of the latest smartwatch, you'll probably find him tackling his ever-growing games backlog. Or, more likely, playing Spelunky for the millionth time.