Can you use an Amazon Echo as a speaker for your TV? Yes, and it might just boost your sound quality
Enhance your TV's sound with a bit of help from Alexa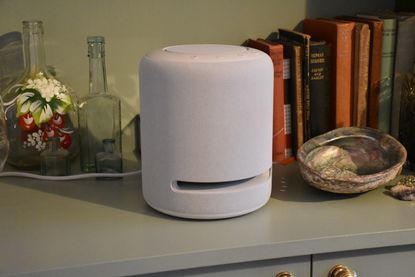 (Image credit: Future)
Poor quality audio is the bane of cheaper TVs, but short of investing in a new sound system (in which case, a new TV might serve you better), there are a few hacks for improving what your TV sounds like.
For example, did you know that you can use your Alexa-packed Amazon Echo speaker with your TV? Assuming your TV is new enough to support Bluetooth, it's possible and with the best Alexa speakers, the results can be a big improvement on the built-in speakers.
Here's how to use your Amazon Echo as a speaker for your TV, but first… should you?
Should you use your Amazon Echo as a speaker for your TV?
The first thing to highlight is that not all Echo devices are created equal. While our Echo Studio review found that the the $200 speaker will sound better than most TVs' built-in sound (especially if paired with the optional $130 Echo Sub for deeper bass), the sound produced the $50 Echo Dot won't offer much of an upgrade — if any at all.
Secondly, while you could connect older Echo devices with a wire (newer ones have ditched the 3.5mm audio jack), we're going to be using the Echo's Bluetooth connection here. This wireless solution can create problems with latency, where the audio is a bit behind the action on screen. Not ideal, though this can be mitigated if you use Fire TV for your streaming (more on that later).
With these caveats in place, the good news is that the process of pairing your TV with an Echo is so quick and easy that it's pretty trivial to try it out and see if it works for you. If it doesn't, just disconnect it and look into the best soundbars you can buy instead.
How to use your Amazon Echo as a speaker for your TV
1. If not enabled by default, turn on Bluetooth on your TV. This will be somewhere in the settings menu, if it has it (most TVs made in the last few years support Bluetooth, but not all.)
2. Locate an option to connect Bluetooth devices on your TV. This will vary by manufacturer, but will likely also be in the settings.
3. Once you've found the option to connect Bluetooth devices, make sure your Echo speaker is near your TV and use the Alexa skill to connect to Bluetooth. Say "Alexa, connect Bluetooth". It will say "searching".
4. At this point, the Echo should appear in the list of devices available to connect to. Select it on your TV.
5. Test to see if it's working! Some TVs will play through both the built-in speakers and the Echo, while others will exclusively play via the Echo.
When your TV turns off, the Echo will disconnect, but it'll automatically reconnect when you switch it back on. If you want to disconnect it and go back to your old setup or try something else, simply say "Alexa, disconnect", and normality will be restored. Don't forget, you can also control your TV with Alexa, too, completing the circle.
How to connect your Echo to Fire TV
Connecting your Echo to your TV should work reasonably well, but for optimal results you can also sync it to your Amazon Fire TV device, as both are made by Amazon.
Assuming Fire TV is your preferred way of streaming shows, this is actually a better solution, because it connects via Wi-Fi to (theoretically) sidestep the latency issues we mentioned earlier. Here's how to do it.
Alternatives to the Echo
Try it and see what you think, but as mentioned earlier, the Echo likely won't be anywhere near as good as a wired, dedicated solution for your TV.
If you want something compact, then a soundbar offers a good trade-off between sound quality and space, but if you really want your home theater to sing, then you're looking at a true surround sound setup.
Whether it's 5.1 or 7.1 (or even more complex), it's a bit more work to get right, but for audiophiles, there's simply no substitute.
The Livingetc newsletter is your shortcut to the now and the next in home design. Subscribe today to receive a stunning free 200-page book of the best homes from around the world.
Freelance contributor Alan has been writing about tech for over a decade, covering phones, drones and everything in between. Previously Deputy Editor of tech site Alphr, his words are found all over the web and in the occasional magazine too. He often writes for T3 and Tom's Guide. When not weighing up the pros and cons of the latest smartwatch, you'll probably find him tackling his ever-growing games backlog. Or, more likely, playing Spelunky for the millionth time.