What's the best way to store dishes in a kitchen? Designers and professional organizers agree on this one way
Finding the right way to store plate, bowls and more is one of the biggest challenges of an organized kitchen - so which way do the experts prefer to do it?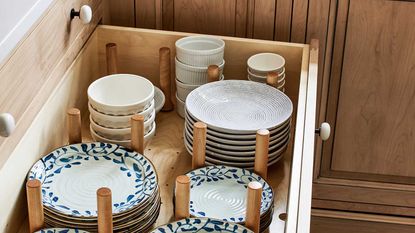 (Image credit: Stacy Zarin Goldberg. Design: Unique Kitchens and Baths)
The Livingetc Newsletter
For style leaders and design lovers.
Thank you for signing up to LivingEtc. You will receive a verification email shortly.
There was a problem. Please refresh the page and try again.
If you're in the stages of planning a new kitchen, my biggest piece of advice from the start is to plan where you're going to store your plates. In general, a lot of storage in a kitchen is pretty versatile, but when it comes to your dishes, if you leave it until your kitchen is in place to make a decision, you might find that your options are limited.
The wrong kitchen storage for dishes can mean wasted space, sub-optimum positioning and even runs the risk of damaging your cabinetry, or your plates. But whether you're at the start of a kitchen remodel, or you're trying to make an existing kitchen work better, there are a few tricks to storing dishes that both designers and professional organizers use to help a kitchen function a little more smoothly.
I asked a few pros to solve the question for us: what is the best way to store dishes in a kitchen?
How to store dishes in a kitchen
First of all, let's take account of the options for storing dishes. I've asked the experts to focus specifically on the types of dishes that get used everyday - after all, this is where the biggest issues raise their head when it comes to making a kitchen more functional.
1. Upper cabinets
If you're going to store dishes in a cabinet, an upper cabinet is generally your best bet. 'I prefer dishes to be in a cupboard. I like them to be at eye level and at an easy arm's reach,' says Amanda Wiss, founder of NYC-based home organizing company Urban Clarity. 'Dishes are the most-used items in your kitchen, something you grab multiple times a day — you want to be able to access them without bending over.'
However, upper cabinets aren't always best suited to storing plates in their natural state, and sometimes need to be adjusted, or augmented, to make them the ideal place to do so. So how do you do this?
'With upper kitchen cabinets, I like to increase my cabinet depth from a standard 12" depth, to a 13"-15" deep upper,' suggests interior designer Elizabeth P. Lord-Levitt. 'This allows for versatility in plate size and location of where they are stored in the kitchen.'
'Cabinets with adjustable shelves are great because they allow you to customise the space according to the size of your dishes, letting you fit different types of dishes and stack them efficiently,' adds interior designer Rudolph Diesel. If you're working with an existing kitchen, it's easy enough to retrofit kitchen organizers, like tiered plate racks, to help make your cupboard storage more efficient.
2. Deep drawers
When incorporating dish storage into the lower half of your kitchen, a deep drawer is a much better idea than a cupboard when it comes to practicality.
'I think a big, wide drawer with a pegboard organizer to define the space inside is the best way to store and organize bowls and plates,' says interior designer Jessica Dorling, founder of Dorling Design Studio. 'They are easily accessible to everyone, you can design your kitchen to have a big drawer right next to the dishwasher.'
Elizabeth agrees, especially when teamed with a peg drawer organizer. 'The drawer peg system for storing dishes works great when unloading a dishwasher, if the dishwasher placement is within close proximity to the dish drawer,' Elizabeth says.
3. Open shelving
The modern kitchen trend is a move away from upper cabinets, using open shelving instead. But is it an appropriate place to store your dishes? 'Open shelving, when executed well, can turn everyday dishes into a vibrant display,' says Artem Kropovinsky, an interior design expert and founder of Arsight, an award-winning interior design studio based in New York. 'Not only does it offer easy access, it also provides an opportunity to showcase beautiful ceramics, creating a lived-in feel that invites authenticity into the space.'
Interior designer Allison Garrito, founder of Allito Space, agrees. 'Why not take the money you would spend on those pieces and put them into some amazing handmade plates or hand-blown glasses?' she says.' It's the perfect way to add personality and color to your kitchen and to free up your closed cabinets and drawers for more unsightly kitchen items.'
There are drawbacks, however. 'Just remember, open shelving demands regular maintenance to keep it looking its best,' Artem says. That might include cleaning dishes before you use them every time, especially if your kitchen shelving is prone to dust.
4. Plate racks
Plate racks can be retrofitted into any kitchen with a little available wall space, so can be a great addition if you're struggling to find the right spot for storing dishes. 'Hanging racks or wall-mounted plate racks can be a practical storage solution, especially if you have limited cabinet space,' says interior designer Rudolph Diesel. 'These racks can hold plates, cups, or mugs, but are also commonly used to hang pots and pans as well. Using a hanging rack as a cabinet space can add a decorative touch to your kitchen.'
These elements can also be integrated into your cabinetry if you're looking to a more minimalist kitchen style. 'To those who dread the sight of a dish rack cluttering the countertop, integrated dish racks within cabinets are a dream come true,' says Artem Kropovinsky. 'These smart features facilitate organized storage and provide a hidden space for drying and storing dishes immediately after washing.'
5. Under utilized spaces
If you're working with an existing kitchen, you can take a more casual approach to dish storage, and find small pockets in spaces which would otherwise go unused. 'Every kitchen has those underutilized spaces, and they can be the perfect spot for storing dishes,' interior designer Artem tells us. 'Use the space above your fridge, beneath a window, or install a custom corner cabinet - these unorthodox spots can become valuable assets with the right planning,' Artem says.
Which way do designers prefer?
The decision on how is best to store dishes really comes down to one major factor, whether to have your dishes stored up high, or down low.
'Before deciding on exactly where in your kitchen your dishes will land, open the dishwasher and pretend you're unloading it,' says Amanda Wiss. 'Which cabinet is easiest to reach? That's where your everyday dishes should live.'
When it comes to practicality, interior designers and organizers alike generally agree that storing dishes in the top half of your kitchen is the best idea. 'Everyday dishes should be kept on a lower, more easily accessible shelf,' Amanda says, 'make your day-to-day life as easy as you can.' If you've got a kitchen that has upper cabinets already, or you're not adverse to the maintenance that comes with open shelving, this is the best way to store dishes.
However, if you're planning a new kitchen and are veering away from upper cabinets, deep drawers with pegboard organizers are your next best bet and, I think, it's the type of dish storage we're more likely to see in modern kitchens going forward.
For style leaders and design lovers.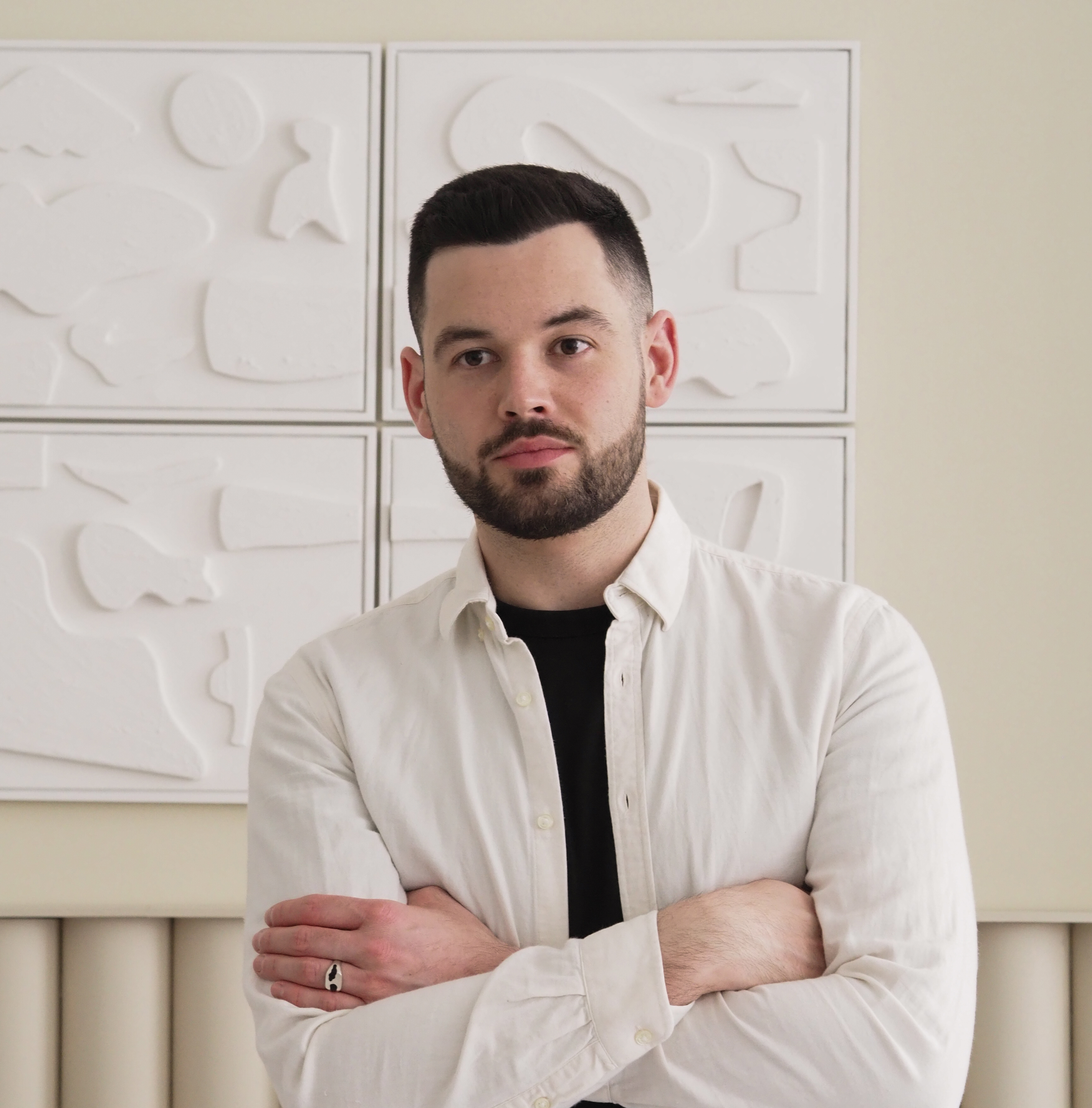 Luke Arthur Wells is a freelance design writer, award-winning interiors blogger and stylist, known for neutral, textural spaces with a luxury twist. He's worked with some of the UK's top design brands, counting the likes of Tom Dixon Studio as regular collaborators and his work has been featured in print and online in publications ranging from Domino Magazine to The Sunday Times. He's a hands-on type of interiors expert too, contributing practical renovation advice and DIY tutorials to a number of magazines, as well as to his own readers and followers via his blog and social media. He might currently be renovating a small Victorian house in England, but he dreams of light, spacious, neutral homes on the West Coast.