How to overhaul your bathroom - the Easter DIY project you can easily do this weekend
Bring your bathroom up to date with this interiors expert's ideas for quick refreshes you can do in a weekend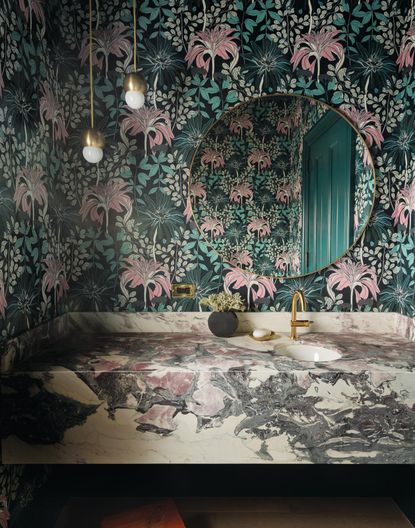 (Image credit: Future)
Interior designer Jane Rockett, co-founder of homeware brand Rockett St George and author of the interior design book Extraordinary Interiors, shares her modern bathroom ideas, and suggestions for what you can do in a weekend to overhaul your space. A long-standing leader in the field of decorating - more than often with wow-factor and drama - Jane's tips are all easy to achieve and have the potential to give a tired looking bathroom an instant refresh, just in-time for Spring.
'Never underestimate the power of a gorgeous bathroom to lift your mood! The bathroom may be one of the more practical spaces in your home, however, that doesn't mean you can't be creative and design a unique and beautiful space to enjoy,' says Jane.
Be bold...and paint the ceiling
Color can change the mood of any space and is a wonderful way to showcase your personality and individual sense of style. Jane explains: 'Bathrooms can often feel cold and unimaginative in stark white tones, so don't be afraid to be bold in this space! Smaller rooms such as bathrooms can handle dark color palettes or more vibrant shades with ease and experimenting with your choice of colour here can build your confidence elsewhere' says Jane.
'For me, I always think dark and dramatic colours look brilliant in the bathroom. In this bathroom, for example, bold black and cream wallpaper creates a sense of cosiness, luxury and grandeur. Also, by painting the bathroom ceiling in a rich black or deep navy, it creates the feeling of looking up at the night sky, which is not only amazing for enhancing your sense of space but also a clever way to increase relaxation when lying in the bath with a glass of wine!'
Change your taps, change the mood
The best bathroom taps and door handles offer up a great way to instantly transform the feel of a bathroom space, and bring it right up-to-date. 'Something as simple as updating your taps or door handles to tie together your wallpaper or paint choice can have a huge impact on the cohesive feel of the space', says Jane.
'While changing the sink, bath, shower or toilet involves time and money, smaller fixtures such as the taps, towel rails, toilet roll holders, hooks and shelves are much more achievable DIY tasks that can elevate your bathroom to look and feel far more expensive. Here, for example, with a Midas touch, taps elevate a white sink into another level of style'.
Think of storage as decorative in its own right
The best bathroom storage ideas are not only a practical decorating and design feature, but it can be a pretty and aesthetically eye-catching one too. Jane tells us, 'Once the walls and fixtures and fittings are updated, it's time to turn your attention to finishing touches. If your bathroom is in need of more storage, wall cabinets are great for decluttering and finding a place for all the everyday essentials that you don't want on show. Natural woven or striped storage baskets, like this one which has been neatly tucked under the sink, are also incredibly useful as they are one of those practical additions that also look great on show. A stripe storage basket can be attractively hung on a hook on the wall, keeping toiletries and makeup hidden out of sight'.
Extend the feeling of space with a mirror
The fairest design trick of them all? A mirror on the wall. It's one of the quickest and most effective ways of transforming a bathroom space.
Jane says, 'although mirrors are essential from a practical perspective, adding a mirror to a small space is the ultimate interior design trick. Especially useful as a small bathroom idea, adding a mirror to the wall helps light reflect around the room to create a brighter and more spacious atmosphere. To maximise all opportunities for storage, lots of mirror designs include dynamic shelf space that can be turned into a gorgeous style spot for your favourite bathroom luxuries'.
Rory Alastair Robertson has a long-standing history working across the interiors industry. Raised in Morningside, Edinburgh, Rory grew up surrounded by classically grand Scottish Georgian and Victorian architecture.
His first appreciation for interior decoration sparked when his mother hired scaffolding and decorated their three-storey Victorian staircase in Farrow & Ball Picture Gallery Red, by herself. She then painstakingly gold leafed the drawing room - by hand - over a base coat of Sudbury Yellow. This was the era of Jocasta Innes and Kenneth Turner, when paint techniques and maximalist style were the decorating raison d'être.
With this inherited gene of creativity, Rory went on to study Interior Architecture at the University of Edinburgh, and later, Theatre Set Design and Architectural Illustration at The Rhode Island School of Design on America's East Coast.
Rory's foray with the editorial world started a decade ago at Livingetc magazine, a title which he regularly contributes to today. Specialising with a deep-seated appreciation for historical homes and interiors, Rory often travels far and wide to be inspired by unique properties with a fascinating history.
If he's not uncovering an unusual National Trust property in the UK, then he's seeking out a Neo-Classical clifftop villa in Capri or a Palazzo in Florence.
Based in London's Shoreditch, working as a Senior Interiors Editor and Consultant, Rory's portfolio of work is a creative melting pot of residential and commercial interior design projects and a plethora of editorial writing work. Rory is also Guest Interiors Lecturer at the prestigious KLC School of Interior Design in Chelsea, London. His most cosseted possession is a ramshackle Citroen Deux Chevaux, which he has reupholstered in Pierre Frey yellow and turquoise silk fabric.
Discover more at roryrobertson.co.uk and @rory_stylist.