How can I make my outdoor furniture look expensive? 8 ideas for a luxurious backyard without spending a fortune
If you want your backyard to look expensive, these 8 clever ideas can transform your space, plus how to achieve them even on a budget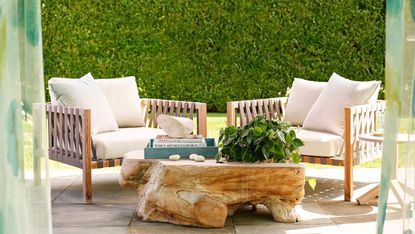 (Image credit: Amy Lau)
The Livingetc Newsletter
For style leaders and design lovers.
Thank you for signing up to LivingEtc. You will receive a verification email shortly.
There was a problem. Please refresh the page and try again.
Even the most budget buy furniture can look radiant and expensive, and the smallest slither of a backyard has the power to look luxurious. It's all about cleverly curating the space to give your pre-existing furniture a little life.
Adding those accessories, paying attention to pieces that might have gone unnoticed throughout the winter, and giving your backyard a good spring clean can really help make even the drabbest of spaces feel like a luxurious courtyard at your favorite hotel.
We asked designers for the best outdoor furniture ideas they think make a backyard look and feel more expensive, and have suggested our own ideas for how to get the million-dollar look on a budget.
1. Give furniture a lick of paint
'A problem with outdoor furniture is that while it may look great on day one, left out in the sun and rain its appearance can soon change and quickly look tired - often only lasting a single summer,' says Robert Houmøller, architect and founder of Merrett Houmøller Architects.
Give your furniture a new lease of life by giving it a fresh coat of paint. You might not have fully realized how worn and tired your outdoor furniture gets, but a fresh coat can give your backyard furniture a quick-fix. 'Painting your furniture is always recommended to refresh an old item or make it look more expensive,' says Filipe Battazza Fernandes de Oliveira, co-founder at TAU Architects. 'For that, use the correct paint to protect.'
Most wooden outdoor furniture needs protecting and treating, and paint can help with this all the while adding a fresh coat of color to your favorite outdoor piece of furniture. There are various external wood paints you can use, including shed and fence paint which can be used to paint furniture too.
You can even paint plastic furniture. The surface should already be smooth, giving you an advantage. Give it a good clean, and consider sanding. Prime the surface with a plastic primer paint like a Rust-oleum plastic primer spray, from Amazon.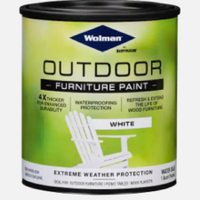 Wolman outdoor furniture paint, Home Depot
Wolman outdoor furniture paint can cover worn and weathered furniture, from picnic tables to benches with extreme weather protection. Pick from a variety of colors for a long lasting finish. It also is great to conceal and cover hairline cracks in wood, making old furniture look brand new again.
2. Bring soft furnishings outside
Bringing soft furnishings to your outdoor area brings a plushness and coziness to the space that will make it feel all the more luxurious. 'Decorative items such as cushions, external pillows, and pads can create a better lounging area by adding more comfort,' says Filipe.
Most types of outdoor fabrics on the market will be mold-resistant acrylic or olefin. The latter is easy to clean and durable. Just remember, no matter the material to store away your outdoor soft furnishings, even if they are sold as weather resistant.
'Remember to remove and store away any cushions or paddings from outdoor pieces during the cooler months when the furniture gets little use,' says Tom Eckersley, architect, and designer at Melbourne-based Tom Eckersley Architects. Look at solid storage solutions like a waterproof storage box to keep your upholstered pillows and seat cushions dry when not in use.
'Have somewhere nearby so they can be safely put away, without having to take them up to the loft every time you need them,' says Robert. 'Don't be swayed by synthetic fabrics that can be left out in the rain. We all need to cut down on plastic and they will fade if left out in the sun.
'As with the furniture itself, natural fabrics will fare better in a bit of sun and will weather sympathetically - they just need to be kept out of the rain,' says Robert.
3. Supplement your furniture with other side pieces
Think about how you can create more of a destination by supplementing your outdoor furniture with other smaller items of furniture. 'Give support to your backyard layout by adding small tables and benches,' says Filipe. A seating area can become a usable destination with the addition of a coffee table, for example, just as a bench can be lifted with a side table. Look out for the more inexpensive outdoor furniture brands that can help a space feel more complete.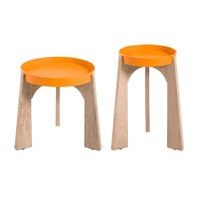 4. Align the color palette
Just like your indoor space, your outdoor spaces should work together harmoniously with a color scheme that marries all items of furniture. Pulling what furniture you do have with harmonious tones that work across your backyard will help even the smallest of backyards look considered and luxurious. Implement a simple and stripped-back color scheme that doesn't overwhelm the space and keeps things looking cohesive. Remove any overwhelmingly vibrant or neon colors and make sure the colors work with each other, staying clear of outdoor furniture colors to avoid.
'Keep things simple,' says Peter Ahern, director and co-founder of buck&simple. 'Employ a simple base tone and build upon that. Furnishing is the finishing touch that will elevate a space.'
5. Consider where you place your furniture
Sometimes, it really is as simple as the arrangement of your furniture. Question whether your outdoor bench is facing the wrong way, whether your seating area is in a space that encourages and stimulates conversation. Reassessing where everything sits can open up your space to looking more luxurious.
As well as the positioning of the furniture, question whether you have zoned that backyard in a way that complements the furniture and the setting.
'For our project, there are three zones even within the small backyard,' explains Cher. 'We have an area for seating just a small distance from the second area which is where the greenery is which have 150 species of plants lovingly grown and cared for by the homeowners who are botany lovers.
'While the table and seats are a small distance away, they face the greenery, allowing them to appreciate the greenery and engage with one another while gardening.
The third zone is a short distance from the homegrown greenery where palm trees of more than 4 meters have been planted to provide privacy from the main driveway and add dimension to a small backyard with its height.'
6. Re-finish your wooden furniture
Lifting that stubborn weathered exterior from your drab wooden furniture will reveal a glowing color underneath, and if protected, it can make even your cheapest furniture buys shine. Whether it's a dining table, bench or swing seat, wood for outdoor projects is a common choice that rarely looks as good as when you first bought it after a few months of being exposed to the elements. To give it a good clean, first up be sure to gently wash your wood, staying clear of pressure washers and those hard chemicals. Wood is a beautiful material that deserves to be treated carefully.
Next, gently scrub those stubborn stains away with a gentle sanding. Removing that top surface can reveal the beautiful coloring of your natural wood underneath that weathered exterior.
A protective coating is the final stage. Look for exterior wood paints, and for extra attention, apply a teak or hardwood oil. Wood stain might give your wood a subtle glowing tint as well as protection. Make sure when you apply your paint in the same direction of the grain, and allow it to dry between coats.
7. Give the space a thorough clean
There is a lot to be said for getting the patio cleaner out and giving the outdoor space a good spruce up.
Just as you would notice a difference in the luxury of your living room after a solid cleaning session, your outdoor space can get messy and unruly.
Wash down that patio so your tiles are gleaming, create vignettes and beautiful curated moments by moving and shuffling your flowerpots around, scrub down that table and just be sure to look after the space for an instant transformation.
8. Curate a display of plant pots
If your backyard is looking a little sparse, consider adding plant pots around your furniture or outdoor seating are to bring the lushness of greenery and make your backyard look more expensive.
'Adding pot plants to a deck or balcony can help add softness and greenery to contrast against hard surfaces,' says Yvonne Meng of Circle Studio.
Just as you would with a coffee table, a spare shelf, or a dining table in need of some decorative attention, the golden rule for creating a vignette involves keep the mix interesting with a range of heights and a grouping of around three.
This will work for the plant pot collection too - three pots with plants of varying heights grouped together can look like a curated and thoughtful display.
'Use fun and interesting pots to add color and texture,' adds Yvonne. 'Best thing is, they are not permanent and can be moved around and restyled to suit your mood.'
For style leaders and design lovers.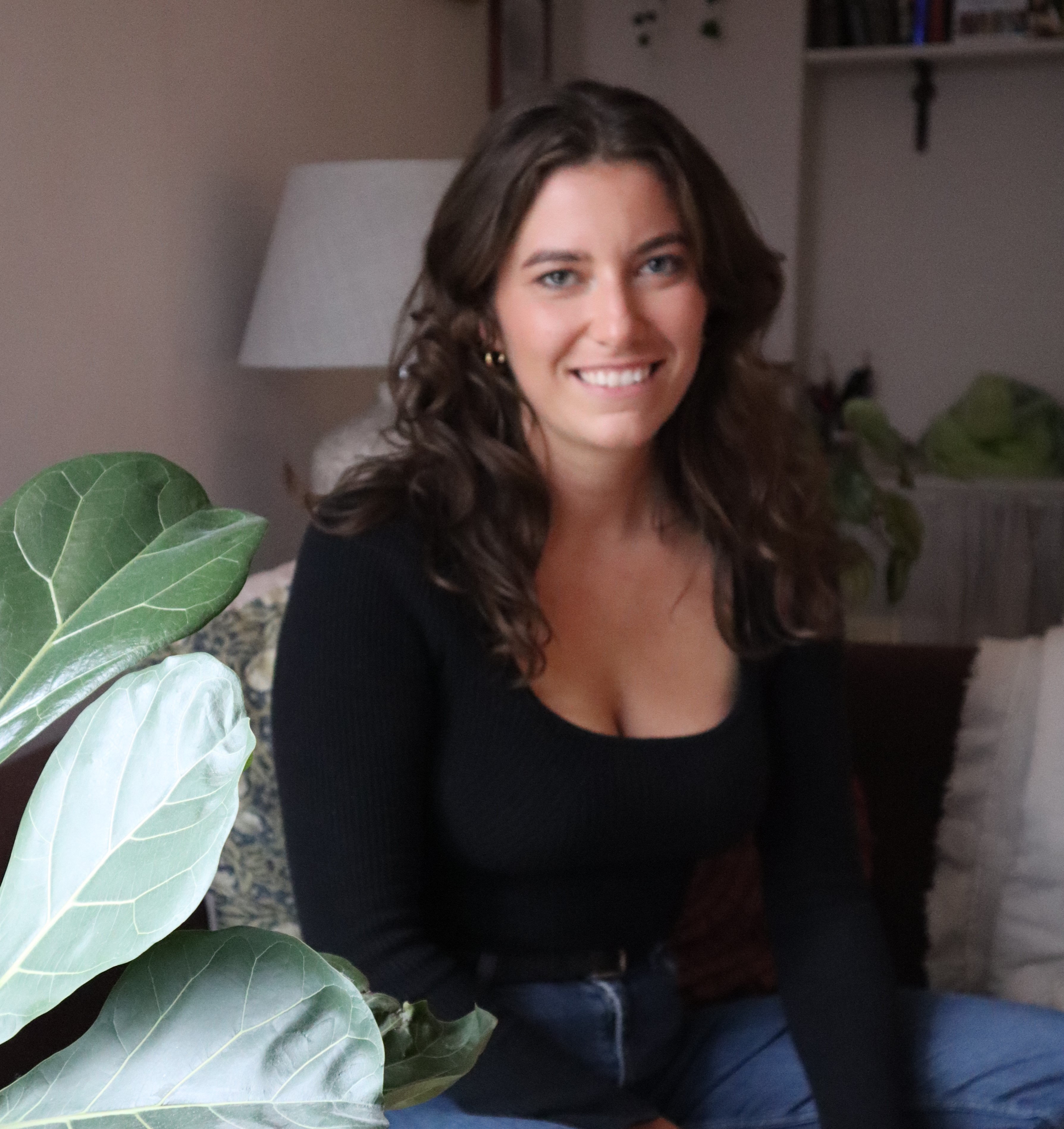 Livingetc content editor and design expert
Oonagh is a content editor at Livingetc.com. Previously, she worked on a London property title, producing long-read interiors features, style pages and conducting interviews with a range of famous faces from the UK interiors scene, from Kit Kemp to Robert Kime. In doing so, she has developed a keen interest in London's historical architecture and the city's distinct tastemakers paving the way in the world of interiors.