How can I make my sofa look more luxurious? 8 ideas designers use for high-end homes that can work on any budget
If you're looking to give your couch a touch of opulence, these designer tricks will bring the luxe look for less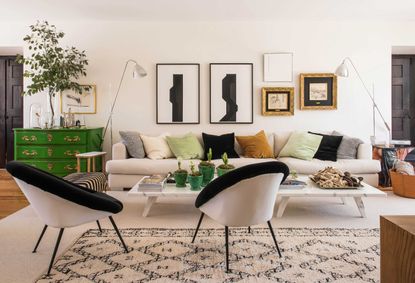 (Image credit: Ana Paula Carlvaho. Design: Joana Arnaha)
The sofa is where we inevitably retreat to at the end of each day, and while we may not often be feeling our most glamorous when using them, there is definitely something to be said for at least making the sofa look luxurious.
Of course, the meaning of luxury is subjective. Aesthetic luxury is one thing, but you could argue that true luxury is all about comfort - and this is especially true when it comes to sofas. The focal point of every living room, they should definitely look beautiful, but really the joy comes from curling up in them at the end of a long day and succumbing to complete and utter relaxation.
Whatever your definition of luxury, we have enlisted the help of expert interior designers to advise on all things sofa; from materials that both look and feel gorgeous, to the sofa styling tricks that will elevate the aesthetics and functionality of your living room. Luxury never looked so good!
1. Opt for velvet
For a material that's completely synonymous with luxury, look no further than velvet. Soft to the touch, and visually beautiful, it's a brilliant choice for upholstery. While previously it was perhaps considered high maintenance, there are thankfully now a huge array of stain-resistant velvets making it a great choice for any home.
'Velvet is sumptuous, soft and cozy - exactly what you want to curl up on and relax,' says interior designer Naomi Astley Clarke. 'Velvet always promises comfort, which is exactly what makes it such a wonderful sofa fabric.'
When it comes to creating a luxuriously cozy living room, Naomi prioritizes comfort. 'Dress your sofa with pillows and throws, but also think about an ottoman to put your feet up, and a side table for easy-to-reach drinks,' she says. 'The trick is to make it feel super easy to stay seated.'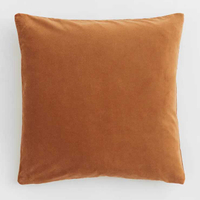 Looking for velvet throw pillows to luxe up your sofa? These from H&M Home are only $12.99 each, and come in a variety of sophisticated colors.
2. Be generous with pillows
It might sound simple, but don't skimp on throw pillows - that goes for both quantity and quality. Piling your living room sofa high with cushions made from beautiful fabrics feels decadent and temptingly luxurious. It's also worth investing in feather pads, which hold their shape and are naturally insulating for a cozy warmth.
Pillows are also a brilliant way of adding in additional patterns and colors into a scheme, making it feel richer and more luxurious. 'The best interior schemes always have a good mix of fabrics, prints, colors and textures,' says Tom Cox of HÁM Interiors. 'Layering different materials helps a room to look well-established, and cushions are a great, relatively inexpensive way to achieve this layered look.'
3. Pair it with a luxurious accent chair
If you have the space, a sofa is always guaranteed to look instantly more luxurious when paired with a couple of elegant accent chairs. Layout wise, they will help to make your living room feel more balanced, as well as making for a more sociable atmosphere too.
Living room accent chairs are also a great way to magnify the visual interest of your sofa. You can choose to either go for a contrasting design to make a statement with your scheme, or go down a more cohesive route and mirror the color or material of your sofa. For this impressive project by A1000xBetter, founder Kirsten Blazek opted for the latter approach. 'We chose the same wood tone for the chairs and the sofa to enhance the feeling of continuity,' she says. 'The effect is clean and sophisticated, and the furnishings enhance the beauty of the architecture, rather than detract from it.'
4. Consider surrounding furniture
In addition to accent chairs, think about the other furniture that surrounds your sofa, and how different pieces can be used to enhance how you use the space - because what's more luxurious than having everything you need within easy reach? Carefully placed side tables are essential; they should be wide enough to house at least a drink, and ideally a plate or bowl for snacks too. You might also like to consider coffee tables with storage, upholstered ottomans and magazine holders.
Of course, each item of living room furniture is also an opportunity to visually elevate the look of your sofa through choice of materials. 'Choosing to pair your sofa with beautifully crafted tables made from luxurious materials such as leather or marble give an elevated and contemporary feel,' says Rachel Usher, founder and creative director of Rachel Usher Interior Design Studio.
The furniture you surround your sofa with can also help to make the composition of a room layout feel balanced and ultimately more elegant. 'Open plan living often means sofas aren't just seen from the front, but the rear too - so use furniture to ensure the sofa looks luxurious from all perspectives,' says Rachel. 'For example, you could flank the rear of a sofa with a console table dressed with lamps and sculptural accessories for a beautifully considered look.'
5. Frame your sofa with table lighting either side
As well as furniture, living room lighting is hugely important to consider when making a sofa look luxurious. The style of lighting you choose will help to convey a more opulent feel, and Katie Lion, senior interior designer at Kitesgrove, recommends the more shapely designs for a luxury feel. 'Sculptural lighting creates visual interest within a space,' she says. 'This is especially true if the design of your sofa is more pared back, as decorative elements will stand out even more.'
It's also crucial to consider the positioning of lighting too. A common feature you'll notice in the most luxurious of room designs is a clever use of symmetry and balance. 'Placing a pair of table lamps either side of the sofa immediately adds a feeling of grandeur, and will balance the room with a very pleasing symmetry,' explains Katie.
6. Create a gallery wall above a sofa
Displaying artwork is a great way to elevate the feel of a room, and depending on the type of art you choose, it can be really effective in giving a space a more luxurious feel. If your sofa is placed against a wall, then more often than not, the space above is crying out for some visual interest - and artwork is almost certainly the answer!
You can go for one large piece or, for a more dynamic look, opt for a gallery wall that encapsulates a few pieces in different mediums and styles. Mixing and matching frames can also help you to strike the balance between a contemporary look and something more traditional - combining an antique gilded frame with a thin black design makes for a modern interpretation of the luxury look.
7. Coordinate your sofa and wall color
Color drenching is a paint idea favored by interior designers the world over, and is essentially drenching different elements of a room in the same color. It's relatively simple in concept, but incredibly effective and makes for elegant spaces that feel high-end and super luxe.
In the case of a living room, using this technique can make for an really inviting space, as Lucy Sear-Barlow, co-founder of interior design studio Barlow & Barlow explains; 'Using the same color for your upholstery, walls and ceiling creates a beautifully cozy and cocooning effect,' she says. 'In this instance, we paired the rich velvet sofa with the same dark hues of blue on the walls to give an extra layer of luxury - and the moody effect is ideal for evening wind-downs.'
8. Go for a monochromatic scheme
There are few looks that are as reliably chic and elegant as a monochromatic scheme. Paring back and focusing on a tight tonal palette makes for rooms that feel considered, cohesive and effortlessly luxurious.
When it comes to styling a sofa in a black and white living room, texture is everything - and if you're after the luxury look, you'll want it in abundance. Think cashmere throws, velvet upholstery and plenty of cushions in an array of tones. Opt for a super soft rug that feels suitably opulent underfoot, and tuck it under your sofa for the perfect finishing touch.
The Livingetc newsletter is your shortcut to the now and the next in home design. Subscribe today to receive a stunning free 200-page book of the best homes from around the world.
Interiors stylist and journalist Amy Neason was the Deputy Style and Interiors editor at House Beautiful for years. She is now a freelance props and set stylist, creating work for a range of national publications and brands such as Imogen Heath. She has previously worked at Established & Sons, and her skills include styling still life and interiors shots for editorial features and sourcing unique products to create inspirational imagery.

She is particularly respected for interpreting seasonal trends into feature ideas and style stories.