How do you pick a living room accent chair? The 10 ideas interior designers live by when making their choices
Looking for the right accent chair to complement your living room? Here's how designers choose the right one for their schemes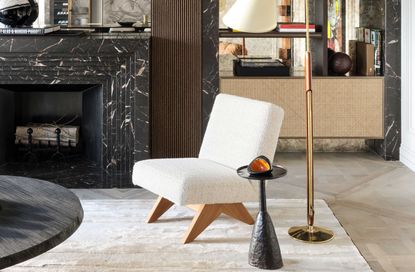 (Image credit: Stephan Julliard. Design: Humbert & Poyet)
The Livingetc Newsletter
For style leaders and design lovers.
Thank you for signing up to LivingEtc. You will receive a verification email shortly.
There was a problem. Please refresh the page and try again.
An accent chair is a must-have in just about any living room. Not only are they an additional seat, which will make your living room feel a whole lot more sociable and cozy, but they're also a brilliant opportunity to add an extra layer of depth and interest to your living room scheme.
Just as with any other addition of new furniture, it's important to take the time to figure out what will work in your room. You'll need to first decide where you want to position the accent chair, and assess the space you have available. 'Take care to ensure they don't dominate or clutter a room,' says sought-after interior designer Naomi Astley Clarke. 'Make sure that they are correctly proportioned for your space, and correspond with the surrounding furniture.'
Next, comes the fun part; pouring over the aesthetic choices for your new piece of living room furniture, such as color, style and shape. With so many options, it can be overwhelming - thankfully we've enlisted the help of a panel of experts to share the most stylish approaches to choosing an accent chair.
10 living room accent chair ideas
1. Go for a contrasting color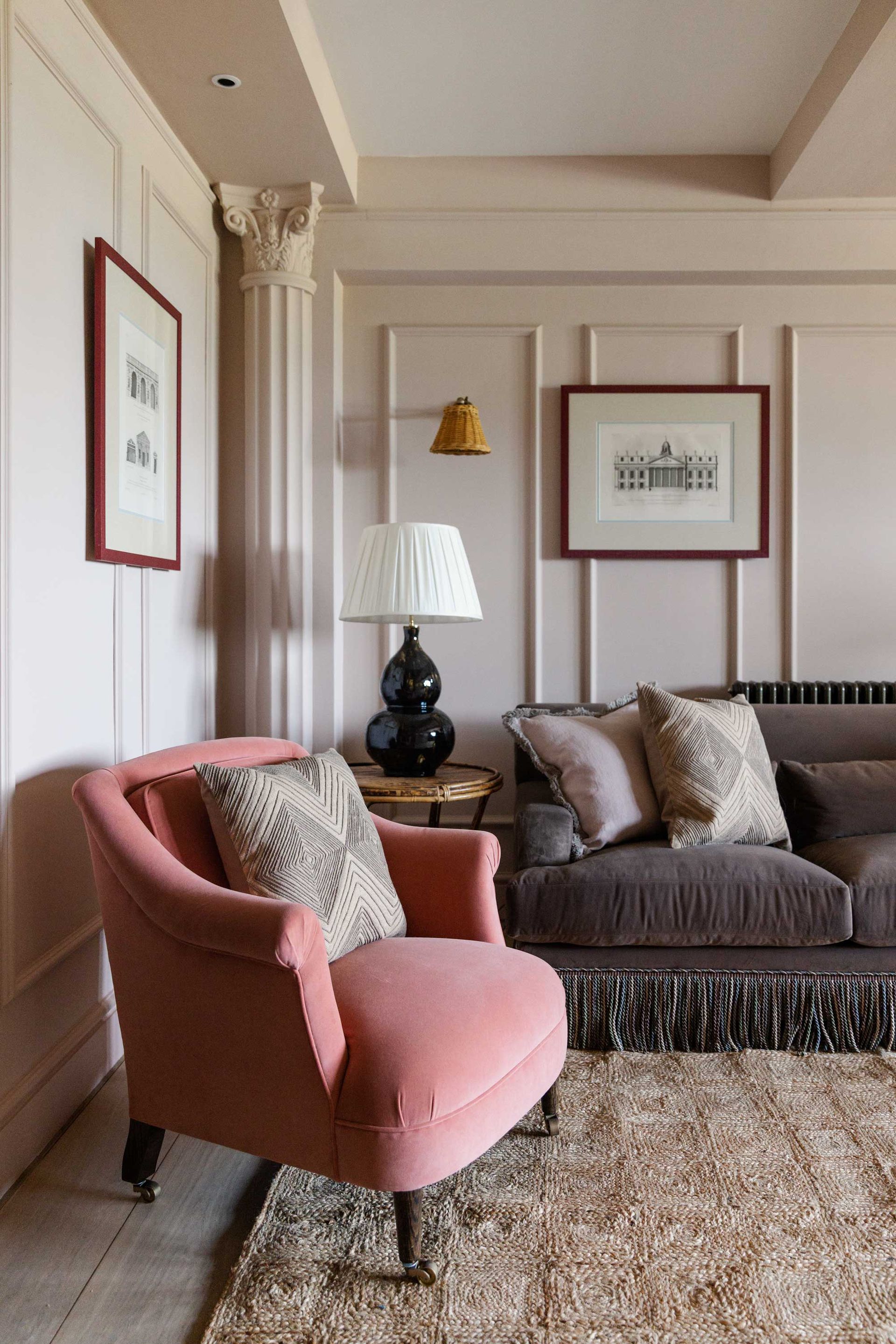 An accent chair can be the perfect place to introduce a contrasting shade within your living room. Lucy Sear-Barlow, co-founder and creative director of interior design studio Barlow & Barlow, is a big fan of a contrasting accent chair and often weaves one into her designs.
'I love to choose accent chairs in bold and playful colors that contrast with the rest of the furniture', she says. 'The trick is to make sure that, despite being a contrasting color, the shade still feels in keeping with the overall scheme of the room. I recommend keeping one neutral color quite prominent to ground the space, and then throw in something a little stronger for your accent chair to give the room that extra oomph.'
When it comes to choosing the perfect contrasting color, Lucy suggests experimenting; 'There's no right or wrong way to figure it out; it completely depends on your taste and style,' she says. 'So start slowly, and try out different things - you'll soon learn that matchy-matchy isn't the way forward, and actually the surprising combinations are always the most enjoyable!'
2. Take a cohesive approach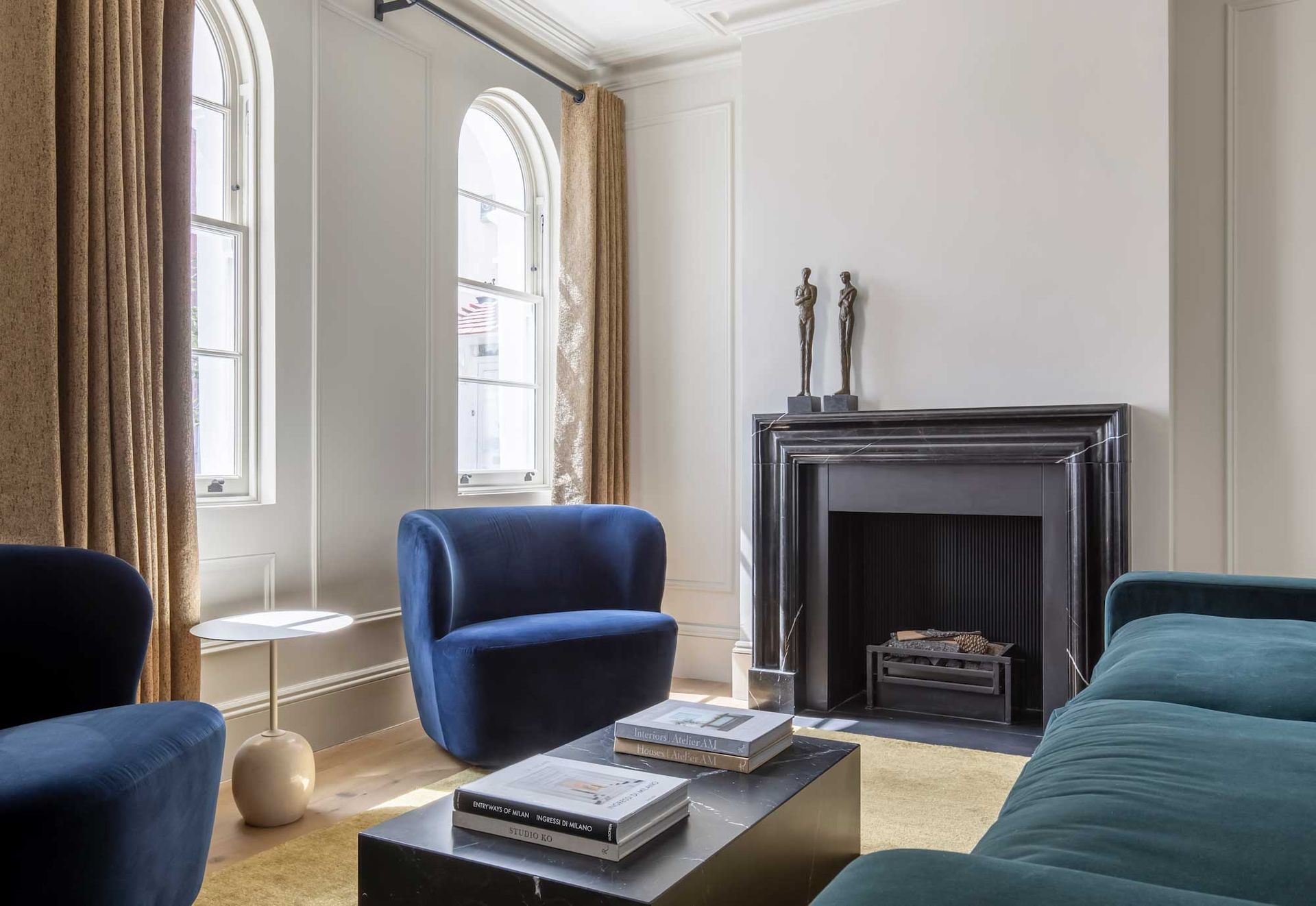 If contrast and juxtaposition aren't your thing, perhaps you'd prefer to choose an accent chair that sits in harmony with the rest of your scheme. Founder of TR Studio Tom Rutt favors cohesion over contrast, and likes to keep things tonal when pairing sofas and accent chairs.
'When putting together a room design, the aim is to create cohesiveness across your scheme that looks effortlessly put together,' he says. 'For this reason, it's my feeling that the perfect accent chair should enhance a scheme and not be too jarring.'
'An easy way to achieve this, whether it be with a plain or patterned fabric, is to choose a color from the same tonal palette as your sofa,' explains Tom. 'This will still make a gorgeous visual impact, but in a curated and considered way.'
3. Consider texture and shape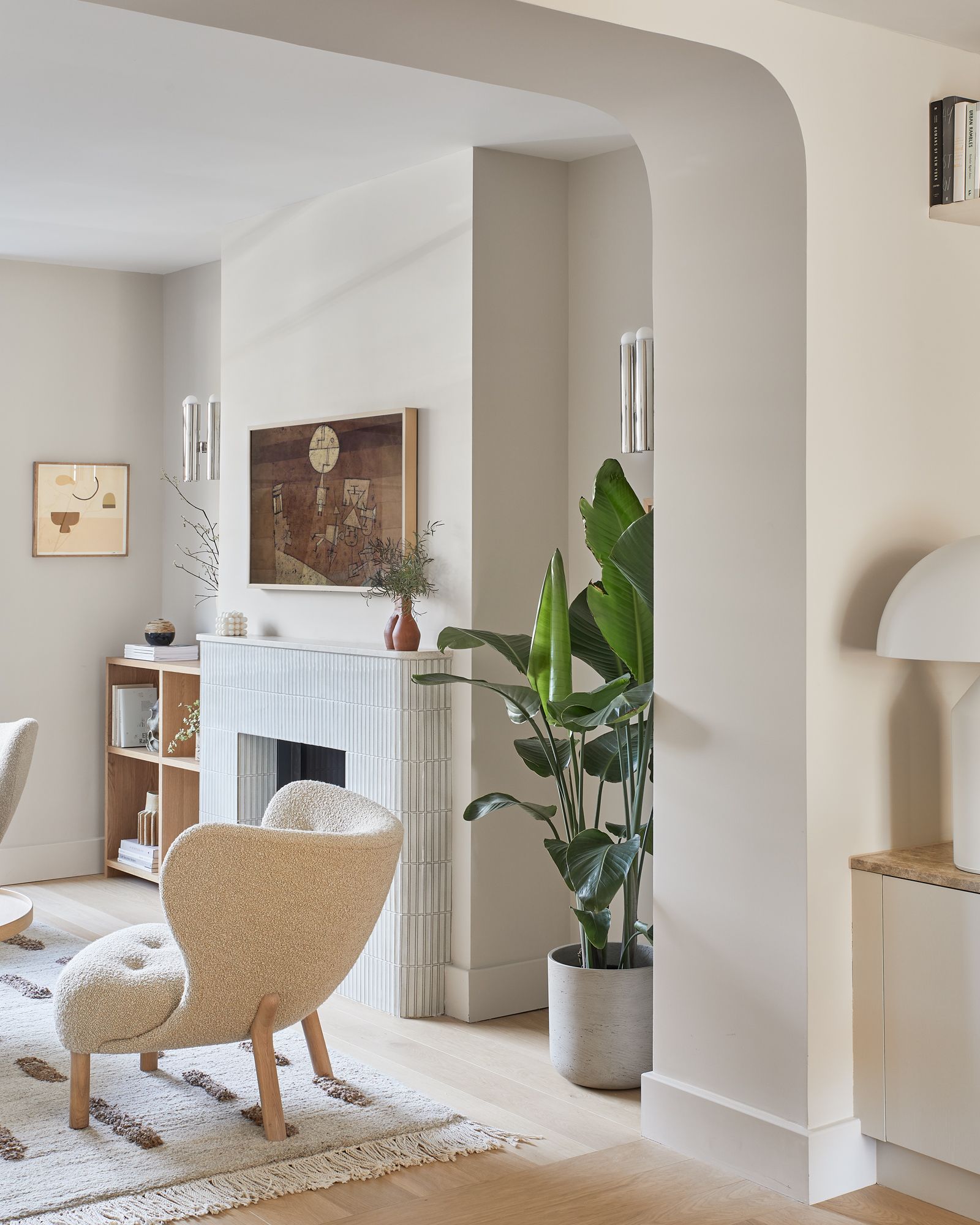 As well as color, both texture and shape are hugely important aspects to consider when it comes to choosing an accent chair. This beautiful project by Nune interior design studio is not only a masterclass in decorating with neutrals, but it's also a brilliant example of how to let a room's original architecture guide your choice of furniture.
'This home was built in 1958, so we took cues from the mid-century period, while retaining some fluidity in our thinking,' says Sheena Murphy, founder of Nune. 'Mid-century design often has remnants of the deco period at play in its architecture and furnishings, so we embraced soft curves in both the structure, and the decorative elements within the home. This accent chair epitomizes our approach, and it's cocooning shape provides a welcoming invitation into the space.'
In the absence of bold and bright color, neutral schemes rely heavily on the use of intriguing textures and tactile materials - and an accent chair is a great way to up the dose of these in a living room, as Sheena explains; 'The mix of oak and cream boucle fabric brings warmth and provides additional texture, adding just the right amount of interest into an otherwise very quiet and restrained space.'
4. Source a vintage piece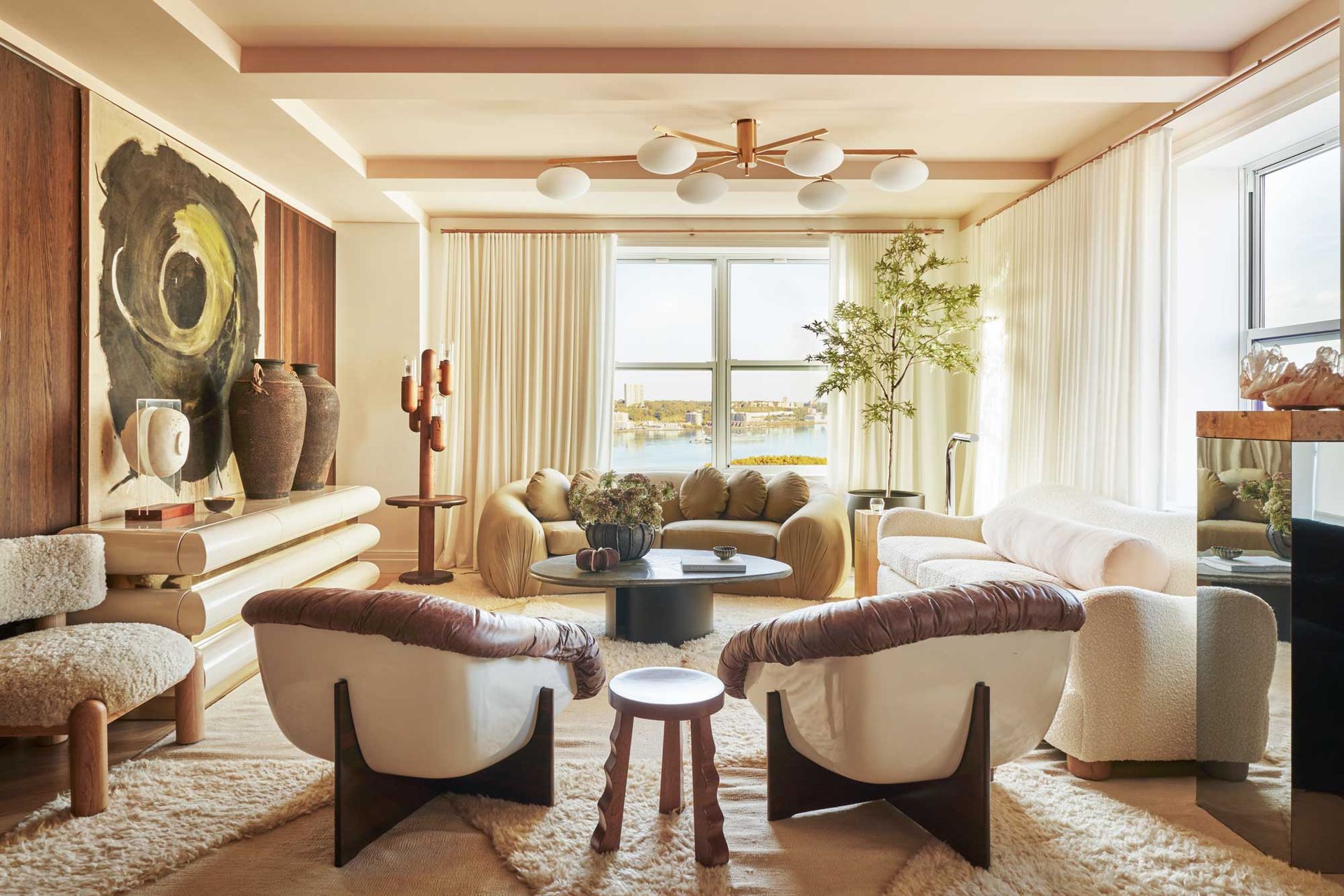 Shopping second hand is as much about being kinder to the environment, as it is about creating homes that feel authentic and characterful. Not only is it the sustainable option, but it's also a great way to add an unexpected twist into your decorating schemes that feels unique to your style. In this home designed by Crystal Sinclair, nearly 80% of the furniture is vintage, including the amazing accent chairs in the living room.
'Decorating with antiques helps to define the character of a space, and also works to reflect your own personal taste and lifestyle,' says Katie Lion, senior interior designer at Kitesgrove. 'Balancing antique and contemporary furniture within the space space creates a layered aesthetic that appears more organically curated over time.'
There is, of course, a knack to sourcing the real gems - but the hard work is part of the thrill and satisfaction. 'When looking for a vintage accent chair, antique fairs and flea markets are a good place to start for more affordable and unique pieces,' says Katie.
5. Choose something sculptural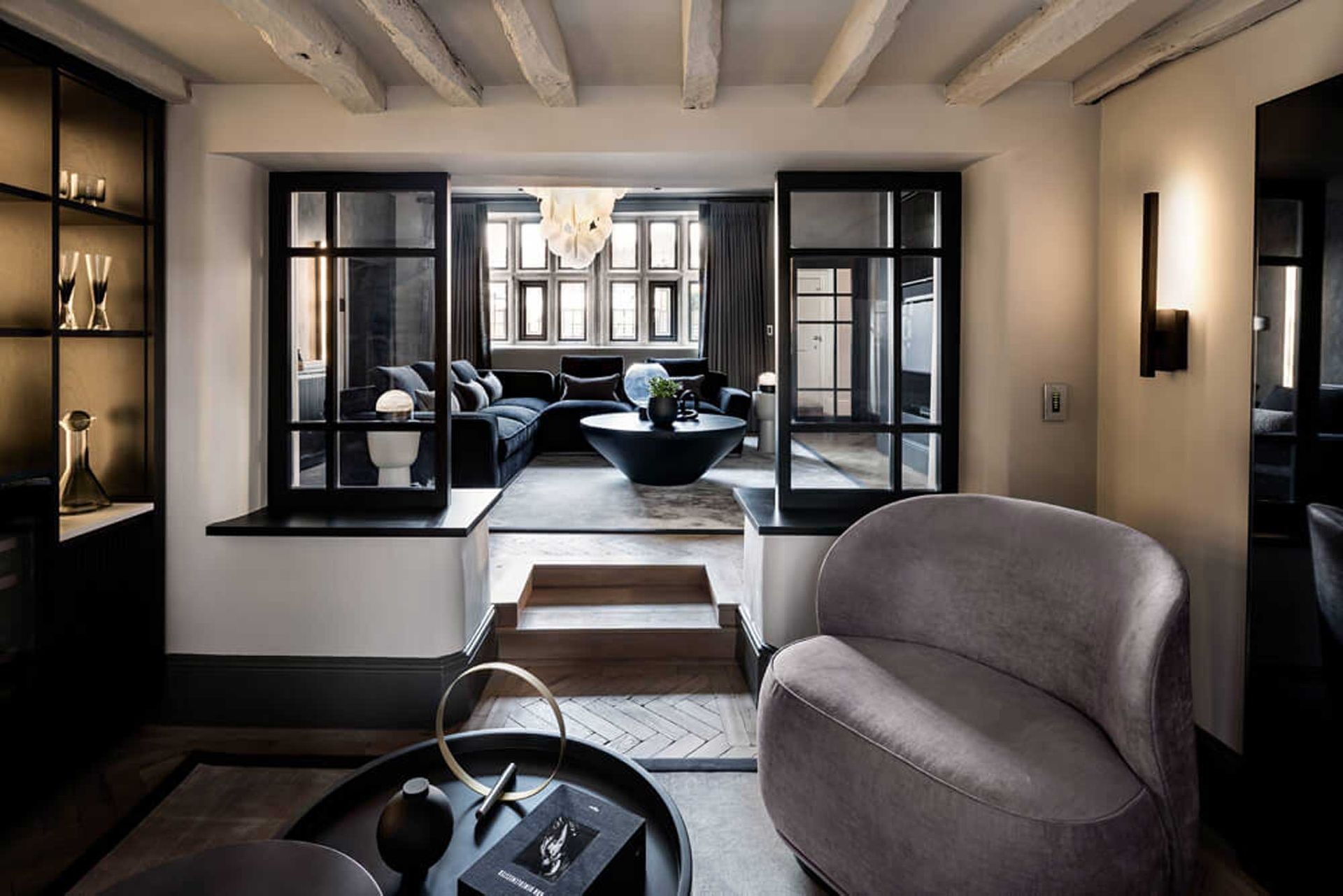 An accent chair is a great opportunity to go for something a bit out of the ordinary and make a statement within your living room. While sofas, on the most part, present familiar classic shapes and traditional styles, a standalone accent chair can often carve out a much more unusual and surprising silhouette.
Rachel Usher, founder and creative director of Rachel Usher Interior Design Studio, speaks to the charm of choosing the more surprising shapes; 'An accent chair can really help make a space pop with personality, and the beauty of accent chairs is that they tend not to follow the predictable shapes of a larger upholstery piece,' she says. 'They can be sculptural pieces in their own right, and can be treated almost as interactive art within a room.'
If you're unsure of where to start, or are nervous to begin experimenting with unusual shapes, Rachel suggests looking at beloved design classics. 'I always love to look at iconic design classics first when choosing an accent chair,' she says. 'These timeless investment pieces can set the narrative for the whole scheme, and give a room instant design credentials.'
6. Pare back with a wooden design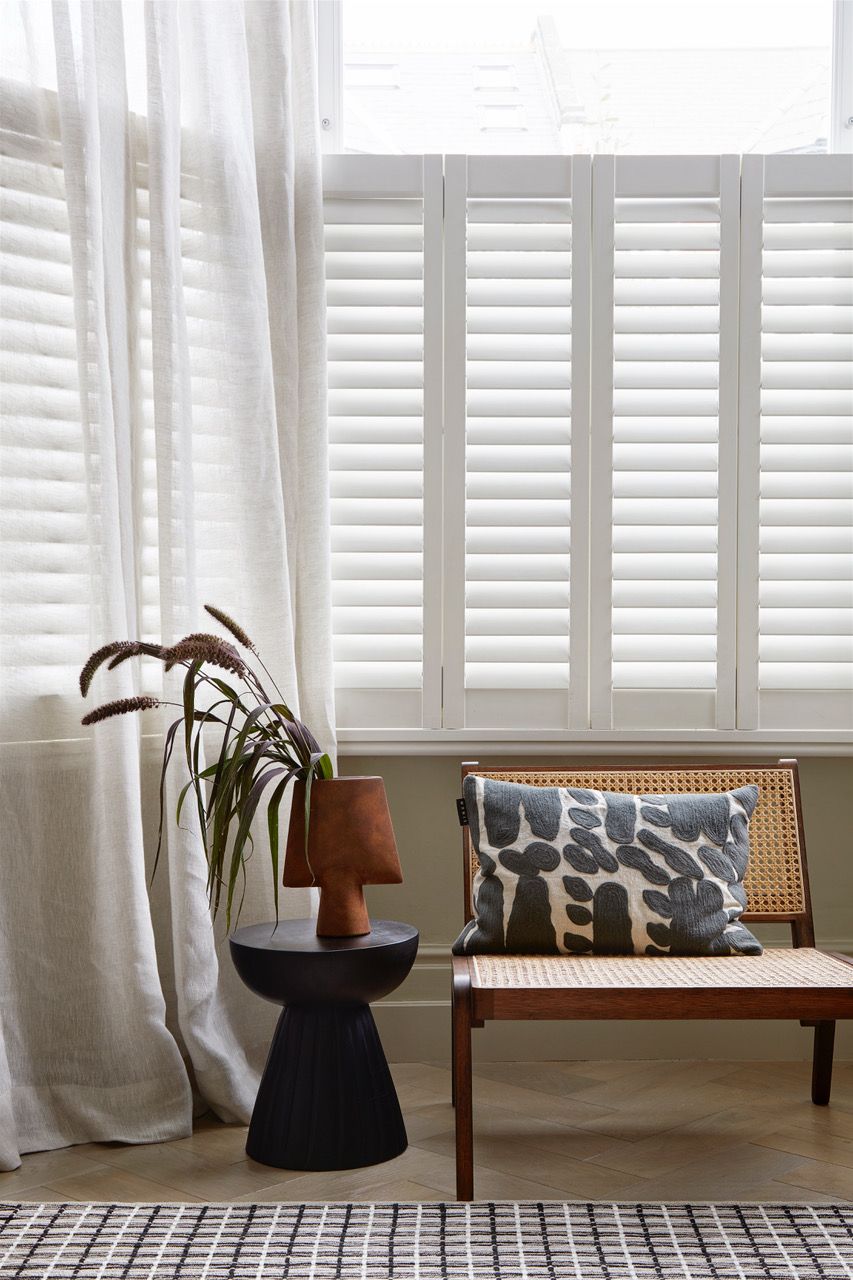 While accent chairs are great for helping to add additional color, texture and depth to a scheme - you can also use them to dial back the intensity of a room and introduce a more striped down feel. Balance Interior Design has a distinctively elegant and pared back aesthetic that runs through each of their projects.
Founder Gemma Tucker often utilizes accent chairs as a means of counteracting other heavier elements within a room. 'To achieve a more pared back style, consider introducing a wooden accent chair alongside upholstered seating,' she says. 'The difference in form and material brings a lightness, elegance and contrast to a scheme. Think spindle back Windsor or cane pieces - all the better if they're vintage or a handmade piece.'
If you're not having much luck sourcing the perfect second piece or aren't able to go bespoke, there are plenty of other options. 'Luckily, there is a great selection of wooden accent chairs in high street retailers, making it an accessible option for all budgets,' says Gemma.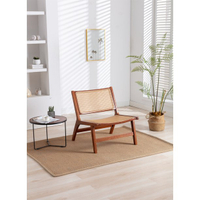 7. Think about positioning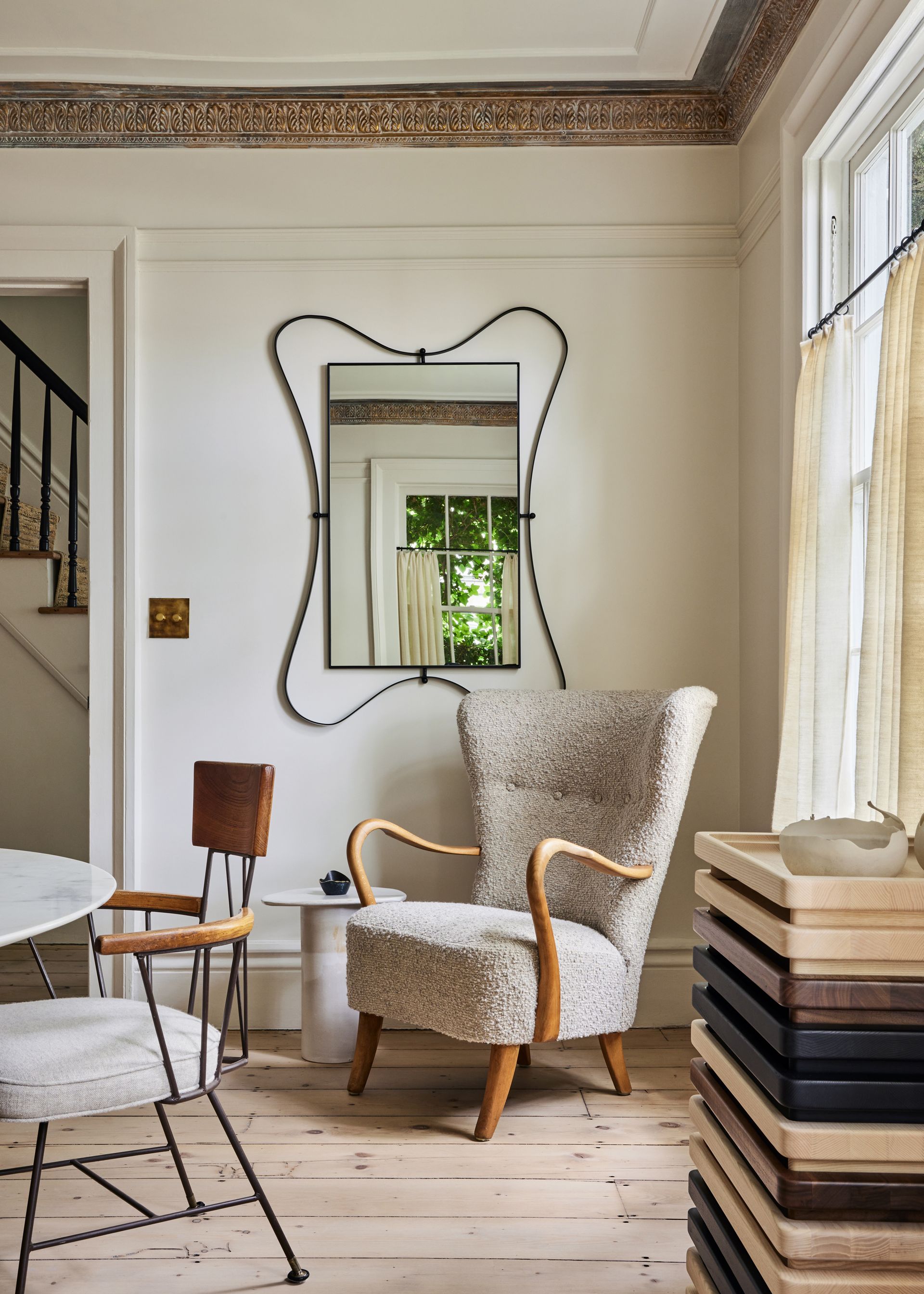 Don't forget to factor in the positioning of your accent chairs, as this should feed into the design decisions you make. For example, if the chair will be placed near your living room TV, you may wish to consider opting for a design with low arms so as not to interrupt the view from elsewhere in the room. Or, if you are putting an accent chair in the window, avoid upholstery in a dark color as this could absorb a lot of light - instead choose a brighter color to bounce light into the room.
Interior designer Naomi Astley Clarke is a master at considering every detail, and the same goes for accent chairs within her designs. 'For rooms where accent chairs sit away from a wall and more centrally in a room, a contrasting fabric on the back of the chair is a wonderful way to ensure the furniture layout appears considered,' she says. 'It also allows you to add an extra element of fun into the space.'
When it comes to choosing an accent chair, Naomi offers some solid advice; 'I would avoid mixing different styles of furniture - instead stick to a similar style as your sofa, but experiment with pattern and color.'
8. Pair it with a side table and adequate lighting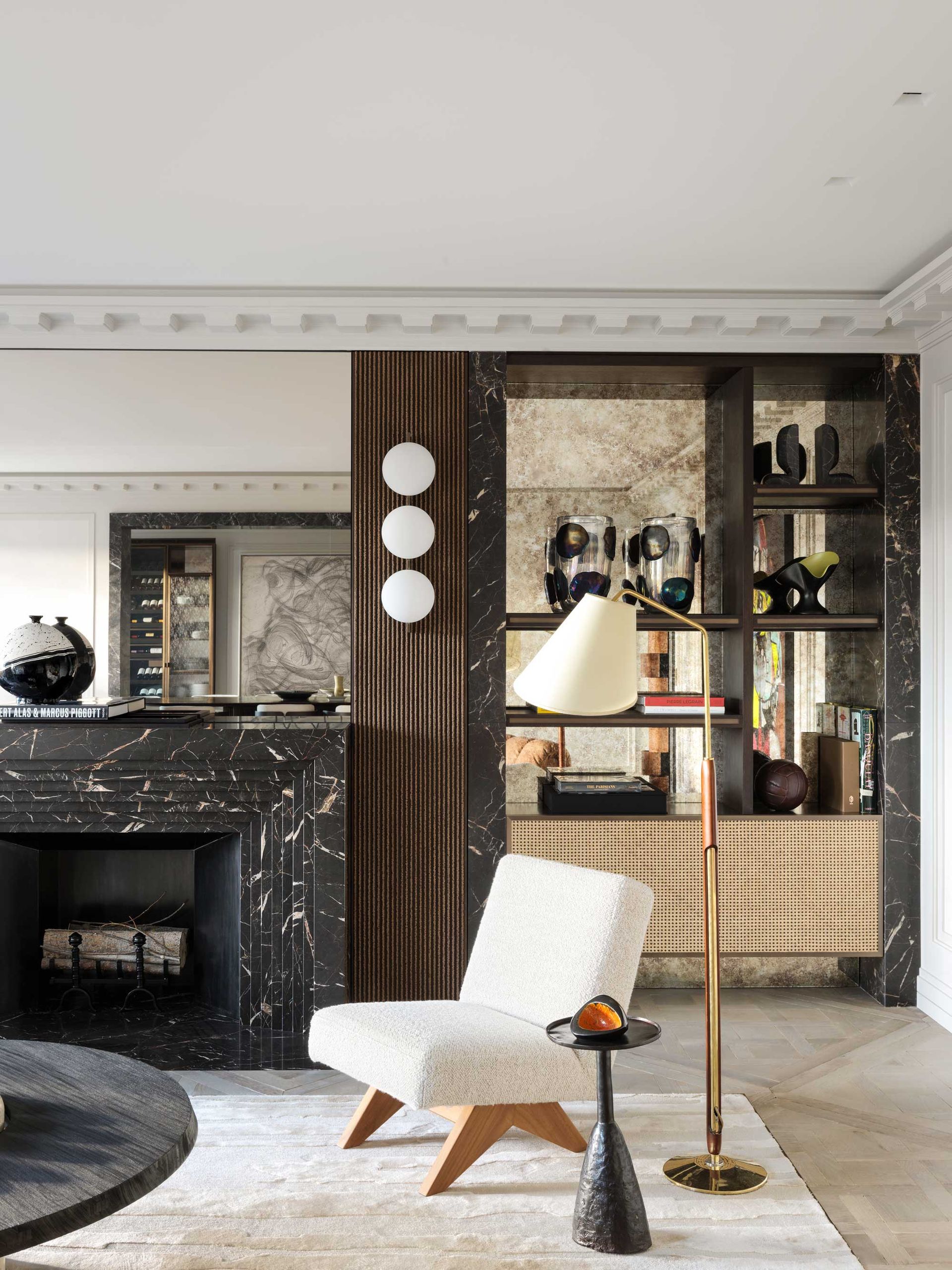 As well as all of the aesthetic considerations, remember to think about the functionality of an accent chair. While they make for a beautifully decorative touch in any living room, they should also provide a usable area to enjoy too - and this means styling them with a couple of important additions.
The first is a side table, because somewhere to place a drink or book is essential for the comfort of any seating, as well as a chance to introduce some side table decor. Secondly, be sure to also accompany the set up with sufficient lighting; a wall light is great for accent chairs within alcoves, otherwise a floor lamp makes for the perfect partner.
For style leaders and design lovers.
Interiors stylist and journalist Amy Neason was the Deputy Style and Interiors editor at House Beautiful for years. She is now a freelance props and set stylist, creating work for a range of national publications and brands such as Imogen Heath. She has previously worked at Established & Sons, and her skills include styling still life and interiors shots for editorial features and sourcing unique products to create inspirational imagery.

She is particularly respected for interpreting seasonal trends into feature ideas and style stories.