Have you been arranging pillows on a couch wrong all this time? Design experts on the secrets to good-looking comfort
Learn how to arrange throw pillows on a couch for the right mix of cosiness, comfort and cool - design experts explain how it's done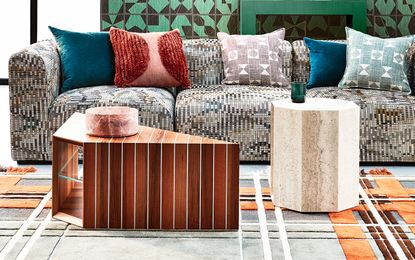 (Image credit: Future)
The Livingetc Newsletter
For style leaders and design lovers.
Thank you for signing up to LivingEtc. You will receive a verification email shortly.
There was a problem. Please refresh the page and try again.
Once you've acquired the knowledge on how to arrange throw pillows on a couch, you'll be surprised at what a difference it can make in elevating your sofa.
Whether you've invested in a custom piece and need to ensure your styling is on par with your purchase, or simply want to enhance a well-loved couch, knowing how to arrange throw pillows will help you do so.
A successful couch throw pillow arrangement will usually see variation in shapes and sizes of cushions. Liz Caan, Principal at Liz Caan & Co, says: 'Vary sizes, shapes, textures and patterns to make it interesting as well as comfortable.'
Elevate your living room with these expert tips on styling your sofa the right way below.
How to arrange throw pillows on a couch
We tapped Marie Flanigan, Principal and Founder of Marie Flanigan Interiors, for her top tips on how to arrange throw pillows on a couch for a look that combines just the right balance of style and comfort.
How many throw pillows should be on a couch?
'The number of throw pillows on a couch is subjective,' says Marie Flanigan. 'However, you'll typically find at least two pillows on each couch I install in a project. At the minimum, there should be two pillows on one corner of a couch.'
She continues: 'Typically, I'll include a larger square pillow and a smaller accent or lumbar pillow (as above).
'If you're more of a maximalist or want to achieve more symmetry, go by the rule of thumb that each corner of the couch or sectional should be dressed with a pillow.'
Dressing the couch with an odd number of pillows can also create a visually appealing, fresh look. For a smaller sofa, three pillows works well, either layered on one end, or a large one on each end with an accent pillow in front of one of them (see the below space by Liz Caan & Co). For a larger sofa, five throw pillows works well.
How should throw pillows be arranged?
Following the 1-2-3 method is a chic way to arrange throw pillows on a couch and one that is easy to remember.
Marie Flanigan explains: 'First (1), always place your largest pillow toward the back. I love when this pillow is a solid color to set the tone for additional layers.
'Then (2), you can move onto a patterned pillow that's slightly smaller or a different size. Then (3), add a beautiful antique or accent pillow in front.'
If you want to keep things simple and don't want to do the full 1-2-3 method, you can skip a step. Marie says: 'I think a solid pillow in the back with a pattern or accent pillow in front is always a winning look.'
You can also choose to go vice verse, and have a your large pillows at the back patterned, and a plain accent pillow in front.
How do you arrange pillows with patterns?
Throw pillows are an easy and chic way to add pattern and color to your couch. But how do you arrange the patterned cushions?
'I always love to layer pillows that are complementary in color palette,' says Marie Flanigan. 'I typically start with a chunky, solid-colored texture or weave, like a linen, then pair it with a different textile, like velvet in front. If I do want to place three pillows on the couch, the third will typically be a subtle pattern or even an embroidered design.'
Try to make sure that the patterned pillow is in a color that features in one of the other pillows, or other artefacts in the room, to bring a curated look together.
For example, the tan pillow above is the same color as the stripe in the linen lumbar pillow, while the grey and white cushion on the right corner brings in the color of the walls and the sofa. All of the pillows on the sofa are also brought together by the colors in the artwork on the wall.
And, below, the patterned pillows all pick out colors that are in the beautiful rug, creating an interesting yet curated look.
How to add texture with your throw pillows
'Mixing textures always adds interest and depth to a space,' says Marie Flanigan. 'I love to use linens and pair it with a beautiful velvet. Jute is also a great option and adds some masculinity to a space. I think sticking to two or three different textures that are also complementary is key to creating a beautiful mix.'
How to add color with couch throw pillows
'Two to three colors is a great rule of thumb when you're choosing throw pillows,' says Marie. 'I love a single color for the large pillow that sits on the back and then two additional colors or a subtle pattern to sit in front.
'Then, with the third pillow, choose something that is embroidered or even antique to draw in the palette of the entire room.'
She adds: 'If your sofa is already a statement color, just choose colors that enhance the other tones throughout the room. Use these pillows to make a cohesive statement that speaks to the room's personality.'
For example, the pink and blue in the polka dot cushion below ties in with the artwork and floral display, while the diamond-print pillow matches the deep wall hue.
How to arrange throw pillows: What's trending?
If you're looking for a particularly design-forward look when arranging your throw pillows, go round. Circular pillows create a fresh, modern aesthetic and, when matched with your sofa in textile and color, can really elevate the overall aesthetic.
Another trend in couch throw pillows is the 'boba' cushion - ball-like spherical cushions with an almost architectural feel. Used as an accent cushion in on-trend materials like velvet, boucle or linen, the finish will add that extra touch of cool.
Our shopping editor picks the three best pillows for the 1-2-3 method
For style leaders and design lovers.
Ruth Doherty is a lifestyle journalist based in London. An experienced freelance digital writer and editor, she is known for covering everything from travel and interiors to fashion and beauty. She regularly contributes to Livingetc, Ideal Home and Homes & Gardens, as well as titles like Prima and Red. Outside of work, her biggest loves are endless cups of tea, almond croissants, shopping for clothes she doesn't need, and booking holidays she does.