How much does it cost to hire a landscaper?
Find out how much it costs to create your dream garden, and keep that outdoor space within budget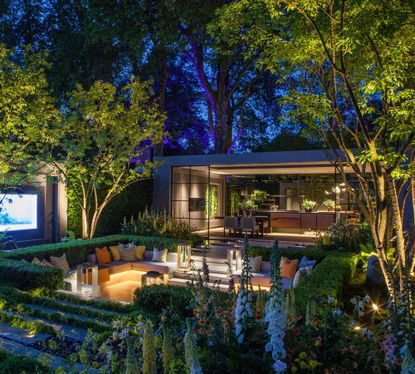 (Image credit: John Cullen Lighting/ Future)
The Livingetc Newsletter
For style leaders and design lovers.
Thank you for signing up to LivingEtc. You will receive a verification email shortly.
There was a problem. Please refresh the page and try again.
Our gardens have become a natural haven for all of us, providing space to both entertain and relax, and landscaping trends make it easier to create the perfect space.
So if you're looking to give your garden an upgrade by adding some more greenery or perhaps a pond, then you'll need to know how much it's going to cost you.
Of course it's difficult to give an exact amount as the size of your garden, the materials you use and where you live in the country all need to be considered. So bear in mind that this is a rough estimation that should give you some idea of how much the bill might be when wondering how to plan a modern garden.
So where should you go to find a contractor?
It's best to look to the British Association of Landscape Industries (BALI) or the Association of Professional Landscapers (APL) to find a reputable contractor in your area.
How much does it cost to install a patio?
There are lots of options available when it comes to paving, and lots of stylish patio ideas to take inspiration from. The type of material you choose will impact the overall cost.
For example, if you go with a stone patio, you're looking at an average price of £45 - £75 per square metre, whereas a concrete patio could cost between £30 and £60 per square metre and a brick patio between £35 and £45 per square metre. The higher the quality of the paver, the more money you're going to spend.
So how much overall?
The average cost of laying a patio will vary from place to place, but you should expect to pay anywhere between £900 and £4,500 - of course, if you have a large space to cover, it will be more expensive.
How much does it cost to install a water feature?
If you're thinking of installing a water feature in your garden, then you should know that the average cost can vary depending on how grand your feature is.
The average labour rate per day can range from £200 to £300 with the total price varying depending on which design you choose and it's size.
Here's a brief breakdown of the average cost:
Low-range fountain: From £30
Stainless steel water feature: £65 - £2,000+
Small garden pond: £600+
Pondless 6ft waterfall 6ft: £8,500 - £10,000+
How much does it cost to install artificial grass?
Artificial grass is becoming more and more popular as it requires little maintenance and keeps your backyard looking fresh and tidy all year round. But how much does it cost to install one?
The cost will vary depending on where you live and which landscaper you use, but the average price for installing grass in a medium sized garden (50 square metres) is between £3,000 and £5,500, excluding grass costs.
If you opt for budget grass, this will cost you between £8 and £12 per square meter on average, whereas the price of premium quality grass can be between £35 and £45 per square meter.
How much does it cost to plant trees?
What better way to add some natural beauty into your back garden than planting a tree. There are lots of beautiful plants to choose from when thinking about modern garden border ideas and by installing some greenery into your backyard you can do your bit for the environment while creating a floral haven for yourself.
While the average daily rate of a landscaper is around £230, the price can easily jump to over £1,000 for jobs such as planting trees.
The price will depend on the species of the tree, how big it is and how many you want planting.
How much does it cost to install a fence?
Adding a fence to your garden is a great way to increase security, privacy and the general appearance of your outside space.
One of the most popular types of privacy fence ideas is a wooden fence as it's cost-effective and can be easily painted, but you also have the option of metal or plastic fences too.
It's important to consider the type of fence panels you choose as well as the cost of labour when calculating the price.
While the cost will vary depending on which design you go for, the average cost of a fence installation is around £1,400 with each fencing panel costing an average of £36.50.
For style leaders and design lovers.
Nicky Morris is a freelance journalist specialising in interiors and design. Covering everything from staircase lighting ideas to Ikea hacks to outdoor kitchens to tips for hiding radiators, she writes for Livingetc and Homes & Gardens and has previously written for Tempus Magazine. She also covers TV writing, and has written for Hello! magazine.