How to use color in dark interior design – Abigail Ahern's tips on creating the perfect balance
The queen of dark interior design, Abigail Ahern, explains how to make moodier colors work in your home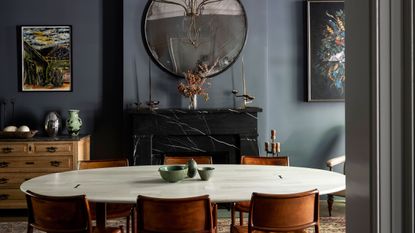 (Image credit: Farrow & Ball)
When it comes to dark interior design, queen of moody hues Abigail Ahern reigns supreme. Known for her signature dramatic palette and love for maximalism, she has almost single-handedly inspired and encouraged many of us to move away from light, neutral hues and explore darker shades in our homes.
Going to the dark side can feel daunting but it has many advantages so it is worthwhile exploring ideas for decorating with dark paint. Not only is it visually arresting, it can be a great backdrop for furniture and art and also make a room feel cocoon-like and more inviting, particularly in the colder months of the year. Here, Abigail explains how to embrace this ever-growing color trend and what are her go to hues achieve her much sought-after look….
1. Choose colors that connect to nature
When you first think of dark interior design, perhaps you go to very dark harsh colors like blacks and charcoals and really deep navy blues, but moodier interiors aren't all about those striking cooler tones. For a much softer, cocooning take on the look, Abigail recommends, looking to the warmer side of the color wheel, and experimenting with hues that have a more natural, earthy feel.
'I absolutely love restorative colors: think warm, inky hues, such as Crosby, which is a pinky-brown, and Kelp, which is a warm, earthy brown. Then there's Pickle – a burnt toffee color which I have in my kitchen – and classics such as Madison Grey, which has green undertones that instantly connect you to nature. I've created and used many of these colors to decorate my home and my London store.' says Abigail.
Now browns, might not be a color you ever considered trying in your home, but you'd be surprised how versatile of a shade it is and how many colors that go with brown to turn it from a sluggish hue into a stylish shade that can work with so many styles.
2. Paint walls and woodwork the same color to expand the space
This look may sound bold, but it works so well as a small living room idea or in any room where square footage is limited. Going all over with one color can blur the edges of the room, so the eye can't focus on the dimensions of the room, making it feel larger.
'My mantra for decorating a room is simple: everything gets painted the same color: the floorboards, skirting boards, ceiling, windows and doors.' advises Abigail. 'This instantly makes the space look more sophisticated because there's nothing to distract the eye.'
'You can then add pieces to create visual interest. For instance, in my living room I've used Crosby and then accentuated it with paler pieces of furniture. I've got a cream corduroy sofa, a really big, shaggy, super-textural creamy-browny rug, and lots of earthy-colored accessories.'
3. Be brave enough to paint the ceiling
Ceilings have long been ignored when it comes to color and pattern, often left in some light neutral tone so it just goes unnoticed. But ceiling decor ideas are finally getting some traction and we are realizing our fifth wall can really add to a room whether that's with paint or wallpaper. And again, it's a brilliant hack for making small rooms feel bigger.
'The beauty of painting everything in a room the same color is that it works for any style and size of room, and for any country and location. Painting the ceiling the same color as the walls scares people the most, but it's the most game-changing thing that you can possibly do, particularly if you go for inky mid-tone colors. This is because you can't tell where the walls stop and the ceiling begins, so the walls feel taller.' explains Abigail.
4. Use a matt finish on the walls to disguise imperfections
Dark hues and matte finishes go hand in hand. Going for matte paint softens the look, making moodier hues feel less imposing a more cocooning. Plus it's the perfect finish for all surfaces so you can blend features together so you can nail that seamless, all-over look that Abigail recommends experimenting with.
'For me, walls must have a matt finish because this makes them look and feel like velvet. Although matt paint is harder to keep clean than glossier paint, it's quite easy to touch up.' explains Abigail. 'For skirtings, window frames, and doors, I stick to an eggshell finish. This lets the woodwork blend beautifully with the matt walls so that nothing is picked out. For the same reason, I also steer clear of gloss paint because I don't want to draw attention to particular features.'
5. Choose colors that feel calming
What is so tempting about darker hues is that that really cozy, cocooning effect they have, for such dramatic shades the spaces that they create are often so serene and calming. The trick for really upping that welcoming feel is to introduce plenty of warmer shades like dark beiges, terracotta tones, and again those browns we talked about earlier. This combination is a great bedroom color idea where you really want to emphasize coziness.
'I can't do brights on walls! I want a paint color to last in a room for at least five years, so I look for a color that I'm not going to get bored of. There's no right or wrong but for me, bright colors are too jarring and I prefer colors that are super calming.' explains Abigail.
'Don't get too hung up on the orientation of your room. For example, you'll hear a lot of people say that if you have a north-facing room, you should only choose warm colors. I tend to ignore all of that. If I'm painting a north-facing room, I'll still use quite a deep, saturated color, but then I'll accent that with warmer colors.'
6. Choose paints with natural pigments to give some depth
'I recommend choosing colors from brands that make paints using natural pigments. They're more expensive, but if you use cheaper synthetic paint, you don't get undertones and the color just feels flat.' advises Abigail.
'When you paint with pigments from the earth, the hues take on lots of different undertones as the light transitions around your home. If you want to cut your paint budget, you could always undercoat in a cheaper brand and then topcoat in a natural pigment.'
'There's a fine line between a room that feels flat and one that has a little bit of an edge. I've found that a palette of four colors works well, although some people prefer three. Don't get too hung up on the number, although if you use more than four, the room can read as quite messy.'
7. Do use the right shade of black
If you do want to experiment with black paint, whether then be with hallway paint ideas as seen here, or just adding a feature wall to a living room, just be very particular about the shades you go for and look very carefully a the undertones. A lot of black paints have a blue undertone which is great if you don't mind a slightly cooler color, but for a warmer, softer look, try and source blacks that have a brown undertone.
'If you want to give your walls an edge, try Hudson Black. It's black but with browny undertones which make it really soft and calming — quite unusual in a black paint.' says Abigail. 'It's as fabulous on one wall as it is on all walls and looks amazing partnered with paler shades and accessories. It's an enveloping and grounding color, and any room that gets painted out in it always makes you want to linger longer.'
What rooms can be painted dark?
Really, any room can be painted dark. As Abigail has said, you can ignore those classic interior design tropes like don't paint small rooms with a dark shade and avoid cooler colors in north-facing spaces, and really just experiment with the colors you want to. It's just paint after all, it's one of the most interchangeable things you can do in home decor.
We will say darker hues do lend themselves best to rooms that you want to have that lovely cocooning, welcoming feel like bedrooms, living rooms and hallways.
Does painting one wall darker make a room look bigger?
Often no. If you are going to dabble in the world of dark interior design your best bet is to go all in and paint all the walls rather than just a feature wall. Having one stand-out wall that's painted in a dark shade will break up the space and in a smaller room this can instantly make you very aware of the dimensions. Whereas if you take a dark color around the whole room, it blurs the edges and can in fact make the space feel larger.
The Livingetc newsletter is your shortcut to the now and the next in home design. Subscribe today to receive a stunning free 200-page book of the best homes from around the world.
Sophie Baylis is a UK-based journalist who started working in-house at the British magazine Kitchens, Bedrooms and Bathrooms, before leaving to go freelance. She contributes regularly to premium brands such as Livingetc, Ideal Home, and Homes and Gardens. Sophie has well over 20 years worth of experience, and says her love of interiors began at a young age, poring over the mail order bedding pages of a catalog!