Cactus are the low-effort garden trend of 2024 - 9 ways designers use them to create elevated, sustainable spaces
Cactus gardens are the one look we can all do well without having to rely on too much water. Low maintenance and beautiful, this is how designers use them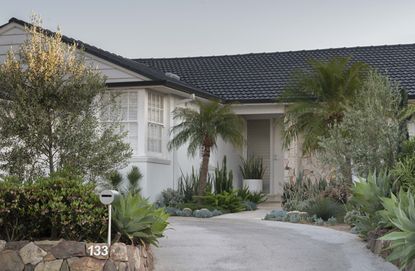 (Image credit: Garden Life)
The Livingetc Newsletter
For style leaders and design lovers.
Thank you for signing up to LivingEtc. You will receive a verification email shortly.
There was a problem. Please refresh the page and try again.
Chic, contemporary, and invoking of warm climes, and sun-soaked spaces, cactus gardens are frequently becoming the way to do a modern garden. Cacti and succulents are very architectural plants which lends them perfectly to more minimalist gardens. And they look stunning and really make a statement when brought together – you can find so much variation in shapes and sizes and textures, but what they do all have in common is that exotic vibe, the unusual silhouettes and fleshy leaves that look almost otherwordly.
Now we will preface this gallery by saying that usually a cactus garden needs warm weather, they need a backyard with plenty of sunlight and not too much water. So they will only thrive in certain climates. But that's not to say there aren't ways around this and you can still create a tropical setup if you live in more seasonal parts of the world. There are options, like a container garden so you can bring your cacti inside when the weather starts to change, or finding a spot in your garden that offers the best conditions, and there are even frost-hardy succulents to choose from.
9 cactus garden ideas
So whether you want to embrace the trend for an all cacti garden, or simply what to introduce these beautiful plants to your current backyard, we have plenty of ideas and advice from landscape designers to get you inspired.
1. Consider your climate
Before we dive into lots of beautiful cactus garden ideas, we first need to address the needs of cacti. While they are ideal in a low-maintenance garden, they do need the right conditions to thrive. And those conditions are, well think of a desert, they like it hot and dry.
'When planting a cactus garden you have to consider things primary things, your climate (rain, humidity, temperature), how much sun the area gets, and soil,' explains Tim Stephens, director of cactus specialists of Cactus Culture.
'Despite our association of cacti with the old west, deserts, and cowboys, they are actually an enormously diverse family of plants. For example; Copiapoa cinerea occurs naturally in the Atacama desert which averages only 0.5 inches of rainfall a year. On the other hand, Rhipsalis baccifera can be found growing in trees deep in the Central American tropical rainforests,' says Tim.
'If you live in a hot and dry environment you will want to use cacti that are native to places like Texas or Mexico, luckily for you, that is a pretty enormous range of them. If instead, you live in a hot and humid environment, you may want to consider using South American cacti instead. If your environment is cold you might want to look into frost hardy cacti, native to high mountainous areas.'
'And most cacti love the sun, some more than others but there aren't many that enjoy the shade. Choose a garden location that gets plenty of direct, unfiltered sunlight to maximize the health of your plants. When planting your cacti be conscious that sudden changes to the amount of sun they receive will result in sun damage,' explains Tim.
'If your cacti were not previously in full sun before planting consider draping shade cloth over them for roughly two weeks while they adjust. Alternatively, plant your garden in winter when the UV is lower. An added benefit of winter planting is that the cacti should be in dormancy which will minimize transplant shock.'
So there is a cactus for all climes, just choose carefully.
2. Create a scene with boulders and pebbles
Now we get that might sound a little... fussy and stylized. But there's a way to do it that looks very organic and natural and is a nice way to break up the greenery and add some contrasting textures and colors into a cactus garden. Plus variations on the rockery are huge in garden trends right now.
Be inspired by this space, designed by Secret Gardens. The pebble base is the perfect backdrop for the cacti as it really makes the greenery pop and you can see all those interesting silhouettes far clearer. The addition of the larger rocks doesn't feel too staged either as it's reflective of the desert landscape these plants would usually be found in. Plus a layer of pebbles is great for drainage which is key for a thriving cactus garden.
'Ensure there is lots of drainage, cacti hate wet feet. And ensure there's lots of light too,' says Henry Chapple-Cox design manager at Secret Gardens, who created this oasis. 'Go big, go bold, experiment with different varieties, and have fun! We designed this cactus garden to be highly visible from inside the house, a celebration of the different colors, textures, and forms of cacti and succulents.'
3. Soften the look of cacti with softer planting
The majority of cacti are very architectural plants, by that we mean that have very strong silhouettes – it's why they lend themselves so well to more modern gardens. But, think about when you are designing a modern minimalist room, you want to also be bringing pieces that soften the space, add some depth, and contrasting textures. Take the same approach when planting a cactus garden and be inspired by this layered design by Dangar Barin Smith.
'Cactus are great to use. If planted in the right spot, they can look really striking and require almost no maintenance. If you want to grow several cacti in an area of the garden, choose the same species, rather than the temptation to plant one of each,' suggests Hugh Main, director of Spirit Level Designs.
'I also like to surround cacti with grasses and groundcovers to soften the feel of a cactus garden. A lot of cactus gardens can look a bit hard and static. Adding plants with a fine texture, or low sprawling habit creates a beautiful combination with the striking forms of different cacti species. In the desert, where most cacti grow, there is often a tough tussock of grass, or low subtle ground cover nearby. Take the cues from the environment in which plants grow and you will always get a more successful outcome.'
4. Compliment a modern home with a cactus garden
Planting for a contemporary home can be slightly tricky – you want plants to soften the architecture and add some natural textures and shapes, but equally, you want any planting to compliment the design. Cactus gardens do both, add the nature, and their architectural qualities are very much in keeping with a modern setting.
We love how the cacti and succulents work in this driveway designed by Wyer & Co. 'Succulents are adaptive, hardwearing plants with diverse forms, colors and blooms. We specify cacti, aloes, and succulents in our gardens to bring sculptural form and textural diversity to our designs,' explains Anthony Wyer, founder and creative director, Wyer & Co. 'Elongated, linear, and set within an irregular shaped block, this project carefully integrates architecture with landscape and environment to create a home that responds to the unique qualities of its site.'
5. Mix and match different heights
Just as you want a variation of textures, you also want to be layering different shapes too. This will give you garden focus, and plants won't get lost in the design.
'Think about the kind of plants you want to see in the space,' says Richard Unsworth landscape designer and founder of Garden Life. 'Ideally, you need three layers – some larger key pieces, some mid-layer plants, and some lower growing species. Putting these three sizes together will create interest and a layered look.'
'For hero plants with good scale, consider using euphorbia ingens or ammak, which can be very dramatic and grow to 20 feet. Mid-layer plants can include prickly pear (we prefer 'burbank spineless' as it is noninvasive) or some of the larger Aloe species (visit aloealoe.com.au) provide wonderful winter flowering color. Aloes also come in a variety of sizes, so you can find both mid-layer and lower plants. Consider using Crassulas for the lower plants (we like this red-tipped Crassula on Amazon), or explore the wide range of Kalanchoes, such as 'Silver Spoons' or 'Copper Spoons,' adds Richard.
6. Contrast deep greens with white planters
This cactus garden, part of a project by Australian designer Tamsin Johnson, is perfect if you are looking for ways to add a cactus garden in a small backyard. Cacti are perfect plants for when space is tight because they add so much interest and you can cram in so many different, striking shapes and textures.
We love the contrast of the white brick against the deep green of the cacti, it feels so Cali-cool with a touch of a Medittereran Ibiza vibe. But actually, a really simple look to recreate in a smaller space. Edge your space with brick planters – they don't have to be deep either, even just creating enough space to plant a row of cacti will add all the greenery needed and soften the edges of the yard.
We've all heard of the thrillers, fillers, and spiller plants approach (mix taller plants, textural plants, and trailing plants), so use that when planting your cactus garden to ensure maximum interest.
7. Pick agave for a tropical vibe that's freeze proof
After the tropical feel of a cactus garden, but don't have the climate to match? There are succulents that give that desert look, but can withstand sub-zero temperatures. You can plant them directly into the ground and leave them out all winter. Agave is one of these plants – luckily it looks fabulous too, super structural and striking.
'This planting scheme was designed to cope with hot, dry conditions in a changing climate,' explains Tony Woods, Director Garden Club, who designed this cactus garden for the Chelsea Flower Show. 'Agave is a great plant to use as it is very robust and structural, as long as they are in well drained soil in a sheltered position they will survive through winter in pots or the ground. My favourite succulents are Aeonium with striking fleshy stems and leaves they add a real architectural wow factor!
8. Plant up a cactus garden indoors
We've talked a lot about the conditions a cactus garden needs to thrive, and while it's true that are pretty low-maintenance plants when they are happy, most of them really do need that sunshine and warmth. So what if you aren't blessed with all year round sunshine and heat? The great thing about cacti and succulents is they are the perfect plants for creating an indoor garden and can make a real statement in a room, especially if you go big.
Case in point this amazing living room set up designed by Andrew Trotter. Choosing mature, large cacti adds such an unexpected element to the room – it's almost like a 3D wallpaper and is so perfect for the more minimalist vibe going on in this space. 'The cacti behind the sofa were planted just to add a bit of green to the room, we wanted plants that didn't need much to take care of them, and they are very happy there.' explains Andrew.
Here the cacti are planted into a border that's be built into the sofa unit, but you can really easily recreate the look with a collection of potted cacti too.
The most beautiful cacti to buy now
How do you care for a cactus garden?
'Our top tip for caring for cacti (and succulents): it's not the quantity of water that kills a plant, it's the frequency,' says Jemma Charman, co-founder of Green Rooms Market. 'When you water them, give them a good drenching, and let the soil be bone dry before watering again.⁠ Over winter a cactus won't need watering at all. If you have them placed inside a decorative planter be sure to water them at the sink, waiting for all the water to drain away before placing back in the decorative pot. Being desert dwellers, cacti don't want their roots sitting in water for long periods of time, so a really quick draining soil mix is best, with as much as 70% grit.'
Tim Stephens adds that ''Soil is one of the most important components of a healthy cactus garden. Most people use soil which is far too organic, leading to poor plant health, excessive moisture retention, fungus and rot. To avoid this, the top 6 - 8 inches of soil in your garden should be a 50/50 mixture of organic soil and half an inch of gravel. Most sharp gravels will be suitable for this purpose but sandstone, pumice or granite are all excellent choices.'
'Fertilizer can be applied from spring-summer in most climates. If you cannot source a cactus specific fertilizer use a tomato fertilizer instead at a half dose. Keep an eye out for small white dots on your cacti. It is an insect pest called scale which is easy to eradicate if caught early,' advises Tim.
'Black spots can be scary but if they are hard they are usually okay. Black soft spots on the other hand signify rot. Consider cutting the rotted part out to stop the spread, treat the cut area with sulfur powder and allow it to dry/recover.'
If you live in a climate that really won't allow for you to grow cacti outdoors, they do make for great low maintenance houseplants.
'Desert dwelling cacti, characterized by their spiny forms, love hot and dry environments where there is little rain. This setting is best replicated indoors on a sunny windowsill with infrequent watering,' says Jemma.
'Cacti and succulents require very little care; in fact they thrive on neglect. Anyone with a sunny space, ideally south-facing will be able to grow cacti successfully indoors, as long as you are not an over-zealous waterer! If you have a very sunny, sheltered garden you can even grow cacti and succulents outdoors in pots.'
'Did you know, there are two types of cacti; desert dwellers and forest dwellers. Forest cacti look particularly different to the bulbous, spiny desert dwelling cacti that we are all familiar with. Forest cacti like Rhipsalis hail from tropical forests in Central and South America and are epiphytes that grow hanging onto trees under the forest canopy. These tropical cacti can be grown very successfully indoors, away from direct sunlight. They look particularly effective grouped together, trailing off a shelf or hanging from a rail or the ceiling, creating an instant jungle look,' adds Jemma.
Do cacti prefer pots or to planted in the ground?
This depends on your climate. If you live somewhere that's very seasonal, pots are a good call as you can bring them inside over winter, or just keep them inside as houseplants. However, if you have a sunny warm climate pretty much all year round they will be fine planted directly into soil.
Jemma's tip when planting a cactus garden in pots is to, 'find the sunniest spot you have, in this space you can grow a mix of cacti and succulents, they are both sun and drought lovers and together, create a really effective display, mixing the spiny textures of cacti with the softer shapes of succulents.'
'Cacti and succulents should be planted into pots with drainage holes, these can be placed inside a planter. Cacti and succulents can also be planted directly into terracotta pots with drainage holes, these are particularly good for cacti and succulents, being made of a porous material they create a drier environment for the roots.'
'In a sunny, sheltered garden we love to grow an eclectic mix of cacti, echeveria, aeoniums and aloes outdoors during the summer. With free-draining soil, in pots with drainage holes they are tolerant of summer showers, we would however recommend bringing them indoors for the wet, cold months,' adds Jemma.
For style leaders and design lovers.
Hebe is the Digital Editor of Livingetc; she has a background in lifestyle and interior journalism and a passion for renovating small spaces. You'll usually find her attempting DIY, whether it's spray painting her whole kitchen, don't try that at home, or ever changing the wallpaper in her hallway. Livingetc has been such a huge inspiration and has influenced Hebe's style since she moved into her first rental and finally had a small amount of control over the decor and now loves being able to help others make decisions when decorating their own homes. Last year she moved from renting to owning her first teeny tiny Edwardian flat in London with her whippet Willow (who yes she chose to match her interiors...) and is already on the lookout for her next project.