5 things people who always have neatly organized shoes do that you'll want to copy
This organizing experts suggest how to keep shoe chaos at bay, and your entryway or mudroom looking pristine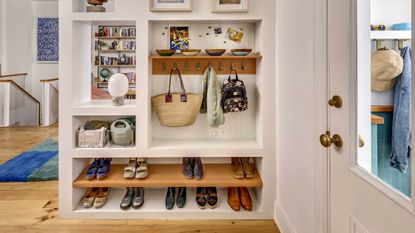 (Image credit: Barker Architecture Associates)
The Livingetc Newsletter
For style leaders and design lovers.
Thank you for signing up to LivingEtc. You will receive a verification email shortly.
There was a problem. Please refresh the page and try again.
In a busy family home, shoes seem to multiply. It's hard to keep them all in one place, let alone keep that space looking good. You may start with a strict regime of keeping them neatly inside cabinets only to find them littered all around the house by the end of the week.
For this reason, we decided to reach out to top organizers who share closet, mudroom and entryway shoe storage ideas that will keep these spaces looking clutter-free and organized.
From stackable shelves to classic tiered racks, these are the options to consider.
1. Store daily wear shoes at the entrance
Keep the hallway shoe storage only for the shoes you need and wear frequently. This will allow you to reduce the number of footwear you keep here, making the entrance neat and tidy.
'Keep the shoes that are in daily/weekly rotation in your entryway storage,' says Amanda Wiss, founder of Urban Clarity. 'The remainder of your footwear can be stored in your closet. I switch this out seasonally as well. My fall boots take a back seat in my closet during the summer months, while my sandals and light sneakers live in my entryway storage. Then I make the switch in early fall and place my fall/winter shoes back up by the front door and my sandals and summery footwear go back into my closet.'
2. Add stackable shoe racks
For the best ways how to organize shoes in a closet, you'll need to bring in some clever storage. 'If you have floor space available for shoe storage, place a stackable shoe rack below your shorter hanging clothing and organize your shoes in pairs on it,' says Amanda. 'Save the tallest pairs of boots/sneakers for the top row where they have the space to need to sit comfortably. Stack at least two tiers or as high as you can comfortably go so that the top row of shoes sits below your hanging clothing.'
3-Tier Stackable Shoes Rack
Material: Metal
Price: $24
Choose this metal shoe rack that can help you keep all your footwear organized and easy to reach. Each shelf can hold up to 30 lbs.
3. Store the shoes back to front
If you have limited entryway storage, storing shoes in such a way that they create more space for your footwear is key. 'Store shoes back to front when placing them on the shelf,' says Charlotte Sitton, founder of Organised by Charlotte. 'This way you can fit more onto the shelf. You can slide sandals into each other and rest them on the side for additional storage. If you have a really deep shelf try storing pairs of shoes, one in front of each other, so you can see which shoes you have, instead of storing different shoes at the back.'
4. Use slim fold out shoe storage units
Nifty stacking boxes are one of the best hallway or bedroom organizers that can be inserted anywhere – inside the closet, within a niche, or along a wall.
'Slim fold-out shoe storage units are perfect for the hallway so you have somewhere to quickly place your shoes,' says Charlotte. 'Stacking shoe box squares is a great way to optimize awkward, under-the-stairs storage space. Getting pull-out shelves in wardrobes for shoes helps you optimize storage space and so you can see all your shoe collection.'
5. Add expandable risers to stack in more shoes
Multipurpose furnitureis a useful hallway storage idea and one that can contain several items all at once.
'Every inch of storage space is precious therefore, shoe storage can do double duty as a bench or shelf,' says Amanda. 'I love the West Elm entryway bench where shoes can be stored inside and the top can be used as a bench to put on your shoes before you leave the house. Also, I use expandable risers inside the bench to get two rows of shoe storage instead of one. Leave a little space to one side of the interior of the bench for any taller boots/shoes.'
'On another note, if you have limited floor space for shoes but you do have open real estate on the inside of your closet door you can use that for extra storage,' says Amanda. 'There is often some fantastic vertical space there just waiting to be used. You can get an over-the-door storage rack for shoes. Use the bottom bins to store flip flips and other smaller, flat sandals and footwear.'
For style leaders and design lovers.
Aditi Sharma Maheshwari is an architecture and design journalist with over 10 years of experience. She's worked at some of the leading media houses in India such as Elle Decor, Houzz and Architectural Digest (Condé Nast). Till recently, she was a freelance writer for publications such as Architectural Digest US, House Beautiful, Stir World, Beautiful Homes India among others. In her spare time, she volunteers at animal shelters and other rescue organizations.