9 unusual bathroom materials designers are using to set the trends for 2024
Interior designers are taking risks and breaking from tradition when it comes to bathroom materials. Follow their lead and create a bespoke bathroom that's unique to you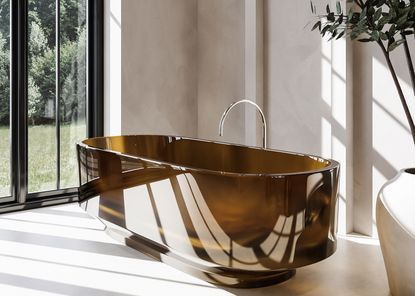 (Image credit: Tendens Studio)
The Livingetc Newsletter
For style leaders and design lovers.
Thank you for signing up to LivingEtc. You will receive a verification email shortly.
There was a problem. Please refresh the page and try again.
When redesigning your bathroom, it can be all too easy to take a utilitarian approach. One where the function of the room dictates the form and creativity takes a back seat. Furthermore, even when we do think of how best to decorate our bathroom, the somewhat standardized library of materials is our go-to. Think basins of veined marble and plenty of white everywhere from the ceramic tiling to the pristine bathtub. In fear of creating something too fragile or expressive, we err on the side of caution, and this can lead to a bathroom that we feel dreadfully uninspired by. But it doesn't have to be this way.
Material innovation has come a long way and designers are pushing the boundaries when it comes to modern bathroom materials. From reclaimed stone basins to reflective brass cabinets, bathroom design can be just as expressive and entertaining as its kitchen and living counterparts. These ingredients balance form and function, offering you the chance to create a truly unique space that reflects your identity and the essence of your home whilst standing the trials and tribulations of daily life. Bathrooms are particularly challenging when it comes to durability and water is a force to be reckoned with. Designers are cleverly seeking out material solutions to these problems like water-resistant but colorful micro-cement.
Materials like colors bring personality and character to rooms and this is something to consider when creating your palette. Evaluate not just the strength, durability, and practicality of your material but also the effect it has on you. This is a space that you will use multiple times a day, every day, so choose ingredients that you will be happy to see when you walk into the room.
1. Microcement
Color and durability come together in this vivid bathroom design from Studio Rhonda. This playful bathroom design features a shower cave, constructed with a verdant mix of microcement. The color is used liberally to create a strong sense of escape in this room, but the material choice is what makes it so smooth and inviting as interior designer Rhonda Drakeford explains.
"I chose the bespoke green microcement for the shower area to create an immersive cocoon of positive color. Microcement is a wonderful material as it can be used on bathroom floors, walls, and ceilings for a seamless and very robust, and watertight surface. It has a characterful, matt texture and cloudy pigments that soften the color," Rhonda says. Take inspiration from this contemporary green scheme and choose a material that encourages creativity with color.
2. Raw stone
Not all unique bathroom materials have to be new, as proven by this sculptural boulder basin featured in Jackson-based studio, WRJ Design's powder room design. Under the warm glow of the wall lights on either side, this basin creates a captivating statement.
"We worked with the homeowner and builder to turn a 700-pound boulder, excavated from the homesite, into a unique organic stone sink in the powder room of one Jackson Hole home. Artisans crafted the basin and hung the stone with steel supports on a salvaged wood accent wall, where it appears to defy gravity," says Rush Jenkins, co-founder of WRJ Design. There are two important lessons to be learned here, the first being the importance of connecting your interior to the exterior of your home.
The boulder speaks to its surroundings and materials like this bring a cohesive warmth to spaces. The second is to not shy away from repurposing materials that might otherwise be forgotten. Speaking to your builder, architect or local stone mason will be the first step on your path to introducing an unexpected material to your space.
3. Colored glass
Whilst we are continuing to see more expressive designs on the walls, floors, and even ceilings of bathrooms, the bathtub itself continues to stay a clinical shade of white in so many of these schemes. This minimalist bathroom design from Copenhagen-based Tendens Studio features an enticing smoked glass bathtub. The use of color is refined and makes a lasting impression in this space. Designer and founder, Rasmus Buchman was seeking to experiment with materiality in the bathroom with this scheme and has succeeded.
"Sometimes when I'm making visualizations, I like to make or use products/furniture that have a different approach than others. Therefore, when I came across Antonio Lupi, I saw this unusual bathtub series called Borghi. I fell in love immediately and I believe the material of glass combined with the color, implemented the bathroom in a way that's enhancing the feeling of well-being around it," says Rasmus Buchman of Tendens Studio. Whilst the color is earthy and inviting, the glass adds a smooth surface and air of serenity to the bathroom. If you're seeking to make a statement but still want to keep things minimal, colored glass could be the key. Its impact is shared by the founder. "Since then, I have got a lot of questions regarding the bathtub, so it seems like I'm not the only one who thought it was remarkable," he adds.
4. Terrazzo
Think pink and create a dreamy bathroom with terrazzo. This composite material is continuing to become a staple in kitchens and flooring designs, but it can also bring color and durability to bathrooms too. Blush pink, brass accessories, and natural textures like hessian bring out the romantic side of the terrazzo flooring and walls.
"The terrazzo is bold yet sophisticated and gives off old-world charm while giving a contemporary vibe with the saturated color. It's a highly durable material and the large format tiles make it great for use on the floor and walls. I also love how low maintenance it is with its minimal grout lines and a seamless appearance," says Caitlin Parker-Brown, Director of Parker Studio.
Parker highlights the importance of choosing materials that both encourage creativity in the space and are also easy to maintain. Terrazzo's stain resistance and durability are coupled with its colorful and textured appearance, giving you the best of both worlds.
5. Sculpted plaster
Custom material palettes can also be used to create your own distinctive architectural and artistic features. New York-based designer Danielle Richter's bathroom design creates a sense of occasion and drama with its plaster mural of a mythical goddess.
"I commissioned an artist to make a custom plaster basrelief in my NYC bath. We designed the basrelief with a larger-than-life Central Park Goddess," says Danielle. This unusual material also presents an opportunity to work with local artists and sculptors to create an architectural feature that is unique to you and the space.
In this example, the plaster mural embraces the lightness and pared-back palette of the bathroom but still sets it apart from your standard scheme. The silver hardware and bathtub work well to reflect the light around the room. Your bas-relief sculpture can reference the architectural context of your building or locality, Richter's choice emphasizes the classical art-deco styles that popularized New York through the 30s and remain a presence in some of its most iconic buildings.
6. Waterproofed wood
Wood is often avoided for bathrooms because of its porous nature. There are routes to make this marriage between wood and bathrooms work though, one of which is a water-resistant treatment. This creates a thin but durable barrier between the natural material and making it impervious to stains and water damage. Designer Constanze Ladner shares her intentions to use waterproof wood in a clean and contemporary bathroom design. "The materials chosen are not normally used in bathrooms: Linen curtains, bronze mirror and glass, wooden floor, and wooden wall panels. All materials have a warm feel and make you feel welcome - they could also be used in any other room," she says. "Wood can be treated to be waterproof for use in the bathroom, so it can easily be used with water or steam."
Her advice for bathroom design leans into the importance of creating a space that feels reflective of your personality and encourages you to engage with it. "My aim when designing bathrooms is always to create a warm, inviting space that doesn't feel like a bathroom, but an elegant, harmonious space that you enjoy spending time in, feel comfortable in, and look good in the mirror," she adds.
7. Brass
A touch of gold is never a bad idea. Australian interior designer, Greg Natale's maximalist bathroom design for his East Brisbane project is endlessly captivating. The curved brass cabinetry makes an impression, but it also emphasizes the metallic glow of the taps and mirror.
"For the powder room in the East Brisbane home, the interior architecture features many arches in the hallways, walls, doors, and windows. We continued this motif in the furnishings, bringing in pieces with silhouettes that echoed the buildings curves. The brass cupboard was custom-made and inspired by Italian architecture and was lacquered to keep it from tarnishing," says Greg. The treatment of the brass keeps it looking clean and pristine for years to come but you can also opt for raw brass which will patina over time but this depends on the look you are trying to create.
He continues to share his advice for finding the best unusual bathroom materials. "From a designer's perspective, it is about finding and striking a balance between good design and practicality. There are two main things to consider; how your choices relate to the house, the interior theme, the client's brief, and the durability of the materials you use. The former will keep the design timeless, and the latter will ensure the longevity of your design. Your materials' practicality is as important as making design choices that contribute to a cohesive interior," Greg adds.
8. Oak
Minimalist, serene, and pared-back, this bathroom design imagined by After Bach studio for their Avenue Montaigne project is a love letter to an unexpected yet elegant bathroom material. Natural and untreated oak surrounds you in this space and brings warmth to the room.
Oak is naturally quite water-resistant so treatment isn't always necessary, but this will be dependent on exposure to water in the room. "For wood, it was a Japanese and modernist reference because the flat was a duplex at the top of a building on Avenue Montaigne. The idea was to design something like a home in a building," say Jessica Barouch and Francesco Balzano, founders of Paris-based studio After Bach. The oak works to envelop you in this room but is never overwhelming always a gentle embrace.
9. Walnut
This bathroom from LA-based interior designer Huma Sulaiman's Preston Hollow project is a celebration of muted and rich materials. Walnut isn't commonly seen in bathrooms but it's actually a great choice as a hardwood that is resistant to rot and doesn't absorb moisture.
In Sulaiman's design, the warmth of the walnut pairs beautifully with the rose gold tones of the mirror and deep purple walls. "Powder rooms are an ideal place where you can play with drama and depth. I like to use deep hues, regardless of the material. It makes the room look larger as well as depth and creates a moody vibe. In this powder room, I used a dark aubergine wall paint along with a custom walnut cabinetry designed by us. Brought the walnut back again with the allied maker scones and custom walnut mirror," Huma says. She highlights a wonderful detail in the room which is the reappearance of the unusual material choice in the accents of the room. Follow suit for a cohesive scheme that feels interesting at every turn.
For style leaders and design lovers.
Writer and design expert Faaizah Shah is the founder of The Interiors Consultancy. She has worked with designers such as Staffan Tollgard and design houses such as Sanderson to help them understand and communicate their narratives. She is known for crafting engaging stories and imaginative content, and understanding great decor from her years alongside some of the best creatives in the industry. She is also a contributor to Livingetc.