The revolutionary Refrigerator range that can be customised to suit your home - and your lifestyle
Samsung Bespoke is a brand new range of fridges and freezers. Designed for you, by you - be the first to find out how these configurable and modular models can enhance your home life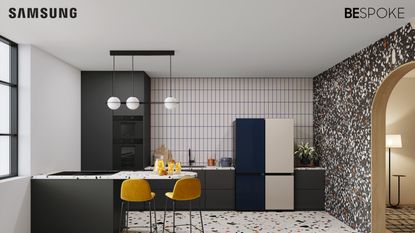 (Image credit: Samsung Bespoke)
A stylish modern kitchen is not complete without a statement appliance, but what about one that you can customise and configure yourself?
Designed with high performance, aesthetics and adaptability in mind, the cool and clever Samsung Bespoke (opens in new tab) Refrigerator range is available in a range of customisable modules.
Samsung Bespoke enables you to personalise your space - and your food storage.
As you'd expect from the Korean tech giant that turned television design on its head (with its Serif TV by the Bouroullecs), this is a range of Refrigeratiors that can satisfy your design ideals and suit your changing lifestyle requirements.
Choose a classic fridge-freezer option (in two sizes), a one door fridge and a one door freezer side-by-side, or a combination of the three, either now, or connect another appliance at a later date.
Amazingly, Samsung's advanced technology even allows the one door freezer to simply be switched to a fridge if your circumstances change. Ideal if one becomes two, or two becomes three - or more..
The slimline fridge and freezer panels are available in a selection of 14 stylish colours from pale pastels and soft neutrals through to rich navy and classic black or white, with a choice of six glass or metal finishes.
This enables a versatile range of cool configurations from Mondrian-style colour blocks to stand-out accent hues or shades that blend beautifully with your kitchen cabinetry.
There's a choice of left or right door openings too, to allow further flexibility in design.
These Refrigerators aren't only stylish and slick - as you'd expect, high performance is standard.
Samsung's SpaceMax™ technology means thinner walls and more space for food on the inside without impacting the outside, while one of the 203cm high fridge-freezer goes up to an A-Grade energy rating.
Whether you want crisp salad leaves, fresh fruit or bottles of chilled Chablis at the ready, slide and fold shelves allow you to simply switch the heights to accommodate different sizes of bottles, jars or produce.
Designing a kitchen is a fine balance between functionality and aesthetics. Get that balance right, and your kitchen will not only make a style statement, it will simplify and enhance your life.
Samsung Bespoke (opens in new tab) Refrigerators, Designed for you, by you.
Shining a spotlight on the now and the next in home design and decor, Livingetc is the UK's best selling high end and contemporary home design magazine. As a brand, Livingetc showcases the world's very best homes, breaks and makes the trends, and has access to leading international designers for insight and ideas. It was first published in 1998, and is currently edited by Pip Rich.