The way we shop has changed - the Design duo behind Says Who explains how
With its new collection launching for Heal's this spring, Says Who explains how the Covid-19 pandemic has changed the way they work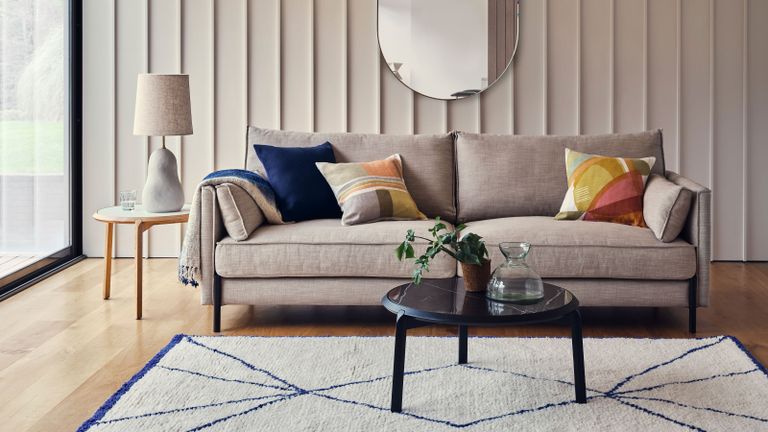 (Image credit: Heal's)
By Jo Bailey
From its studio near the Danish city of Aarhus, Says Who creates considered furniture collections with timeless appeal that values the spirit of Scandinavian design - functionality, and simplicity with a sensitivity to nature. 
Says Who was founded in 2010 by Kasper Meldgaard and Nikolaj Duve, a design duo that is constantly inspired by the atmosphere and sea view that surrounds its Danish studio.
See: Best sofas - 10 most comfortable design-led sofas for 2021
This spring, the design house continues its relationship with the British furniture firm Heal's, to launch a collection that harmoniously combines form with function, an ethos synonymous with both brands. 
Since the beginning of the Covid-19 pandemic, Says Who has been looking at the changes in society and bringing those elements into their designs and work process.
As part of their new collection for Heal's, Says Who has designed the Tortona sofa, an elegant silhouette with slim arms that benefits from generous space to seat the whole family. In addition, the collection includes two new desks, both crafted from solid oak that offers smart storage solutions.
Kasper Meldgaard, of Says Who, on the future of design
In recent months, many brands have had to adapt the way they work 'We'd normally be traveling, meeting people, seeing design fairs – but at the moment that isn't possible. Instead, we're looking at bigger changes in society.' says Kasper Meldgaard, co-owner of Says Who.
With many working from home right now, interior spaces need to serve more than one purpose, Kasper explains how the new collection considers this new way of working 'The Reveal Desk uses a clever flip-top mechanism to unveil the workspace. Multi-purposing as a console, the soft-close lid allows any loose paperwork to be concealed at the end of each working day.'
The shift in demand for furniture that is made from eco-conscious materials certainly isn't a new one, however, Kasper points out 'the Covid-19 crisis has shaped our understanding that life and society is vulnerable, reinforcing our need to take care of the planet by undertaking a more sustainable approach to life.'
Not only are many people shopping more consciously, they are searching for items that will make small improvements to day-to-day life, Kasper notes 'we've seen that our customers are prioritising comfort and practicality by purchasing better desks and more ergonomic chairs.' 
In response to these ever-evolving consumer needs, Says Who are thinking more long term, Kasper explains 'some of our keywords have included 'solid materials' and 'timeless design'. We've fixed our attention on the longevity of aesthetics and quality, devising desirable furniture that will last a lifetime and be loved for years to come.'
In addition, many people are 'Crafting a space which reflects the owner's personal style is increasingly important, making the house feel more like a sanctuary through home improvements, or investing in long-coveted heirloom pieces.' says Kasper on the importance of designing items that are built-to-last. 
See: 10 designer furniture pieces worth the investment – and where to buy them
On reflection on their new collection for Heal's, Kasper explains why he feels it's been so well received,  'I think we have a real understanding of the brand's DNA and what their customers are looking for. We've found that sweet spot where we love designing for Heal's, and its consumers really enjoy the pieces we create.'
The new Says Who collection is available now at Heal's