Real Christmas trees delivered - your guide to the best in the UK
If you want to get real Christmas trees delivered to your door then look no further than our festive directory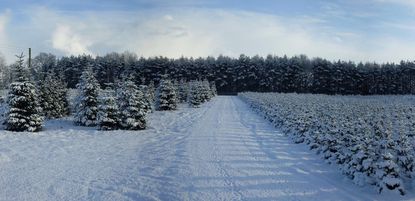 (Image credit: York Christmas Trees)
Getting one of these real Christmas trees delivered to your door is the easiest way to feel festive. For there is nothing quite like the smell of a real Christmas tree, it evokes the season perfectly, takes us back to childhood and brings a bit of nature indoors.
This year, if you are worried about going out, not to mention all the faff of trying to get it in the car, why not have your tree delivered? You can choose exactly what you want – the variety, size, in a pot or not, you could even order a stand to put it in.
The Main Types of Trees available
Nordmann Fir – originating from Hungary, and the most popular tree in this country with glossy green foliage. Best for needle retention and its uniform shape.
Norway Spruce – the traditionalist's choice with an evocative scent we all grew up with. Dark green with slightly prickly needles.
Fraser Fir – introduced from Canada and the US, Slimmer and more wispy than a Nordmann, good for needle retention and a lovely citrus-like scent and the slimmer shape is good for small rooms.
Serbian Spruce – another slim tree, less bushy than a Norway Spruce and with softer needles, dainty with delicate branches so not ideal for heavy decorations
Blue Spruce – as the name suggests, it has a blue tinge with slightly longer needles and a beautiful Christmassy scent.
Douglas Fir – less common in Europe, a dense tree with a conical shape and blue to dark green needles, when crushed the needles have a sweet fragrance.
Lodgepole Pine – With upward curving branches, it has long bushy needles so it's great for families. No needle drop
*The best time to buy your tree is the first or second week of December
NATIONWIDE
Customers will be able to order real cut and potted trees for nationwide home delivery for the first time from B&Q. Harvested from sustainable forests with 93%grown in Aberdeenshire.
Nordmann Fir starting from £19
Fraser Fir £39 for 180-210cm tree
Delivery from November 20th, order here
Dobbies have two main types of tree – Nordmann Fir and Fraser Fir both available as cut or pot grown. If you like to put your tree up early, and still look good on Christmas Day, choose a Nordmann Fir.
Nordmann Fir £59.99 for 6-7ft. Dobbies.com
Delivery to UK mainland only from Monday, 30th November. Order here
Send Me A Christmas Tree have trees cut fresh in the Sussex Weald and will deliver free to your door – anywhere in the UK mainland. Simply pick a tree from their site – from classic Nordmann and Norway Spruce or specialist varieties and pot grown, choose the size and away you go.
Farmer Tom's Famous Sussex Fir, or Canaan Fir, £42 for a 4ft tree, delivery from today. Order here
Devon
Cotley Farm in Devon grow quality, freshly-cut, real Nordmann Fir, Norway Spruce, Fraser Fir and pot grown trees. Pot grown trees have a good root structure and can be planted out in the garden after Christmas.
Pot Grown Blue Spruce from £15 2-3ft, cotleychristmas.co.uk
Delivery to the Exeter area on Monday, Honiton/Cullompton area on Tuesday, andExmouth/Budleigh/Sidmouth area on a Friday and local to us Monday/Tuesday and Weds.
Order here
Yorkshire
York Christmas Trees will be supplying Boris with his tree at no.10 this year, and have also been named Christmas Tree Grower Of The Year, stocking Nordmann Fir, Norway Spruce, Fraser Fir and pot-grown trees Norway Spruce from £20, yorkchristmastrees.co.uk
Arrange delivery when ordering - order here
Lancashire
Reputed to be one of the largest growers of Christmas Trees in the North West, Giltrees offer Nordmann Fir, Norway Spruce, Lodgepole Pine, Fraser Fir, Noble Fir cut trees and pot grown Nordmann Firs. Grown on their farms in Lancashire and Scotland and will deliver to a large area Norway Spruce from £30, christmastrees2you.com. Order here
Norfolk
Based on a small family run estate in Norfolk, Berry Hall Woodlands sell Norway Spruce, Blue Spruce and Nordmann Fir. Trees are cut/dug as late as possible to ensure freshness.
Nordmann Fir, £38 for a 6ft tree. From 29th November. Check delivery charge when ordering. Order here
Warwickshire
Apart from the usual varieties, Warwickshire Christmas Tree Farm also sell Douglas Fir, Lasio Carpa, which is a tall and slim tree with full, soft, blue-green foliage and Scots Christmas trees which are long needled and wonderfully scented.
Nordmann Fir, from £40 for a 4ft tree. Delivery from 25th November. Order here
Northamptonshire
With over 4,000 trees in six different varieties including the more unusual Omirika Spruce, Korean Fir and Noble Fir and heights from 3ft – 16ft, there are plenty to choose from when getting your real Christmas trees delivered from Christmas Farm Trees in Northamptonshire.
Nordmann Fir, Korean Fir and Noble Fir from £28 for a 3ft tree. From 26th November. Order here
Kent
Offering four main species – Norway Spruce, Nordmann Fir, Blue Spruce, Serbian Spruce and with four other more unusual varieties. Hole Park near Cranbrook is open from the last week in November and will deliver. Check when ordering.
From 26th November. Order here
Scotland
Black Isle Christmas trees sell Nordmann Fir freshly cut and Nordmann Fir and Blue Spruce pot grown trees from their premises on the Black Isle, just north of Inverness in Scotland. They donate £1 to Highland Hospice for every tree sold.
Nordmann Fir, £22 for 1.2 – 5m tree.
From 27th November. Check the map on their website for the delivery area covered.
Order here
Wales
Arrange for a Nordmann Fir or Lodgepole Pine, to be brought down fresh from the Welsh hills of the Cefnllysgwynne Estate in Brecknockshire and delivered to your door. Lodgepole trees are a great choice for families as they have soft, big needles and a wonderful pine scent.
Nordmann Fir or Lodgepole Pine, £5 per foot up to 7ft, plus £15 delivery charge. Order here
How to make you Christmas tree last longer
Remove the netting to allow the branches to relax then saw 5cm off the base of the trunk.
Stand the tree straight into a bucket of water and put it to one side in the garden until you are ready to bring it indoors.
Bring the tree inside and place in a cool, dry place away from direct or underfloor heating.
Keep the water reservoir topped up regularly.
The British Christmas Tree Growers Association (BCTGA) represent growers and gives consumers confidence that they have bought a good quality tree. Look out for the logo when ordering. Find your nearest delivery service here.
The Livingetc newsletter is your shortcut to the now and the next in home design. Subscribe today to receive a stunning free 200-page book of the best homes from around the world.
Alison Davidson is well-respected British interiors journalist, who has been the Homes Editor of Woman and Home magazine, and the Interiors Editor for House Beautiful. She regularly contributes to Livingetc, and many other titles, and often writes about kitchens, extensions, and decor ideas. She is the go-to for information about green energy, sustainable home improvement and eco design ideas.