Can't wait for peony season? This beautiful alternative is the cut-flower trend to know that's in season right now
Delicate and peony-like, we think ranunculus flowers deserve a bit more love. Here's everything you need to know about this brilliant bloom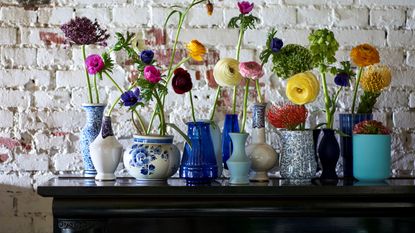 (Image credit: FunnyHowFlowersDoThat.co.uk.)
The Livingetc Newsletter
For style leaders and design lovers.
Thank you for signing up to LivingEtc. You will receive a verification email shortly.
There was a problem. Please refresh the page and try again.
Everyone loves a peony, but the lesser-known ranunculus flower is a cool-season flower that blooms in late February and early spring and can really give you your peony fix. Before any peonies come out to play, any tulips raise their cheery heads, before roses come out in full bloom, the ranunculus is in its prime season, and exactly why right now is the perfect time to enjoy these flowers and bring their beauty into your home.
These beautiful blossoms have tissue-thin petals, much like the ever-popular peony, and they come in a broad range of colors from cream to pink to pale apricot, with tall, spindly green stems. They're great to grow in a cut flower garden, look beautiful in vases for decorative moments, and make a great addition to your home decor. Read on for my guide to this beautiful flower.
Oonagh is an interiors writer and editor, and expert at keeping up with trends from the world of interior design. For this story, she's spoken to the florists to find out why ranunculus flowers are the unsung hero of the floral world.
What are ranunculus?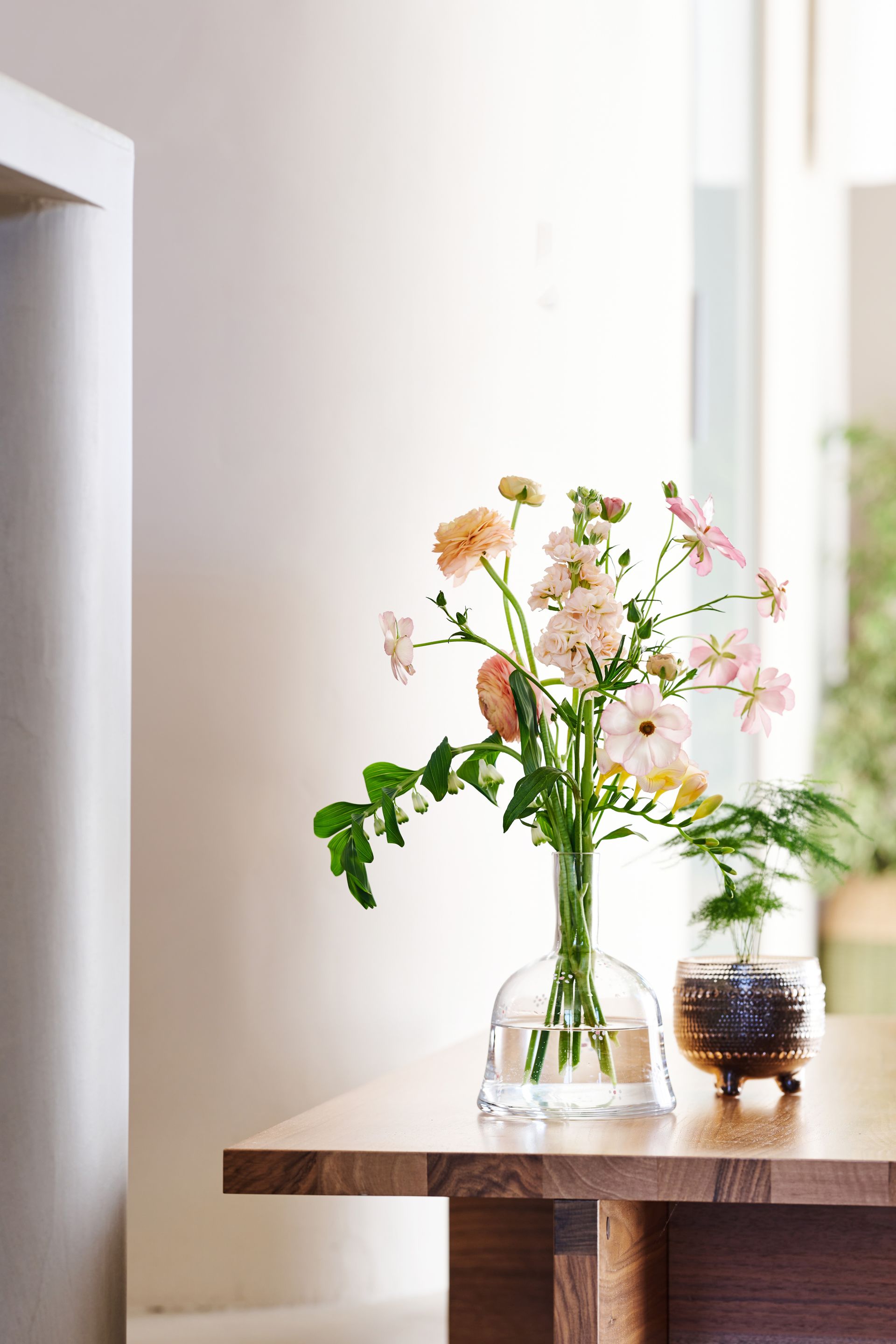 Ranunculus are one of the most elegant flowers and are loved for their eye-catching color, delicate bloom and long vase life. Also known as a buttercup, the ranunculus is native to Asia and was introduced to Europe in the 16th century. They make a great backyard plant, growing back every year if well-maintained, but also work nicely in a vase arrangement.
'Due to their season in late winter/early spring, they are a sight to behold after the dearth of winter blooms,' says Whitney Bromberg Hawkings from flower delivery service, Flowerbx. 'They are delicate, yet they also have an undeniable presence which make them a perfect precursor to the peony which follows immediate suit.'
Their long, spindly green stems are also another feature that give them an otherworldly appearance and can bring some drama to any vase.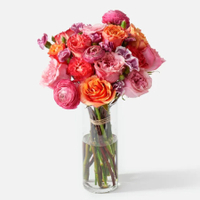 The finesse bouquet, Urban Stems
Keep your eyes peeled for arrangements featuring these beautiful blooms. This bouquet has a mix and is picked with vivid orange, pink and red coloring.
Are ranunculus similar to peonies?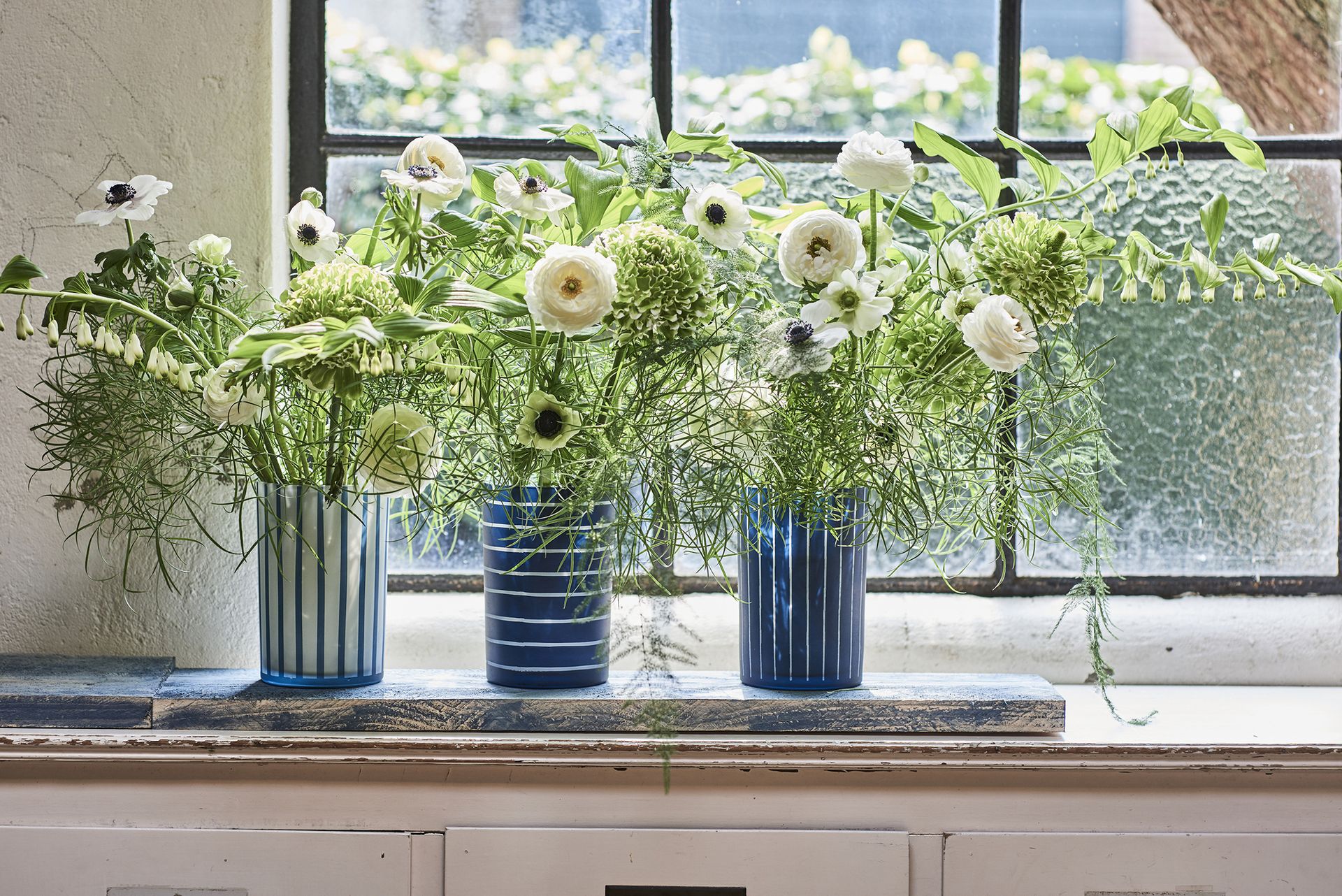 The ranunculus is very similar to peonies in appearance and peony care, with lots of pretty layers of petals, but ranunculus have a slightly smaller bloom. While they may look similar, the key difference between the two is the time of year when they're in their prime. The ranunculus flowers around late winter or early spring, while you have to wait until May for peony season.
Another difference between the two is the biological make-up of the flowers. Peonies are flowering plants of the Peonia genus which produce colorful and large flowers. Meanwhile, the ranunculus is a flowering plant like roses or hydrangeas. In this case, the ranunculus has a with smaller bloom size and slightly flatter shape.
How to care for a ranunculus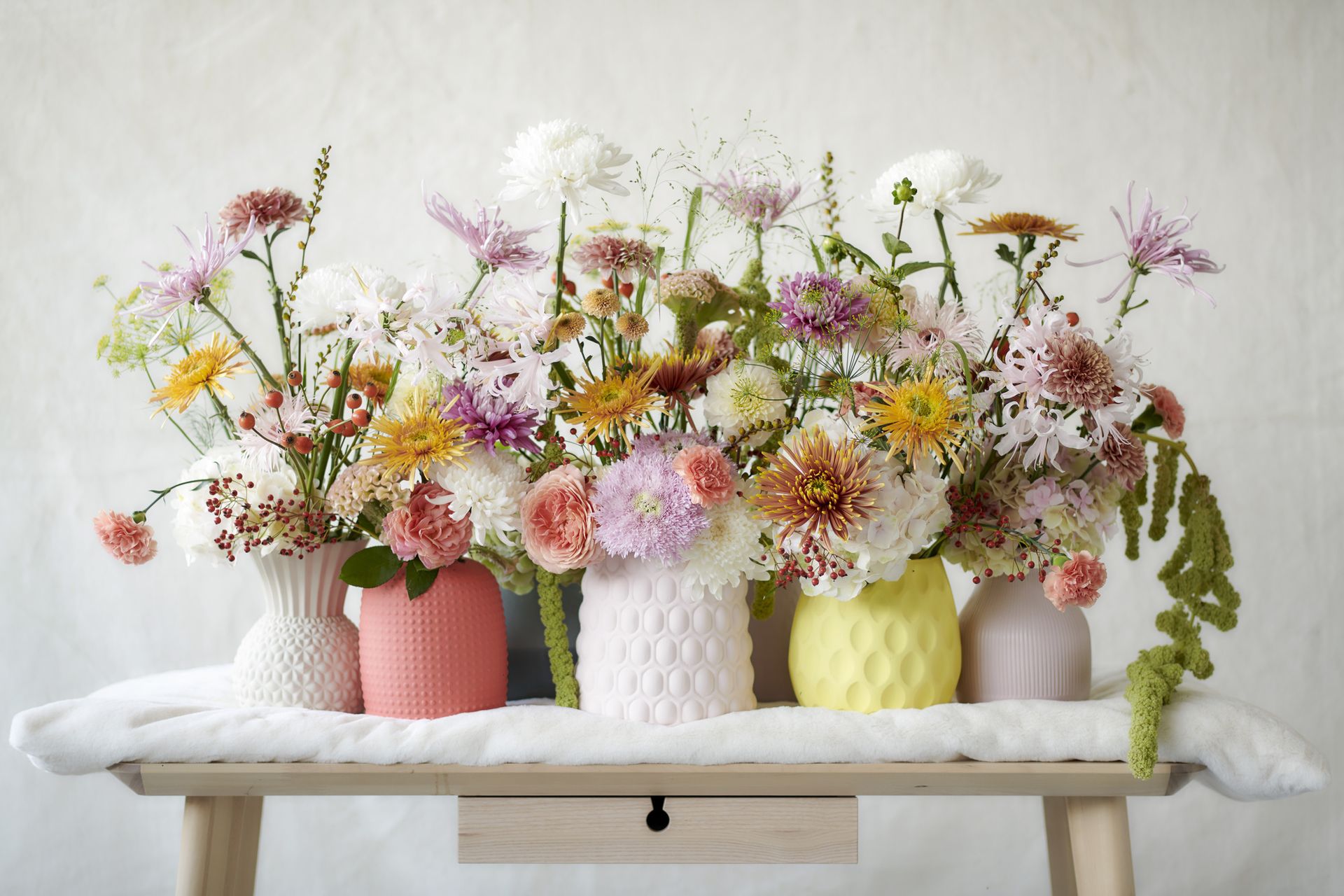 Ranunculus plants make for a beautiful indoor decoration when displayed in a vase, and are pretty easy to care for. Indoors, ranunculus like bright sunshine, but avoid full and direct sun as this can dry the flower out. The petal is delicate, so treat it with care and it will stay looking fresh and beautiful.
As a February flower, it also likes it cool, and the cooler you can keep the flower, the longer the flower can last. Think about placing your vase near an east-facing window. Never fill your vase up with cold water, this can shock your flower. Go for tepid water instead.
If you are looking after your ranunculus in a statement vase, it requires careful arrangement. 'It is so important to remove excess foliage and retrim the stems and change the water every day,' says Whitney. 'Keep out of direct sunlight and out of extreme temperatures to make the most of your blooms.'
How to display ranunculus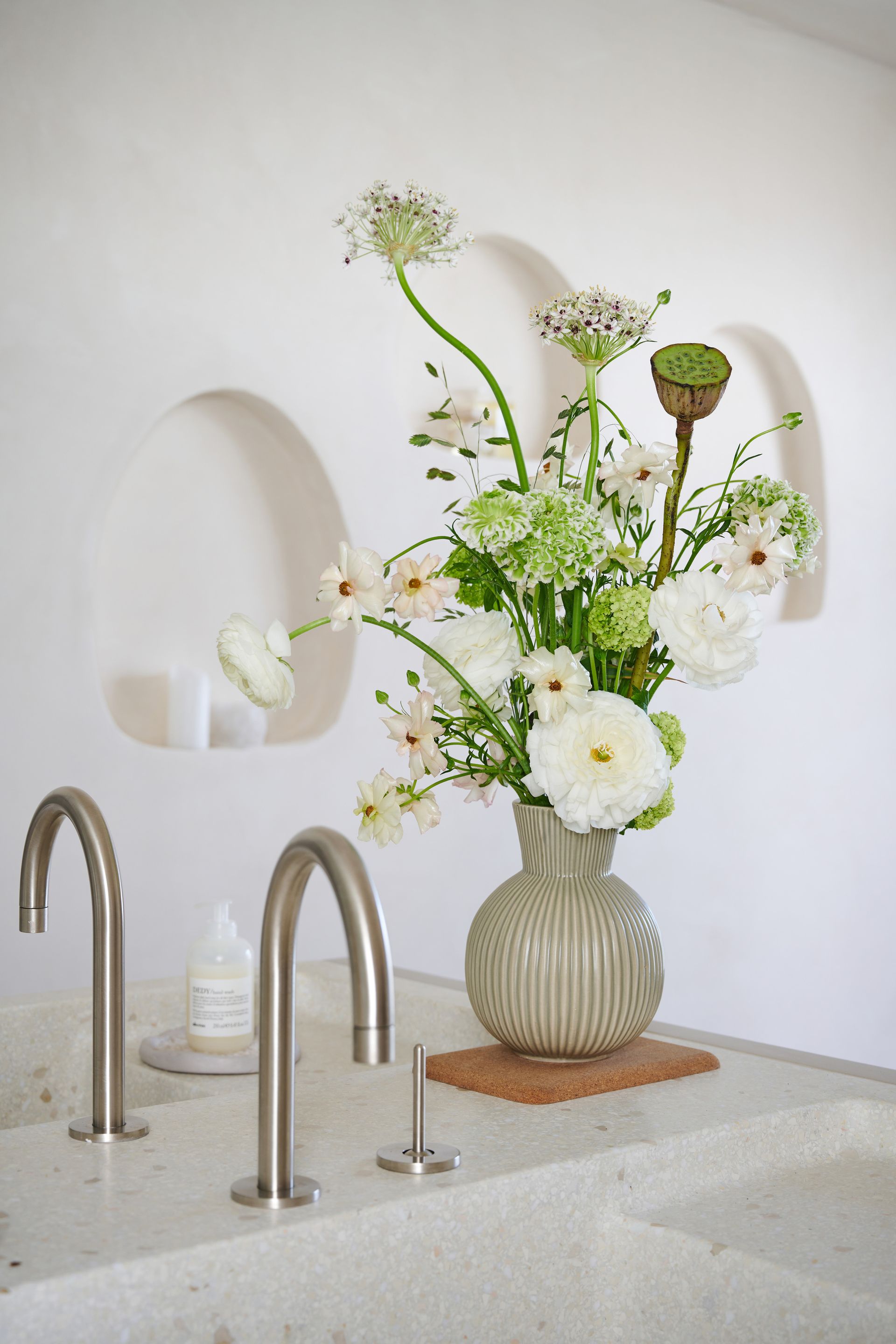 Think about how you display your ranunculas flowers in your vase. Pick a colored vase that complements the coloring of your chosen ranunculus for added color pop and impact. You'll also want to think about how you arrange the flower and what other flowers work together with the ranunculus.
When arranging, work with the curve of the stem and allow them to bend outwards and over the rim of the vase to produce a nice and full effect. Remember that you need to leave space for your stems to bloom and open. In terms of the other flowers in your arrangement, you might want to keep them simple seeing as the ranunculus is so dramatic on its own. Baby's breath, candytuft and sedum are good examples of bouquet filler flowers.
'There is no wrong way to display ranunculus,' says Whitney. 'Whether it's two or three stems in a chic bud vase, or a mass of ranunculus for console table decor, they can do "less is more"or "more is more" – they are more!'
You also might want to enjoy the ranunculus on its own, allowing the shape and interesting features to make their own statement. 'I am a flower purist, so ranunculus on their own make the optimal statement as far as I'm concerned,' says Whitney. 'Our Schiaparelli pink ranunculus are a nod to the flamboyant late fashion designer, and are always a hit with our most fashionable customers during ranunculus season.'
For style leaders and design lovers.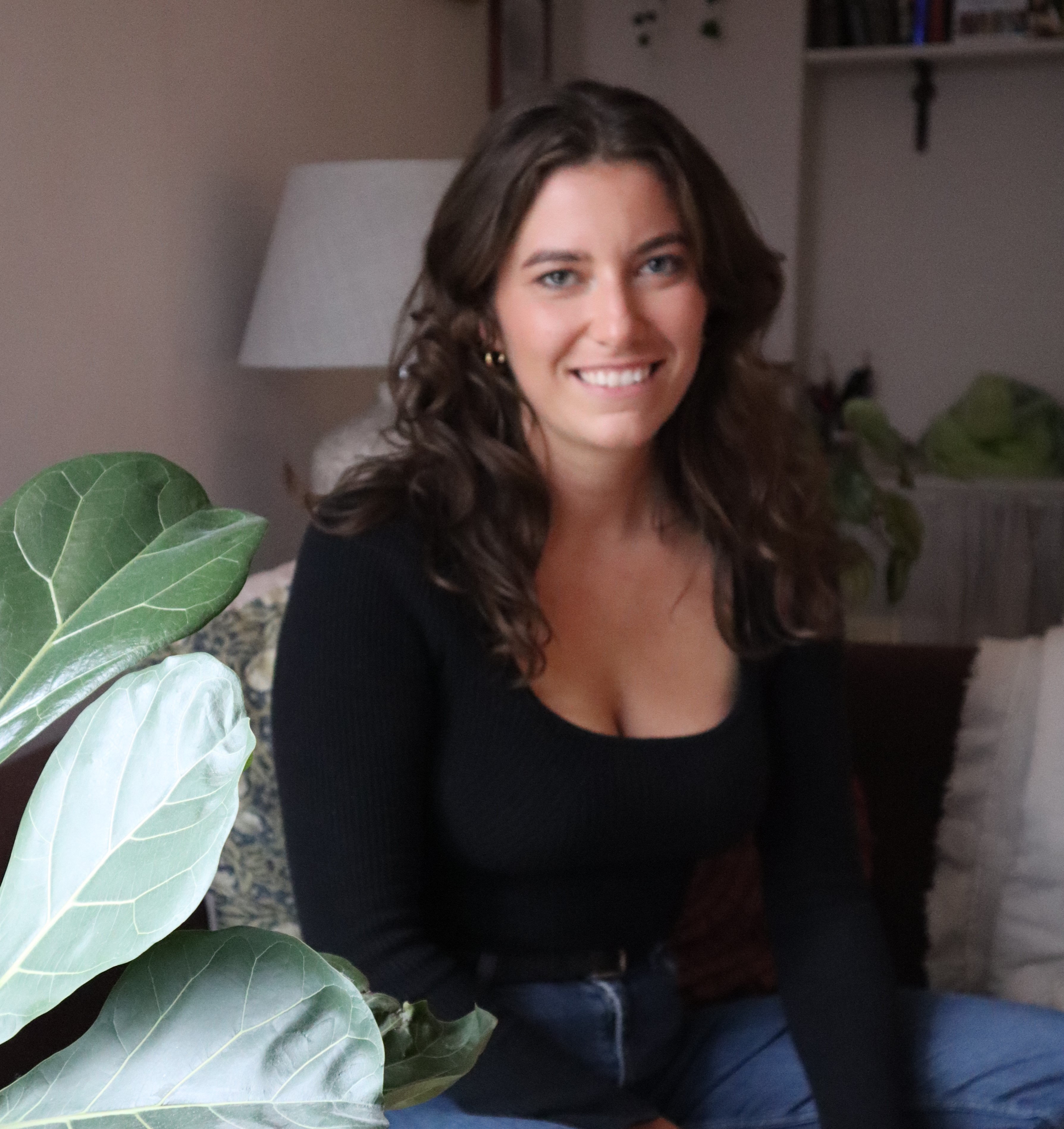 Livingetc content editor and design expert
Oonagh is a content editor at Livingetc.com. Previously, she worked on a London property title, producing long-read interiors features, style pages and conducting interviews with a range of famous faces from the UK interiors scene, from Kit Kemp to Robert Kime. In doing so, she has developed a keen interest in London's historical architecture and the city's distinct tastemakers paving the way in the world of interiors.