London's coolest estate agent explains how to sell your house right now
Grant Bates shares the secrets of what is selling right now - what you should do and what you don't have to bother with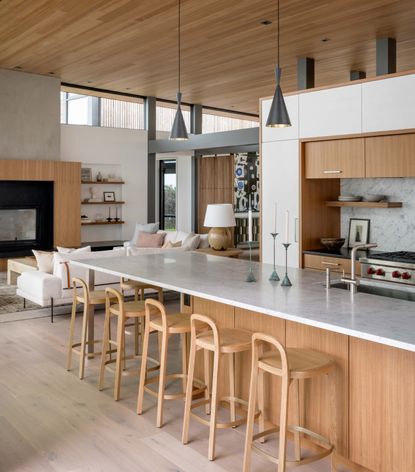 (Image credit: Aaron Leitz)
Did you think it was really only Selling Sunset that was making super stars out of people that sell home? Not any more, as real estate brokers are the newest Instagram influencers, sharing the enviable properties in their portfolios to armies of thousands of fans. It's a heady blend of property news, decor inspo and modern interior design ideas, and is causing a total overhaul of the image of what an estate agent can be.
Top of the that list is Grant Bates, associate director at Hamptons International. HIs insta account, @grantjbates, is a hive of inspiration. And what he doesn't know about houses, isn't worth knowing, so we asked him exactly what needs to be done, this summer, to shift your property now.
Livingetc: Grant - what's key when it comes to selling a home?
Grant Bates: It's all about emotion - creating a space that potential purchasers fall instantly in love with. You need that heart-fluttering, OMG moment that makes it irresistible.
So, is now a good time to be selling?
GB: Absolutely - in fact it's the hottest market we've seen on record. It's driven by a lack of supply, increased demand, low interest rates, stamp duty holidays and people reconsidering their lifestyles as a result of covid.
How do I begin?
GB: Start by interviewing three agents. Think about who you may have had a good experience with in the past. Look at the market share by jumping onto property portals and seeing who has what for sale and under offer. Make your decision based on market share, not just at your price point, but also for you style of home. Also, trust your gut feel - who do you think you will have a good working relationship with?
What's the number one thing purchasers are looking for right now?
GB: Family homes with gardens. Anything that is likely to be future proof for a growing family in terms of living space and investment/capital growth - a place they can see themselves in 10 year's time.
Anything else trending?
There is also a substantial appetite for turnkey homes, those that are immaculately presented and may appeal to those who are cash-rich, time-poor who want to buy lock, stock and barrel with furniture and fittings. So if you've got a good design eye this could work for you.
How much should I tart up my home?
GB: Make it shine, present it in the best possible light and do as much as you can bear and work with your agent to prioritise a 'to-do' list.
What's worth doing?
GB: Manage the bits you can: re-grouting bathrooms, replacing cracked tiles, decorating over wall scuffs or kid's finger prints. Decluttering so rooms feel calm and as spacious as possible. Kerb appeal - a smart entrance way (consider adding plants, window boxes) - is crucial as a positive welcome. Clean windows, fresh flowers and pleasant smells are important.
What not to bother with?
GB: Coffee brewing and newly baked bread - or any similar cliche! Avoid major renovations as you're unlikely to recoup costs and may even alienate buyers with a bold choice of kitchen/bathroom.There is a fine line between presenting your home in its most flattering light and overkill!
Essential 'do's' ?
GB: Do go out for viewings. There is nothing more off-putting than an owner hovering when a purchaser wants to feel at ease and able to ask questions.
Do trust your agent to know what the buyer wants to hear. Some like a fully guided walkthrough, other will want a considered and quiet tour.
Do arm your agent with a 'need to know list' for anything unusual/not obvious.
Do think 'show home style' - you need to pretend you don't live there for the period of the viewings.
And 'don't's' ?
GB: Don't show an empty house. Buyers need to envisage themselves living there and that's hard to do in a soulless space.
Don't ignore the idea of investing in a home stager/designer, or dressing it yourself if you have a good eye, if your home is empty. It may feel like a sunk cost and while we can't quantify the uplift in price, it does makes a difference.
Don't make it complicated for the agent - ensure blinds are open, lights are on, the alarm is off and the cat is locked in the utility room! If you're not there ensure the agent arrives early to do this for you. No buyer likes to hang around watching an agent fumbling with keys and panicking when the cat runs out!
How long will it take to get it on the market?
GB: Again, pretty variable depending on the initial state of the house and the size. But if you're doing just superficial cleaning and staging, allow one-two weeks to complete the formalities, photographs and, often, a video to get it ready for sale. Currently most agents have keen buyers waiting in the wings and will pitch to them before it's on the open market. This can deliver a premium price without the headache - a relief for all!
@grantjbates Director, Hamptons
The Livingetc newsletter is your shortcut to the now and the next in home design. Subscribe today to receive a stunning free 200-page book of the best homes from around the world.