Creative Director at Little Greene shares her favorite gray paint shade and why it works in every room, except one
Somethings tells us gray is here to stay- but the same shade won't work in every room of your home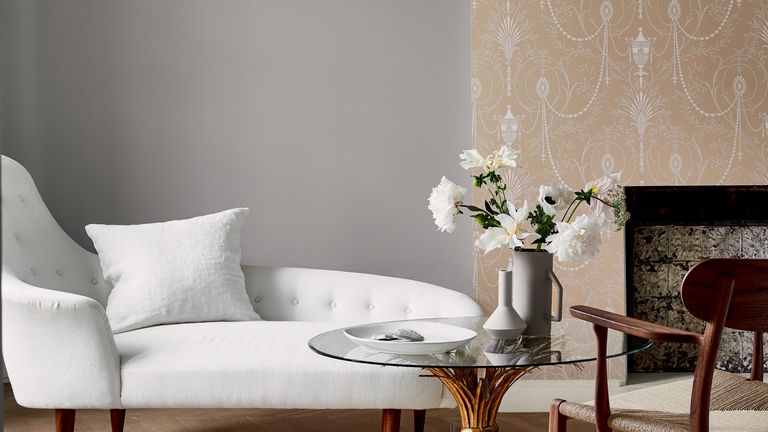 (Image credit: Left Wall, Lead Colour 117 and Cornicing, Loft White 222 both Absolute Matt Emulsion £48.50 for 2.5L, Marlborough wallpaper in Dusk, £90 per roll by Little Greene. )
By Megan Slack
Gray is having a moment. In fact, it's having more than a moment; it's having a year. 
This trendy color has remained at the very top of the best wall paint colors throughout the entire season, and even as we emerge from the dark days of winter, the popularity of this stylish shade is not wavering. It is, therefore, essential that you learn how to use it from the people at the very top of the paint game. 
'Recently, we have seen a transition from cool greys into warmer, more comforting tones. Consumers are opting for the natural earthier hues that have an inherent warmth to them, such as Rolling Fog and Baluster, explains Ruth Mottershead, the Creative Director at Little Greene.
'These softer greys deliver the elegance of a cool grey while also providing extra warmth and softness, which many people are searching for right now.'
'Overall, I love the impact that a deep charcoal grey such as Lamp Black can bring to woodwork. Selecting a dark shade for skirting or doors can create a really contemporary feel,' Ruth revealed, on the gray that works on almost every wall of your house. 
She continued, offering more suggestions as to the shades that are best for your hallways, bathrooms, living rooms, and kitchens:  
'Grey Teal has a timeless classic appeal but can look utterly modern when combined with a bright highlight color such as the bold orange Marigold. For an all-over living room scheme that creates a calming, cocooning feel, I would turn to authentic limestone grey, Baluster.' 
Sounds like nothing could go wrong? Well, if you haven't already drenched your walls in the chicest color of the 20s, remember to tread with caution. 
Notably, Ruth warns that while one shade will work effortlessly in one room, it is better to change the gray on your bathroom wall. 
Which gray is best in the bathroom?
While any shade from Little Green's gray spectrum may have initially seemed appropriate for gray bathroom ideas, Ruth encourages us to look away from her favorite picks and choose a darker color that will give your bathroom a 'comforting' feel. 
'Bathrooms are a place of sanctuary, somewhere we want to feel comforted and relaxed,' Ruth declared. 
'Shades of grey with a warm undertone such as Dash of Soot or Perennial Grey will create a spa-like haven, a place in which to soothe the senses at the end of a busy day. 
See: Little Greene's creative director shares her clever painting trick to make narrow hallways feel lighter
Don't overlook the soothing power of darker shades: deep, sumptuous colors can give your bathroom a luxurious, nurturing feel. Combining a charcoal grey such as Lamp Black with an ochre-based wallpaper such as Cranford in Wheat will also create a cozy and comforting retreat.'