Lick Home color expert shares the happy paint colors we should be updating our homes with in 2021
With many of us spending more time indoors, Lick Home has uncovered the happy paint colors that will help to improve our mood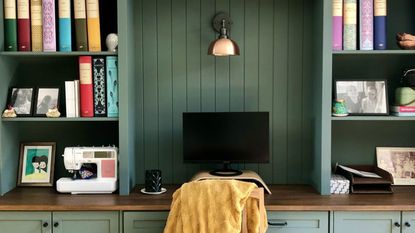 (Image credit: Lick Home)
The Livingetc Newsletter
For style leaders and design lovers.
Thank you for signing up to LivingEtc. You will receive a verification email shortly.
There was a problem. Please refresh the page and try again.
After years of pared-back walls, we're ready for some floor-to-ceiling color to help lift our mood, especially considering the amount of time we've spent in our homes over the past year. With a spike in DIY projects and home makeovers in recent months and a growing interest in the best wall paint colors, a number of us are looking to not only improve our living spaces but give them a mood-boosting makeover that will take us through the cooler months.
Paint experts, Lick Home are big believers in the power of color psychology and the impact that the colors we surround ourselves with can have on our mood and emotions.
Tash Bradley, Lick Home Colour Expert notes: 'It's important to remember that you never see color in isolation. It's the combination of colors that inspire positivity and wellness in a home, rather than just the one color'.
The color experts at Lick have revealed the happiest paint colors to help lift your mood at home, and clever ways to introduce them into your home.
Happy paint colours
Yellow
Yellow is an uplifting, mood-boosting colour, often associated with happiness that will fill a space with positive vibes.
Lick Home recommends using the sunny Yellow 02 from their range to 'add a small pop of color around your home.'
'You could paint your favorite chair a vibrant yellow, or even just the legs of your kitchen table'.
Blue
Whether you're drawn to a classic royal blue, enjoy the bold tones of International Klein Blue (IKB), or love a barely-there sky blue, there is a shade to suit the your mood or the requirements of a space.
Adding calming blue hues to your home can create a sense of positivity, like a cloudless blue sky or clear ocean waters. While dark and moody blues provide the perfect space to relax in, it's worth noting that lighter shades will provide a fresher feeling often suited for cooler rooms such as a bathroom.
Pink
Thanks to the recent trend for using raw plaster within our homes, pink has had a resurgence within interiors over recent years. We're not talking about the brighter 'shocking pink' end of the spectrum but more the blush tones and softer shades that 'nurture and bring some seriously good energy' adds Lick Home.
Even though it's often associated with femininity, pink can in fact work for anyone depending on the mood you're looking to create. Lick Home explains: 'work with multiple paint colors to find combinations that can work together to impact your mood in a positive way.'
'For instance, add in green with your plants and place them against a wall painted in the soft and nurturing Pink 01. This way, you're getting the positive benefits of both those colors, creating a more inspiring space.'
Green
Green is a peaceful color that is known to reduce anxiety and boost our mood, making it the perfect color for your home office to give your eyes some rest between Zoom calls. Green is also a great color to use in the kitchen, perhaps helping to subconsciously inspire you to make healthier choices - if only!
Green is a great all-rounder to helps create balance, Lick Home notes: 'green will bring that feeling of peace into any space of your home. It's also the color of nature, and as we're sending more time indoors right now, adding a few splashes of green to your home helps to bring the outdoors in.'
Orange
According to Lick Home, rooms decorated with orange 'bring a new life and a sense of joy. Orange is a stimulating color that has a vibrant energy.'
The warmer tones conjure a sense of familiarity, such as the warmth of the sun, yet the brighter tones suggest vitality and vibrance.
Have you been inspired to pick up your paintbrush and give your home a happy makeover with one of these shades? For more inspiration see the most popular paint colours of 2020.
For style leaders and design lovers.
Jo is a News & Shopping Editor across Homes & Gardens and Livingetc magazine. Before joining Future Plc, she worked as an interior stylist and set designer, specialising in editorial and commercial photo shoots as well as installations, exhibitions and events. Her background within this field means she has a particular interest in the creative ways to make a house a home, as well as hunting down the best places to source beautiful things.