Kelly Hoppen is kickstarting a new trend in flowers and top designers agree it's perfect
Gone are the calla lilies and orchids Kelly Hoppen has been famous for, and in its place is a new bloom taking the interiors world by storm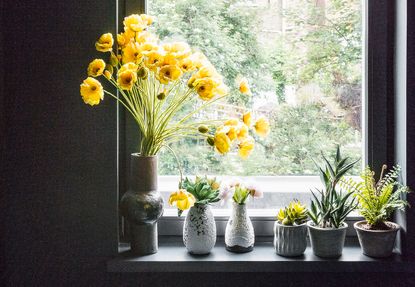 (Image credit: Future)
It can't have escaped your notice that this is an era of cut flowers. In the corner of every living room on Instagram, on a vase on every coffee table there are daffodils, or tulips, or peonies...or a mix of all three with some eucalyptus sprigs thrown in for good measure.
Last week, I was interviewing the internationally renowned interior designer Kelly Hoppen, currently working on over 40 projects around the world, including P Diddy's house in LA.
She is the person who kickstarted a vogue in living rooms that began in the late 1990s and stayed in the cultural zeitgeist for years. Neutral schemes, plush textures, whites, beiges, taupes. And orchids or calla lilies. Always white orchids and/or calla lilies.
Given that beige living rooms are still very much Kelly's thing (though she told me does now pair it with different, brighter shades like yellow and red), I felt compelled to ask if she still liked these two flowers, too.
'Oh no,' Kelly said. 'I'm obsessed with poppies. I love that they're completely irregular. In fact, I love very soft flowers now, and poppies - they're my big thing.'

New flowers, new mood
Kelly's move to poppies is actually more seismic than it sounds, and is yet more evidence of a key new mood affecting how we all want to decorate now.
For not only does what Kelly do still inform a huge amount of people - she has 300K followers on Instagram alone - but the fact that even she, who made her name creating fairly formal spaces characterized by rigid and defiant blooms is looking for something more gentle now.
'We all want rooms that make us feel like we're being hugged,' says the paint and color expert Cassandra Ellis of Atelier Ellis. 'After what we've been through the last couple of years, collectively we're tired. We've been jazz-handing our way through the pandemic with yellows and pinks, looking to decor for ways to make us feel happy. Now it's earthier, warmer colors we crave, in which we can lie down, drink a bottle of wine, and get a hug from.'
Poppies play into this vibe perfectly. As Kelly says, they're soft, and they evoke a dreaminess and gentleness that fits with what Cassandra says we all need.
'We saw similar patterns after the war,' says plant expert Jack Lewis, CEO and founder of Sowvital, the world's first carbon conscious luxury plant care brand. 'Fragrance houses realised people were flocking towards florals, and there's a correlation between geo-political events and a yearning for relaxed beauty, for sure.'
He agrees with Kelly that poppies are exactly right for now. 'They are wonderful and architectural and hardy as a cut flower,' he says. 'There is a real texture to them, and a deconstructed take on symmetry. But they're so beautiful as they decay. The stems droop longingly, the petals fade and then then drop leaving pinheads behind. [As objects of beauty] they have a longer life span than just when they are alive.'
Styling poppies as a cut flower
One of the many wonderful things about poppies, Jack says, is how many colors they come in. 'We all think of red poppies,' Jack says, 'but there is a wonderful array of white, orange, yellow, pink and almost any combination you can think of. Many have a patination or gradation of color, and are interesting to look at.'
'Immediately I think orange, pink and blue,' says the interior designer Clare Gaskin. 'Because I am loving those colors at the moment. They feel fresh exciting and positive. However I would also be drawn to a statement mix of black and white for something really strong and striking. Finally I think dried poppy heads look great and so a sculptural display with just dried heads could also look fantastic.'
Interior designer and Livingetc columnist Minnie Kemp agrees that the poppy palette is enchanting. 'No matter how hard I try I cannot seem to successfully grow the ever-elusive blue Himalayan poppy,' she says. 'Its cobalt azure shades make me feel like an astronaut staring back onto our blue planet, in total awe. Originally from the lush mountain regions of Tibet, this almost magical plant requires a cool sheltered position in order to bloom. Classic me to always go for the ones that are hard to get!'
For all other poppies - which are far easier to source - Minnie suggests going big with your display. 'Fill a Vanderohe Curio vase to the brim with them,' she says, referencing a vase with highly angular edges. 'They'll be in stark contrast to its honeycomb yellow speckled glass.'
Or simply put some red and pink poppies in a short, clear bottle vase and watch as they take on the form and feeling of an antique Dutch painting.
Growing poppies indoors
Anyone after the hazy magic of poppies in their home should treat them as a cut flower, not a plant.
'Poppies tend to be a difficult indoor plant to grow,' Jack Lewis says. 'If they grow at all, they become quite spindly indoors. I'm in awe of anyone who manages it.'
He says that to give them a go, they will need a south-west facing window, a lot of light, and a slightly acidic soil. 'Add some coconut coir, and make sure the soil is well-draining,' he says. 'They are hungry, and will need regular feeding from Spring to Summer with nutrients that are high in both nitrogen and potassium.'
All of which probably takes away from the carefree feeling of nostalgia that Kelly Hoppen was using poppies to create.
So, expect cut poppies to be the flower you see in all stylish schemes from now on, and take inspiration from their softly drooping forms in putting together rooms that invite you to relax. The unstructured shape of poppies works with squashy sofas - another new Kelly favorite, she told me, is sofas where the cushions 'don't bounce back up, so can you can sit back into them,' - which suits this mood perfectly.
Informality is here to stay, informing schemes where nothing feels too rigid and everything is mellow and comforting and wonderful. I definitely think we need it.
The Livingetc newsletter is your shortcut to the now and the next in home design. Subscribe today to receive a stunning free 200-page book of the best homes from around the world.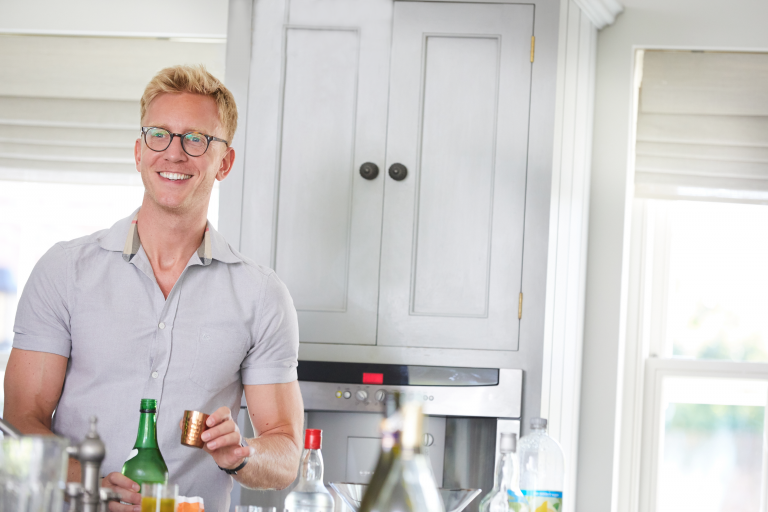 The editor of Livingetc, Pip Rich (formerly Pip McCormac) is a lifestyle journalist of almost 20 years experience working for some of the UK's biggest titles. As well as holding staff positions at Sunday Times Style, Red and Grazia he has written for the Guardian, The Telegraph, The Times and ES Magazine. The host of Livingetc's podcast Home Truths, Pip has also published three books - his most recent, A New Leaf, was released in December 2021 and is about the homes of architects who have filled their spaces with houseplants. He has recently moved out of London - and a home that ELLE Decoration called one of the ten best small spaces in the world - to start a new renovation project in Somerset.