Female-drawn Etsy artwork – 7 inspirational pieces to buy to celebrate International Women's Day 2021
Support female artists with the Livingetc guide on Etsy artwork. We are talking female-drawn prints, for International Women's Day 2021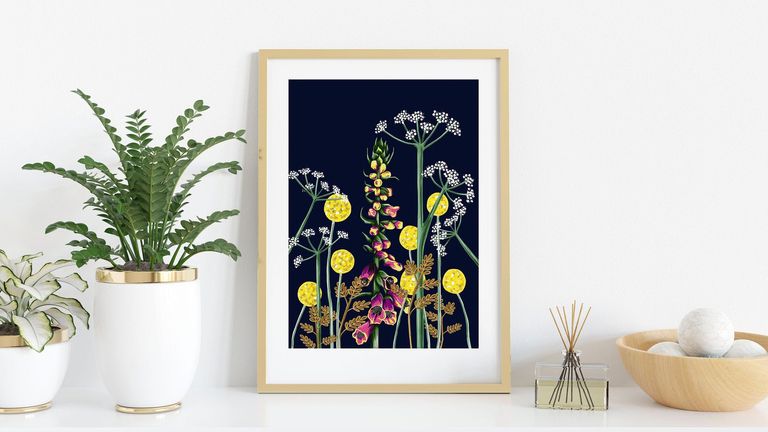 (Image credit: LauraAndrewsStudio)
Should you be considering investing in your walls – and by that, we mean your wall art – then see our guide on inspirational Etsy artwork as rated by Livingetc. For now, we are talking all things International Women's Day 2021 as we are showcasing female-drawn prints and artwork below. These unique finds ought to brighten up your walls, spruce up your gallery wall or give that dark hallway of yours a new lease of life. 
International Women's Day is inching closer on the calendar – it's on the 8th of March this year – and if, like us, are looking for ways to celebrate and give your support from home, then keep on reading. You should also keep on reading if you would like to add a pop of colour to your walls ahead of spring. We all know by now that artwork has the ability to drastically change a room, especially if said room is dimly lit. 
Not only are these Etsy artists female, but this Etsy artwork is all from small businesses – by purchasing one of these prints, you are supporting small and supporting female. Keep scrolling for seven female-drawn Etsy artwork recommendations, as loved by Livingetc. In support of International Women's Day 2021.
See our best wall mirrors guide for an extra addition to your walls.
1. Bring your favourite holiday home with this quirky print
If you are missing going on holiday every few months, then this quirky and colourful print could stop those holiday blues – for now. Find your favourite holiday destination in BudandBudPrints Etsy shop, or request a custom order, and hang it with pride in your hallway, bedroom or nestled in a gallery wall. Hopefully, it will remind you of happier times each and every time you pass it. Soon come...
2. Keep it simple with this black and white duo
This minimalist duo would look great above a bed – or sofa. Delicately drawn yet so effective, these abstract drawings feature the same woman with one print drawn from her front and the other from behind. We think they would look lovely displayed inside a thick wooden frame. An ideal pick for neutral, Skandi-style homes. Or if you already have enough coloured artwork on your walls.
3. One for garden (or jardin) lovers
For a garden lover or someone who wants a pop of colour in their kitchen, orangery or even home office, this high-quality print is perfect. It features a mix of colours from blues to shades of green, yellow and pinks and purples. Vibrant yet muted.
4. Add this fruity print to a gallery wall for a pop of colour
Gallery walls are hard to collate, and it's even more difficult to decide which prints to hang in where. If you are hoping to add to your gallery wall soon, and it's a pop of colour yours is in desperate need of, then this print could add just that – and more. Better yet, pop it in a hallway to brighten up an otherwise dark space. Alternatively, you might want to place it in your living room, similar to the photo above, to make a statement. 
5. Because home IS where the heart is...
You could alternatively opt for something a little more personal – for example, this house portrait. Hand-drawn in Devon, this piece of artwork will be bespoke to you – and your home – and it makes a lovely addition to a hallway. Not just for homes, but Wendy from LetterFest can also draw flats, bungalows, shops, offices, schools, landmarks, churches and wedding venues. This could make a very unique gift idea...
6. Make a statement with this International Women's Day print
This pink print reads 'Empowered women empower women' and it more than deserves pride of place in your home office – just above your desk will suffice. We love everything about this print – the colours, the fonts, the perfectly drawn hands and the detailed clothing. You needn't place it on a gallery wall – it makes a statement on its own.
7. This botanical print – for those who are (not so) green fingered
If you are wanting to bring the outside into your home but you are not very green-fingered, then we can help. Let's glide past plastic faux plants, and straight to plant artwork – specifically, this print from LauraAndrewsStudio. Bursting with botanicals from British Cow Parsley to Yellow Craspedia, grasses and striking Foxglove, all of which are featured on a dark background to make this print pop on a lighter painted wall. It will arrive on your doorstep hand-signed, too.
Annie is the UK Shopping Editor at Livingetc, with the majority of her time spent advising you on what to buy for your home – whatever the season, or the latest trend. Whether that be a design classic floor lamp for your cinema room, a comfortable new chair for your home office, or a high-quality exercise bike for your home gym. She's also our fitness guru, with hands-on experience with some of the best home gym equipment around. Otherwise, you can find her forever painting the walls and reorganising the furniture inside her modern London flat, or going on long walks with her pug.