Art to invest in today: the 10 talented artists on our hot list
Art to invest in that you'll love for the long term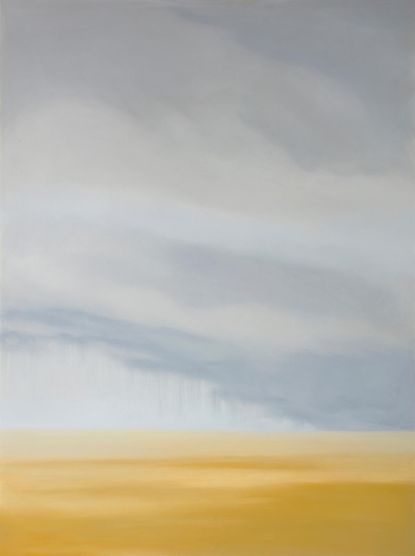 (Image credit: Sara Lee art)
Want to know what art to invest in? Here are ten talented artists making waves today.
Of course when buying art, the most important aspect is whether or not you like or feel to drawn to it. But in a world awash with styles, trends and expert opinions, the choice can feel overwhelming, so here's who is on our hot list.
See How to create the perfect Gallery Wall
SARA LEE
Pared back and carefully balanced, Sara Lee's landscapes are a minimalist's dream. Her sensitive touch allows for tranquil works that instil an almost meditative mood in the viewer. Ideas and imagery are gathered from walks and journeys, and her depictions are usually site-specific and personal. Sara's pastels, prints and drawings – available through Rabley Gallery – are highly sought after, have been exhibited with the Royal Academy and are held in the collections of Pallant House Gallery and the V&A. Consider these pictures a friend to your decorating schemes; they're as happy in a modern city flat as an old country house.
saraleeartist.co.uk
JO ELBOURNE
After a decade spent designing menswear, Jo Elbourne returned to working as an artist bringing with her a wealth of knowledge on fabric, texture and weaves. Based out of a studio in culturally hot Margate, Elbourne's new work originally developed from her experiments with the craft of seat weaving. Though she does still produce a small selection of furniture, her practise mainly concerns non-functional, wall-based works of art, fashioned from methodically wrapped and threaded cords. The pieces are striking, beautifully balanced and finished in neutral, muted colour palettes that lend themselves naturally to most interior schemes.
jorobynelbourne.com
CHARLOTTE EDEY
The first thing you notice about the pastel-toned works of Charlotte Edey is their ethereal sense of calm. Her influences include mysticism, symbolism, oceanic imagery and femininity, and from these she creates beautiful, unseen worlds that address the politics of space and the experience of womxn of colour. Edey has appeared in countless publications and her clients include Miu Miu, Soho House and even WeTransfer. One of the joys about living with this artist's work is its adaptability to your space – her media spans print and tapestry, small scale and oversized, offering endless possibilities in the home. You can browse available works at both Charlotte's own website and through Partnership Editions.
charlotteedey.com
SOLA OLULODE
Visually beautiful and crying out to be placed as a room's captivating focal point, Sola Olulode's grand canvases stand out in their striking but soft textural richness. The artist achieves this through the layered use of multiple mediums including natural dyes, batik, wax, pastel, ink and thick impasto brushstrokes. Sola's work depicts joyful and utopian scenes of warm, loving relationships and the lived experiences of black women of diverse sexualities. Recently graduated from the University of Brighton, Sola has exhibited with galleries von Goetz, Alice Black and the V&A. Acquisitions are best made directly from the artist through her website.
solaolulode.co.uk
MICHAEL KIRKMAN
Predominantly producing works on paper, Michael Kirkman is best known for his delicate prints and exquisite skill with a pencil. His artwork is often figurative; drawings are anchored around portraits of forlorn-looking youths, while prints show eclectic scenes of figures at work and play drawn from forgotten and unearthed memories. Michael has completed commissions from the National Theatre and the Palace of Westminster, and has work held in the collections of several galleries. He recently collaborated on an award-winning fabric with St Jude's Prints. In our opinion, he's one of the most talented draftsmen working today.
mkirkman.com
JULIET E P GIBBS
We all need a bit of greenery in our homes, especially after a long year of being cooped up indoors. Juliet Gibbs' verdant canvases positively explode with luscious foliage, offering a window into a world of extravagant botany. The artist's focus is on the contrast between the manmade and organic, and through this she explores the push and pull between nature and our impact on it. Sleek glasshouses and conservatories are depicted entangled with rare plants, creating artificial jungles that are both alluring and out of place. Juliet is scheduled to soon have her first solo exhibition, and her refined paintings will make a fine addition to growing art collections.
julietepgibbs.co.uk
SHOLTO BLISSETT
Through an exploration of humanity's emotional relationship with the natural world, Sholto Blissett conjures up vast, fictional landscapes that are arresting and majestic. The artist grew up in the medieval market town of Salisbury, and you can see the influences of nearby Stonehenge and the city's varied architecture coming through in his detailed work. There is a grandeur and classicism to the paintings and yet their grounding in our living environment – Sholto is a former geography student – keeps at bay any sense of loftiness. The artist has recently exhibited with Unit 1 Gallery and White Cube, and will make a fine addition to the collection of any architecture lover.
sholtoblissett.co.uk
DICKON DRURY
An award-winning graduate of the Slade School of Fine Art, Dickon Drury creates bold canvases of joyful colour that play with the notions of traditional still life painting. Dickon's works are full of humour and quandary, and he playfully depicts objects both treasured and banal from the worlds of science, food and art. We love their immersive quality – stand in front of a Dickon Drury painting and challenge yourself not to get lost in his swirling compositions. His work is best acquired through his website or the Koppe Astner gallery in Glasgow.
dickondrury.com
MATTHEW BURROWS
he's recently attracted considerable attention as founder of the brilliant Artist Support Pledge, which has subsequently drawn our eye to Matthew Burrow's own impressive work. Engaged across painting, drawing and works on paper, Matthew's thoughtful compositions are both gestural and geometric. They make ideal holding pieces for an interior space and come in numerous varied palettes and sizes. Matthew has shown in solo shows with Vigoi Gallery and been included in group exhibitions with artists such as Rose Wylie.
matthewburrows.org
BETH RODWAY
Fans of mid-century modern are certain to find an affinity with the charming drawings from the mind of artist Beth Rodway. Gleaning from her experience in architecture, Beth constructs richly detailed interior spaces made up from a combination of books, photographs and her imagination. Her spaces are often inhabited by nude women and wild animals, sitting among a backdrop littered with recognisable furniture and other design classics. If her rooms came into existence, we're sure they'd sit quite nicely in the pages of Livingetc. Beth's work is best acquired through her website, but drawings sell at lightning speed, so it's worth keeping an eye on her instagram account as well.
bethrodway.com
The Livingetc newsletter is your shortcut to the now and the next in home design. Subscribe today to receive a stunning free 200-page book of the best homes from around the world.