'It's less upkeep, less water, just less hassle' – the "anti-lawn" movement, explained
We think this new landscape trend is here to stay, but could it work for you?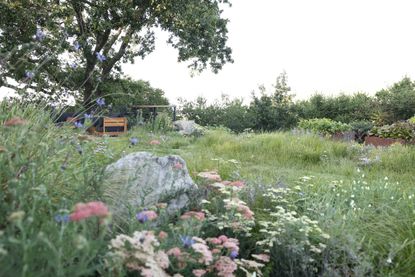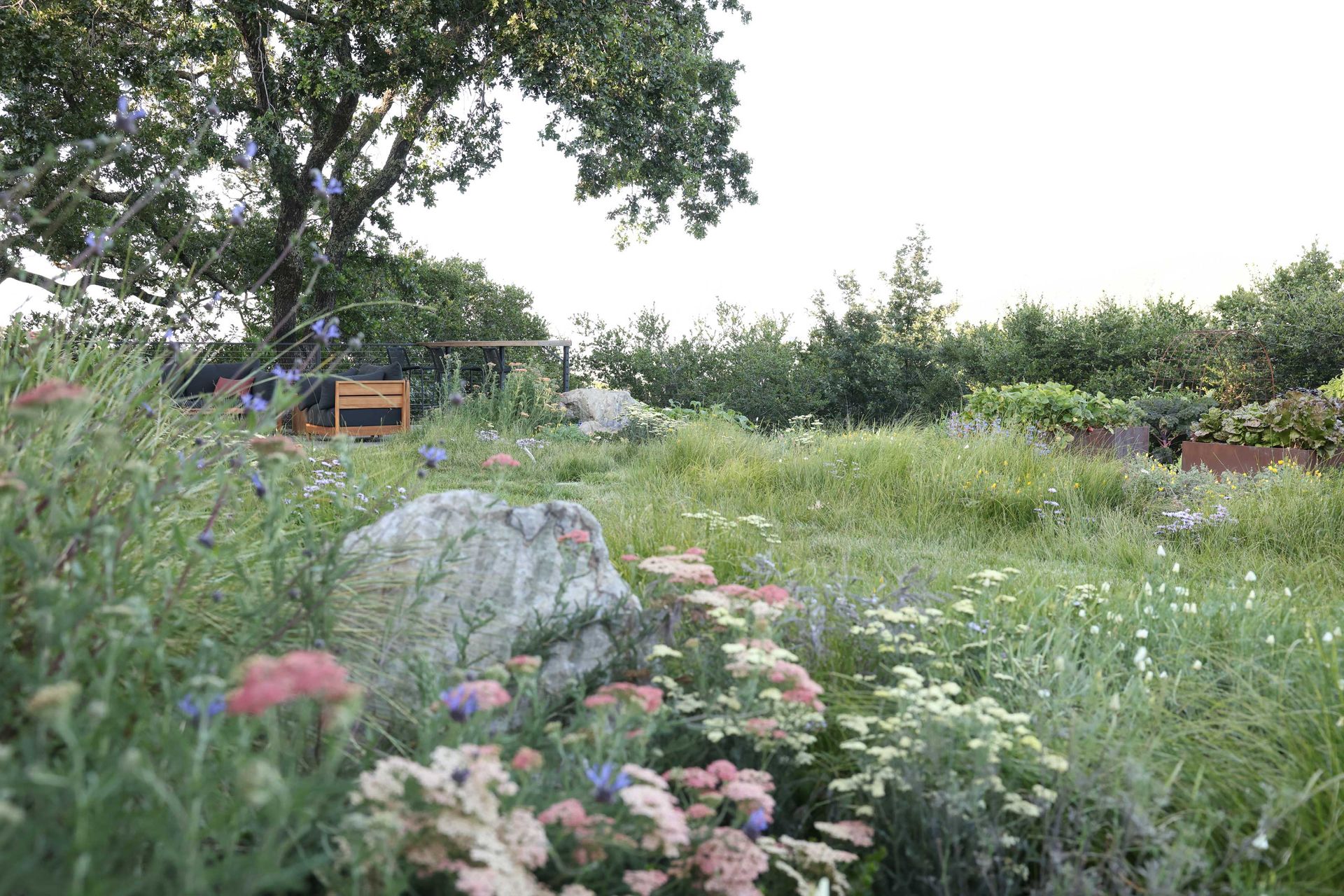 (Image credit: Christian Douglas)
The Livingetc Newsletter
For style leaders and design lovers.
Thank you for signing up to LivingEtc. You will receive a verification email shortly.
There was a problem. Please refresh the page and try again.
Tis the season to be enjoying your backyard, whether that be sunbathing by the pool, reading a book in the shade or hosting your favorite people al fresco.
Although fair weather is a wonderful reason to enjoy your outdoor space it can have a negative impact on the look of your yard. Currently, my lawn is a marbled pattern of shades of yellow and brown. It requires far too much maintenance than I can do, is anything but green and, honestly, it's ruining the vibe.
Sure there are ways to save your brown grass, but in the summer my time in the backyard is purely for leisure. Lawns are high maintenance yet we continue to have them cover the majority of our backyards. That's why I am thrilled to wave goodbye to grass this summer and embrace the anti-lawn trend.
If you are looking for a reason to ditch the lawn we have just that. These contemporary landscaping ideas offer a new and exciting way to spruce up your yard, embracing alternative techniques and styles. Take a look and see what else your outdoor space could be.
What is the anti-lawn trend?
The immaculately mown lawn has become synonymous with the ideal American backyard. A lush lawn covered in precise stripes is one of the strongest tools the average gardener has, making it a go too for most. Recently, however, this position has been under threat from the anti-lawn movement, which provides a convincing case for ditching the greenery altogether!
'The anti-lawn trend is a movement that encourages homeowners to replace traditional grass lawns with more sustainable and low-maintenance landscaping options,' says professional landscaper Max Thomas. 'It aims to reduce water usage, minimize chemical inputs, and create a space that requires less upkeep while still being beautiful and enjoyable.'
'It involves reducing or eliminating traditional grass lawns in favor of more eco-friendly and sustainable alternatives,' explains gardening expert and founder of The Plant Bible Zahid Adnan. 'People are opting for diverse landscapes with native plants, wildflower meadows, vegetable gardens, or hardscaping elements like gravel and stones.'
There are many backyard ideas out there but none of them are causing this much of a stir. Gardeners are divided on this new style, but it had me at hello - it's less upkeep, less water used - just less hassle. And just take a look at these alternatives on offer.
1. Rock gardens
Probably the most dramatic way to reject the lawn is by embracing hardscaping. This is where you utilize stones and gravel in place of grass. It is a large feature of low-maintenance garden ideas and has a very modern appeal.
It also adds depth and dimension to a mundane space by adding an element of excitement. It can work particularly well if you have an existing patio space as it provides a transition and connection from manmade materials to the natural world.
Professional gardener Tony O'Neill suggests taking hardscaping one step further to be a rock garden. this is where plants native plants are introduced to the hardscaping to create variety and interest. plants such as succulents are great low-maintenance alternatives are they are used to the e
2. Food gardens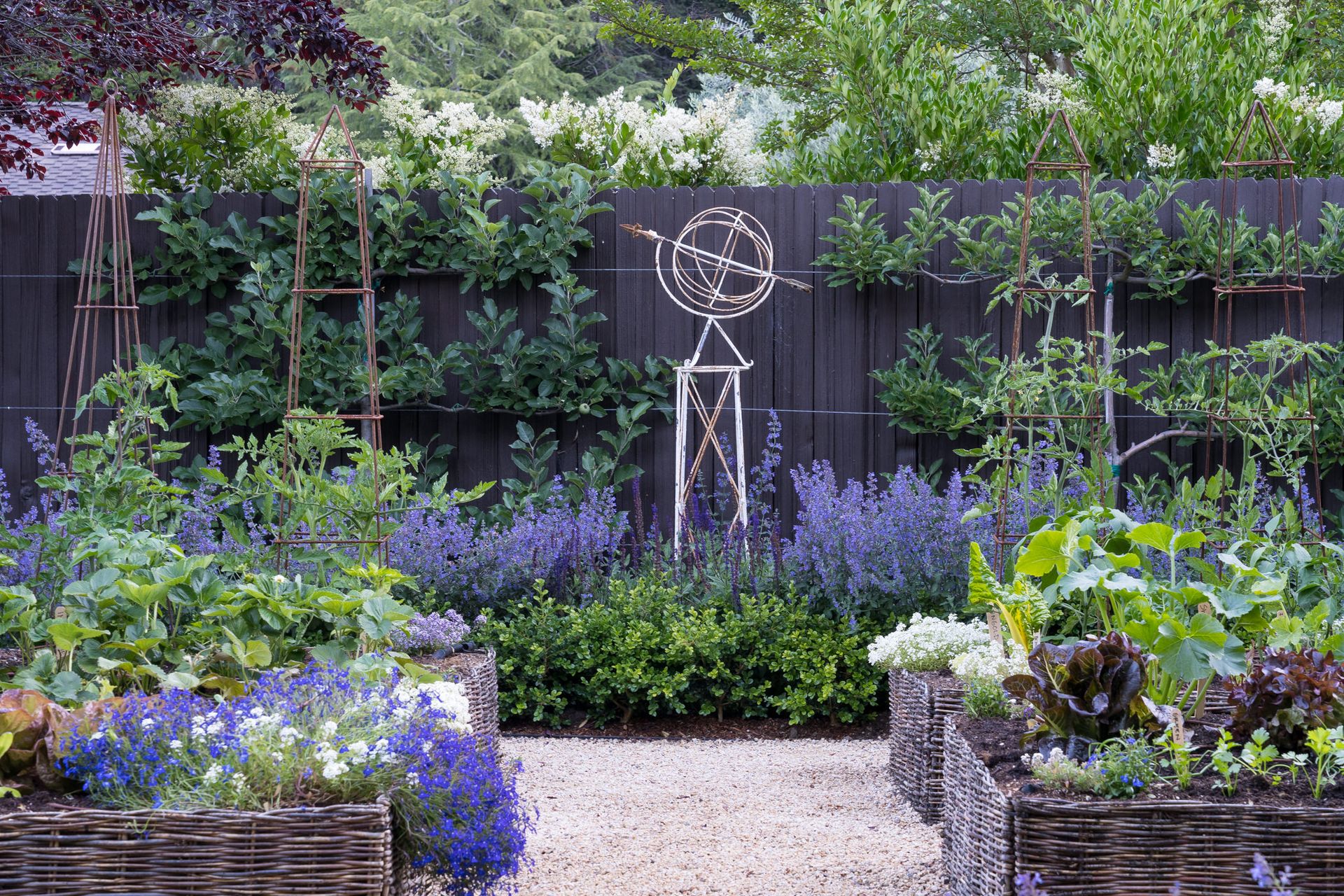 Another way to join the anti-lawn gang is to start a vegetable garden. Embrace that cottage core aesthetic and try growing your own food. There is no greater pleasure than plucking warm tomatoes fresh from the vine. It is rewardingly addictive.
'Utilize the new space to start a vegetable garden,' suggests Max, 'it promotes sustainable living and is a rewarding activity.
A food garden could be your answer to a lawn-free garden by incorporating it with another alternative to create variety. Raised beds are easy and cheap to build and can be used for a whole host of vegetables. You can also use them to grow a cutting garden such as sweet peas and dahalias. If however you are already an avid gardener and you want to take your vegetable growing to the next level you may wish to invest in a greenhouse. Not only will your tomato production go through the roof, but you can also enjoy the visual design of a beautiful glass house.
3. Wild flowers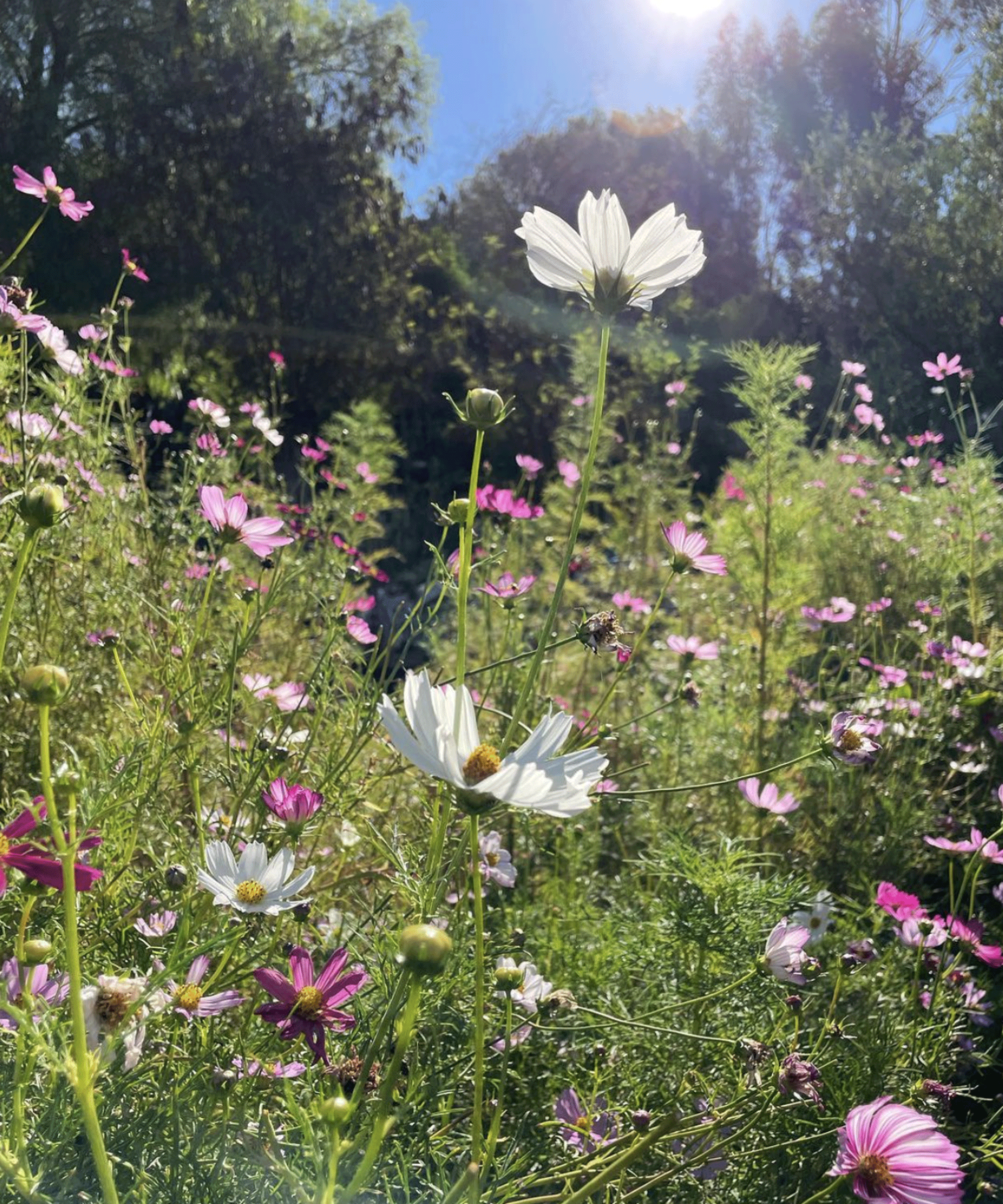 Nothing says anti-lawn like wildflowers, the antithesis of a pristine lawn and the obvious choice when you are looking for something completely no maintenance.
'This trend looks to eliminate grass in favor of more eco-friendly alternatives,' says Zahid, 'people are opting for diverse landscapes instead. Embrace the trend by incorporating native plants and promoting biodiversity through things such as wildflowers.'
Wildflowers are a great way to introduce biodiversity whilst maintaining a very visually appealing backyard. The beauty of them is in their simplicity that never looks monotonous, meaning you can replicate wildflowers across your space and it will never look boring. This natural look is a real garden flower trend right now.
It will reduce chemical use and requires no pruning. It is the ideal choice for lovers of color and a more whimsical backyard design.
4. Clover lawns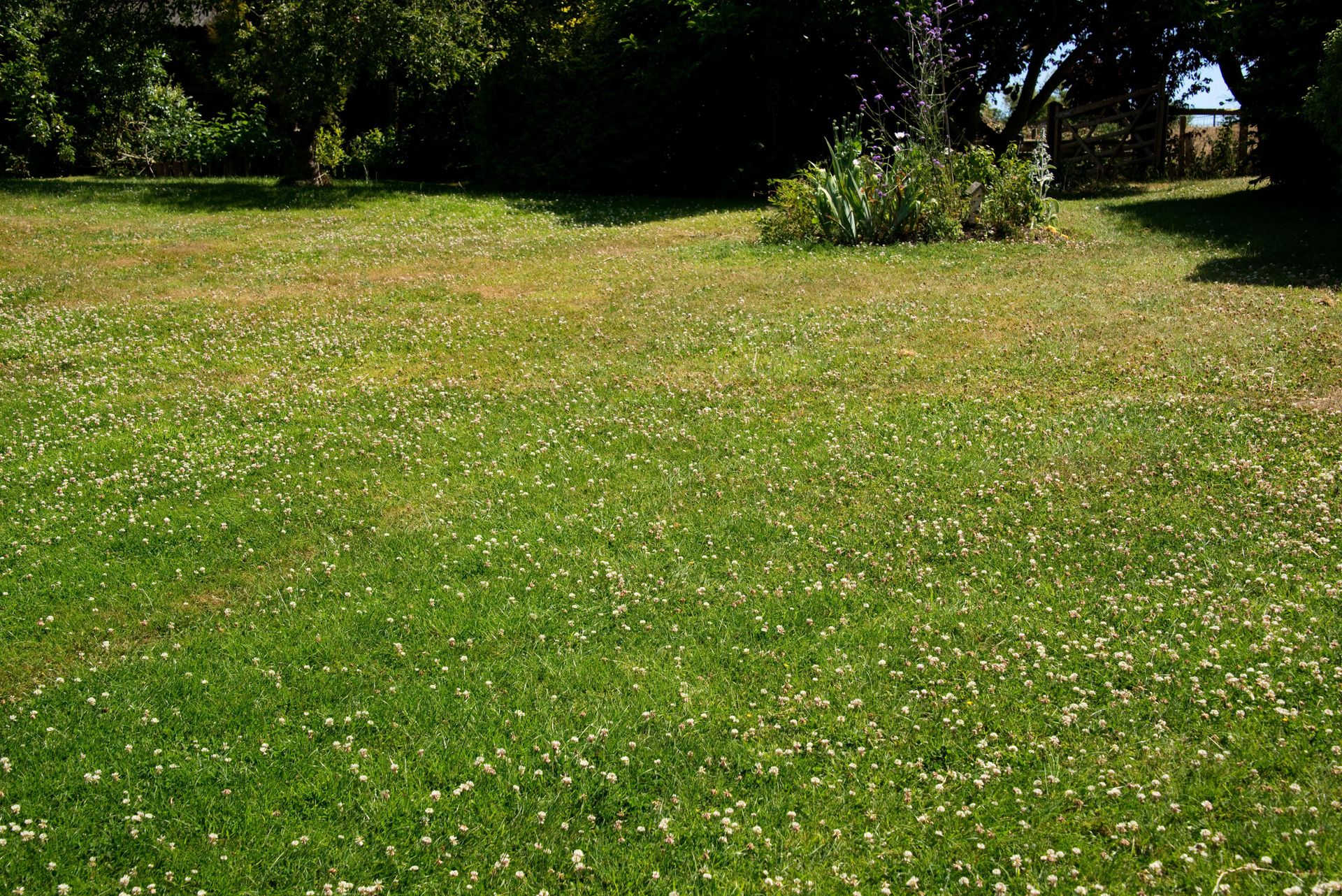 If you are reluctant to fully commit to the anti-lawn movement but your grass is giving you hassle you might want to consider a clover lawn. This option is probably the most popular and common way to do no grass as it gives you a similar aesthetic with far less maintenance.
'Clover plants make good grass alternatives due to their hardy nature, requiring less mowing and water than typical grass species,' says lawn enthusiast Jeremy Yamaguchi. 'Clover lawns create thick, lush carpets of green foliage which are attractive and provide an alternative to traditional grassy yards. Additionally, they also produce white flowers and attract beneficial insects such as bees and butterflies.'
Clover lawns are drought tolerant, only requiring watering once a week during the hot weather. If you are eager to cut down on garden maintenance but feel you would miss the luscious greenery of a lawn this might be the perfect solution. Clover lawns remain green throughout summer so no need to spend your time asking why is my lawn turning yellow.
5. Carex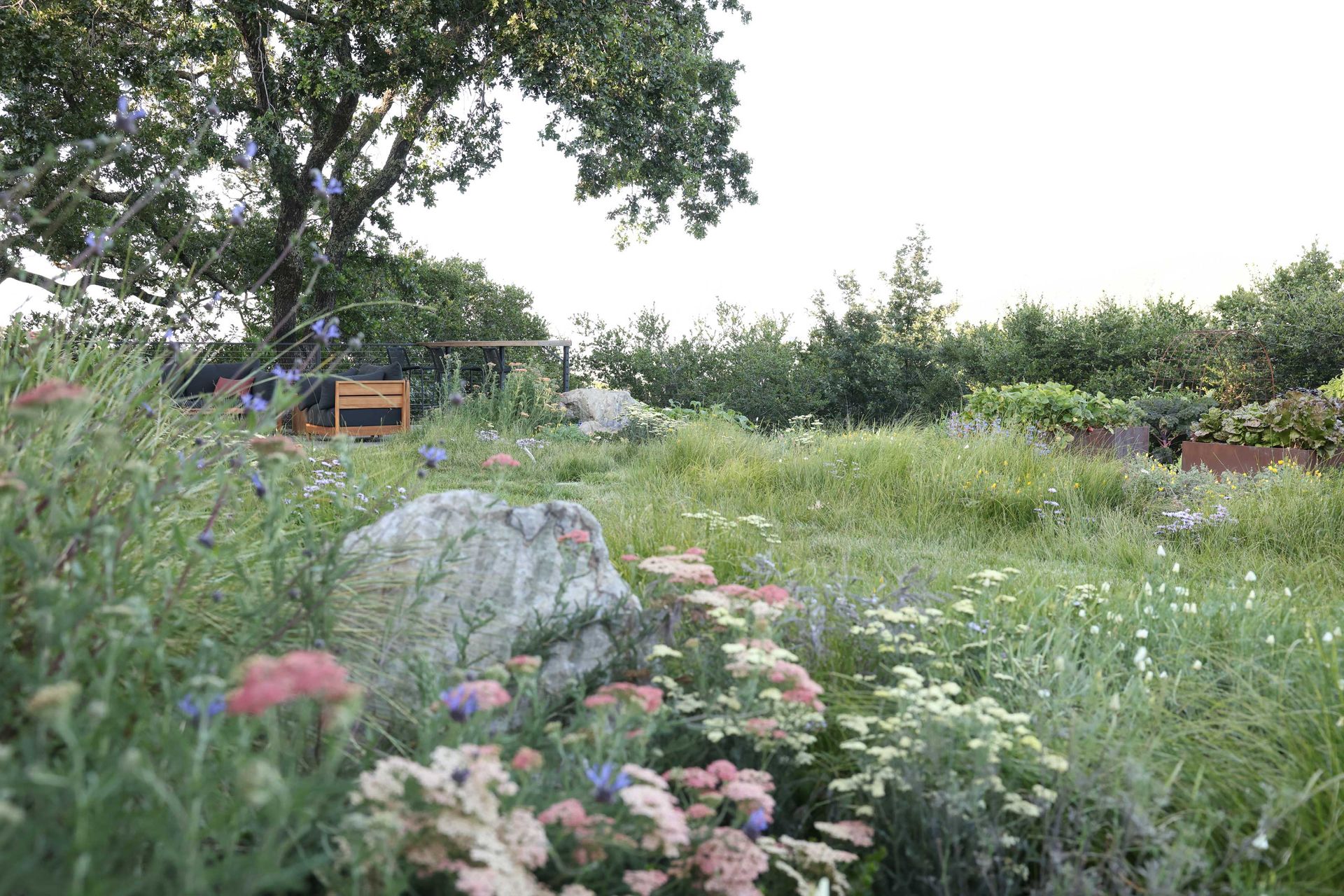 'Carex – or sedges. Sedges are elegant, bunching plants with blade-like foliage. They're quickly gaining popularity as an easy-care turfgrass alternative,' says Jeremy.
'They're quickly gaining popularity as an easy-care turfgrass alternative. Sedges are environmentally friendly: They need little water and no fertilizer when planted in their native regions. There is a tremendous variety of sedges (over 2,000 species globally), so you can pick the one that best fits your yard's needs,' he explains.
This might not be anti-lawn enough for the purists out there but this is a great grass alternative if you are hoping to keep some greenery in your yard.
'For a sedge that will fill out your entire lawn, the shade-loving Pennsylvania sedge is often a top choice,' Jermey advises. There are so many options to choose from when it comes to sedge whether you have sandy soil or a very dry climate there is an option for you.
For style leaders and design lovers.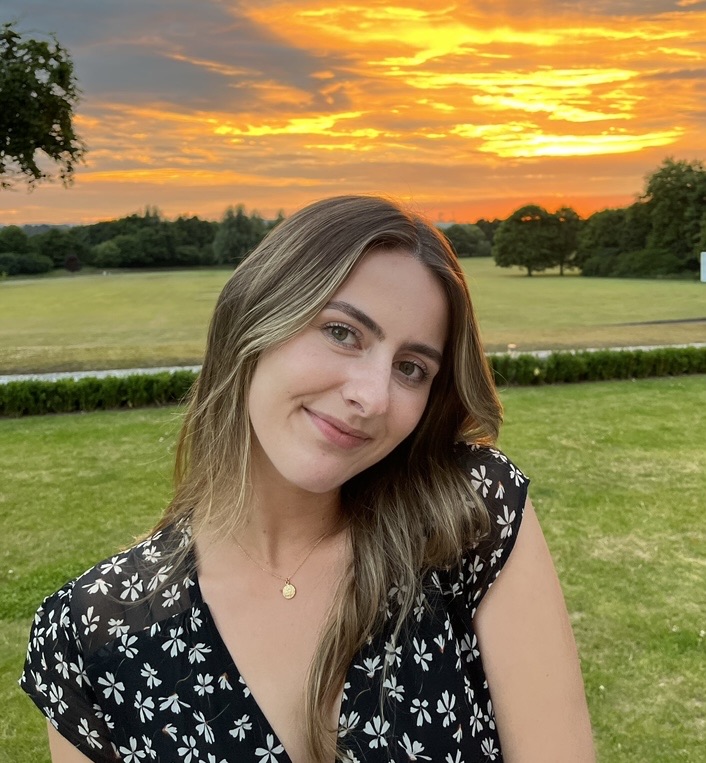 Amy recently completed an MA in Magazine Journalism at City, University of London, with experience writing for Women's lifestyle publications across arts, culture, and beauty. She has a particular love for the minimalist aesthetic mixed with mid-century furniture, especially combining unique vintage finds with more modern pieces. Her previous work in luxury jewellery has given her a keen eye for beautiful things and clever design, that plays into her love of interiors. As a result, Amy will often be heard justifying homeware purchases as 'an investment', wise words to live by.