5 things designers do to make rooms look bigger - clever furniture color hacks that make a difference
These space-stretching color choices will help make your living room feel airy and open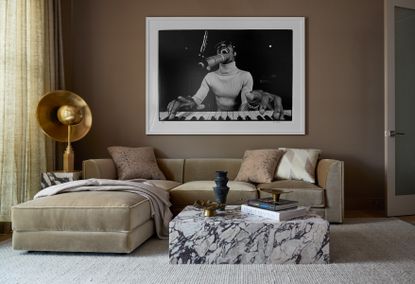 (Image credit: John Merkl. Studio credit K Interiors)
The Livingetc Newsletter
For style leaders and design lovers.
Thank you for signing up to LivingEtc. You will receive a verification email shortly.
There was a problem. Please refresh the page and try again.
Choosing furniture for can be a bit of a minefield, but it's helpful to be aware that the color of your furniture can affect the 'visual' size of your space.
So what color furniture makes your small living room look bigger? Lighter hues are the obvious option, but it's not quite as simple as that; the appearance of the room's size is also affected by what you pair the furniture with and the color of the walls.
'The color of your furniture can make a room look big or small depending on if it compliments, blends or contrasts the color on your walls,' says Linda Hayslett of LH.Designs. 'Meaning, if you chose a monochrome color palette but your walls are a dark blue and you pick a dark blue sofa, the furniture will blend away and disappear into the wall making the room feel bigger than it is.
'But if you had a white wall and a black sofa, it can make the room feel smaller against the contrast of the two hues. However, complementary colors can also make a room look larger if their undertones match because your eye isn't bothered by such a jarring difference in colors.'
What color furniture makes your living room look bigger?
'Though colors play a part in how a living room can feel in size, contrary to belief, in dark versus light colored furniture or wood, it's not the color that always makes a space feel small or big,' says Linda Hayslett, Principal, LH.Designs.
'It's the scale, placement and how each piece relates that can feel small vs big. I've been in many rooms that felt small that had lighter colored furniture, but they didn't flow together so it was all making it feel tiny.'
We explore how you can pair color, placement and scale to make a living room feel bigger below.
1. Match your furniture color with the walls
Painting shelving or a dresser in the same paint color as the walls will help to make a living room feel bigger.
The seamless hue without contrast means the furniture 'blends' into the space, allowing it to feel larger than it actually is.
Off-whites and warm neutrals are great colors that make living rooms feel bigger, but the effect will also work with darker colors, like navy blue or charcoal grey.
2. Choose blond wood (but don't get matching sets)
A Scandi living room focuses on light palettes for a calm, clean, minimalist feel. This style of living room furniture is therefore a great option for opening up a space.
Catharina Björkman, Scandi lifestyle expert at Contura, confirms: 'Pale-colored woods such as pine or birch help to reflect light. Choosing light floorboards, or painting them white, will also make the space look bigger than it is.'
In the image above, a floating coffee table in blond wood, paired with a light floor, helps to visually 'expand' the space. The armchairs also feature blond wood but have mixed materials on the seating to add texture, comfort and interest. Keeping the wall color the same hue creates a light space without feeling stark, and a light grey sofa adds to the open feeling without everything being 'matchy-matchy'.
'Furniture should look curated, interesting and flow together,' says Linda Hayslett. 'Matching sets are a no-no if you want personality, in my book.
'Having the same color furniture is fine as long as they relate to one another in some interesting way. But if they are all from a set and exact colors then your eye doesn't register anything interesting, and the room can feel clinical or typical.'
3. Use black but keep it balanced
You don't have to rigidly stick to pale, white or light wood furniture to add depth and a feeling of a space to a room.
Using black accents, as long as they are balanced out elsewhere in the room, will work too.
'Materials always play a part in making a space feel larger or smaller,' comments Linda Hayslett.
'Layering with textures and colors that go with one another helps make a room feel either large or small in size.
'Color only matters if you have one note of it (for example, a room filled with black will overwhelm a small space). But if you have matte blacks layered with bleached blond wood and soft brown tones, that can give you a feeling of openness and warmth if done right.'
The black furniture in the room above adds a design-forward feel to the space, and is balanced out through placement. The beige sofa is warm but light and, paired with the off-white walls and height-stretching fireplace, adds to the expansive feeling in the room.
George Oliver Irfaan coffee table
Price: $106.99
Dimensions: 17.4'' H X 39.37'' L X 19.7'' W
So much more than a coffee table - this lift-top design is clever storage, too. The heightened top is also the perfect level to rest a laptop on for streaming.
4. Match grey furniture to the sofa
Light grey, in the form of concrete, marble or micro cement, can add an open feeling to a room, and this will be further enhanced if it matches the sofa or wall color.
In the space above, a small living room is given an open, fresh feeling with a concrete coffee table that blends into the space by matching the grey sofa in the background.
The room is further opened up by the cream armchairs matching the wall color, creating a balanced, airy feel.
5. Pair the sofa to your wall color
As the largest piece of furniture in your living room, the sofa will have a huge impact on the feeling of space it affords.
'Opting for a lighter color sofa can make a space look bigger, but this is further enhanced by matching the sofa color to the wall color,' says LH. Designs' Linda Hayslett.
Off-whites, creams, taupes, beige, and light grey are all good choices when you're thinking about what color couch makes a room look bigger, as well as offering a cool aesthetic.
But you can also try the technique with darker hues, like navy blue, for a cozy feeling that will still 'stretch' the space of the room.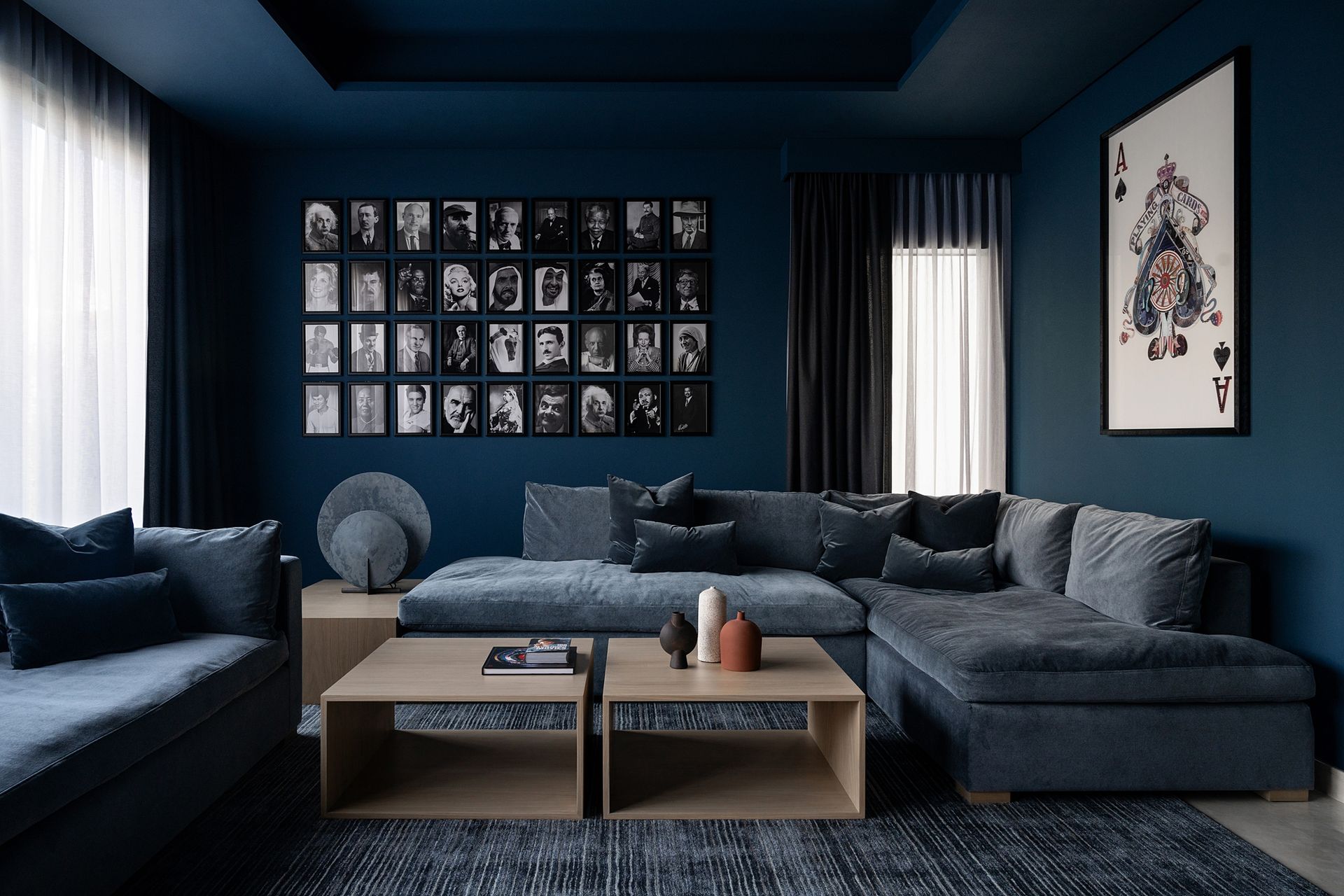 For style leaders and design lovers.
Ruth Doherty is a lifestyle journalist based in London. An experienced freelance digital writer and editor, she is known for covering everything from travel and interiors to fashion and beauty. She regularly contributes to Livingetc, Ideal Home and Homes & Gardens, as well as titles like Prima and Red. Outside of work, her biggest loves are endless cups of tea, almond croissants, shopping for clothes she doesn't need, and booking holidays she does.