What color couch makes a room look bigger? Designers reveal their favorite space-stretching sofa shades
Lighter colors work best to open up a space, but you can choose a dark sofa for a small room - here's how to do it...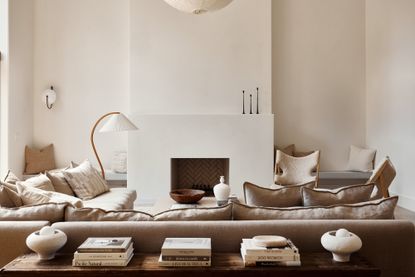 (Image credit: Lisa Staton Design)
The Livingetc Newsletter
For style leaders and design lovers.
Thank you for signing up to LivingEtc. You will receive a verification email shortly.
There was a problem. Please refresh the page and try again.
A couch is the biggest furniture investment piece in your living room, and the style, size, fabric and color will all have an affect on the overall aesthetic of the space.
The color of the couch should be one that suits the decor scheme of the room and be a shade you love, but it should also help work to make a small living room feel more expansive.
'In design, scale and color always inform how one feels in a space,' says Marie Flanigan, of Marie Flanigan Interiors. 'To make a room look cohesive and balanced, the couch color should always complement the room's palette.
'I typically choose a solid color for the couch's fabric, but love when the fabric has some texture to it, like a velvet that adds dimension and sheen. If the room is small in size, I think it's smart to opt for a lighter colored fabric which makes the room feel more spacious.'
However, color fans shouldn't despair as there are also ways to integrate a darker or bolder sofa shade into a small space, too, and we'll explore how both dark and light hues work with the best couches in a small room below.
The sofa colors that will make a small room look bigger
'Upholstery fabrics and colors play a significant role in determining how a room will look and feel,' says Helen Pett, Design Ambassador at Arteriors. 'In many schemes, designers often employ a neutral fabric when creating a classic design or hero the sofa by choosing a bold rich tone so it becomes the center piece.
'Matching your wall color to your sofa bridges both techniques. It facilitates the introduction of more vibrant tones whilst allowing the sofa to sink back into the wall color, creating a harmonious, streamlined look, which makes the room feel spacious. Tones such as whites and creams work particularly well together, but darker color pairings work too.'
1. Off-white
White, or off-white, is often suggested as the top color that makes small living rooms look bigger as it's the shade that boasts the highest level of light-reflecting qualities.
And, for the same reason, a white sofa will also help to create the feeling of a light, airier space.
Opt for a textured fabric, like a bouclé sofa, to add warmth, depth and dimension to the room. It's also a good idea to bring in a little pattern or color through soft furnishings, objet and decor to ensure the space doesn't feel stark or sterile.
Kristen Pena, of K Interiors, says: 'We love a light colored sofa to open up a space, but we prefer it to have a little texture as stark white feels a little impersonal and untouchable to us. Our goal is always to have a space feel accessible and approachable so a little tone of something in the white, whether it's off-white through to a light gray, usually helps with that.'
2. Beige or taupe
'Using a light, neutral palette is a tried and trusted way of creating a space that feels calm and elegant,' says Neale Whitaker, interior design expert and King Living spokesperson.
'Using the same color on the ceilings and walls will help to make the space feel bigger. When it comes to choosing upholstery, look to create a complimentary scheme by choosing a tone which will create a harmonious combination.
This doesn't mean the scheme has to remain totally neutral, you can accessorize with tonal textiles and occasional pieces, such as footstools or armchairs to lift the look. The beautiful marble coffee table is a great example of a luxe accent piece that adds pattern and depth to the otherwise neutral scheme above, by K Interiors.
Kristen Pena, Principal, K Interiors, says: 'We intentionally kept the walls, sofa, and drapery similar in hue to allow for a significant contrast and focus on the incredible art and stone.
'We like lighter color sofas in beige or taupe because they provide warmth and welcoming vibes to a space.'
3. Light gray
A light gray sofa is a good choice if you're looking for subtle color that still boasts some of the light-reflecting qualities of white.
Again, it will help to open up the space if the wall is a similar hue.
Daniel Rauchwerger and Noam Dvir, founders of BoND, say of the image above: 'In this project we used a light gray mineral limewash paint for the walls; it's a textured paint application which worked well for this historic context, and gave the space a lot more depth. The gray tint, combined with the texture, has an almost calming effect in the way that it breaks up the light in the room.
'The sofa, in this case, has a similar grayish color - almost like oatmeal. Sofas are always quite a bulky volume within a room, especially if the space is small. Keeping it in a light color, similar to the walls, makes it disappear a bit more.'
4. Yellow
While it's largely suggested that lighter colors will add to the feeling of openness in a room, lovers of bolder color will be pleased to hear that there is an argument to suggest that a stronger shade will visually draw attention away from the size of the room.
One way to expand the visual height is to hang large pieces of art that reflect the color of the sofa; this will create a cohesive space that balances the room, which is important for creating an airier ambiance.
Clara Jung, of Banner Day Interiors, says they 'squeezed in so much fun and personality' into the San Francisco home above, ensuring that even though it wasn't a huge square footage, it was full of 'color, original artwork and so much personality'.
5. Blue
Dark blue sofas are hugely popular in modern interior design for a reason: they're smart, elegant, trendy and timeless.
So you might be pleased to know that you can have a dark blue sofa in a small living room and still work it so the space feels bigger. How? It's all about tricking the eye with color and paint techniques.
'Your sofa is the centerpiece of your living space, and more often than not is the largest piece of furniture in the room,' says Patricia Gibbons, sofa.com design team.
'Therefore, choosing the color and fabric pairing tends to require a little more thought. However, with certain architectural features, like tall ceilings or skirting boards, it's worth picking the color of your walls first; blues are a huge hit at the moment.
'Once selected, matching your sofa with a similar shade can be key to creating a harmonious space. This pairing of different tones of blue helps elongate a room, giving the illusion of a higher ceiling as well as more space.'
Patricia adds: 'You can then layer accessories to create harmony between the tones of your walls and sofa through textiles and decorative additions incorporating complementary tones and textures.'
Another way to introduce a dark sofa color into a small room and still make the space feel bigger is to employ the technique of matching the color to the walls so the sofa 'disappears' into the space, creating a cozy yet more expansive feel, as seen in the beautiful blue living room by Ryan Street Architects below.
What color sofa is best for a small room?
Lighter color sofas paired with light paint is the most common choice for a small room.
However, dark sofas can also work to make a small room feel bigger by employing the technique of pairing it to the color of the walls; in this case, a darker wall shade.
Sofa color choice is ultimately a personal preference and there is no real wrong answer as long as your couch works to create a cohesive and design-led scheme.
For style leaders and design lovers.
Ruth Doherty is a lifestyle journalist based in London. An experienced freelance digital writer and editor, she is known for covering everything from travel and interiors to fashion and beauty. She regularly contributes to Livingetc, Ideal Home and Homes & Gardens, as well as titles like Prima and Red. Outside of work, her biggest loves are endless cups of tea, almond croissants, shopping for clothes she doesn't need, and booking holidays she does.