5 things every entryway should have in it, according to designers – do you have all of them?
Entryway design is the ultimate balancing act between style and practicality, here's what interior designers say you need to strike it right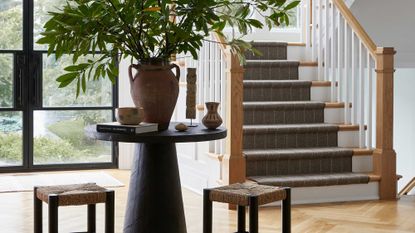 (Image credit: Far Studio)
The Livingetc Newsletter
For style leaders and design lovers.
Thank you for signing up to LivingEtc. You will receive a verification email shortly.
There was a problem. Please refresh the page and try again.
Entryway design may not be the top of everyone's list when conjuring up design concepts for your new space. Whether a through route or a place to dump your belongings, entryways are an often neglected zone in terms of aesthetics and practicality.
But done right, the entryway ideas you choose offers a sparkling insight into the atmosphere within your home, your sense of style and can be capitalised upon in terms of storage and utility. After all, as Chicago-based interior designer Alexandra Kaehler points out: 'It is your only opportunity for a first impression. It is the first thing your guests see when they come to your home, so it sets the tone for everything else.'
Knowing how to fill this space can be a minefield, but we have designers on hand to help you populate your entryway with pieces that allow this space to become a visual star of the show in its own right, and a practical haven.
1. Storage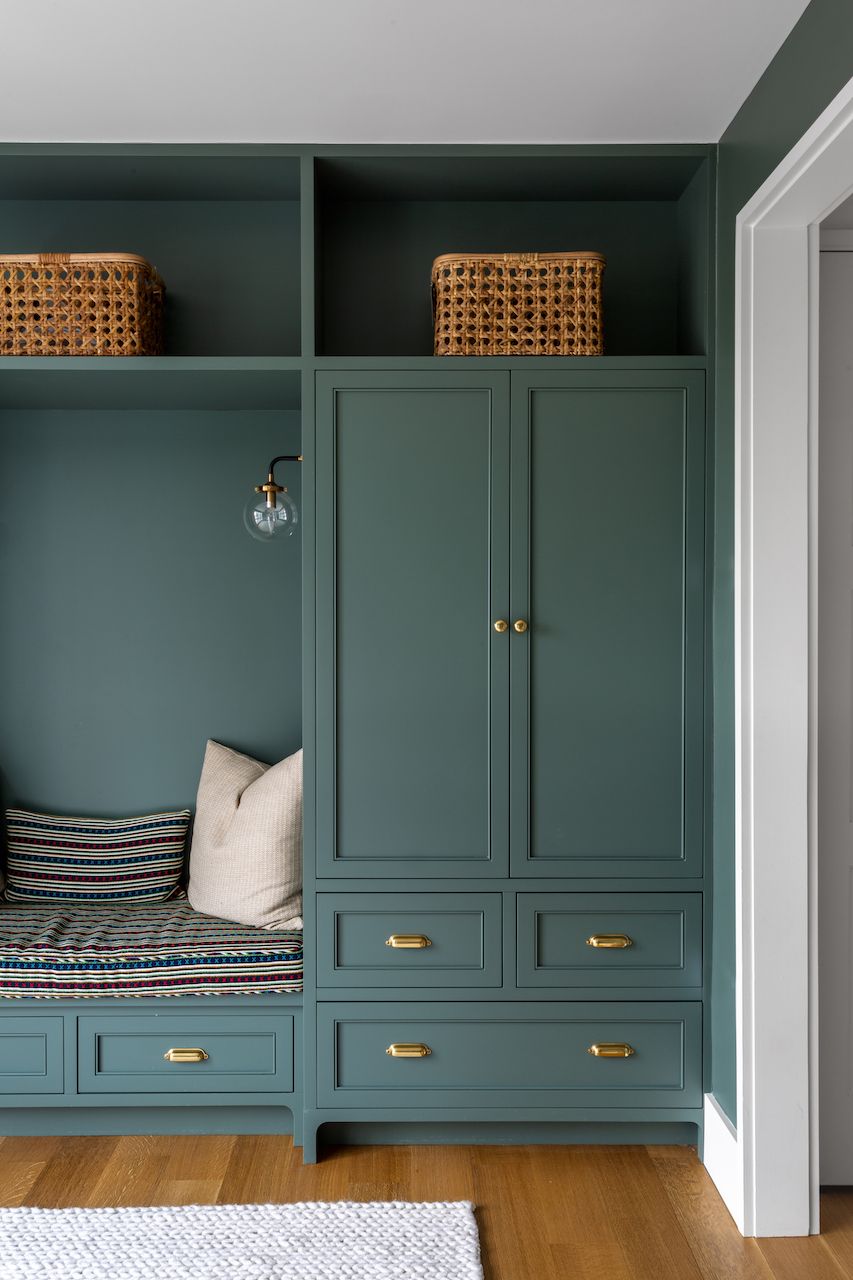 The first, and most arguably important facet of entryway design is storage. The correct storage for items you tend to grab as you leave the house (keys, a wallet) or sling down as you enter (mail, a pair of shoes), will reduce the amount of clutter which naturally gathers in this space, ensuring a calm atmosphere when you first enter. The best part about storage in an entryway is you can make it as minimal as you like, with options ranging from built-in cupboard space or, as Alexandra Kaehler advises, somewhere simple to keep 'some personal objects, maybe a bowl or tray you found somewhere meaningful.'
New York-based designer and founder of Arsight, Artem Kropovinsky, suggests keeping an eye on the shape and size of your entryway storage to ensure it adds visual interest as well as utility to the space. Artem says this is important to 'avoid visual monotony but ensure they don't encroach on the space.;
To ensure the furniture doesn't overpower the space, the designer suggests a "measure twice, buy once" rule. That is, to measure the size of the space you wish to fill twice in order to ensure the furniture you are investing in will fit comfortably in the space, without making it look overcrowded or empty.
2. A console table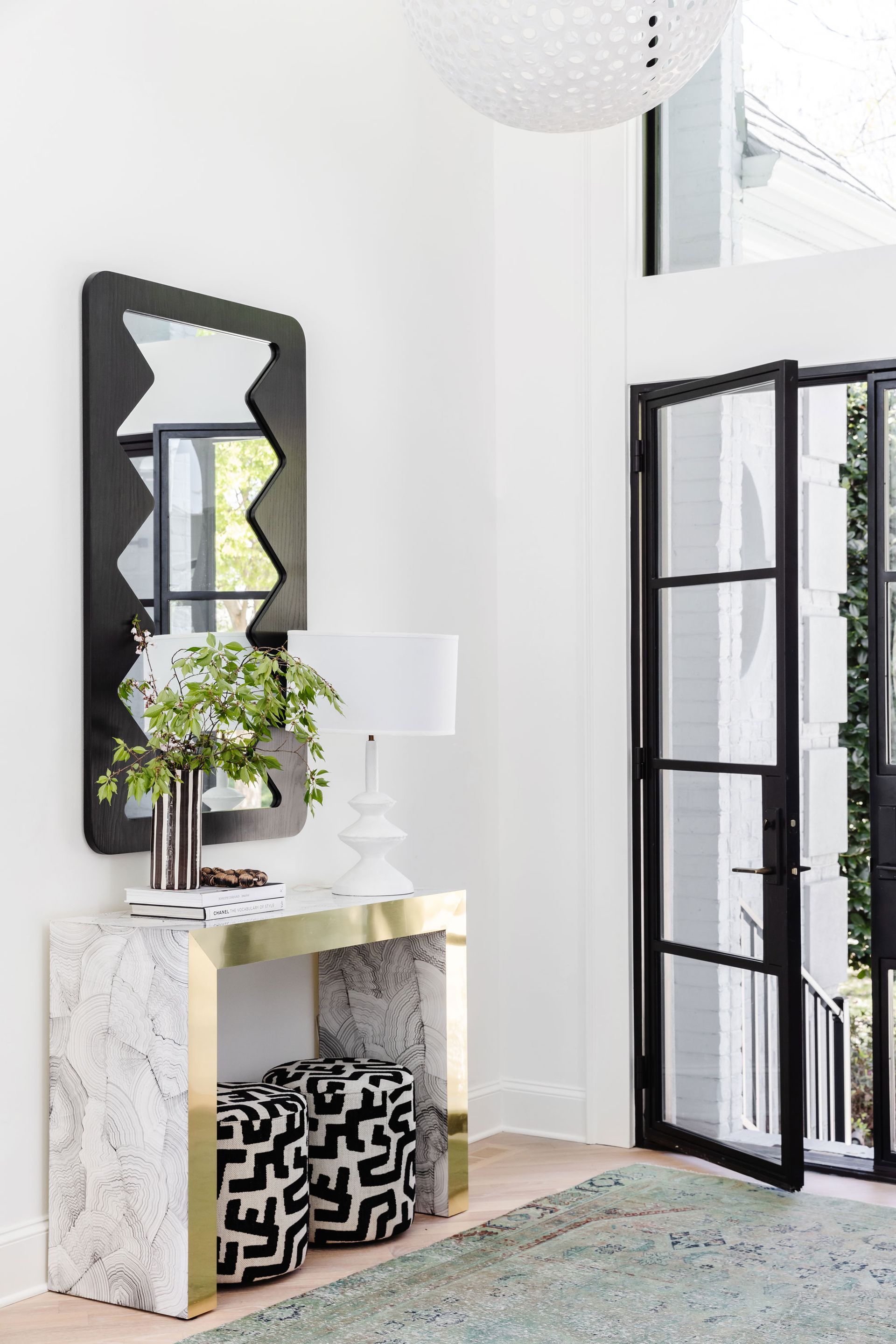 Once you have worked out a storage system that works for you, and particularly if you've landed on a basket or a bowl over built-in cupboards, you are going to want to pick out a console table to lay these pieces on. 'Some want a pop and wow factor, others want a retreat,' says designer and founder of Florida-based interiors brand Chill Casa, Madison Popper. 'Either way your entrance is unavoidable. It is imperative to strike a balance between the two with proper styling, and console table decor without overcrowding it. Be intentional about selecting items that have dual purposes so that in addition to it being aesthetically pleasing, it is also functional."
Popper rightfully points out that a console table serves all of the above. This piece of furniture can be what you make it in terms of being the showstopper of your entryway, or a modest piece balanced against a strongly patterned rug or eccentric lighting. This depends on whether you dress it up or down when choosing how many items you store on top of it, as well as the color and hardware aspects of the piece itself.
3. A mirror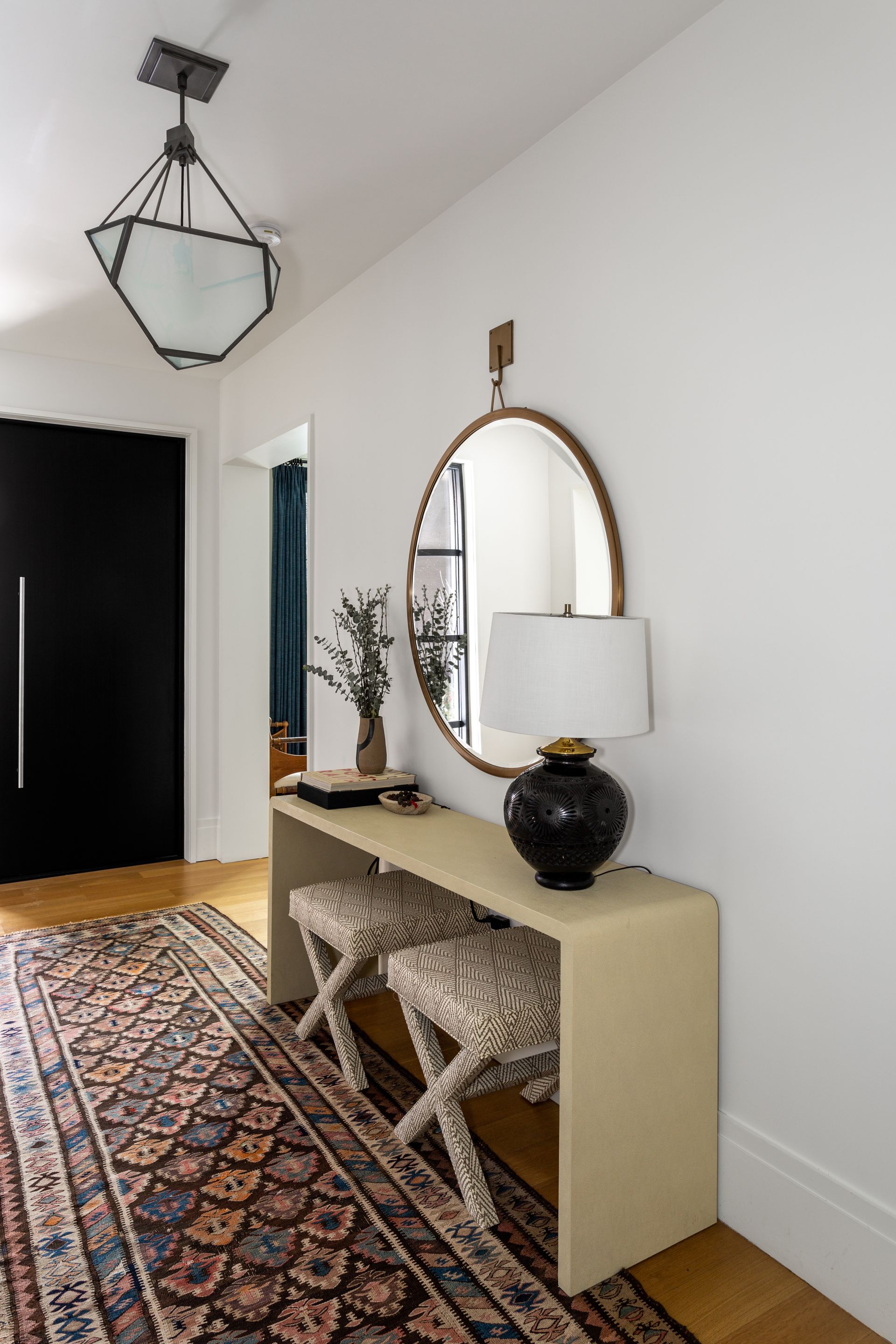 Whether light and open or a narrow, small entryway, your space will always benefit from being accessorised with a mirror. Popper explains: "Placing a mirror adds more depth to the space, and enhances the reflection of light, while an entry rug traps dirt while adding color and or texture."
New York-based principal designer and CEO of Nufacet Interiors, Isfira Jensen concurs. 'Typically placed above a console table, [a mirror] allows for last minute checks before heading out, it can make a small entryway appear larger, and with the varying design options, it can add plenty of visual interest in the space,' she says. When choosing the right mirror, Jensen's advice is clear. 'As the old adage goes, less is more,' she says. 'If an entryway is small, opt for elements of the right scale, but also ensure that you are not simply purchasing because it looked good on Instagram.'
4. Well thought-out lighting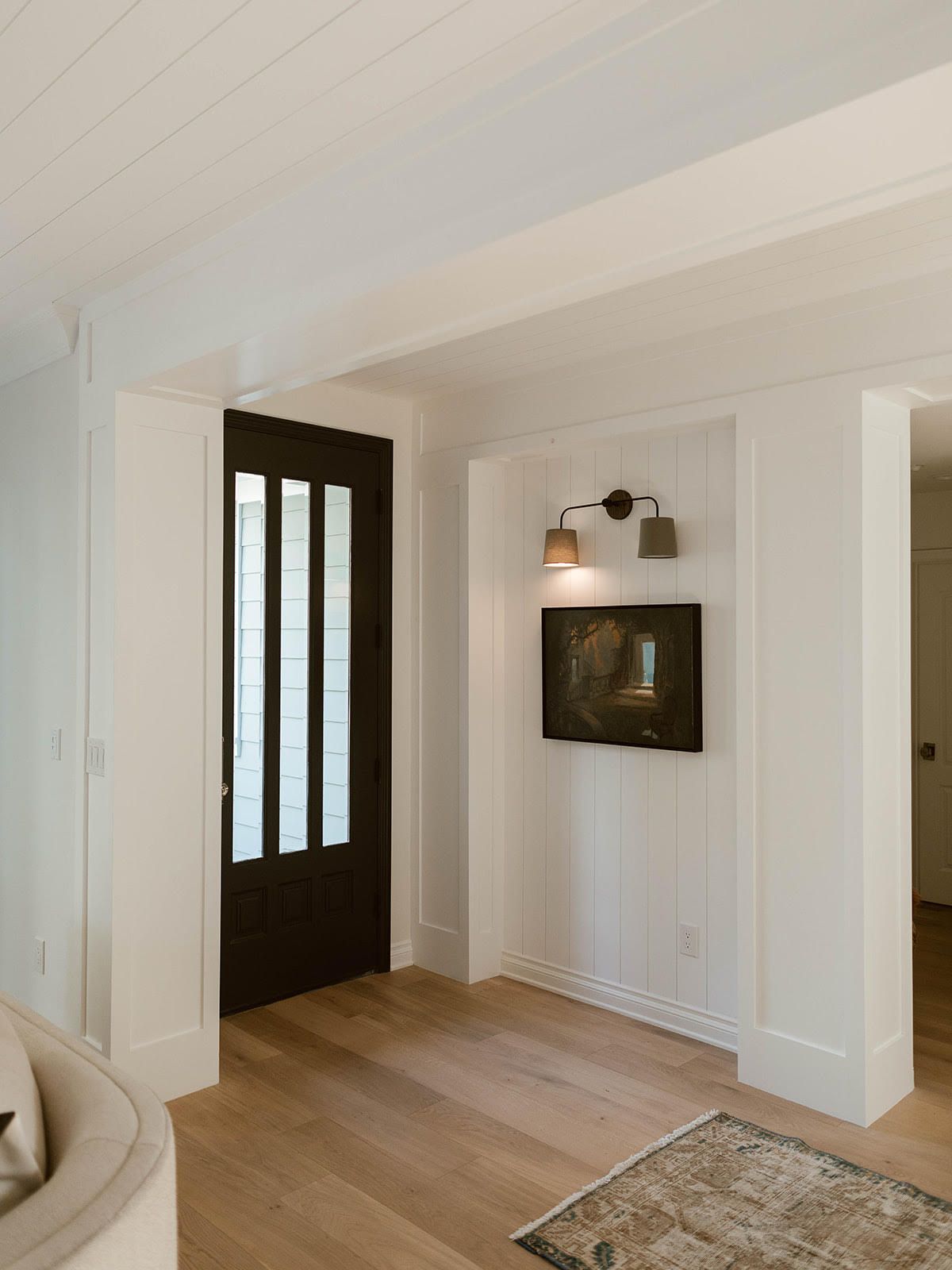 A mirror adds the most impact to an entryway when playing off the right lighting for the height and width of the space. Like founder and principal designer of Design Hutch, Brooke Spreckman says this space is 'an appetizer' for the rest of your home so putting it in the right light is key.
'Lighting is everything, not just in this space, but in every area of a home,' designer Isfira Jensen elaborates. 'It's essential to have adequate general lighting in this area through the use of either recessed lighting or a central light fixture. To avoid shadows on the face, installing sconces or using table lamps on either side of the wall mirror is ideal. Not only does the right lighting enhance the individual elements in this area, but it also creates an inviting ambiance and aesthetic.'
When choosing the visual aesthetic of the space, Artem Kropovinsky says cohesiveness is crucial for a calming space and the same goes for your light fittings and shades. 'Whether minimalistic, bohemian, or rustic, ensure all pieces resonate with a singular theme' is Artem's simple instruction.
5. Something decorative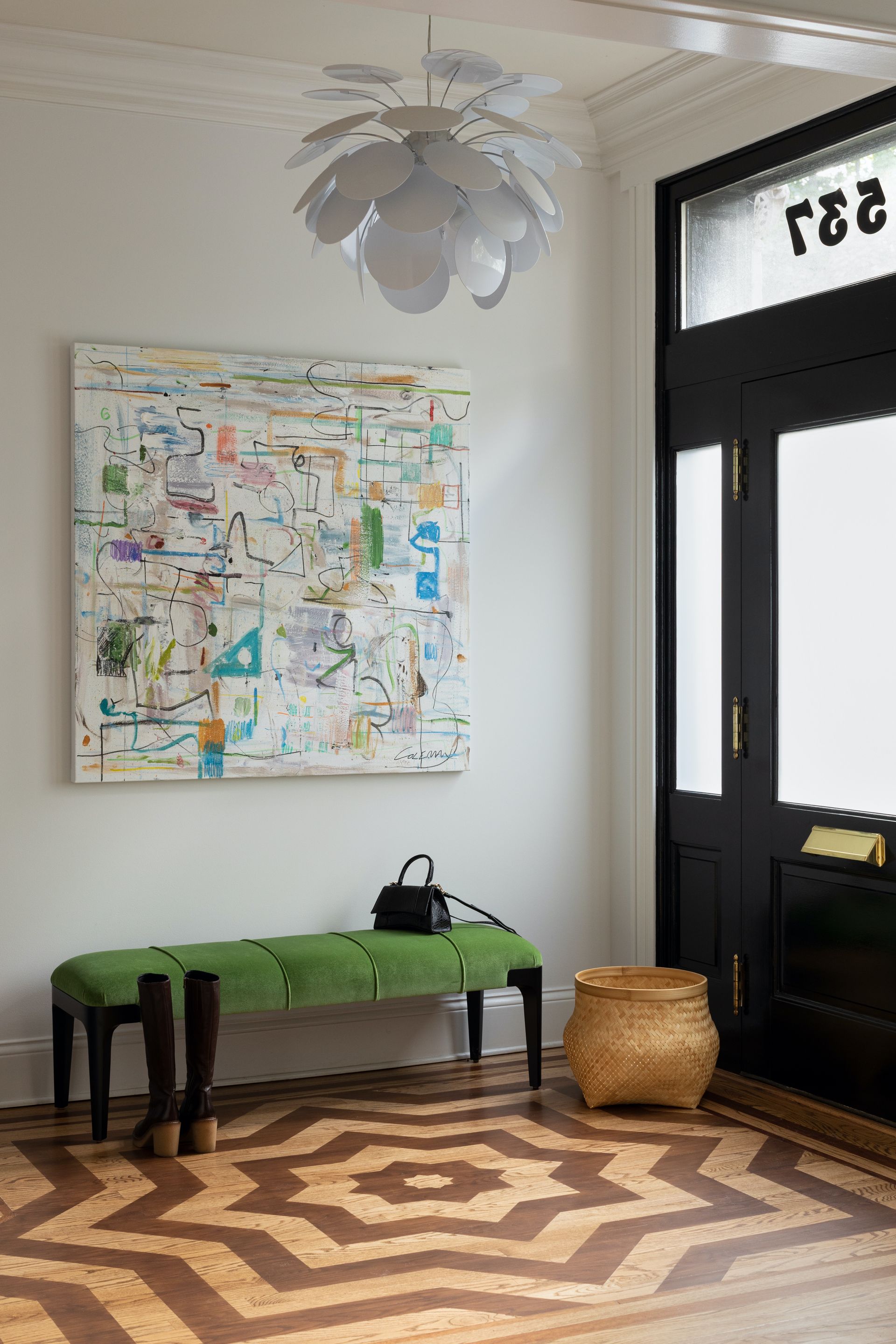 You shouldn't only thinking about how to organize an entryway, but how to make it feel like a room in its own right. Like any area of the home, adding decorative pieces which add interest and personality to the space are as important as effective storage in making your entryway inviting. For example, Alexandra Kaehler highlights the elevating power of a beautiful vase of fresh flowers.
Similarly, Popper suggests opting for a stylish entry rug which he says offers a dual purpose: "An entry rug traps dirt while adding color and or texture." Designer Madison Popper's go-to brands for decorative pieces range from Home Goods and West Elm to CB2, Pottery Barn and Crate & Barrel as he explains this range of stores allows you to shop for decorative pieces to elevate your entryway, regardless of budget.
Artem Kropovinsky also offers some useful suggestions for those browsing decorative pieces. The designer says a 'painting or family photo adds warmth and personality', whilst shopping in CB2 will likely offer inspiration regarding statement benches or chairs, which the designer regards as both 'trendy and well-crafted.'
Though there are no shortage of ways to design and decorate your entryway, the abundant advice offered by these designers will surely make shopping for new pieces that bit easier. If the space is serving you day-to-day and offers a glowing first impression of your home, you know you have got it right.
For style leaders and design lovers.
Katie is a freelance lifestyle writer who has recently finished an MA in Magazine Journalism at City, University of London. Before writing for Livingetc, Katie has gained bylines with The Caterer and The Telegraph and has interned at several lifestyle magazines including Grazia and Red. When not scrolling through Pinterest for interior design inspiration, Katie can be found writing about women's issues, trying out new beauty trends for her blog or seeing a West End show.