If you want to bring on-trend texture to bathroom walls, these 6 ideas are your best options say interior designers
These textured bathroom walls will elevate the bathroom to give depth and drama to the space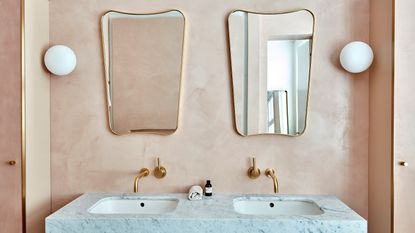 (Image credit: Blakes)
The Livingetc Newsletter
For style leaders and design lovers.
Thank you for signing up to LivingEtc. You will receive a verification email shortly.
There was a problem. Please refresh the page and try again.
Adding texture to the bathroom is about bringing visual interest, depth and a tactile feel to the space. All too often, our bathroom walls are left unexplored, homeowners typically opt for matte paint and occasional splashback tiling for fear that texture involves serious care and treatment to help it survive the steamy conditions. But designers are having fun with bathroom walls and exploring texture. 'Natural materials go a long way to create a spa-like haven in the bathroom,' says Emma Joyce of House of Rohl. 'Textured walls add depth to a space and offer a focal point to the room which you may not always expect to see.
Textured walls include anything from concrete, to plaster, to beautiful tiling where hand-crafted pieces create a glimmering shine that bounces light across the room. To help you figure out which textured wall finish is right for your modern bathroom, we've rounded up the styles to consider for a beautifully tactile finish.
Oonagh is an interiors writer and editor, and expert at keeping up with trends from the world of interior design. For this story, she's spoken to the designers and architects who have worked on homes with wow-factor bathrooms to find out the best way to add texture to the space.
How to add texture to your bathroom walls
1. Go for a super durable plaster look with Tadelakt
This age-old material has the visual appearance of plaster or concrete, but in fact, it's an ancient art form that has been bringing texture to walls for centuries in Morocco. It's waterproof, water-repellent and mildew-resistant, making it ideal for the bathroom.
In terms of aesthetic qualities, it has a beautiful softness and a raw, earthy aesthetic that adds texture and visual warmth. No grout lines deliver a beautiful, seamless look. 'This textured surface creates fabulous movement, interest, and depth to a surface,' says Hugh Leader-Williams, head of technical design at the international studio, Blakes London. It's also made without any chemicals, meaning it's a reliable material to have in your bathroom and good for the planet.
If there is anything to put you off, it's probably the installation process. Tadelakt requires around six coats and the application of an oil-based soap which gets rubbed onto the surface, reacting with the lime in the plaster to form calcium stearate. 'Done badly and you'll know it immediately,' warns Hugh. 'Unlike paint, it becomes a more costly and tricky surface to fix.'
It's a lengthy process, but we think it's worth it, as maintenance is easy, just a wipe down with water is required - make sure not to use cleaning products on it as it can damage the beautiful plaster effect.
2. Bring a shimmer with zellige tiles
Forget two-dimensional, matt bathroom tiles and opt instead for zellige tiles, where a gentle sheen and glow create a pearlescent effect, perfect for a serene and relaxing bathroom.
The imperfect nature of these tiles gives them a hand-crafted appearance and look really beautiful when paired with other materials in the bathroom, like concrete or wood.
'The tiling in the master bathroom is made of a combination of natural terracotta tiles and terracotta white glazed zellige tiles,' explains Pauline Dellemotte of experimental design studio based in Paris and London, Atelier Ochre.
'We love the handmade aspect of the tile combined with the contemporary graphic pattern we used on the walls and floors. This adds dynamic to the spaces and the glazed finish reflects the light throughout the room.'
If you're drawn in by the shimmer of a zellige tile, make sure to give it the space to shine by carefully placing your tiling near a window, where natural light will help reflect the beauty of the tile. Alternatively, the correct bathroom lighting or downward-facing wall light can give it the spotlight it deserves.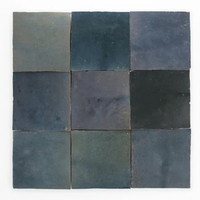 3. Try a soft limewash look
Limewash paint is another age-old treatment that is made from limestone that has been crushed and ground, mixed with water to make a putty, then thinned and colored with pigments. The effect is a chalky texture and brings a sheen and depth to any wall. Limewash has good environmental credentials, ideal for anyone sensitive to paint additives. 'The effect of limewash on a wall is a gentle "broken" color which has to be built up in layers of application, creating a soft nuance of color,' says Patrick O'Donnell of Farrow & Ball.
Los Angeles-based paint company, Portola Paints has limewash among its collection of eco-friendly paints. 'Limewash is a natural, brush-applied coating that dries to create a beautiful, weathered patina with subtle movement and natural color variation that soften and streaks with age,' explains Jamie Davis, founder of Portola Paints. 'One of the exciting parts of this finish is that no application is ever the same - every brush stroke or trowel mark creates a one-of-a-kind art piece that can't be replicated (as opposed to regular flat house paint). Limewash creates a sense of warmth and depth that traditional paints lack.'
In terms of its waterproof credentials, it isn't completely waterproof, but a lime sealant can be applied over limewash for added water resistance. 'Generally, we don't recommend limewash for bathrooms unless the homeowner is willing to take the extra steps and precautions to protect it,' says Emily Brown of Emily Lewis Interiors, who designed this minimalist bathroom. 'The homeowner wanted a textural wallcovering like plaster. For a similar look that was more budget-conscious, we painted the walls and ceiling in limewash and coated them with a water-resistant sealant. The sealant protects the limewash from mold and mildew.'
'Limewash is not waterproof and cannot be used in showers or steam areas,' Emily adds. 'For a waterproof option in showers and highly wet areas, we recommend using Tadelakt.'
4. Use panelled wood for a sauna look
Wooden wall paneling brings warmth to a bathroom and taking wood up the walls, as Prospect Refuge Studio has done in this instance brings a modern sauna aesthetic. Bathroom ceiling ideas like this can also help a cold space feel cozier.
Here, slatted cladding or shiplap look best in wood, bringing a rustic touch. Remember to seal your wood, it doesn't react very well with water and moisture, making this not the most practical texture for your bathroom, but done right and it pays off.
5. Go for a natural stone look
Achieve a sanctuary cave-like feel in your bathroom with textured stone. This example from Base Interior opts for limestone. Make sure you reseal regularly to keep the surface in good condition, otherwise the material is super durable. Limestone is also resistant to bacteria and mold, perfect for creating that spa bathroom look.
6. Or try a modern sleek finish with concrete
Concrete creates an elegant bathroom, bringing a matte texture and interest, creating a seamless finish, all the while being easy to clean. It can be cold underfoot and quite hard, but it's less expensive than tiling with a beautifully textured finish.
'We explored an architectural approach with this bathroom, creating a very strong sense of enclosure,' explains architect Ben Allen of Studio Ben Allen who mixed concrete with a green pigment for this wow-factor space. 'The pigmented concrete was pre-cast off-site which meant that installation was fast, but required a lot of forward planning'.
7. Mix it up
Here, designer Camilla Guinness created texture by using a combination of zellige tiling, stone flooring and a smooth wall. There is also a fabric rug on the floor for extra depth and another layer of sumptuousness. The result is this beautiful bathroom that simply looks like a haven for relaxation.
For style leaders and design lovers.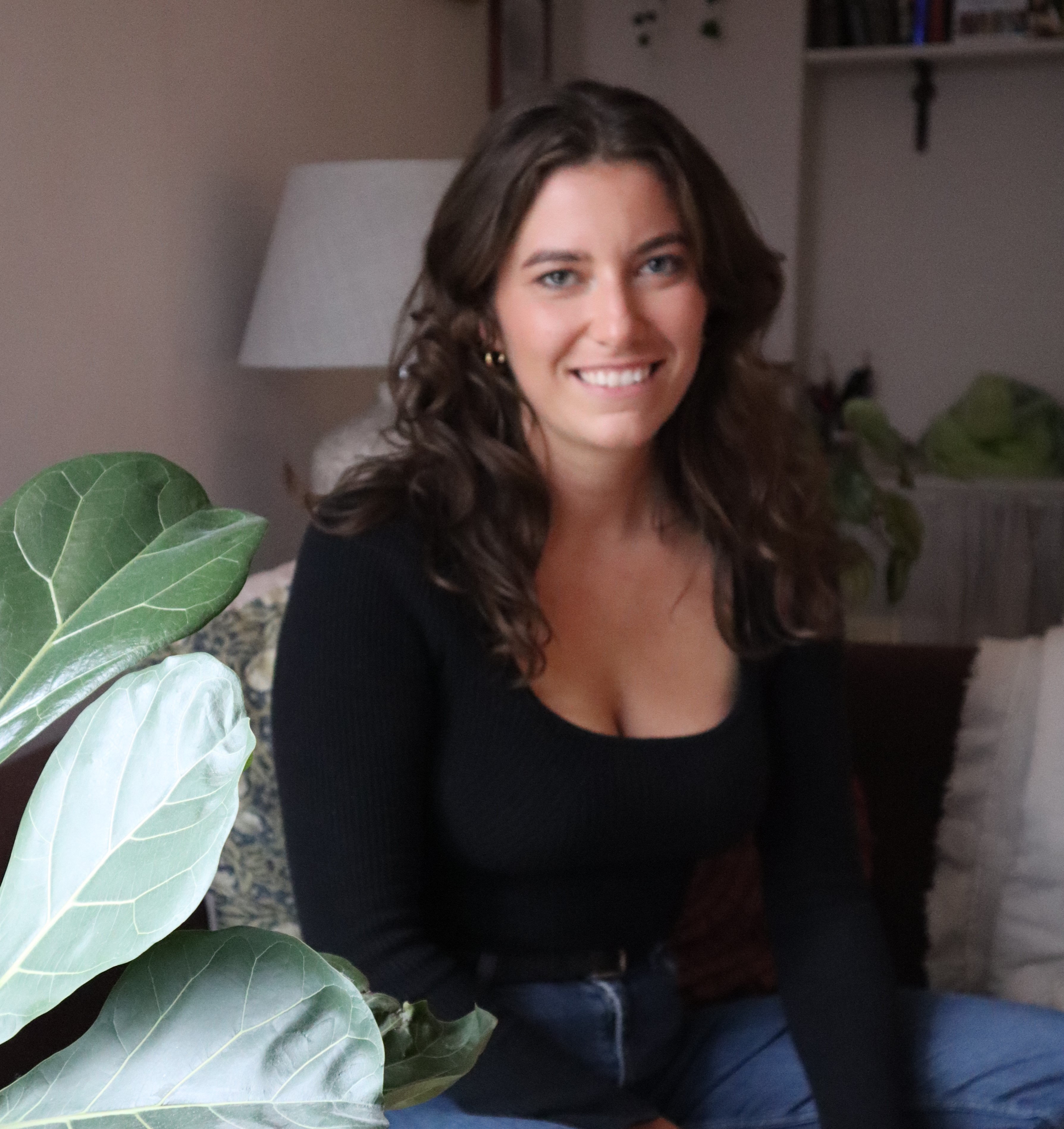 Livingetc content editor and design expert
Oonagh is a content editor at Livingetc.com. Previously, she worked on a London property title, producing long-read interiors features, style pages and conducting interviews with a range of famous faces from the UK interiors scene, from Kit Kemp to Robert Kime. In doing so, she has developed a keen interest in London's historical architecture and the city's distinct tastemakers paving the way in the world of interiors.