How to feel soothed the moment you walk into your bedroom - 11 interior design ideas for a restful scheme
Make your bedroom the most soothing space in your home with these tips from top designers – you can tick some of them off right away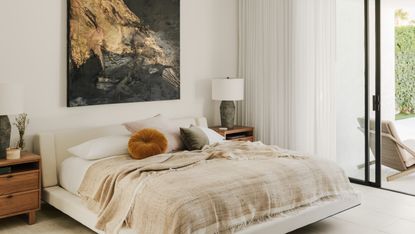 (Image credit: Lance Gerber. Design by Joshua Smith Inc.)
The Livingetc Newsletter
For style leaders and design lovers.
Thank you for signing up to LivingEtc. You will receive a verification email shortly.
There was a problem. Please refresh the page and try again.
In theory, the experts tell us, your bedroom should be your sanctuary. It should be clean, uncluttered, free of laundry or kids' toys – a space where you can go to let go of the day's stresses and unwind.
If you're looking around at your own bedroom right now wondering where you went wrong, don't worry. Real life means our homes rarely look quite like the ones you see in magazines. But nevertheless, there are plenty of ways to make your bedroom a soothing space to be in – and many of them are surprisingly simple.
We asked top interior designers how to feel soothed the moment you walk into your bedroom – and from layered-up lighting to calm-making candles, these are the soothing bedroom ideas they shared with us.
1. Envelope your bedroom in a soothing color
The first thing you'll notice when you walk into your bedroom is its color, so a soothing hue on your walls is the first step to an instantly peaceful space. The shade you choose, however, is really up to you. 'Some clients find warmer tones to be more soothing, while others feel cold colors evoke a calmer environment,' says Melissa Urdang Bodie of Philadelphia's Melissa + Miller Interiors. 'For this reason, we always discuss with our clients color in depth, and learn what they respond to and why. It is so personal.'
If you're still stuck, the designers have a few bedroom color ideas. 'I tend to prefer neutrals and earth tones for relaxing bedroom schemes – and color-drenching the walls and ceiling in the same color for a cohesive and soothing look,' suggests Lauren Sullivan of Tennessee practice Well x Design.
It's a preference Artem Kropovinsky, founder of New York interior design studio Arsight, also shares: 'Personally, warm neutrals, earthy hues, and hints of black and white work for me, but it's worth trying out different tints of blue, green, lavender, or pink that cultivate feelings of peace and balance,' he says. 'The trick is to harmonize these colors with abundant natural light and white or cream touches, to maintain an airy, fresh ambiance.'
'If you like to feel energized the second you wake up, I would stick to lighter colors, but if you want your space to feel like a very cozy den, then I would opt for moodier and darker,' adds LA interior designer David Samuel Ko of Maison Ko. 'When it comes to lighter colors, I love a warm white paint or a lighter mushroom color. For darker, I would say the dark greys/charcoal or even slate blue. You can never go wrong with a less saturated version of your favorite color for a moodier space.'
2. Optimize your storage
If you don't want to be confronted with clutter the moment you open the door onto your bedroom, you need to nail your storage situation. 'It's important to have a place for everything so the bedroom can remain as free from clutter as possible,' says Jenalee Tsimara, lead designer at Vancouver studio Schédio Spaces. 'My biggest tip here is to invest in a good closet system – ideally one that has integrated drawers, hanging rods for short and long items as well as a few shelves for off season items and shoes or hats.'
Eek out as much storage as possible from each item in your room. 'Consider bedside tables with at least one drawer to hide cords, chargers, and electronics,' says Atlanta-based designer Yvonne McFadden. 'You may even opt to drill a small hole into the back of a drawer so that phones can be plugged in and out of sight while also minimizing the appearance of unsightly cords.'
While a statement dresser or colorful wardrobe can be an accent piece, London interior designer Shanade McAllister-Fisher recommends keeping your storage furniture as background noise instead. 'Try to have storage compartments that blend into the background of your room, either by having matching colors or complementary textures,' she says. 'If you're short on horizontal space, I'd recommend making the most of your vertical space by having tall, shallow units near the ceiling.'
And, of course, even the best bedroom storage ideas are no use without good habits. 'Put things away – it's really that simple,' says Toronto-based interior designer Gillian Gillies. 'If you're prone to emptying the contents of your pockets onto your dresser at the end of a day, maybe a small ceramic dish or tray can act as a catch-all to corral loose ends – but I am a big believer in putting your clothes away and having clear surfaces in a bedroom.'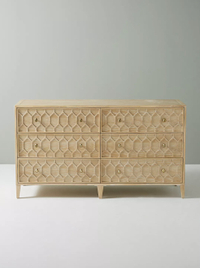 3. Harness the soothing power of lighting
'Lighting plays a key role in creating a soothing scheme,' explains Melissa Urdang Bodie of Melissa + Miller Interiors. 'We always look at three levels of light input: ceiling, walls, and floor. We find that when there is light emanating from all three of these, the room feels great (and it makes you look the best).'
The top bedroom lighting idea amongst the designers we spoke to? Avoiding the 'big light' in favor of table lamps. 'Relying solely on overhead lighting feels a bit sterile and uninviting,' says Lauren Sullivan. 'Never ever turn on any overhead lighting unless it's coming from a pendant, and use only table and floor lamps to light your space,' adds David Samuel Ko. 'Zone them out too so you can choose the type of mood you want for your room.'
Opt for warm lighting – 2700 K should do it – and invest in dimmer switches. 'Any lighting in the house should have a dimmer: you must be able to control every light as much as you can,' says Williams Martinez, founder of Florida and New York studio Casa Martinez. 'The bedroom is supposed to be calm and you can set the mood with a dimmer.'
4. Try an alternative paint finish
Texture came up a lot in our conversations with designers about soothing bedroom schemes – and a great place to start is with the biggest canvas: your walls. 'I recommend selecting a limewash or roman clay finish,' says Jenalee Tsimara. 'This application brings an element of soft texture and movement to the walls that gives a very dreamy feeling. It's also great for the air quality of the bedroom as it's made from natural minerals and doesn't have any off gassing.'
'I think something that feels nice to the touch is restful,' adds Gillian Gillies. 'When walls are upholstered it adds an acoustic element to the space and can help minimize noise transfer from the rest of the home and the outside. It creates a very immersive space. Grasscloth wallpaper or paper-backed fabrics can create the same feeling.'
5. Bring the outside in with fresh flowers or plants
By now, we're all well versed in the health and aesthetic benefits of houseplants, though David Samuel Ko prefers a different approach. 'I would invest in a potted tree for your bedroom and keep it super minimal,' he says. 'I don't think having a bunch of plants in your bedroom is completely necessary. Less is always more.'
If you don't have space for an indoor tree, fresh flowers and other foliage will also always be welcome in a soothing bedroom scheme. 'Always include fresh blooms for a finishing touch that brings the outside in – whether in a beautiful vase at the bedside, found branches on a dresser, or an olive tree filling an empty corner,' says Lauren Sullivan.
6. Appeal to all your senses
Look beyond how your bedroom looks when you're creating a soothing scheme: you can use all of your senses for a space that has an instant effect on your mood and your stress levels. First: scent. 'Try to keep any synthetic fragrances out of the bedroom – instead, opt for essential oils that are diffused in a mist,' says Jenalee Tsimara.
But which scents are best for a bedroom? 'I like to keep the scents in my bedroom very calm and cozy – I don't like anything too bright and energetic,' says David Samuel Ko. 'This usually tends to be muskier scents – notes of vanilla, leather, bergamot, santal, etc. It should feel warm, but also sexy.'
A soft carpet or rug underfoot signals it's time to get cozy – and has the added benefit of softening noise, says Joshua Smith, founder of his eponymous Vermont interior design studio. 'Window drapery also helps to dampen any outside noises – consider long flowing treatments for a soft, ethereal vibe – and also consider a sound machine for ambient noise that will help to drown out distractions and steady the mind, allowing the body to relax and recharge,' he adds.
And finally, Emily Mackie of Chicago firm Inspired Interiors has a tip for tea lovers: 'I tend to do a lot of Keurigs in bedrooms where you can have nighttime tea or morning coffee,' she says.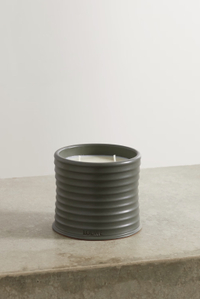 Loewe medium scented candle, Net-a-Porter
What could be more soothing than a Loewe scented candle? This one has woody notes with a hint of patchouli – and the muted color fits perfectly into a restful scheme.
7. Build up textural layers to feel cozy
Layering up soft furnishings is one of the most important things you can do to up the comfort factor in your bedroom. 'Layers are important to every space – rugs, throws, pillows, and window treatments are all bedroom must-haves and great ways to add texture and visual interest,' says Lauren Sullivan.
'When possible, select a large scale rug to go under the bed,' says Jenalee Tsimara. 'This allows the room to have a grounding focal point and means your feet touch something nice and soft as soon as you get out of bed in the morning. I like to keep this in a solid color opting for interest in different pile heights. This keeps the space feeling dynamic but not distracting.'
'Bedroom rugs will always make your room feel warm and inviting – that and throw blankets,' adds David Samuel Ko. 'For rugs, I would suggest something tonal and silky, preferably wool. For throw blankets, something rich in texture like a mohair or cashmere option is really nice.'
8. Personalize your space with art and trinkets
'Layering in your favorite pieces that remind you of happy times, joyful trips, or family memories is a great way to add a feeling of calm and happiness when you enter your sanctuary,' says Lane McNab of the Berkeley-based Lane McNab Interiors. It was an approach she took in this space for a client who lives in a historic home. 'This client wanted a light and airy space but also loves rich colors,' Lane adds. 'We took inspiration from this gorgeous vintage heirloom rug and carried it onto the walls with prized art and a comfy seating area for relaxing.'
However, choosing bedroom wall art can be tricky – you want to avoid anything too stimulating in an otherwise soothing space. 'Steer away from anything too bold and colorful,' says Jenalee Tsimara. 'While these can be great for office spaces and living zones it's best to keep the items in the bedroom visually relaxing. Think landscapes or soft abstracts.'
9. Opt for the best quality bedding you can afford
Okay, so the best mattress won't make you feel soothed as soon as you enter your bedroom – but you'll notice a good one once you climb into bed. 'For bedding, you really should be building it from the mattress up,' says Jenalee Tsimara. 'Choosing an organic latex mattress is the best thing you can do for your sleep. While they are a bit of an investment, they're incredibly comfortable and allows you to avoid the harmful chemicals many traditional mattresses have.'
Your bedding should have similar eco credentials for the best sleep health. 'Try to find options that are GOTS certified,' adds Jenalee. 'This is the gold standard for organic and ethical textiles and makes the world of difference to a restful and regenerative nights sleep.'
10. Get rid of distractions – and excess furniture
Streamlining the furniture in your room isn't just a way to declutter – it's also a way to reclaim this space as one for sleeping and resting only (which means finding space for your bedroom desk elsewhere). 'Avoid filling your space with too many pieces that consume precious floor space and make the room appear smaller,' says Artem Kropovinsky. 'I suggest eliminating any furniture that isn't used frequently or doesn't serve a specific purpose, like an extra chair, desk, or TV stand.'
'I often see loveseats or sofas in bedrooms, which I'm not opposed to whatsoever, but if you are looking for a more streamlined space with less clutter, I would suggest that be a piece you can skip,' says David Samuel Ko of Maison Ko. 'It also makes your space a living/sleeping combo, which may disrupt the overall relaxing nature of the space. Use your room primarily for sleep and get rid of anything that disrupts from that. If you have a desk in your bedroom, try moving it somewhere else so you don't associate your bedroom with working.'
11. Elevate your bedroom – and assist sleep – with the right window treatment
Bare windows don't make for a soothing space – so adorn yours with flowing layers of soft linen curtains and sheers. And if you're a particularly light sleeper, don't forget a blackout blind when you're looking for bedroom curtain ideas.
'Utilizing window coverings to bring in an added textural element is something everyone can do relatively easily,' says Jenalee Tsimara. 'I like to add two sets of window coverings for maximum peaceful impact: one that's closest to the window and filters light softly like a semi sheer linen; and a second heavier weight that brings a grounding presence to the bedroom and can be used to block light for a restful night's sleep.'
For style leaders and design lovers.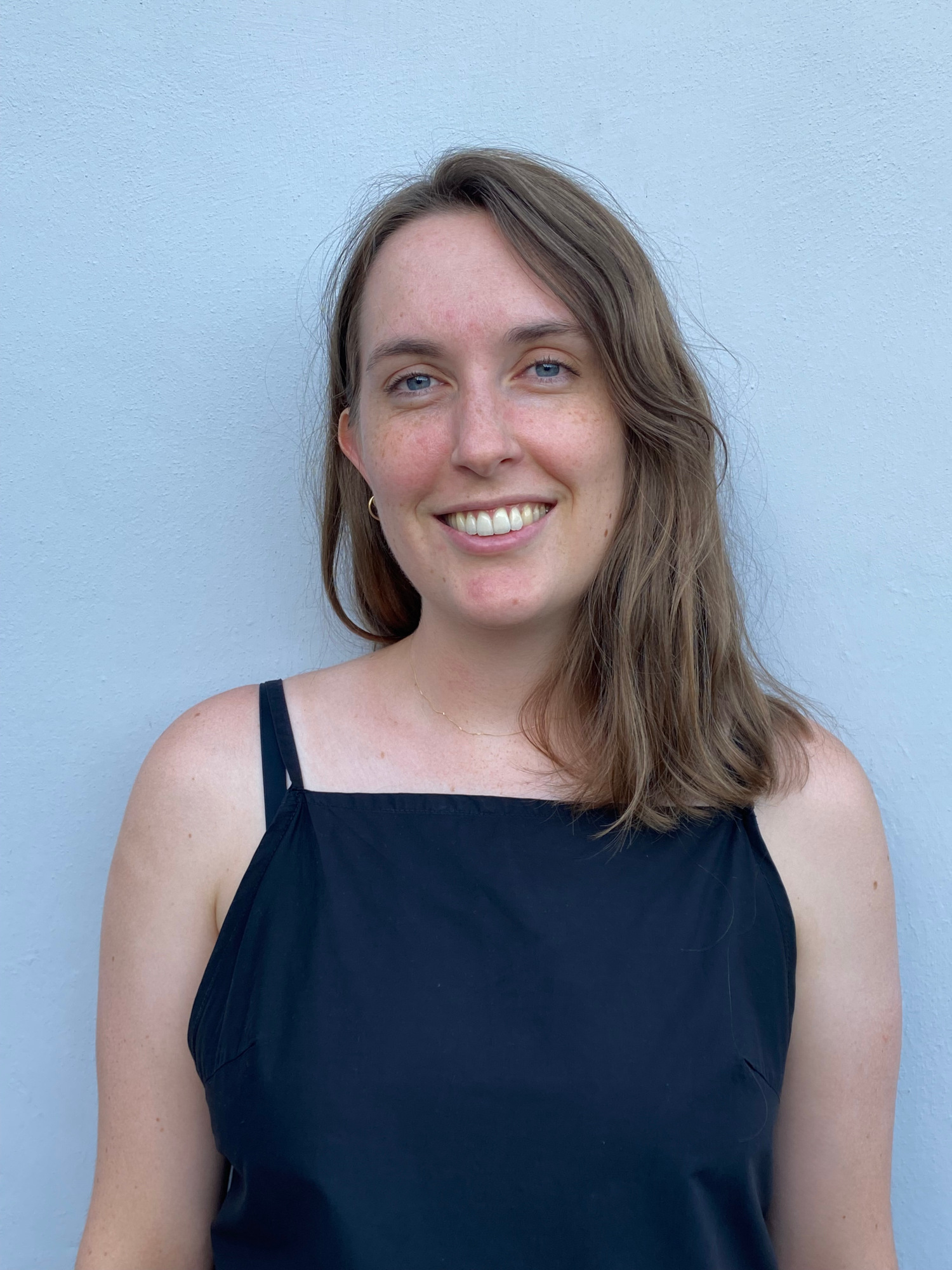 Ellen is deputy editor of Livingetc magazine. She cut her teeth working for sister publication Real Homes, starting as features editor before becoming deputy editor. There, she enjoyed taking a peek inside beautiful homes and discovered a love for design and architecture that eventually led her here. She has also written for other titles including Homes & Gardens and Gardeningetc. While she gets ready to buy a house of her own, she takes inspiration from the works of some of her favourite architects and tastemakers. She has a particular passion for green design and enjoys shopping small, local and second-hand where she can.