10 living rooms with colorful couches that prove being bold with your sofa choice is the best investment you can make
This essential element will inspire you to create a fresh, characterful living room that's as comfortable as it's stylish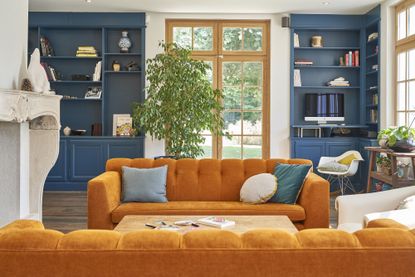 (Image credit: Bloomint Design)
The Livingetc Newsletter
For style leaders and design lovers.
Thank you for signing up to LivingEtc. You will receive a verification email shortly.
There was a problem. Please refresh the page and try again.
For some people, a neutral sofa is a safe bet. They can anchor a room and provide functionality and comfort, while working decorating scheme after decorating scheme.
However, there's some magic in being able to take a big swing with your interior design choices, and that extends to the colorful couch. It's one of the biggest elements in your living room, so make the perfect canvas to be more creative with your ideas.
To prove that a colorful couch is an investment worth making, we've pulled together 10 of our favorite schemes that all hang on the sofa as the centerpiece.
10 creative ways with colorful couches
If you're wondering how to design a modern living room, a great staple is a colorful couch that not only stands out as a great focal piece but also influences the look and vibe of the entire room.
Take a look at some great examples.
1. This black and white scheme with a red sofa
In an open, predominately white and well-lit interior, the opportunity to bring in a bright or deep-toned couch is plenty. Bright hues such as red in a small space can make it feel smaller and more closed in. But in a large space, can help create an elegant living room that is full of personality and good taste. Use this hue to create an interesting clash – take inspiration from this space designed by Gon Architects. The red couch looks particularly brighter when offset against black and white flooring. While the flooring pattern brings movement, the couch creates stillness.
'This floor tries to establish the spirit of the house,' says Gonzalo Pardo, founder of Gon Architects. 'The tiles in slate stone and marble, are actually recreated as per the original drawings found in this vintage house that we refurbished. To give it a modern touch, we added a red couch.'
2. This super modern home with a vibrant blue couch
Deep colors have a long, staying power. They have a sense of timelessness to them and look smart in properties of any style. A deep, rich, and royal color like blue makes for a great contender to create an eye-popping color clash, with other deeper tones such as black or dark green, adding dimension to the living room color ideas. Deep-toned sofas, in unique, modern styles can become the focal points in a room, and an entire design story can be built around them.
'This living room is in a contemporary extension to a traditional property,' says Roisin Lafferty, founder of Kingston Lafferty Design. 'The clean lines and angled forms of the architecture are in a crisp white so the dark charcoal grey was chosen to have a stark contrast to this and provides the perfect backdrop to the vibrant blue perspective sofa. The curves and bubble-like forms of the sofa create a dramatic focal point in the room, and the metal shelving blends perfectly with the wall so the only things your eye is drawn to are the deliberately contrasting items that are displayed.'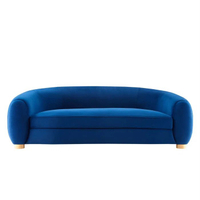 Want to add a punch of color to your interiors? Consider this piece in an artistic, curving form, upholstered in a deep blue velvet fabric.
3. This transitional living room with a pastel centerpiece
Pastel living rooms are all about unexpected pairings that feel fresh, current and fun, and while it's great to bring in these hues via paints, accessories, or furnishings, if you are bold enough, even a pastel couch could add to the pleasing setting. Consider a nice green color that reminds you of nature and the outdoors. If it feels too much, pair pastels with neutrals to balance the feel.
Want to add more character to the colorful sofa? Pay close attention to its design and make. Take for instance this beautifully curving piece in this project designed by Patricia Bustos Studio.
4. This scheme which mixes warm and cool
If you're wondering how to redesign a modern living room with pleasing colors, a great tool to look at is the color wheel. It illustrates the colors of the visible spectrum and shows you which ones would make for interesting pairings. Hues that sit opposite to each other on the wheel are called complementary hues and create the best color block. Interestingly, another great place to find the best color combinations is in nature! Allow these hues to flow with paints, furnishings, and even furniture.
'The first time we visited the house, we fell in love with its symmetry, its elegance, and its surroundings,' says Manu Bauzá, partner and interior designer at Bloomint. 'On the top of the hill, at the foot of the Mountain, Chez Michelle stands between forest and a grand open view of the Lac du Bourget. The surrounding is so inspiring, the contrast between the white snow and the black earth in the winter, or the unbelievable sunset turning the lac and sky orange, yellow and red.'
'We took inspiration from nature's beauty to create an interior based on the same color changes the seasons offer,' says Manu. 'The living room thus is an amalgamation of blue and orange. It is a joyful, colorful, and very lively part of the house, inspired by summertime's bliss.'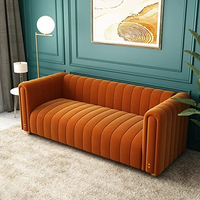 Choose this glamorous, three-seater velvet sofa, button tufted and upholstered in a bright orange fabric. The gold metal legs add a nice vintage touch to the modern piece.
5. This blue sofa that adds character to a grey palette
A great way to create a relaxing, yet cozy living room is with a couch that is vibrant yet not too OTT. Think of softer, lighter tones that balance the visuals of the room, and pair well with white walls or neutral flooring. These hues don't overwhelm, or make a room feel tired or outdated. A lovely shade to try is a soft blue or light aqua. These create an outdoor, watery effect, cooling the visuals and the feeling indoors.
'Given this living room's scale, we used a curving sofa that we floated off the walls, to create a sense of coziness and to bring the perceived scale of the room down a bit,' says Noz Nozawa, founder of Noz Design. 'It allows the room to breathe and remain airy while bringing the seating area to a more conversational size.'
'The blue color contrasts against the more neutral warm-grey tones of the room, which I always love for drawing one's attention in a larger room to a more human-scale furniture item,' says Noz. 'While it's a pop of color, it's a deliberately lower-to-the-floor pop that creates a visual hierarchy that enhances the room's intimacy.'
6. This dark green couch that adds some drama
If your elegant living room wall decor is all about vivid colors, bright-toned sculptures, and multicolored art pieces, then a couch is a great way to balance the chaos of hues. Choose a deep-toned couch like a teal, or a forest green, that complements the wall colors yet grounds the scheme. Muted armchairs and a neutral carpet will help as well.
To keep the room feeling well-curated and thought out, perhaps choose one color from the existing art in the room, and drench your couch in that tone. Ensure the room is always well-lit so it doesn't feel too closed in with all the hues.
7. This room with a vibrant couch that adds a highlight
If you choose a color you love and treat it like a different version of a neutral one, then any color can work for you! This is especially helpful with colorful couches. You can use these to create an unforgettable color story, or even mimic the vibe of your favorite cafe or hotel. Colors such as mustard, yellow, or ochre can feel a bit much when you think of them in silos. But when paired in a room with fresh greens, browns, or reds, can create a living room that is nature-inspired, well put together and effortlessly chic.
The best way to show your couch color is by choosing the right fabric for it. Consider velvet, suede, or leather so that the colors look lifted and more pronounced. You can also add in several pillows to create a dainty color block – this is a big couch pillow trend. Of course, you need to keep in mind that high-end furnishings require proper maintenance. Make sure you're getting your couches professionally cleaned once every six months.
8. This moody scheme with a jewel-tone sofa
While the runways are full of amethyst, garnet, and jade-colored textiles, homes are not too far from the grip of jewel tones either. These shades are deep and rich and have a hint of luminescence, and work beautifully when used on a statement piece. In a muted room or a laid-back lounge, a jewel-toned couch can immediately create a more formal and luxurious vibe, giving the space a sense of sophistication and comfort. Think of colors such as gold, silver, purple, emerald green, and more.
If you're wondering how to decorate with jewel tones such that they don't make a space feel too decked up and gaudy, then a great way is to balance the tones with softer hues. Perhaps choose a jewel-toned couch but lay a more muted, textural carpet underneath. Or while sheathing furniture and furnishings in saturated colors, maybe keep the accessories, trims, and joinery restrained.
9. This earthy interior with a green couch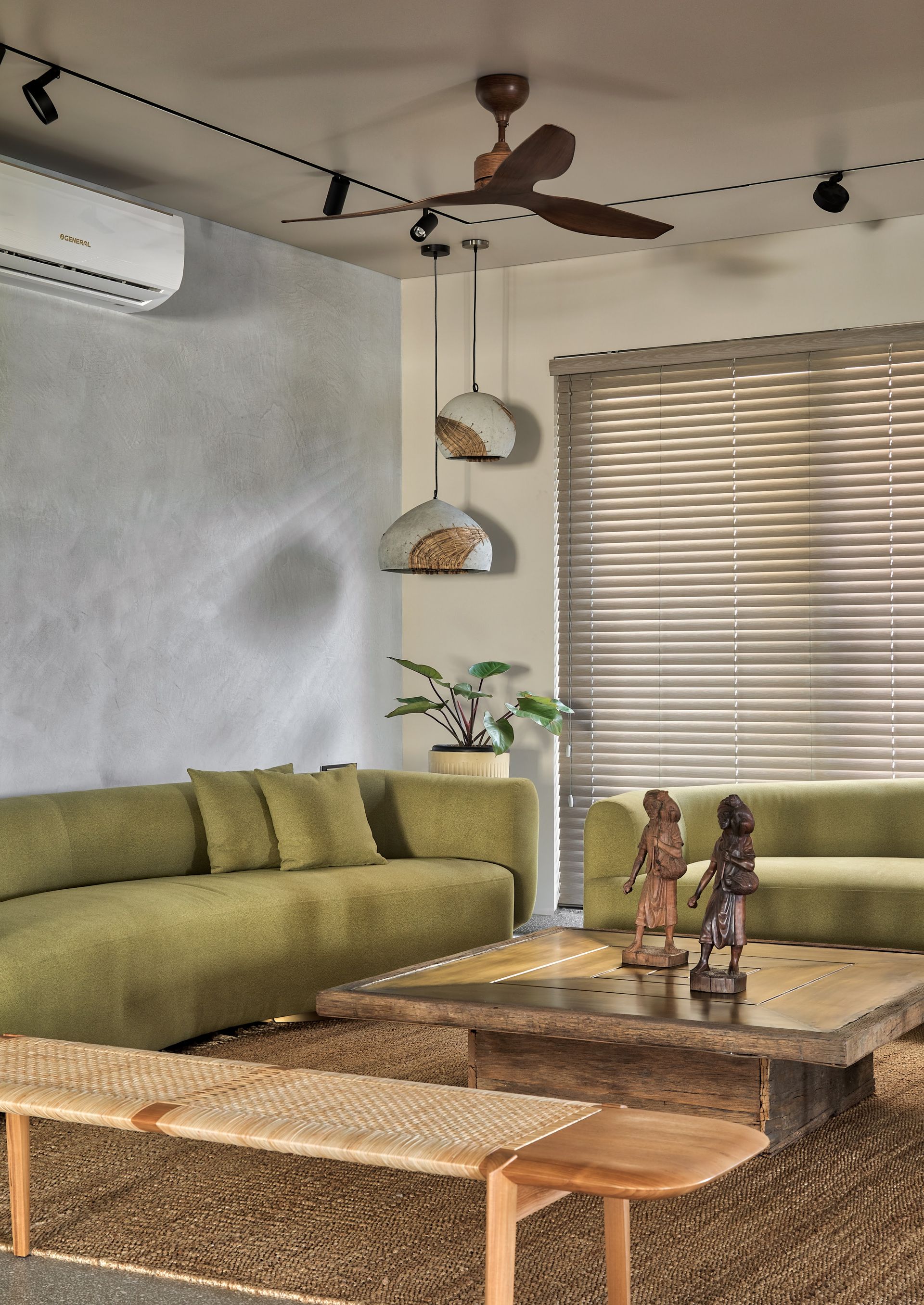 Think about the feeling you want to create in your interior. Do you want it to feel like a high-end, luxury space that impresses your guests. Or would you rather have a laid-back comfort, a place where everyone can kick back and relax for hours on the couch? If it's the latter you prefer, then an earth-tone living room with an organic color scheme is the way to go...for the walls, carpets, and even couches.
Consider tans, sage greens, moss green, sky blue or terracotta reds for this style. Supplement this scheme with woods, stone or other natural materials like jute or rattan.
10. This scheme with a soft pink couch
If you're looking for a living room furniture color that will never go out of fad, you should consider a soft pink or a light blue. These colors go with schemes, and interiors and will always and forever make the home feel on-trend.
'Charmed by its heritage, our clients sought our help to refresh the interiors in a way that respected the elegance of the building but was still relaxed and liveable for them and their three young children,' say Juliette Arent and Sarah-Jane Pyke, founders of Arent&Pyke. 'Due to their large family network, entertaining is a major part of their lives, and a lovely sense of readiness for any gathering pervades the design.'
'In the formal living room, we wanted to balance traditional elements with the fresh contemporary sensibility of the artworks, palette, and furnishings,' say Juliette and Sarah-Jane. 'Long linen curtains pooling gently on the floor celebrate the height of the room with a lightness that counteracts its formality. Their ecru tone works beautifully with the original timber frames. Nothing here is white. Instead, the room features soft colors and pleasing forms and textures – a curvaceous pink sofa and cream bouclé armchairs, caramel cork coffee tables, an ivory rug and walls, and a ceiling painted the palest green.'
For style leaders and design lovers.
Aditi Sharma Maheshwari is an architecture and design journalist with over 10 years of experience. She's worked at some of the leading media houses in India such as Elle Decor, Houzz and Architectural Digest (Condé Nast). Till recently, she was a freelance writer for publications such as Architectural Digest US, House Beautiful, Stir World, Beautiful Homes India among others. In her spare time, she volunteers at animal shelters and other rescue organizations.