8 kitchen flooring trends for 2024 - durable, beautiful and designer-approved
8 kitchen flooring trends for 2024 - Interior designers and experts discuss how kitchen flooring is becoming braver than ever before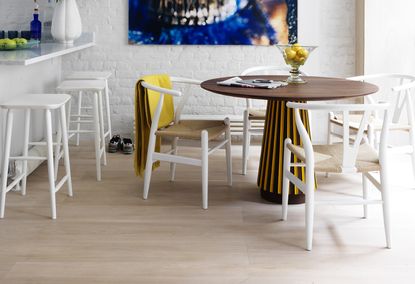 (Image credit: Future)
The Livingetc Newsletter
For style leaders and design lovers.
Thank you for signing up to LivingEtc. You will receive a verification email shortly.
There was a problem. Please refresh the page and try again.
Kitchen floors are often forgotten spaces. When designing your dream kitchen, it can be easy to get excited about the color of cabinetry and spend hours with kitchen worktop samples, but the floor is often seen as a purely practical design decision. Without realizing it, we can narrow the realms of creativity in our kitchen by not giving the floor the time and consideration it deserves.
When designing, consider the role the floor will play in your day-to-day life as much as whether it will fit into interior design trends. Often, as we walk into a space, the floor sets the tone. Lighter flooring refracts light around the room and gives the impression of an open and airy kitchen whilst stained dark flooring can give your kitchen an added elegance. Another important factor to consider is how your cabinetry and fixtures will work with your floor and vice versa, complementary materials and colors can accentuate the best features of your tabletop and cabinets.
Durability is the most commonly considered factor of your kitchen floor and whilst its important that your kitchen is built to withstand the challenges of everyday life, you want to look down and smile when you see your floor too. Interior designers are making the case for more creativity when it comes to kitchen flooring in 2024 and the possibilities are endless. Colorful micro cement provides a resilient surface but also injects energy and excitement into your kitchen whilst Quartize flagstone flooring adds a textured edge to contemporary kitchens.
Kitchen flooring trends for 2024
Designers pick the key looks for next year
1. Orange Micro cement
Zesty and inviting, this contemporary kitchen in Barcelona showcases how flooring works as part of the bigger picture. Seamlessly connecting the floor to the wall and kitchen, Spanish studios, Serboli Bureau, and Colombo Architecture were able to create a modern and enveloping apartment.
"To create this distinct area, the architects decided to dip the whole space in a rich terracotta color," says Serboli. This flooring trend radiates warmth and joy into the space and complements the more pared-back architectural and interior elements of the apartment with ease. "The micro-cement floor of the same hue covers three different types of tiles (the least interesting ones), unifying the block and highlighting the adjoining floors, of greater value, of the entrance and living room. The same earthy tone is used for the micro cement backsplash wall, the ceiling, and the kitchen cabinets including the long, round-edged central island, as well as for the studio area, desk, and shelves. The result is a color-block area that makes a distinctive statement at the core of the apartment," he adds.
2. Custom Terrazzo
Dressed in mint green with brass accents, this modern kitchen design imagined by Jamie Bush + Co. showcases how patterned terrazzo flooring can actually bring out the best in more colorful kitchen designs. As we adventure into more colorful kitchen designs, being brave with your flooring can help you create a cohesive kitchen scheme that feels well-considered.
"Custom-colored, pink, black, and white terrazzo was a resilient and historically correct choice for this glamorous, retro kitchen pantry," says Los Angeles-based interior designer Jamie Bush. The terrazzo will also stand the test of time with its durable and long-lasting properties proving that you don't need to compromise form to achieve function.
3. Calming Concrete
The superpower of concrete flooring is its ability to inject an immediate sense of tranquility and calm into spaces and the same goes for modern kitchens. This hard-wearing finish feels soft on the eye and pairs incredibly well with wood as proven by this Tendens Studio kitchen design.
"Nowadays natural elements are being used more and more as primary materials within interior design. It makes us feel like one with nature but also helps achieve the aesthetics as well as it creates balance for the eyes. Using concrete as flooring in this project creates a contrast to the kitchen in oak. It helps achieve more light into the home by the light grey color and combined with the wood material, it makes the environment feel calmer," says Rasmus Buchmann, founder and designer at Tendens Studio.
Concrete's resistance to marking and easy maintenance also enhances its appeal for your kitchen floor. This is a particularly great design choice for those seeking a minimal and contemporary kitchen but need it to stand up to the spills and stains of daily life.
4. Blonde Wood
Australian designer, Greg Natale's Inner West House project features an elegant kitchen floor that doesn't distract from the brass and stone details that decorate the rest of the room.
"Light floors are definitely on trend," he says. "In a kitchen, blonde wood and terrazzo marble seem to be popular choices, as they give a really clean look. My advice from a practical point of view is to use blonde wood floors in a show kitchen, and terrazzo marble in a scullery, as it is easier to clean."
The light wood flooring is laid in a parquet style that encourages a sense of movement in the kitchen and highlights the character of this natural material. By pairing the blonde wood with more reflective elements like brass or stone, the aesthetic of the kitchen feels more balanced.
5. Paved Stone
The floor in this coastal kitchen designed by Jamie Bush + Co showcases a wonderful stone floor that contrasts beautifully against the contemporary kitchen. The darkness and raw edge of the stone not only references the surroundings but also elevates the kitchen design giving it an added depth. "Quartize flagstone was used in this iconic mid-century residence to express a textural, organic modernism creating a visual connection to the rocky coastline just outside," says Los Angeles-based interior designer Jamie Bush.
Take inspiration from Bush's design and seek out a kitchen floor that introduces a new texture to your room whilst visually balancing your cabinets and walls.
6. Stone and Wood
The kitchen island here provides an anchoring point for the warm wooden floor and also sets the perimeter for the stone floor. Not only does the wood add a softness to the strict minimalism of the interior but it also blends beautifully with the durable stone floor. "Natural parquet and ceramic granite are carefully matched to each other so that it does not visually divide the space into two parts. Porcelain stoneware has been utilized from the kitchen side for practical considerations," reveal Vlad & Karyna Diachok from international design studio, Diachok Architects.
Why choose just one material? This minimalist kitchen shows how a dual kitchen floor be a seamless design choice. "In the realm of interior design, the marriage of functionality and aesthetics often leads to breathtaking results. The fusion of parquet and porcelain in a minimalist kitchen interior exemplifies this synergy, creating a space that is as visually stunning as it is practical," said Vlad & Karyna.
7. Raw Concrete
This pastel blue kitchen was designed by Sydney-based Parker Studio and demonstrates how concrete doesn't always have to be used in a brutalist or overtly minimalist manner. The dappled waves on the concrete floor give this charming kitchen a sense of gentle movement and complement the worktop perfectly. "In this kitchen design, we opted for a raw concrete floor with a polished finish, this really highlighted the industrial and heritage-rich area of the home in Marrickville Sydney. It is a highly durable surface that works particularly well for a kitchen, it's very easy to clean and it has zero maintenance," says Caitlin Parker-Brown, Director of Parker Studio.
Caitlin also shares the importance of choosing a kitchen floor that will work in your space whatever the season. An important point of consideration as we spend hours every day in this space. "It keeps the house cool in the summer and is easy to warm up in winter. Flooring trends are moving towards more of a raw & earthy aesthetic, concrete is one of those timeless natural materials that appears to stand the test of time, it remains a classic material for good reason," adds Caitlin.
8. Dark Lacquered Wood
Sleek and sophisticated, this high-shine lacquer-like floor is featured in designer, Danielle Richter's Park Avenue apartment project plays up the metallic elements of the kitchen but also creates a grounding point for the rest of the space. "As for the "black" ebonized chevron wood floors, I would say that it is a departure from the current light oak trend as well from the traditional dark brown wood in Pre-War apartments. The ebonized chevron gives a touch of the unexpected," says New York-based interior designer Danielle.
Richter's design references a growing trend in the finishes as we see more and more lacquered high-shine surfaces appear on the mood boards of interior designers and architects. The dark and reflective surface delivers drama and depth to the kitchen but is a durable finish for your floor.
For style leaders and design lovers.
Writer and design expert Faaizah Shah is the founder of The Interiors Consultancy. She has worked with designers such as Staffan Tollgard and design houses such as Sanderson to help them understand and communicate their narratives. She is known for crafting engaging stories and imaginative content, and understanding great decor from her years alongside some of the best creatives in the industry. She is also a contributor to Livingetc.