Is grasscloth wallpaper outdated? 5 ways designers are using it now, and what else to try
While this wallcovering tends to divide interior designers, does it have a place in a contemporary home? Here's what the experts say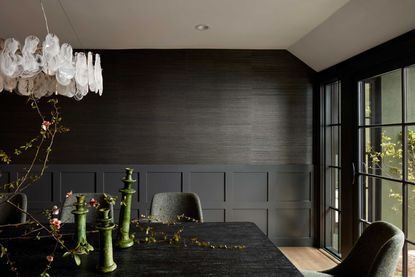 (Image credit: Agnieszka Jakubowicz. Design: Bynn Esmond Designs)
As wallcoverings go, it's fair to say that grasscloth wallpaper stands the test of time - especially when you consider that the first instances of it date back some 2,000 years, originating in Asia.
However, grasscloth is a finish that can exude a rustic or traditional feel, depending on how it's implemented into a space, which can leave us questioning whether this wallpaper idea is one that's really still on trend. Is it timeless enough for a modern home, or is too traditional?
According to the experts we asked, grasscloth is very much still something people want in their homes. 'Grasscloth wallpaper is one of my go-to tricks for making a space look finished,' says Palm Beach-based interior designer Caitlin Kah. 'It adds the right amount of patina, texture and visual interest, whether the space leans traditional or modern.'
In fact, interior designers are introducing grasscloth to their client's projects in all sorts of modern and creative ways. Here are 5 ways to make this idea feel modern.
1. Use it on the ceilings
Introducing something different to the usual white paint to the fifth wall can create a huge impact depending on how brave you are. 'Adding grasscloth to the ceiling, especially in modern spaces, feels so fresh and unexpected,' agrees Caitlin Kah.
It follows the trend for statement ceiling decorating ideas that has replaced the feature wall, and the inclusion of this finish on a ceiling allows it to take center stage.
2. Wallpaper a backdrop to open shelving
Applying this elegant texture to walls behind open shelving and cabinets creates a focal point of your negative space.
This idea is one way that Elizabeth Ryan, Principal Designer at Elizabeth Ryan Interiors, embraces grasscloth in a way that doesn't feel outdated, as in this richly colored living room bar. 'She is like the cool elderly aunt who will not only always arrive with impeccable lipstick and be the most chic guest at the party, but she will also be a delight and make you feel special,' Elizabeth tells us. 'Grasscloth is most powerful when you let it be a sophisticated layer to your space instead of relying on it to be the feature. The layers of grasscloth, vibrant paintings and crisp drapery all together will give beautiful depth to a modern space.'
3. Focus on tone and pattern
Choosing a deep tonal grasscloth design, or even one with various tones in the natural pattern within it, can transform a space, creating an artful point of interest.
'It's a classic addition and is absolutely not outdated,' says Jersey-based Shamika Lynch, owner and Principal Designer of Maximising Tiny Interiors. 'It's a great way to add texture to a room without overwhelming it with pattern, and also adds a calming natural element.'
Grasscloth wallpaper on a single wall, such as behind the bed, adds textural interest, while also complementing your paint colors to elevate the scheme and create cohesion. This design by Shamika uses a bedroom wallpaper with tones of grey and blue that are pulled out for the room's wider scheme.
4. Choose bold color
While grasscloth is often seen in classic colors such as beige, grey and blue, you don't always need to keep it neutral. Choosing a bold color of the finish can entirely transform a space. 'Grasscloth can either be a safe way to bring in a visual treat in the interior of your space, or it can be a bold statement through bright colors or placement of the paper in the space,' says Stephanie James Goldman, co-owner of Allen + James Home, who used a bold green grasscloth for this dining room wallpaper.
Emily Flaxman, Principal Designer at Flax Interiors agrees with this fresh take on the finish. 'One way to add a modern edge to grasscloth is to select a one that has a color or pattern to it,' she says - this way you're able to tailor it to the rest of your scheme and it becomes a focus of its own.
5. Layer multiple textures
Grasscloth shouldn't be the only texture you introduce into a space if you want a modern look, so layer it in contrast with other quality materials. Whether it's luxurious marble, beautiful wood, or the materials you choose for lighting and other decor, it all feeds into how grasscloth feels as a material.
As one of the oldest interior finishes known, the addition of grasscloth emanates artisanal quality and let's face it, it's going nowhere fast; if anything its versatility means it's being used more innovatively by interior designers now more than ever. 'It's quite literally a material that comes from nature,' says interior designer Allison Lind, 'and nature never goes out of style.'
The Livingetc newsletter is your shortcut to the now and the next in home design. Subscribe today to receive a stunning free 200-page book of the best homes from around the world.
Portia Carroll is an interior stylist, writer, and design consultant. With a background in interior architecture and design, she has a plethora of creative experience in the industry working with high end interior brands to capture beautiful spaces and products and enhance their qualities.