How to make your sunroom (or any sunny corner) look more expensive
Designers let us know how they create sunrooms that feel chic and elevated with six simple steps that allow you to bask in style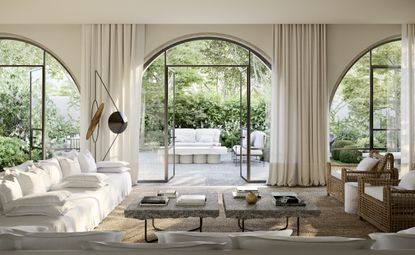 (Image credit: Gabriel Saunders)
The Livingetc Newsletter
For style leaders and design lovers.
Thank you for signing up to LivingEtc. You will receive a verification email shortly.
There was a problem. Please refresh the page and try again.
Not quite indoors, but not quite outdoors either, sunrooms are such a dreamy setup that seamlessly blurs your home and your backyard. Curling up in an armchair on a crisp winter morning but still feeling the sun on your face, or relaxing on a balmy afternoon from the comfort of your couch – we get why they are becoming such a popular addition to a home since you can enjoy the outdoors all year round.
But, not so long ago, sunrooms weren't exactly... cool. They were associated with more traditional spaces, lots of wicker furniture, and plastic windows. However, we are seeing them seep into chic, contemporary homes now, shedding their fussy skin and becoming just gorgeous, sun-filled spaces to unwind or entertain.
We asked designers for their take on sunrooms, and how to make them look more elevated and expensive. From choosing the right window treatments, to what furniture will work best, here's what they suggested...
1. Decorate as you would any other room in your home
Approach a sunroom exactly as you would a living room, put the same thought into all your design decisions and it will naturally look more chic and expensive. Consider the color scheme, the furniture designs, and how the space fill works cohesively with the rooms that adjoin it. Also, think about how you want the space to be used – is it a cozy snug for getting a dose of vitamin D during the cooler month, an extra socializing space that can work as an additional dining room or a second, sunnier living room?
'I love the idea of approaching your sunroom design the same way you would any other room of your home - make sure you love your sunroom furniture and decor and that they are in line with the design motif of your other spaces,' says designer Kathy Kuo. 'To make a sunroom look super-luxurious, I would advise plenty of seating options that match well and that exude comfort and casual elegance. Add potted plants in design-savvy vessels that function as standalone decor elements, and finish the look off with some beautiful decorative pillows in a high-end upholstery, like French linen.'
Designer Amy Kalikow, explains 'A sunroom is an extension of your home, a bright happy space that allows you to enjoy of all of nature's splendor without the outdoor elements. Furniture selections should be warm and cozy, creating a unique space where you can relax and unwind. With the outdoors as your backdrop, fill your space with textures and clean, yet unique furniture selections that are inviting and comfortable. Have some fun in this space!'
2. Add interest with a mix of finishes
The easiest way to make any room look more chic and expensive is to layer up different textures and materials, creating depth and interest. Obviously, this applies to the soft furnishing you can add to the room - the best rugs (layering a couple together will add even more textures), pillows, throws, etc. But you can also add interesting textures with tile, flooring, paneling, and wall finishes.
This project designed by GRT Architects layers both hard and soft textures. The terracotta flooring is the main event, but there are also the concrete walls, the terrazzo, the penny tiles, the mix of woods, all coming together to create a space that feels sleek and expensive but also inviting.
'Situated high on the east bank of the Hudson River the house is a strong, rational design that foregrounds views and the connection to the natural world outside. Two long beams run the length of the house, defining an east-west axis visible from every room. Six-inch terracotta tile covers the floor throughout, connecting the sunroom with the rest of the home,' explains Tal Schori the studio's co-founder.
'We coated the walls in black paint from Farrow & Ball to better frame the home's impressive vantage point – those views out to the Hudson River. Adding the wet bar at one end of this space gave this room a fun and modern touch. The unexpected sheen and materials – shiny black penny tile lines the sleek bar which features brass shelves, terrazzo counter, plumbing fixtures – provides a chic reminder that NYC is just down the river from this country home.'
5. Don't fill the space with too much visual bulk
As the name would suggest a sunroom is the sunniest space in your home, so maximize that light and don't fill the space with too much bulky furniture that's going to shrink the space and absorb sunlight. You want the room to feel bright and open, and keeping to just a few key pieces of furniture will make the room look more chic and expensive too. This is especially important if you are updating a small sunroom.
When choosing furniture look for pieces with light silhouettes, nothing too boxy or imposing. This sunroom designed by Tamsin Johnson gets it spot on, there are loads of seating options but the slime line shapes and pale rattan means the room doesn't feel overly full of furniture.
'When it comes to furnishing, opt for understated rattan armchairs instead of a sofa. This choice not only imparts an illusion of expansiveness to smaller areas but also introduces an element of grandeur,' recommends designer Anca Enica. 'To further enhance the elegance, consider a built-in alcove with carefully curated shelving to display a select few pieces. Keeping clutter at bay is essential for achieving a polished and refined aesthetic. If your sunroom lacks abundant natural light, don't despair. Infuse the walls with a fresh coat of white paint and complement this with soft, neutral tones in your decor choices.'
4. And mix outdoor furniture with indoor
This does depend on the kind of sunroom you want to create and its positioning, but even if it's more of an outdoor space than indoor, where the doors get thrown open and it becomes part of the backyard, still don't be constrained to just using outdoor furniture. Make the space feel more stylish and expensive and like an indoor room by adding plenty softer furnishings.
This space designed by Atelier Davis connects the indoor rooms with the outdoors and feels like the perfect balance between the two. The furniture is suitable to be used outdoors so you do have that real garden room vibe, but the rugs and pillows soften the space. The studio's founder Jessica Davis advises, 'Don't think of a sunroom as having outdoor furniture only. Make it comfy. Why not have a sofa or a rug? But spruce it up with plants. If you have the sun then utilize it!'
5. Soften the windows with tactile drapes
Window treatments in a sunroom are one of the most important aspects of the design, since there are so many windows, there will be so many window treatments. If it's practical to do so, we would say the most chic and expensive-looking sunrooms usually go without window treatments altogether to keep the room as light and open as possible. Or we love the trend for chik blinds, which would work perfectly in a sunroom since they were originally designed for these sun-soaked rooms, and they look super sleek and subtle too.
Curtains can be a lovely option in a super modern sunroom too since they will instantly soften the space and balance out those clean lines. Case in point, this gorgeous sunroom designed by Becky Shea. Still keep them light and simple so there's still next to no bulk around the windows – a slubby pale linen would be the perfect curtain idea.
'Our clients thoroughly enjoy hosting gatherings, and their desire was to have a space that seamlessly connects to both the backyard and the main family room. This space serves as an inviting setting for conversations and meals, providing a genuine indoor/outdoor experience. The installation of floor-to-ceiling steel windows and doors became a crucial element in achieving this ambiance. These features not only foster the desired connection but also accentuate the lofty ceiling height and the gorgeous landscaping outdoors,' explains Becky.
'To soften the industrial touch of the steel elements and complement the upholstered chairs, we opted for lighter linen drapes. These drapes also work to gently guide attention toward the captivating warmth and intricate wood detailing on the ceiling.'
6. Pay attention to the light fixtures
Sunrooms are naturally filled with daylight so artificial lighting fixtures don't seem as important as other rooms. But lights double as decor too, and are a quick and easy way to make your sunroom look more expensive. Not to mention there's something so lovely about sitting in a darkening sunroom and turning on a soft side lamp to transform the room into a glowing cave.
Lamps are a must for ambient lighting, but overhead lighting is a must for adding a touch of sophistication. 'For those wanting to update an existing sunroom, consider a statement light,' suggests Backy Shea. 'Such fixtures can significantly elevate the space's allure. Don't underestimate the transformative power of introducing ceiling details; it's a less daunting task than it may seem and can instantaneously enhance the sunroom's sophistication.'
In this sunroom designed by Interior Fox, the lights add some structure to the room, zoning the dining space and the lounge area. They also add some extra texture too, which is especially important if you have a sunroom similar to this one where there is a lot of glass to try and soften – every detail needs to be used to add depth.
And the decor in this sunroom is worth noting too, it's not crowded with pieces but there's enough to give the space some character, something Becky also notes is key to designing a stylish sunroom. 'Lastly, styling any room, including sunrooms, necessitates a harmonious blend of decorative pieces and functional elements. Begin with a clean slate when styling, gradually integrating decor while pausing at intervals to assess and fine-tune each placement. This thoughtful approach ensures a balanced and visually appealing arrangement that is sure to elevate its design,' she adds.
For style leaders and design lovers.
Hebe is the Digital Editor of Livingetc; she has a background in lifestyle and interior journalism and a passion for renovating small spaces. You'll usually find her attempting DIY, whether it's spray painting her whole kitchen, don't try that at home, or ever changing the wallpaper in her hallway. Livingetc has been such a huge inspiration and has influenced Hebe's style since she moved into her first rental and finally had a small amount of control over the decor and now loves being able to help others make decisions when decorating their own homes. Last year she moved from renting to owning her first teeny tiny Edwardian flat in London with her whippet Willow (who yes she chose to match her interiors...) and is already on the lookout for her next project.