How to make a small backyard look bigger - 12 ways landscape designers turn a little space into a haven
Knowing how to make a small backyard look bigger means you can make the most of any outdoor space you have - and these 12 designer ideas will truly make a difference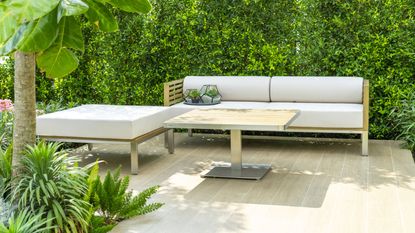 (Image credit: Ben Bryant/Getty Images)
If you're looking for ideas on how to make a small backyard look bigger coming up with a clear design plan and sticking to it is everything. It can be tempting to try shoehorning in all those must-haves on your list (plunge pool, sauna pod, living wall anyone) but getting the basics right to create a harmonious space that feels bigger than it is should be the main focus of your attention.
You don't have to have a big backyard to make the area feel spacious. How do you achieve this? With clever and creative tricks for everything from the colors, furniture and accessories you choose, to the plants you opt for and how you actually use the space itself. Luckily this is where landscape designers are happy to step in and share their expertise with you to help smooth the way.
12 ways to make a backyard look bigger
Start by reviewing your wish list and choosing only those elements that you really need for your small backyard. Then use our ideas to help you get everything to work in your given space so it feels roomy as can be.
1. Zone into different spaces
To make your backyard feel bigger start with a designated area for relaxing and if possible a separate one for dining too. This is where your outdoor furniture should be set up.
'Rather than throwing everything together so you end up with a cramped and cluttered look, plan your backyard in multiple zones to give it sections that lend to the yard feeling larger,' says Mark Bradley, CEO of Landscape Management Network. 'By dividing the yard like this you make it appear much bigger than it is.'
A pergola is a great idea for creating a separate space and adding another dimension to the backyard. 'Creating distinct zones for different activities can really help maximize available space in your backyard,' says Thomas Charles, founder of RiteRestore. 'By designating specific areas for different uses, you can make the most of the area you have and prevent it from feeling cluttered and disorganized.'
2. Use false perspective
By tricking the eye you can make a space feel bigger than it is. This simple fretwork panel leads the eye to the tree beyond, helping to stretch the space of an urban terrace and lending it a more spacious quality. It makes an interesting visual as part of an uncluttered aesthetic featuring natural wood and wicker furniture and a statement bamboo tree.
If space is tight, clutter is a big no-no. Try using Japanese garden ideas as inspiration to streamline your look. 'Japanese gardens embrace the concept of reductionism, which is basically decluttering your yard to make it appear larger,' explains Ana Ro, founder and chief editor of Design Ideas Guide.
'Further, they also use a technique called altered perspective, where the main idea is that smaller objects appear further away than they really are compared to larger items.' Just like this lamp.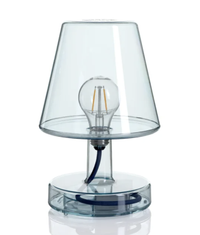 Transloetje Table Lamp, Wayfair
Intended for both indoor and outdoor use, this barely-there lamp stays lit for 8 hours once charged, and will help you create that false perspective.
3. Blur boundaries
If you can see a visible boundary it reveals how small a space is. If you cover it with greenery, it will disguise the end of your yard - minimalist backyards often employ this trick. Using tall plants helps to draw the eye up too, another trick to make a space feel bigger.
'Planting tall trees at the edge of your yard can make it look like your space extends beyond your property line,' says Cam Dowski, interior designer and founder of WeBuyHousesChicago.co. 'Blurring boundaries can help to create a sense of flow between different areas of your backyard, making it feel bigger and more inviting.'
Creating layers of planting also works if you want to find out how to make a small backyard look bigger. Plant taller trees and bushes toward the back of your yard, then fill in the gaps with smaller plants to create visual depth. Fruit trees in pots can also help here if you don't have beds.
4. Use mirrors to trick the eye
Incorporating mirrors into your design can create the illusion of more space and add depth to your backyard. Mirrors can reflect the area and make it seem larger than it actually is. You can also use them to create a false perspective by pretending there is another area of the garden when there isn't. It's simply a reflection.
'One way to use mirrors is to place them strategically on walls, fences or in between plants, in a way that reflects light and creates an illusion of more space,' says interior designer Keith Melanson, owner of Renos Group. 'You can also place them near windows or doorways to reflect the indoor space and make the backyard feel like an extension of your home.'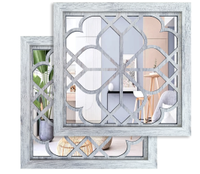 Wocred square mirrors, $25.99, Amazon
The intricate latticer work on these mirror panels helps to break up the reflection, meaning the space will seem even bigger now that it's in more parts. With a charming rustic framing they'll soften even the most urban outdoor space.
5. Change levels
Using steps to lead from one level to another is an easy way to make a backyard feel bigger. 'Earthworks and grade changes make the ground plane a structural design element,' says landscape architect Justin Quinn, co-author of Intersection of Nature and Art. 'Manipulating the ground plane effectively can define space and create mystery within a garden or larger landscape.'
You can curate this in a terrace garden approach through strategic tall planting with a variety of color and texture, and meandering pathways that lead to mini destinations in different areas of your yard. 'One way to make any space feel bigger is the anticipation of more space beyond,' says Emily Kettlewell, Principal of Sanders Architecture in Austin, Texas. 'Views are typically hidden, then revealed as you proceed down a path.'
6. Add eye-catching accessories
'My top tips for making your backyard look bigger are to pick furniture with light and airy shapes such as wicker or rattan,' says Kate Diaz, an interior designer and co-founder of Swanky Den. 'Choose accessories that add warmth but don't overcrowd the area, such as colorful throws and cushions.'
Use vertical gardens or hanging planters to draw the eye upward. 'Play around with perspective by positioning a tall object (like this egg chair) in one corner of the yard,' says Kate. 'This helps create interesting lines and tricks the eye into thinking there is more space than exists.'
Brighten up any dark areas with lanterns, strings of lights and other lighting fixtures to draw attention from any small corners of your backyard. Painting walls in lighter shades will reflect light back into the space too.
'If a hardscape re-do is an option, opt for a lighter colored pavers,' says San Francisco Bay Area landscape designer Morgan Feilmeier of Argia Designs. 'Light floors can help make a space appear larger too.'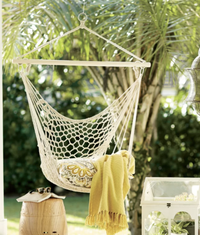 7. Use water as a dramatic focal point
Water is a great space enhancer and a key part current backyard architecture trends as it is also a distraction from tight dimensions. 'A dramatic focal point creates interest and intrigue,' says Justin Quinn. 'Scaled appropriately, a water feature, like a rill, trough, or pool, can make the space feel larger.'
In this design, the Corten steel walls of the water feature make up the exterior, but a black bottom creates a darker surface reflecting the sky and surroundings, making the garden feel more significant.
Incorporating pathways and terraces can also help create different levels and perspectives, making the backyard look bigger than it is. Try experimenting with different textures too. With the right design choices, you can create a space that looks bigger and more inviting.
8. Try inventive lighting
Outdoor lighting can make your backyard feel bigger by drawing the eye to different areas of the space. 'Use spotlights to highlight architectural features, add string lights overhead to create a cozy ambiance, or install lanterns to provide soft lighting that extends the use of the space into the evening,' says Keith Melanson.
'Go for an organic lighting moment,' suggests Marie Joh, head of merchandising at The Six Bells in Brooklyn, NY. 'Try draping string lights from branches overhead. It adds some twinkly movement when a breeze kicks up.' Marie also suggests hanging an oversized globe lantern, choosing a bulb that emits a warm glow.
But be careful not to go overboard. 'Lighting should always be used to create a mood rather than feeling you're at a stadium,' says Max Guidon, founder of Guidon Studio, an award-winning boutique interior design firm in Miami, Florida.
9. Utilize every inch of space
Look hard at your yard. Could that space at the side of your home, for example, be repurposed into a dining area? By attaching a simple pergola structure to an exterior wall you can redefine the space and add cover from the heat of midday or to switch up the vibe at night by customizing it to suit your purpose.
This attached pergola is a perfect example of creating a defined outdoor room at this home in Southern California. 'The outdoor dining is instantly elevated into a beautiful entertaining space that is separate from additional grass and seating areas in the yard,' says Melanie McCalley of Heartland Pergolas.
The clean white pergola fits well with the contemporary table design and pops against all the beautiful potted greenery on the patio and the palms beyond.
10. Think vertically
To make a small outdoor space feel bigger, keep it open and go vertical with planters, raised beds and living walls. 'Vertical design brings your eye upward and makes the space feel bigger,' says Channa Alvarez, interior designer at Living Spaces. 'I always recommend going vertical with plants especially.'
Using plants in this way makes it more of an immersive experience too, as you are bringing them up to eye level so you can better appreciate their flowers, foliage and scent. 'Try using box planters at different heights to draw the eye to different areas,' suggests Kerry Sherin, consumer advocate at Ownerly.
11. Mix in some tall and shapely trees
Choosing tall trees is a great way of enhancing corners and other under-utilized spaces in a small backyard, turning a dead area into a focal point. Part of the reason we love tree landscaping generally.
'A tall tree can make a smaller garden feel more extensive because it tends to draw the eye upward,' says Justin Quinn. 'The canopy may also create a ceiling that better defines the space, making it more desirable. A large tree can make a statement and make a garden feel like it's always been there.'
Taking mature plant size into account can help prevent the garden from having an overgrown and messy appearance which, in turn, will make the space appear smaller. 'Choose plants that, when fully grown, don't need to be pruned in order to keep them from growing too large for the space,' says Morgan Feilmeier. 'When choosing trees, choose species that naturally have a more open branching structure.'
12. Keep furniture simple
Think carefully about what style of furniture you choose and pay attention to detail - it's worth scouring the best outdoor furniture brands for pieces that really fit your space. 'Try to use light and scale-wise pieces appropriate for the space,' says Max Guidon. 'Selecting lighter colors also will help the furnishings appear not as heavy.
'For sofas, chairs, and tables, try to avoid picking completely boxy and solid pieces that go all the way down to the floor. Especially with chairs and sofas, pieces with open bottoms allow light and air to move through, providing a more relaxed vibe.' Outdoor benches fit this look perfectly.
Modular furniture is also perfect for small spaces because it can be customized to fit your specific needs. 'If you live in an apartment or condo with limited outdoor space, modular furniture is definitely worth considering,' says Channa Alvarez.
The Livingetc newsletter is your shortcut to the now and the next in home design. Subscribe today to receive a stunning free 200-page book of the best homes from around the world.
Lifestyle journalist Sarah Wilson has been writing about flowers, plants, and garden design and trends since 2015. Having already studied introductory garden and landscape design as well as a course in floristry she is currently adding to her list of qualifications with an RHS Level 2 course in the Principles of Plant Growth and Development. In addition to livingetc.com, she's also written for homesandgardens.com, gardeningetc.com, Modern Gardens and Country Homes & Interiors magazines.