How can I make my deck look expensive? These 10 design tips will up the ante of your outdoor space
These 10 luxe outdoor spaces provide plenty of inspiration that will help your deck look much more expensive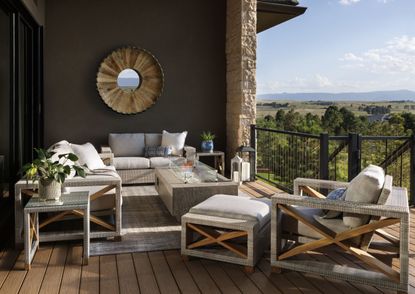 (Image credit: Emily Minton Redfield. Studio credit Truss Interiors)
With the warmer months approaching, your outdoors can be an extension of your living space if you take the time to outfit them with the same love and care you give indoors. Think high-end furniture pieces, sink-in seating, a fully stocked-up bar, mood lighting, unique decor pieces, and more. After all, this is the space you will be spending a lot of time in, and you want it to be a reflection of your tastes and preferences.
Today's outdoor trends point towards laid-back luxury, meaning snug pieces that speak of class, eye-catching chandeliers mixed with warm decking materials, and paint tones mixed with glittering elements. If you are also looking for backyard deck ideas that merge luxury with comfort, then these expert tips are for you.
10 ways to make the deck look expensive
While thinking of deck ideas that lift the overall look, feel, and even value of the home, consider a culmination of elements.
'The outdoors should be an extension of your home with the same thoughtfulness and design considerations given to the interiors,' says Amy Kalikow, founder of Amy Kalikow Design. 'Comfort and style should not stop on the interior, but be carried out to the exterior too. Outdoor furniture has become chic and cozy with much interior use only pieces being translated for the outdoors.'
1. Add a unique fireplace
Firepits create a focal point that makes your outdoor space feel more considered and therefore more luxurious. While thinking of types of firepits and styles of fireplaces, instead of the usual stone, brick, bowl, or table designs, think out of the box, and design one that runs along the deck's boundary, almost like a unique fence.
Wood-burning firepits might bring ambience, but fuel fires feel a little more luxurious, as they don't require constant stoking. Consider an ethanol firepit, as it is a greener alternative to wood or propane, and the fuel has a clean burn and is safe to use in any type of household.
2. Consider furniture pieces in interesting materials
For high-end outdoor seating, choose pieces in unique, organic shapes, materials, or finishes. Seaters made in stone, concrete, resin, to even recycled plastic, and sea grass can work wonders.
'It is really about the furniture design when it comes to designing an expensive outdoor deck,' says Amy. 'There are many great outdoor furniture companies that make special, statement pieces for the outdoors that are both stylish and durable. Extra deep couches, furniture in unique shapes and materials, and thoughtfulness to how people want to live outdoors are now possible.'
To make outdoor furniture look more expensive, 'patio furniture that looks like interior furniture has a more expensive look,' says interior designer Jane Lockhart. 'So, rather than purchasing large wood boxy pieces, buy slimmer silhouettes that reflect an interior aesthetic. Look for more curved shapes and slimmer arms, thinner resin weaves, or knitted exterior materials for the construction of the furniture frame, and choose pieces in lighter colors or neutrals.'
'Make sure to select pillows, fabrics, and accessories that have an indoor quality but are made for outdoor life to ramp up your deck's appeal,' says Jane.
3. Bring in a rug
When we think of interior seating spaces, a rug is always a must, but for an outdoor living room or a small socializing area, remember that an area rug can do much more. Not only does it add color, define seating areas, and warm up your outdoor space, but also adds texture and lifts the look of the room, from the ground up.
If you have sleek, straight-lined furniture pieces and dark-toned deck flooring, you could add some movement to the space with a bold, graphic, weather-resistant area rug.
If you have a compact deck, consider using a large-scale rug to cover the entire ground for a luxe feel underfoot. One benefit of outdoor rugs is that if there's a spill, simply pull out the hose and give your rug a good wash.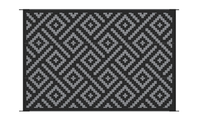 Choose this outdoor/indoor rug that is water-proof, easy to clean, and made in a breathable design.
4. Landscape the deck with exotic plants
While you might not be able to walk on a white, sandy beach and sip mimosas every day, you can create the feeling of an expensive holiday in your home. Tall, lush, flowering plants and trees in the most exotic varieties will not only make a deck feel tropical but also bring in the laid-back luxury of coastal destinations.
Consider plants like Elephant's Ear, Canna Lily, Egyptian Papyrus, Wishbone Flowers, Begonias, and vines that scale the entire height of your exteriors. Insert gigantic palms (real or artificial) and cactuses, bring in earthy elements such as wood and bamboo, and create a deck garden that will thrive all year round.
5. Install a hot tub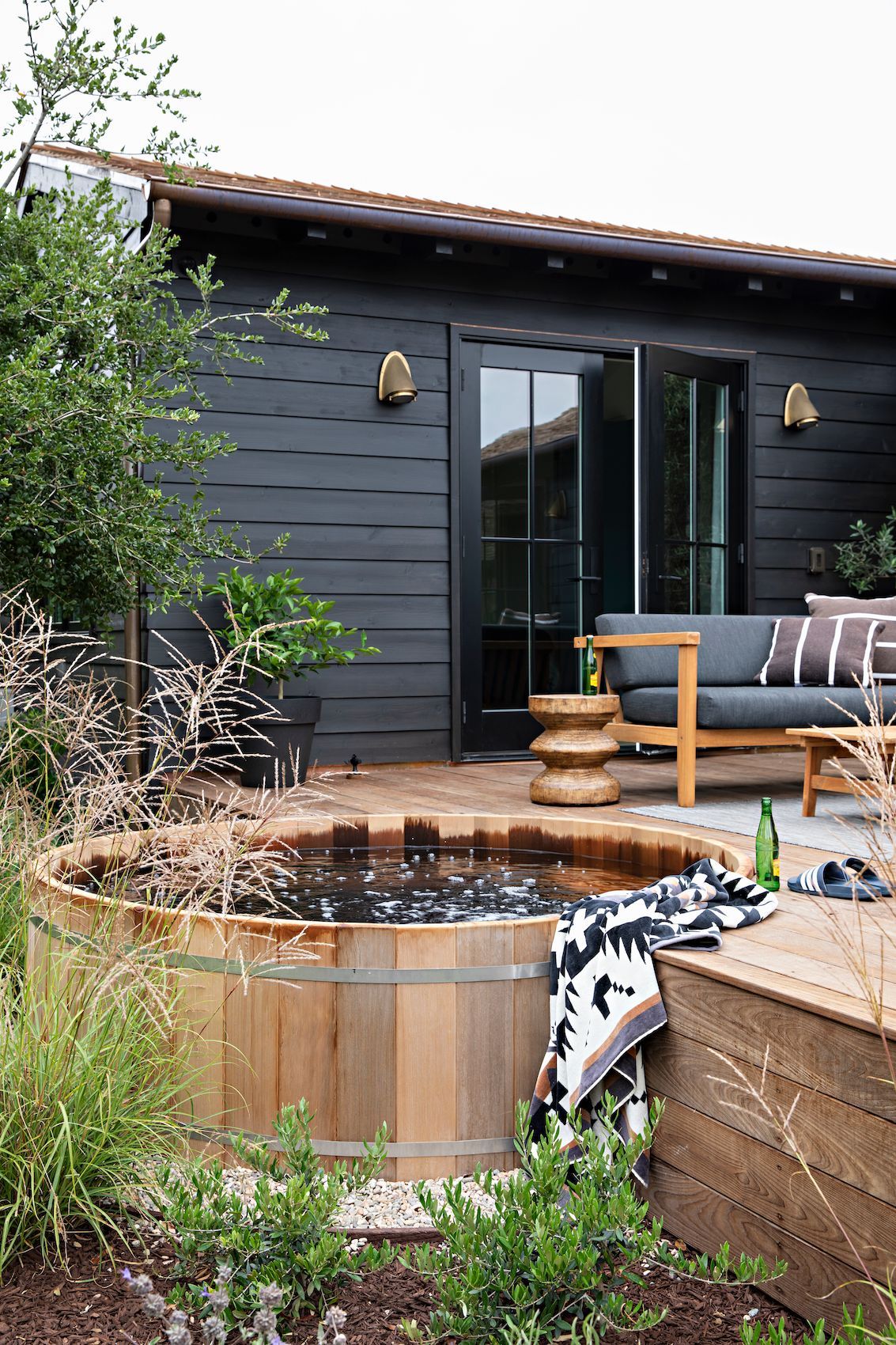 There are few better places to be than in a hot tub installed outdoors so you have the most idyllic views at all times. These days, hot tubs have programmable seats that focus on individual muscle groups, and help you relax completely. Some others are equipped with large flat-screen TVs and surround sound. Whatever your need be, there is a hot tub tailored to suit your dreams.
While store-bought tubs are usually a good choice, to add that special touch of luxury, you could go in for customized designs, with appropriately shaped seating and the right jet placement. Pick out your material such as stone, polished concrete, or colored tiles for a more dramatic, high-end look.
6. Design a water feature next to the deck
A water feature often becomes the focal point of a garden and offers a feeling of coolness and tranquility quite like a pond or fountain. It also adds a decorative touch to a modern garden or a deck and adds to the home's ambiance.
To complement the water feature's look, plant waterside shrubs, perennials and grasses, and perhaps even a bamboo screen. Ensure your deck seating is skewed such that it overlooks the water feature and the landscape.
'This is a traditional garden pavilion where the clients wanted to have a big day space surrounded by a structure that would help modulate the light,' says Andrew Mann, founder of Andrew Mann Architecture. 'Here we used horizontal wood slates with a light wood stain paired with stone decking materials to seamlessly blend into the surrounding landscape.'
7. Have an outdoor kitchen
Nothing feels more luxurious, inspirational, and at the same time, functional than an outdoor kitchen equipped with the best appliances, a grill, a wet kitchen, and seating. Have more space? Extend the kitchen with a lounge area, so you can eat, drink and socialize, all within the same area.
If you have the climate for it, you can turn a deck or patio into a completely outdoor living area. 'Outdoor living spaces are popular in places like Oklahoma because all four seasons give us days in which the weather is conducive to enjoying the great outdoors,' says Bruce Bockus, chairman & architect at Bockus Payne. 'The owners of this home took outdoor living to a whole new level. The kitchen includes a covering for shade and a range of versatile seating options. Entertaining and cooking are an art form at this home and the space is enjoyed all year long as a natural extension of the residence.'
8. Create bespoke shade
Whether you have a large or small deck, a courtyard garden, a patio, or a backyard, think about the idea of roofing that will not only give the space a modern and cozy appeal but also provide the space an identity of its own, like a lovely jewel box within the home's design. From pitched roofs with gable ends, and metal to wooden slats to even fabric canopies, based on the climate, choose the ones that make the most sense.
'For this project, we designed a covered deck off the kitchen and family room of the house,' says Andrew. 'Wood decking is in the ground because the home is set above grade – the perfect balance of indoor/outdoor living while feeling you are amongst the trees.'
'Consider the direction of the sun and how much control that you require,' says Julia Mack, founder of Julia Mack Design. 'South-facing spaces will benefit from the installation of a motorized, retractable awning or even two if the deck is large. Another upgrade is the installation of a pergola for a place for vines to grow wild, creating rich, lush greenery and the feeling of an outdoor oasis.'
9. Choose a statement lighting piece
When it comes to deck lighting ideas, choose a chandelier or pendant light that makes an immediate statement. Oversized lanterns, crystal chandeliers, tall floor lamps and more create an indoor look and give the space a decorative feel. Layer the lighting with recessed LEDs and sconces.
'There are great outdoor lighting pieces from companies like Palecek, RH, and Royal Botania that help complete the look and mood for the outside,' says designer Amy Kalikow. 'Setting the tone with lighting, coupled with great pieces that not only look good but are comfortable is key.'
'Hidden lighting is an excellent investment too, for a deck to create a soft glow at night,' says Jane Lockhart. 'Hide LED strip lights under stairs or around deck edges for function and beauty. Add indirect lighting on posts that shine downwards, and small integrated floor lights that shine upwards, to create bright pinpoints of light. This adds sparkle at night and a repeated pattern of this lighting style adds an artist's flair to a deck.'
'If the deck leads to a yard, an upgrade option is to add LED lighting beneath trees, shrubs, and any adjacent architectural features,' adds Julia Mack. 'This form of uplighting lighting softly accentuates the texture of a brick or stone wall and creates eye-catching interest for an evening outdoors.'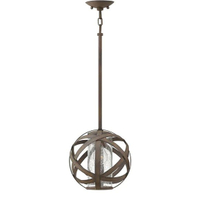 Carson outdoor chandelier, 2Modern
Choose this bold piece made of overlapping metal ribbons that enhance an outdoor living area with style and substance. The hand-crafted pendants are both industrial and sophisticated with the allure of artisan craftsmanship.
10. Paint outdoor walls
Yes, much like interior walls, you can create an accent wall for the outdoors too. Apart from mirrors, wall hangings, vertical greenery, and more, consider paints like in this project by Truss Interiors, to add a touch of charm to the outdoor wall decor.
Consider weatherproof paint, and choose tones that will complement the outdoor area. Look for undertones in the outdoors that might inform your palette. Are they warm beiges, browns, and rusts all around or cool grey, blue and black? Consider paint colors that will tie these fixed elements together in a harmonious way.
Also, think about your home's relationship to the street and the landscape around. If yours is a property that is set inside a road or is amid a cluster of large, towering trees, then you might want to choose a slightly lighter or brighter color so that the home stands out. Alternatively, a darker hue can make it appear to recede. Consider this classic, charcoal palette, ideal for indoor and outdoor use to create a cozy, comfortable setup. The paint can be used on walls, woodwork, and the ceiling for a dramatic effect.
What is the most expensive deck flooring material?
For decking materials, you want to choose ones that last a long time, are weather-appropriate, and do not fade in the sun.
'For flooring, Ipe wood is the premium choice for its durability, plus it is splinter and insect free and weathers well without the need to regularly stain nor seal,' says interior designer Julia Mack.
'In some climates, cedar can perform well when maintained every few years,' says Jane Lockhard. 'A slightly tinted, semi-transparent wood stain applied to the cedar will enhance its deep, earthy orange tone, adding warmth to any outdoor space.'
'For low maintenance yet good looking options, composite resin boards that look like a stained wood can be a better choice for the deck surface as they are sun and water resistant,' adds Jane. 'The technology has continued to improve in this category over the years, so fading is less of an issue. Maintenance on this product is less than wood.'
Aditi Sharma Maheshwari is an architecture and design journalist with over 10 years of experience. She's worked at some of the leading media houses in India such as Elle Decor, Houzz and Architectural Digest (Condé Nast). Till recently, she was a freelance writer for publications such as Architectural Digest US, House Beautiful, Stir World, Beautiful Homes India among others. In her spare time, she volunteers at animal shelters and other rescue organizations.