How to create plaster effect walls – the modern rustic trend everyone's trying
Love raw, earthy finishes? Here's everything you need to know about how to create plaster effect walls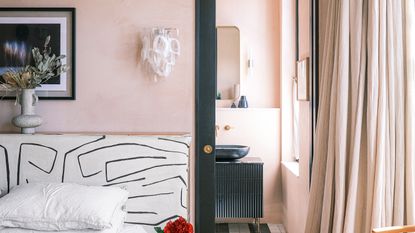 (Image credit: James Merrell)
Plaster walls are getting super popular and it's easy to see why; they're beautiful, soft to touch, work in absolutely any room around the house and come in a variety of styles, colors, and textures. Just like other raw materials that are huge in interior design trends – from marble and terrazzo to concrete and terracotta – bare plaster walls are a really easy way to give a room that slightly raw, industrial edge.
Plaster walls suit a variety of interior schemes; they'll add texture and warmth to modern and minimal interiors and give a contemporary edge to more traditional spaces. Whether pure raw plaster, lime plaster or clay; because plaster is free of chemicals, it's an eco-friendly wall finish that's good for the planet and good for your health.
Adam Weismann is Founder and Director of Clayworks, a company whose clay plaster finishes have graced the walls of projects by Snøhetta, Foster & Partners, and countless cool homes. He shares the beauty and benefits of this natural, eco-material.
1. Raw clay plaster
Clay plasters are naturally pigmented raw material and will never need painting. They're available in a variety of textures: from highly polished and fine to extremely coarse, rustic finishes. The color spectrum includes all neutrals and earth colors, as well as blues, greens, blacks and whites. Its rawness gives the clay a unique, cloudy, and soft aesthetic with perfectly imperfect, subtle tonal and textural variations. Clay plasters, as seen in this Chelsea townhouse, are VOC, formaldehyde and synthetic free and can be composted.
'Clay absorbs sound and light helping to create a calm ambience. Although used as a building material for over 9000 years, clay was largely disregarded during the industrial revolution and then forgotten about, other than in parts of Africa, the Americas, and Asia. We discovered its beauty and versatility over 20 years ago when running a cob building company,' says Adam.
'Considerably more breathable than lime, clay absorbs and releases moisture from the atmosphere, enabling optimum indoor air humidity - or 'breathability'. This is essential for helping to control damp, dust mites, viruses and bacteria. Clay can also absorb formaldehydes created by other materials. Its carbon footprint is significantly less than other plasters and wall finishes (except wood) too,' he adds.
'Clay plasters are perfect for interior walls and ceilings but are not suitable where there's running water, such as showers, splashbacks etc. They have a breathable glaze, but they're not sealed.'
2. Tadelakt
Tadelakt is a natural lime-based plaster, indigenous to the Marrakech Plateau in the High Atlas Mountains, Morocco. Often seen in the beautiful riads in the region, it has become a popular choice for architects and designers due to its earthy nuanced tones and waterproof qualities.
A plaster made of hydraulic lime sealed with olive soap, it is now becoming popular further afield thanks to its low impact on the environment. No harsh chemicals are used in the application of tadelakt, and its smooth, water- and mold-resistant finish means it's perfect for bathrooms, wet rooms, kitchens, and splashbacks. However, like marble, tadelakt is prone to stains.
'Tadelakt is a lime plaster and naturally waterproof, unlike clay. Tadelakt is ideal for areas where clay cannot be used, such as wet rooms,' explains Adam. 'It's a different aesthetic.'
3. Lime plaster
Lime plaster is a traditional building material made by burning limestone, then slaking it with water to form a plaster that hardens with age. It has been used for thousands of years, and when fully cured is extremely durable and hard-wearing. But it does have to cure. Unlike modern gypsum plaster, lime plaster not only has to dry but also cure; a general guide is for every 5mm thickness of lime it needs a minimum of 4 weeks to cure.
New lime plaster is highly caustic and usually requires specialist application, but when successfully applied it's highly breathable, flexible but very durable. Plus, it looks great, too, as seen in this cool and contemporary East London home that features pink plaster walls throughout.
Other, non-clay plasters include shimmering metallic Marmorino to rough-luxe gypsum. Plus, Travertino is a natural lime plaster from the Renaissance tradition. Travertino is rough-looking, but smooth to the touch, with pleasing natural shadows, ideal for rooms filled with soft furnishings like living rooms and bedrooms to add a touch of industrial texture.
Marmorino Venetian plaster is made with natural lime and ground marble, and has a refined polished look. It is applied in many layers so it's strong and durable and can be used for interiors and exteriors. It can also be used to create faux marble finishes.
4. Gypsum plaster
'Gypsum plaster is regular decorators' plaster. It doesn't have the eco-credentials, beauty, and breathability of clay but it's a fabulous budget-friendly option if you like a raw finish,' explains Adam. 'It can be sealed with decorators varnish and a metal bead running along between the bottom of the walls and skirting.'
How wonderful does it look used in this dining room? The contrast of the clean lines of the dining table, the rustic textures of the chairs, and then that added depth of the plaster wall creates such a warm space that's the perfect balance of industrial and rustic.
Are plaster walls better than drywall?
Drywall is made out of softer material than plaster called gypsum which doesn't crack and installing it is a fairly quick process compared to plastering. Sheets of it are cut to fit the shape of the walls and then nailed on. Then usually three layers of joint compound are added and after each layer the wall is sanded to give a smoother surface. Once the third layer has dried, the wall is ready to be painted.
Despite its advantages, it's not perfect. Drywall can be susceptible to water damage if exposed to elevated levels of moisture over long periods of time and gypsum drywall boards can have mold problems, so doesn't make for the best bathroom wall covering.
Plaster, on the other hand, dries much harder than drywall. Due to the number of coats, plastered walls tend to be thicker than drywall which can create a better sound barrier between rooms. And while plaster is very durable, it can crack with the settling of the building or improper installation.
But plastering is more labor-intensive and expensive. However, once done, they will typically last much longer than your average painted drywall. And since plaster is not a solid when it's applied to the wall, it can be a good choice for curved or irregular surfaces.
What can potentially go wrong with plaster walls?
There's nothing wrong with plaster walls, unless you don't like it as a look. Old plaster can crumble and blow so unless you really like the crumbling building look (which can look cool!) it's best to go for a new, smooth finish. To achieve this, make sure you have it properly applied, though that can be expensive.
Can I plaster my own walls?
Of course, you can plaster your own walls if you're up for the challenge! It takes time to master as it's a bit tricky to get the hang of initially, but it's totally doable.
'Our clay plasters are applied with traditional plastering skills and tools. Application is nuanced regarding timings and details, so we recommend using an experienced clay plasterer,' says Adam. 'That said, we're constantly surprised by self-build enthusiasts who achieve magnificent results themselves.'
Jacky Parker is a London-based freelance journalist and content creator, specialising in interiors, travel and food. From buying guides and real home case studies to shopping and news pages, she produces a wide range of features for national magazines and SEO content for websites
A long-time contributor to Livingetc, as a member of the team, she regularly reports on the latest trends, speaking to experts and discovering the latest tips. Jacky has also written for other publications such as Homes and Gardens, Ideal Home, Red, Grand Designs, Sunday Times Style and AD, Country Homes and Interiors and ELLE Decoration.