How can I make my living room more beautiful? 13 designer tips to easily elevate your space
13 easy ways designers use to make living rooms more beautiful - from quick color overhauls to a refresh of your textures and prints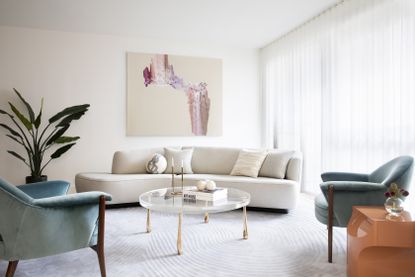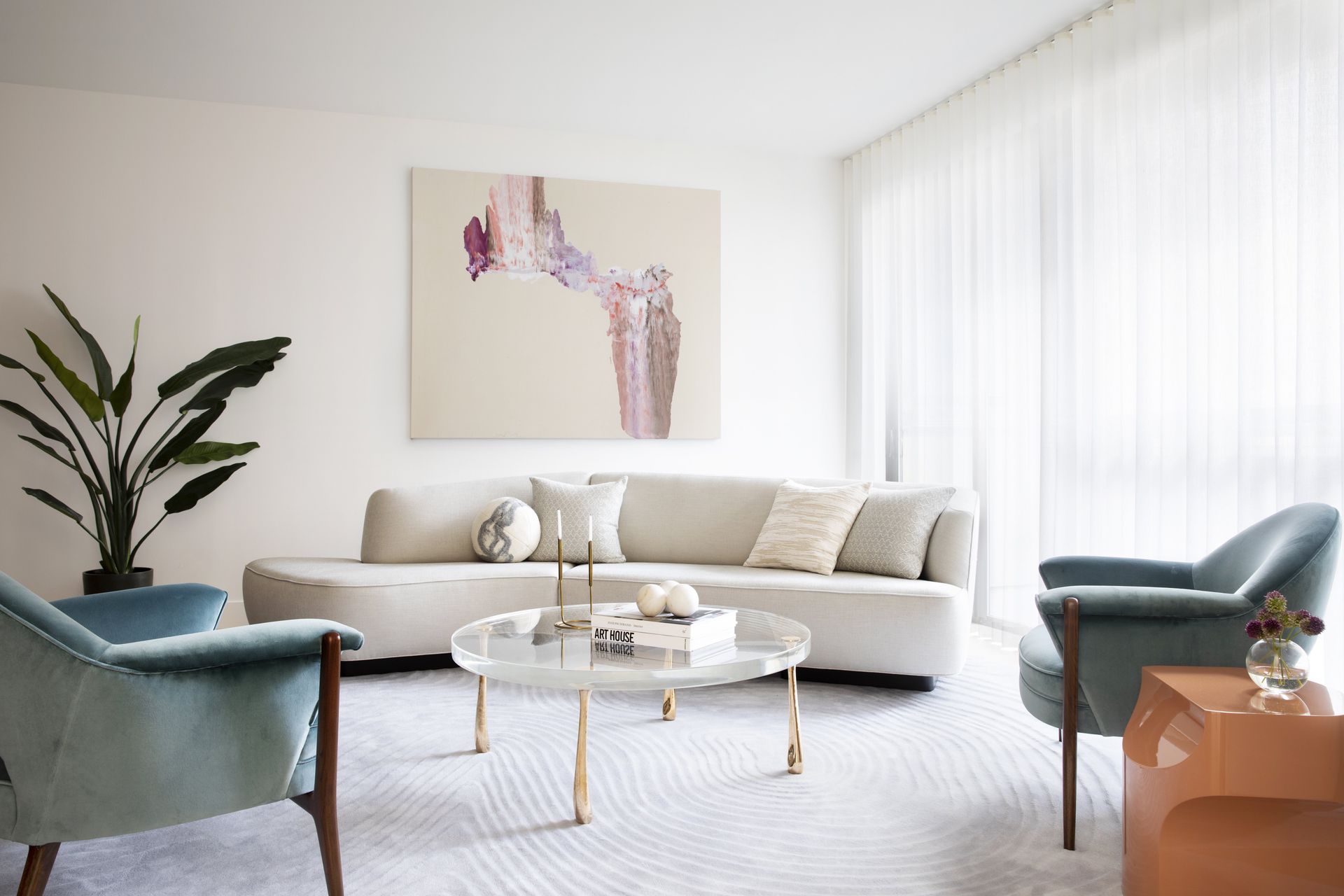 (Image credit: Niche Interiors)
Living rooms are some of our favorite spaces to decorate. Mostly because of how easy (and often affordable) it is to totally transform the space with simple, quick switches. Unlike in a kitchen or bathroom, where you are limited to how much change you can accomplish without pulling out cabinetry and fixtures, a living room is a freestanding space that welcomes changes.
Throws, cushions, rugs, mirrors, even paint colors and wallpaper can all be switched around in a matter of a weekend. So, if after a winter of cozying up in your living room and not really noticing your surrounding all that much anymore, it's time for a spring refresh and to make your living room more beautiful.
How can you make a living room more beautiful?
We asked designers how they would decorate a beautiful living room, and what you can do to make your most lived-in room feel like an (almost) new space.
1. Layer up prints and patterns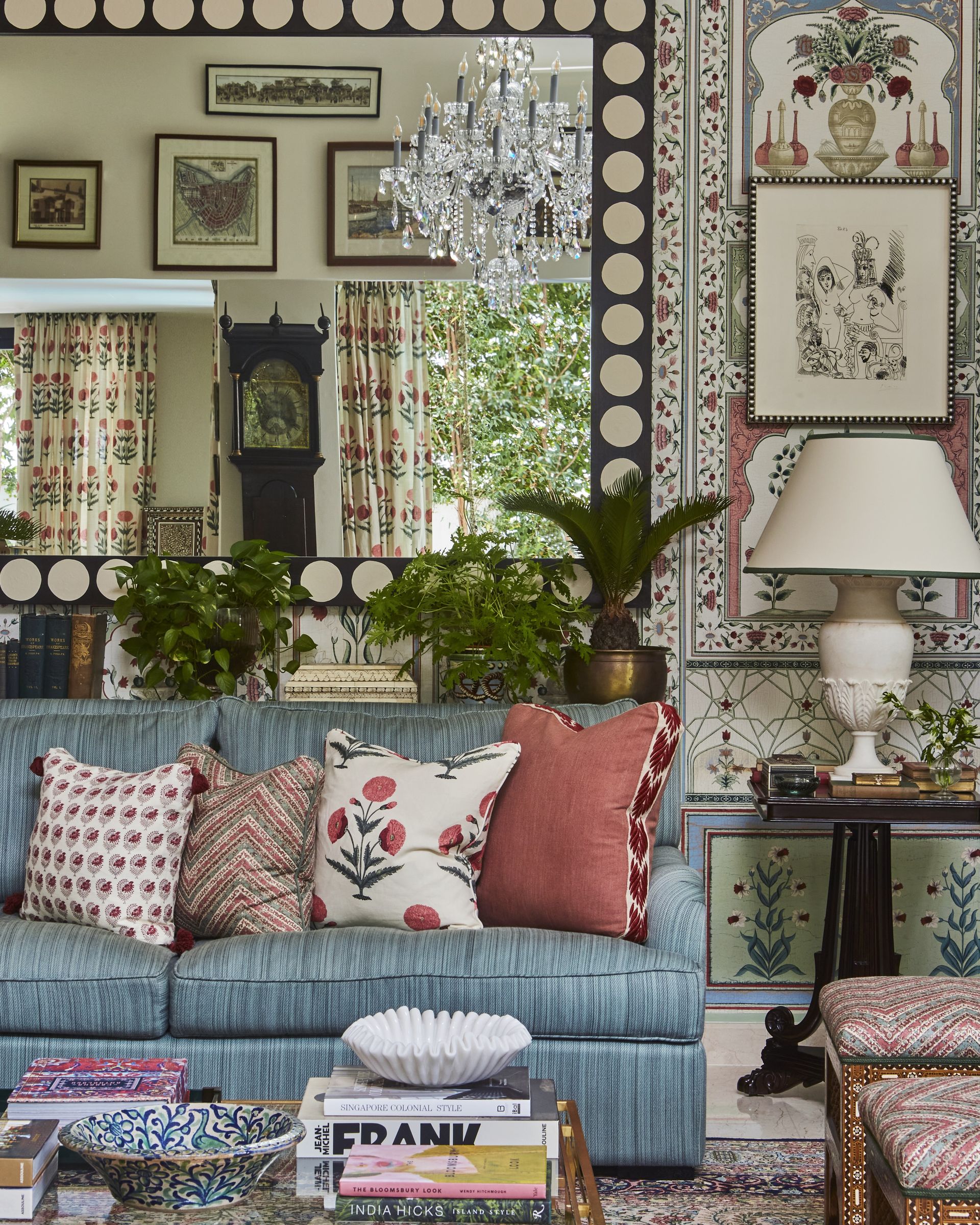 Designer Elizabeth Hay is a master at creating really beautiful spaces. They are so deliciously detailed with so my layers of prints and colors and textures, and prove that often more can be more when it comes to designing a stand-out space. So be inspired by this richly decorated space and don't be afraid to bring together plenty of different prints in one space. Often what makes traditional prints feel modern is to create these wonderful clashes and contrasts.
'This room benefited from a double height ceiling and the clients wanted to fuse their love of India within a core decorative look. We wanted to use a mural-style wallpaper to make best use of the room and its dimensions and the rest of the room basically flowed from there. We ensured the colors of the couch and the living room rug all bounced off the wallpaper and we then had a mirror made to fit the wallpaper,' explains Elizabeth.
2. Update the color scheme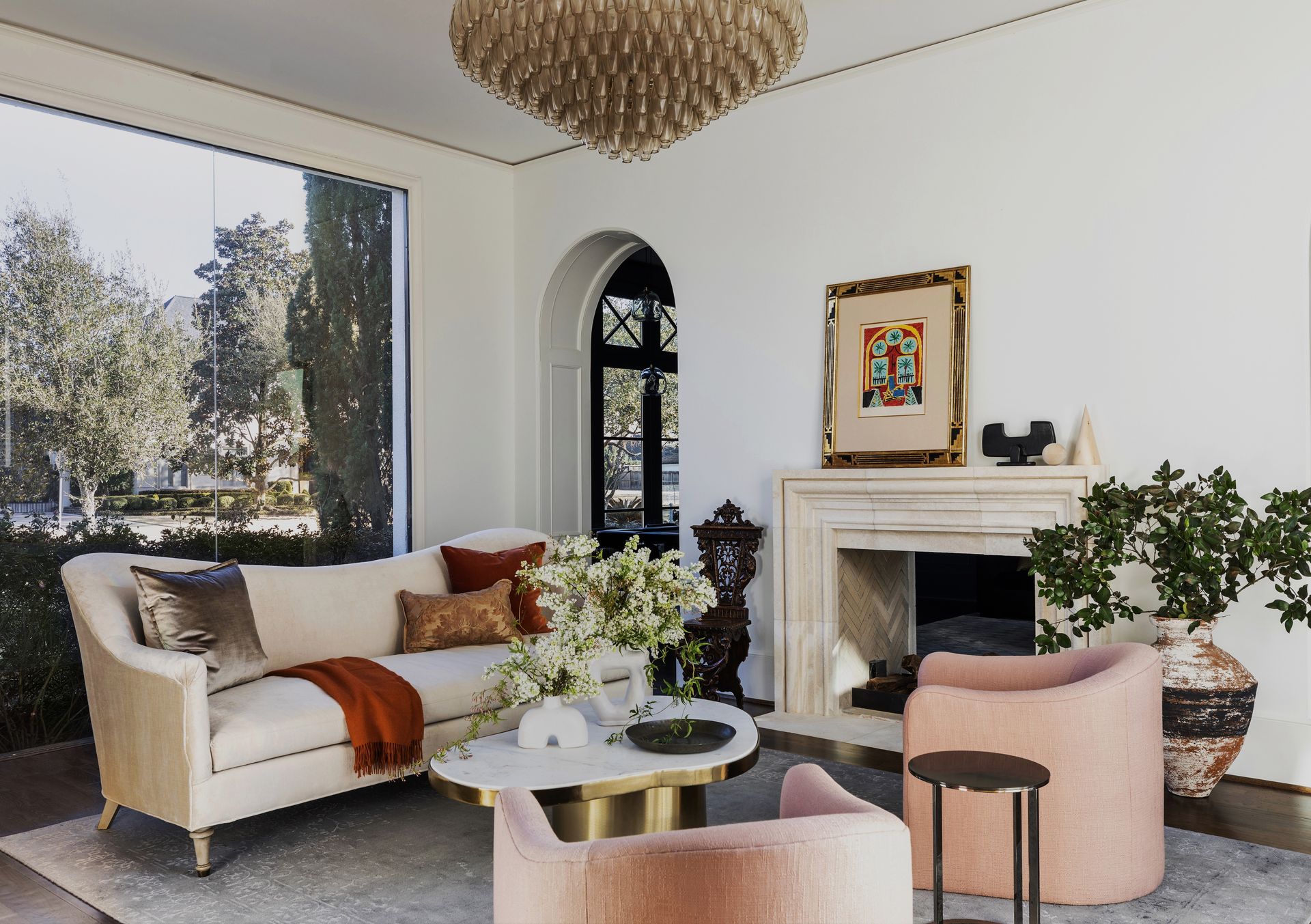 If you are looking for a quick way to make a living room more beautiful, paint is an easy fix. And color is a simple place to start if you are wanted to give your space a refresh. It's likely the thing you notice most about a space and can dictate a lot of the other design decisions.
Honestly, you can make any living room color scheme beautiful, from really soft neutrals to bright and bold yellows. It really comes down to your style and your space. Look to the rooms orientation and the amount of light it gets to help you decide. For cooler north-facing space you'll want to pick a shade with warmer tones. And for a light-filled south-facing room, you can either lean into that with a 'sunny' warm color or take advantage of the fact you get all that natural light and go for a really chic, icy cool tone.
'Designing a beautiful living room is a great opportunity to get creative and express your interests and design style. First, consider the overall color scheme of the room and choose colors that flow together and create a cohesive atmosphere. Then, pick out eye-catching furniture pieces in a variety of shapes and sizes to create interest,' suggests designer Nina Magon.
'Consider adding unique accent pieces, such as artwork and decor, to give the room more personality. Finally, add in a few statement pieces, such as a rug or a chandelier, to bring the room to life. With careful thought and selection, you can create a stunning living room space that is sure to be both stylish and functional.'
3. Make neutral beautiful with interesting shapes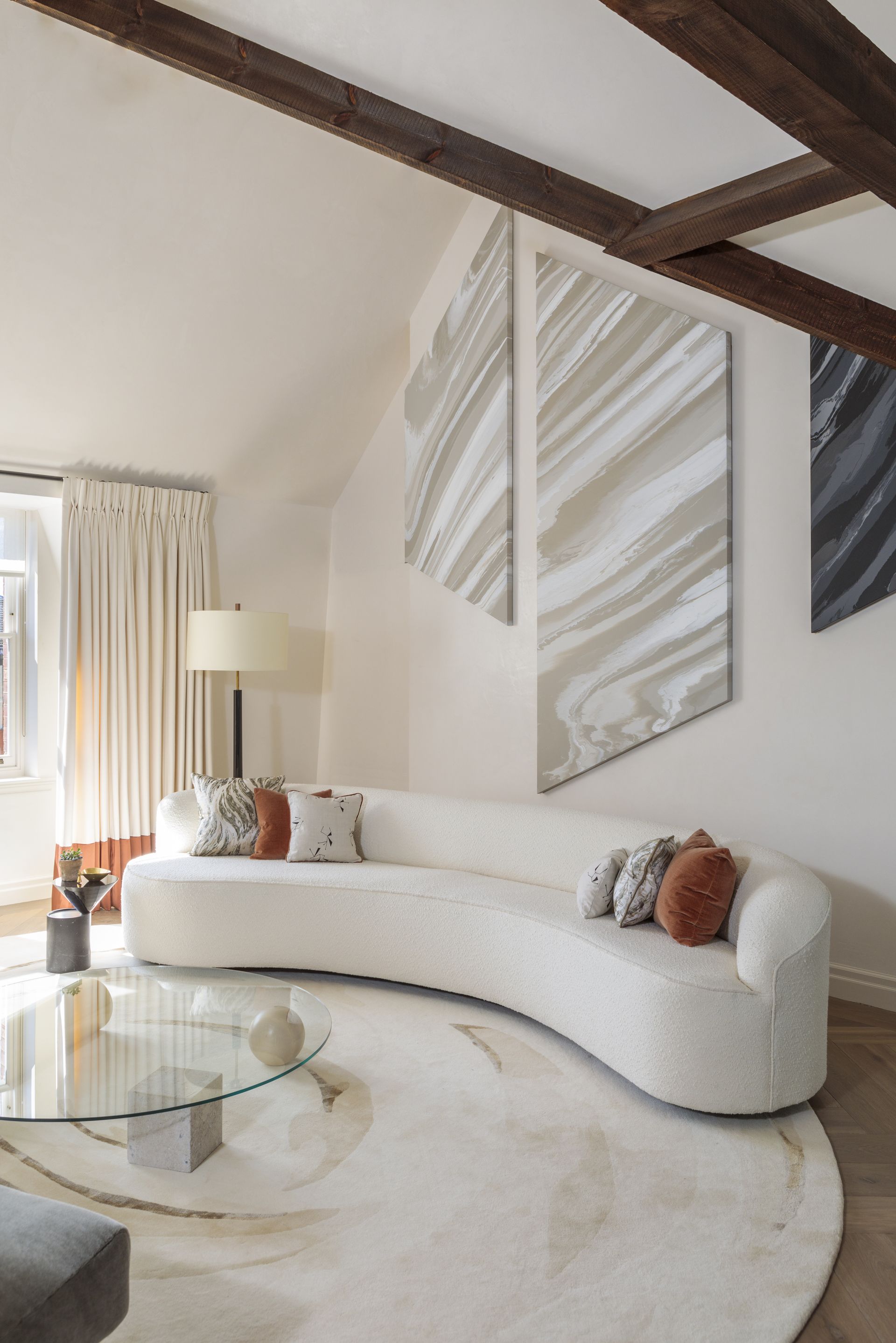 Neutral living rooms are a thing of beauty. A really pared-back color scheme that just brings in a few tonal shades instantly feels chic and sophisticated. However, as with any limited color palette, interest needs to be brought in in other ways, and since color doesn't come in, shapes have to. Choose sculptural that add interest to the room – curved sofas, long-slung armchairs, statement artworks that will add unexpected silhouettes.
This space designed by Kitesgrove is the perfect example. 'Balancing considered pieces of artwork alongside a mix of contemporary furniture really helps to elevate a living space, creating a luxurious feel. As well as helping to define the character of the space, this also introduces a narrative that ultimately reflects the client's personal lifestyle and taste. Another way of creating a luxurious interior is by implementing statement pieces such as sculptural lighting, a bold patterned rug or a memorable piece of artwork within a quieter, more pared-back scheme,' suggests Katie Lion, Senior Interior Designer at Kitesgrove.
4. Mix and match styles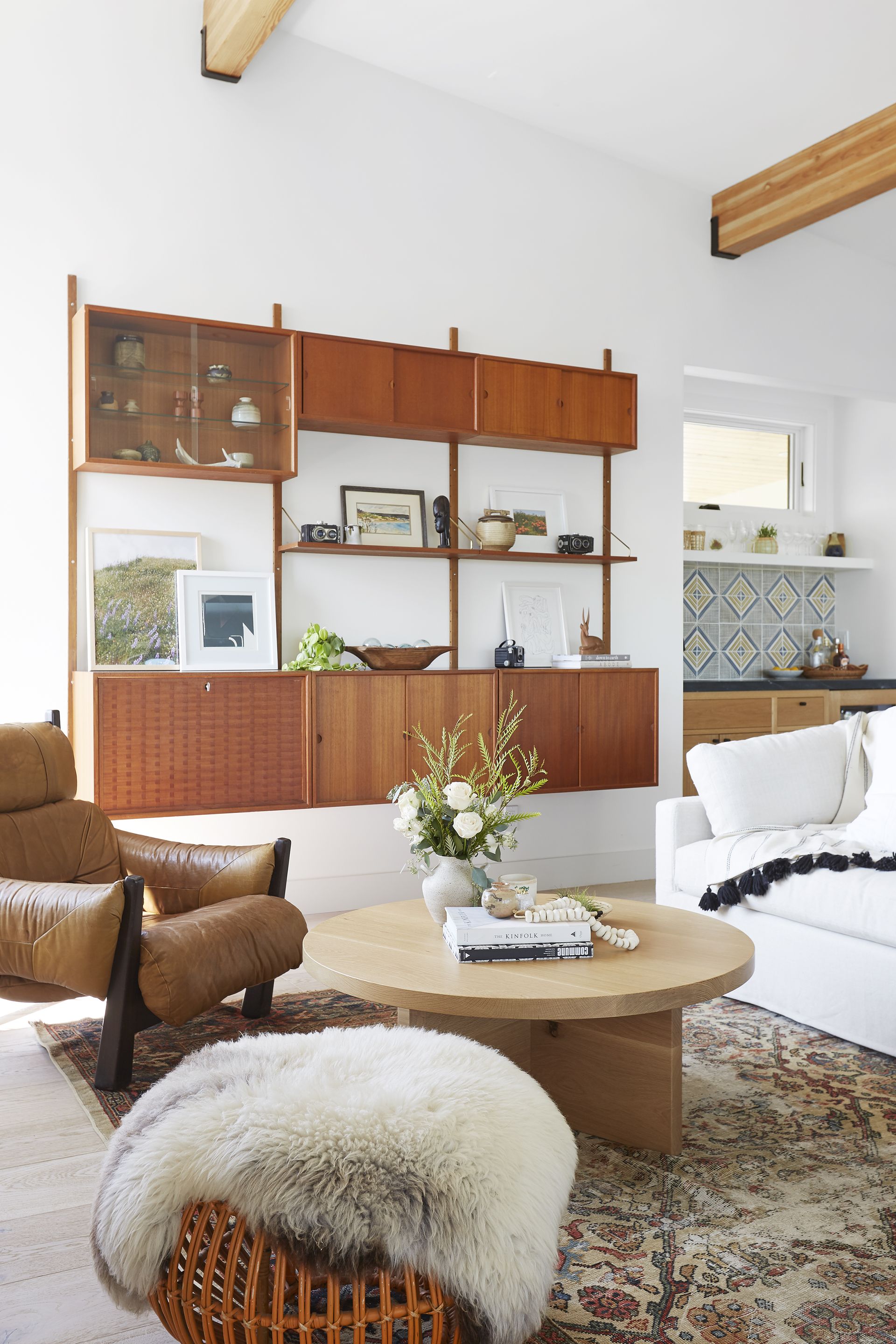 Beautiful spaces are usually the ones that don't immediately make sense. There's no clear overall style or obvious logic to the room. The eye has to spend a moment taking in the space and looking for different areas to focus on. Beautiful spaces have depth. And that depth so often comes from mixing and matching different vibes and pieces from different eras. You want to avoid a formulaic look.
Mix old and new for an easy place to start. Note how you want to see this living room as being modern – but it's far more interesting than that, there are aspects of retro in there too, and a bit of a laid-back boho vibe.
'The living room is part of a great room in a new construction build by the beach. It's adjacent to the kitchen and home bar as well as the dining area in the open-plan space,' explains designer Natalie Myers of Veneer Designs. 'To add character to the freshly constructed space, lots of older items were layered in with a playful regard to time of origin. A worn antique Persian rug over 100 years old grounds the new sofa and chunky white oak table. A vintage rattan ottoman, along with a Danish teak wall unit and a Brazilian vintage leather lounge chair offer even more aged pieces from the 70s. It's a fun mix without overdoing it and veering into the maximalist territory. Think about how you can mix some key pieces that are a mix of ages and materials without crowding the space.'
5. Soften a space with sculptural pieces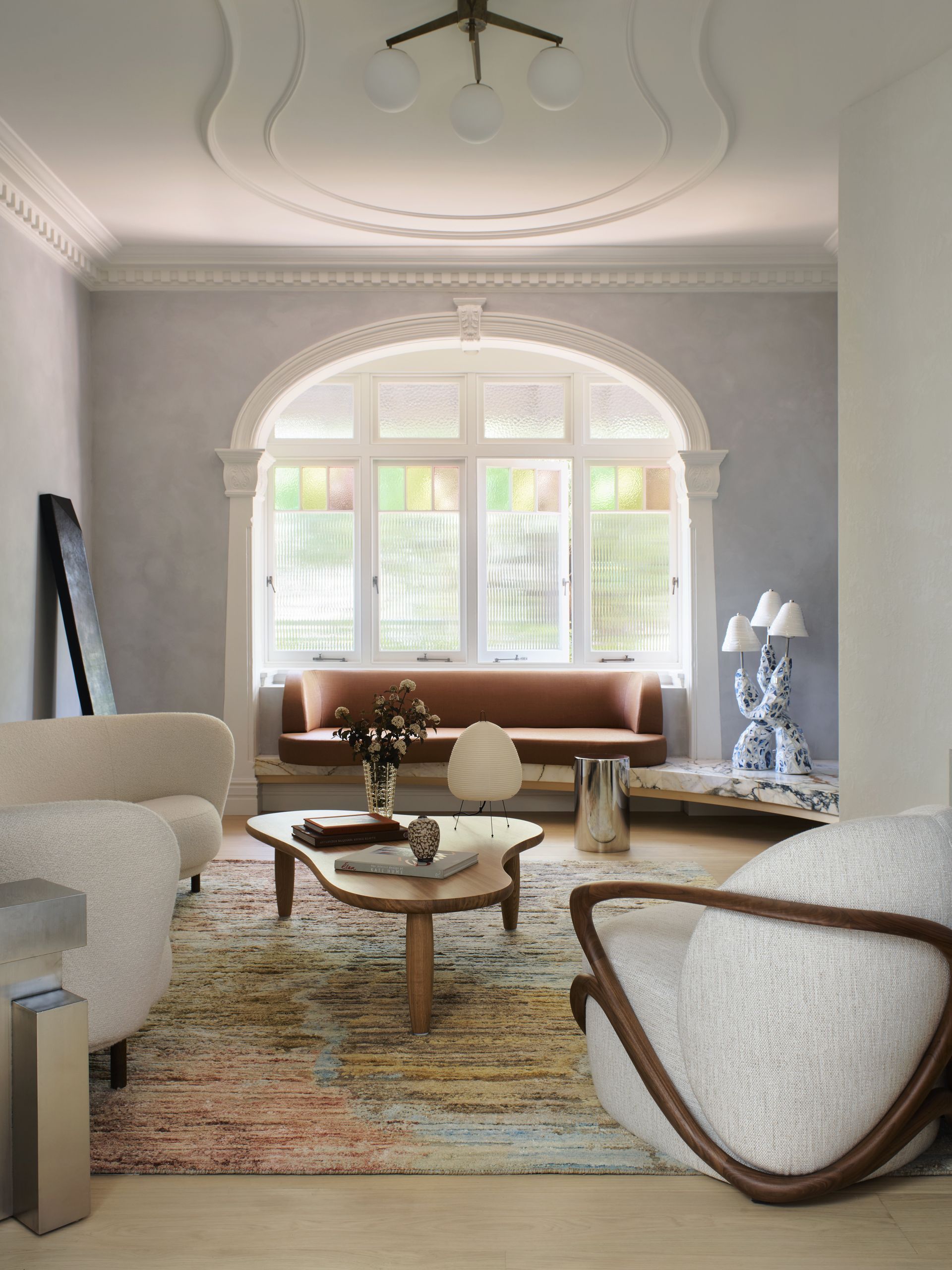 To make a living room more beautiful, choose furniture free from clean lines and make every piece look almost fluid. The lack of structure feels decidedly modern, but soft and inviting too. Decus Interiors has created a living room filled with shapes, not a straight line in sight, which creates a wonderful flow around the room, nothing blocks the light or the eye line, making it such a pleasing, satisfying space to take in.
'The formal sitting room boasts a dramatic mix of minimalism and ornamentation. While a towering, curved fireplace shroud and sculpted Paonazzo marble window seat make a statement, decorative architraves, and stained-glass windows add a touch of elegance. A new organic ceiling detail — a gestural swoop of sorts — borders the Angelo Lelli pendant,' explains founder, Alexandra Donohoe Church.
6. Design a living room that reflects you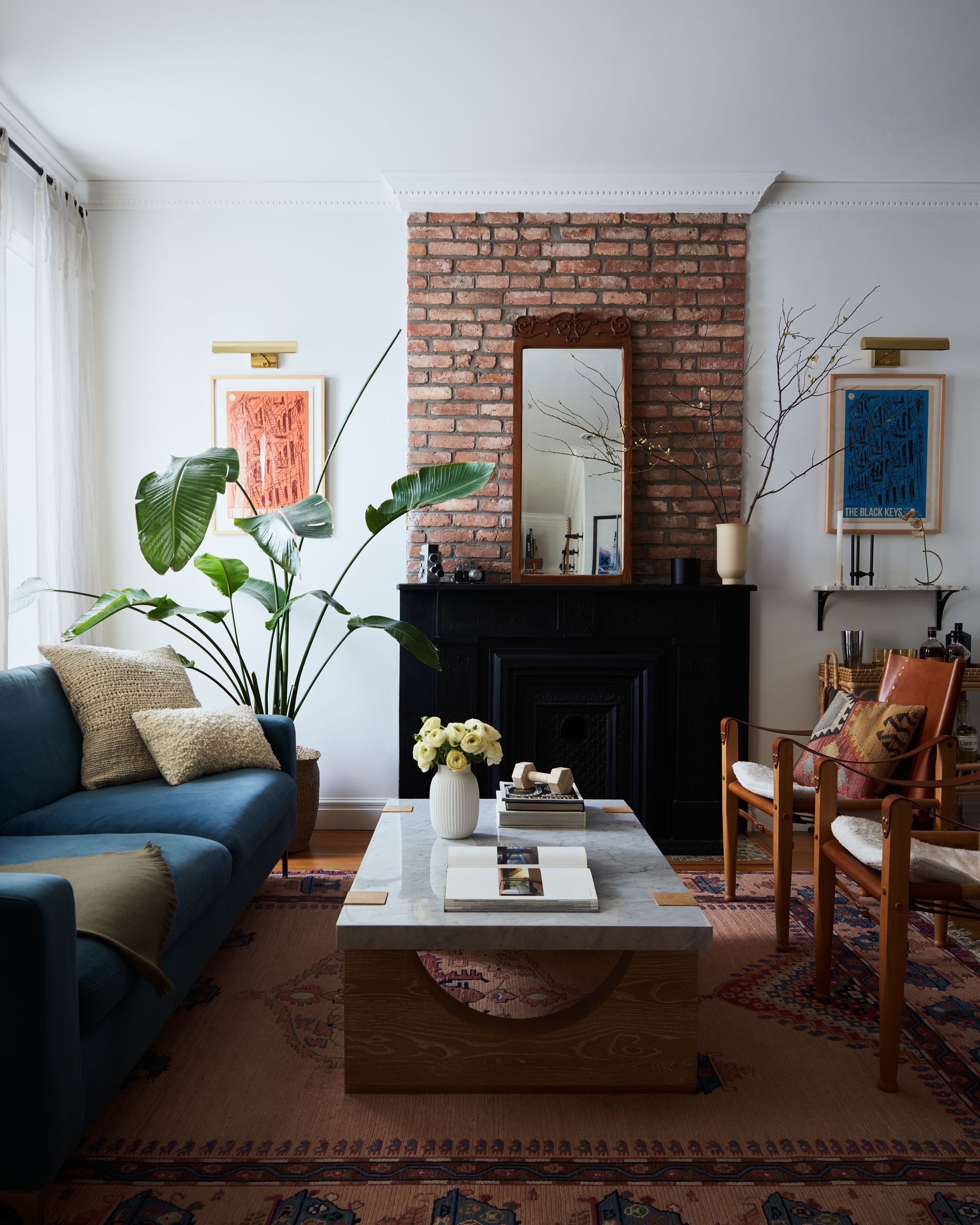 Beauty is in the eye of the beholder after all. So designing a beautiful living room does come down to what you consider to be beautiful. Make sure your space isn't too living room trend-led or leaning too much on one style (remember the mixing we talked of earlier). When you look at your living room there should be plenty of reminders this is a lived-in and loved space, with plenty of your personality thrown into the space. Use your collections to decorate, and choose pieces of furniture that really speak to you. This approach will create a beautiful living room that also has charm and uniqueness.
'I fell in love with this apartment because of its natural light and the fireplace, so I always knew the fireplace would be the focal point of the living room design. For most living rooms I design, including my own, it's important to mix old, new, custom, and collected pieces. For example, in this particular living room, the rug is a vintage Persian, the sofa and coffee table are new, the safari chairs are custom, and the overmantel mirror is a family heirloom. They all have so much character and combine beautifully to create a feeling of warmth,' explains Molly Torres Portnof of DATE Interiors.
7. Work with the architecture of your living room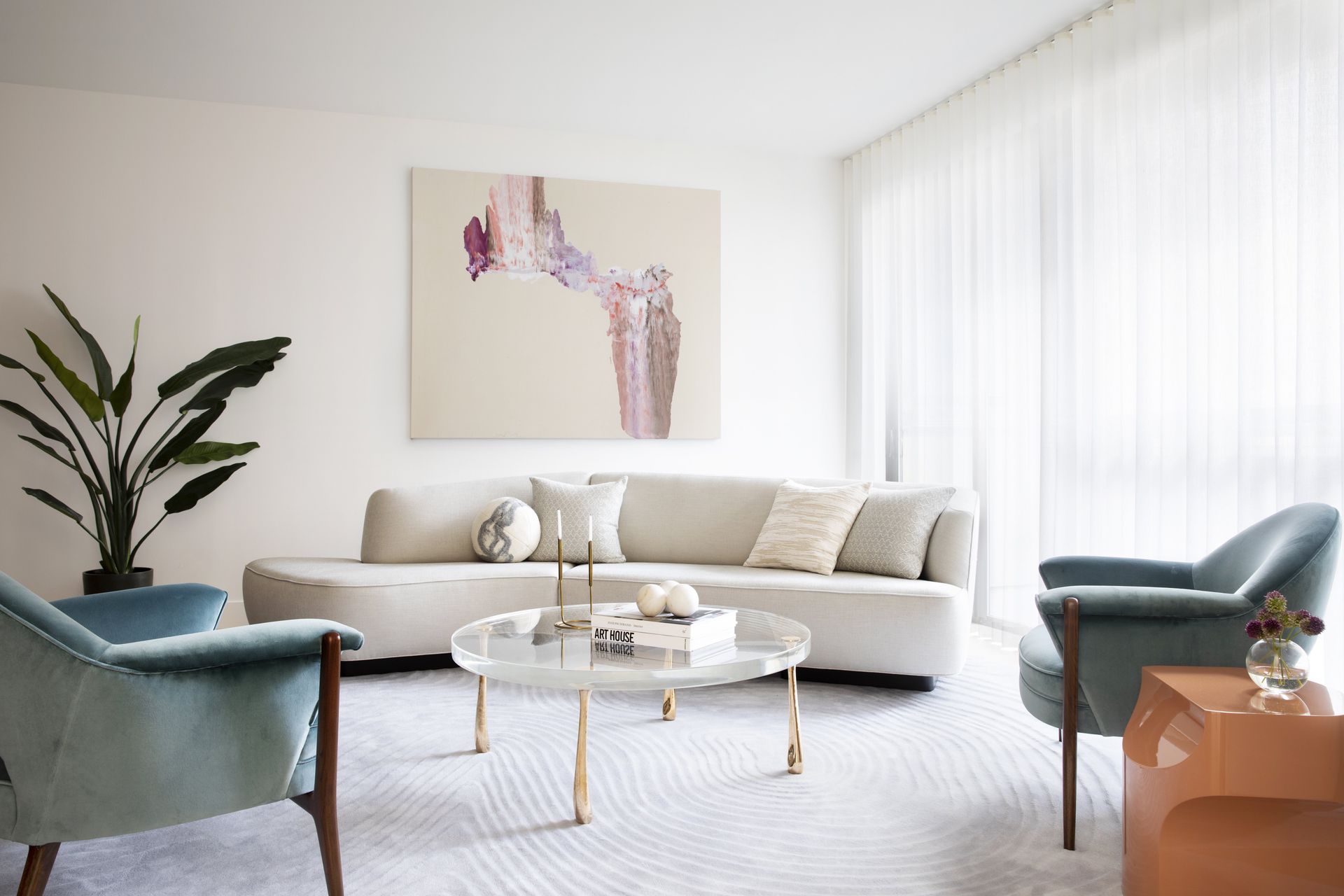 'Always keep the architecture in mind when designing a space — you want to work with it and not against it. In this case, the living room didn't get a lot of natural light so we went with white walls, sheer drapes and a light rug,' explains Jennifer Jones, founder of Niche Interiors.
'Our clients asked for a sophisticated and distinctive living room for entertaining. Since the room was rather boxy, we opted for an organic, sculptural curved sofa to break up the room and add soft curves. I would always recommend to start with a thoughtful furniture layout that doesn't feel crowded – allow for easy flow throughout your living room. In general, it's better to under-furnish than over-furnish, as you can always add more later.'
8. Layer your lighting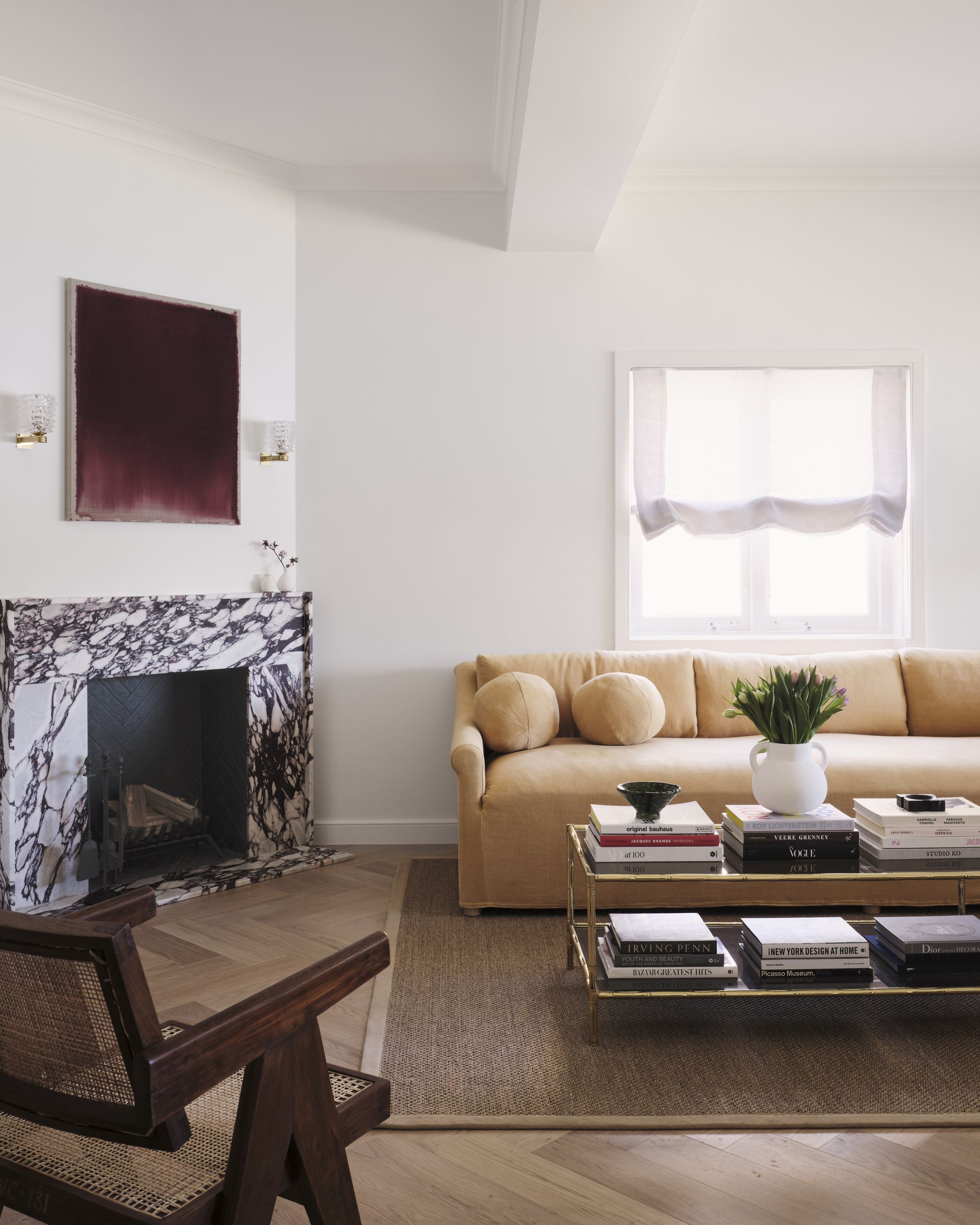 Lighting is a simple way to make a living room more beautiful. And it's so important to get right too. You could pick out the most gorgeous pieces of furniture, or on-trend colors, but if your lighting is off, the whole room can be affected. The best approach to living room lighting is to layer it. Have plenty of different sources at different levels to give you a lovely soft all-over glow rather than any harsh pools of light.
'One of my favorite elements that makes a living room beautiful is lighting. Highlighting natural light and layering the space with floor lamps, pendants, or sconces can bring life into a room throughout the day and create a warm moody space during the evening. There are also so many beautiful designs to choose from!' says designer Alex Morrison.
9. Ditch window treatments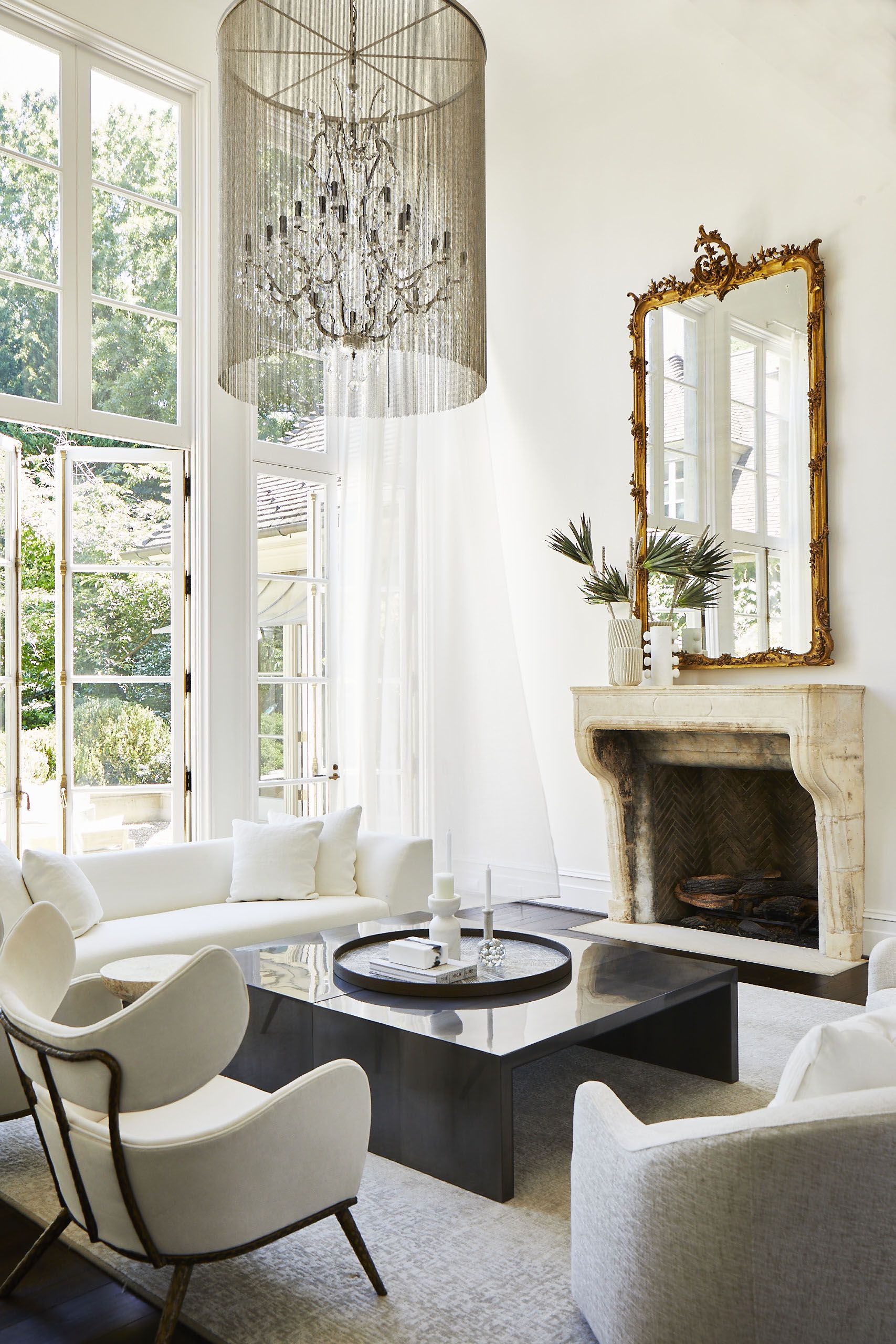 'Let the sun shine in!' recommends designer Lisa Sherry. 'For me, heavy living room window treatments can be oppressive. When privacy is not a concern, I may entirely forgo draperies. A view of nature is a work of art. My favorite window treatment – to finish the space and add a bit of privacy – are tactile Belgian linen draperies.'
Use tricks to make your windows look bigger too. If you do need to add window treatments keep them light and airy, and always take them higher than the window itself and lower towards the floor too – it looks far more elegant than abruptly stopping as soon as your window does. And if you have the space extend or mount your window treatments so when not in use they can be totally pulled back from the window and not interrupt any light coming in.
10. Lean on natural materials for added beauty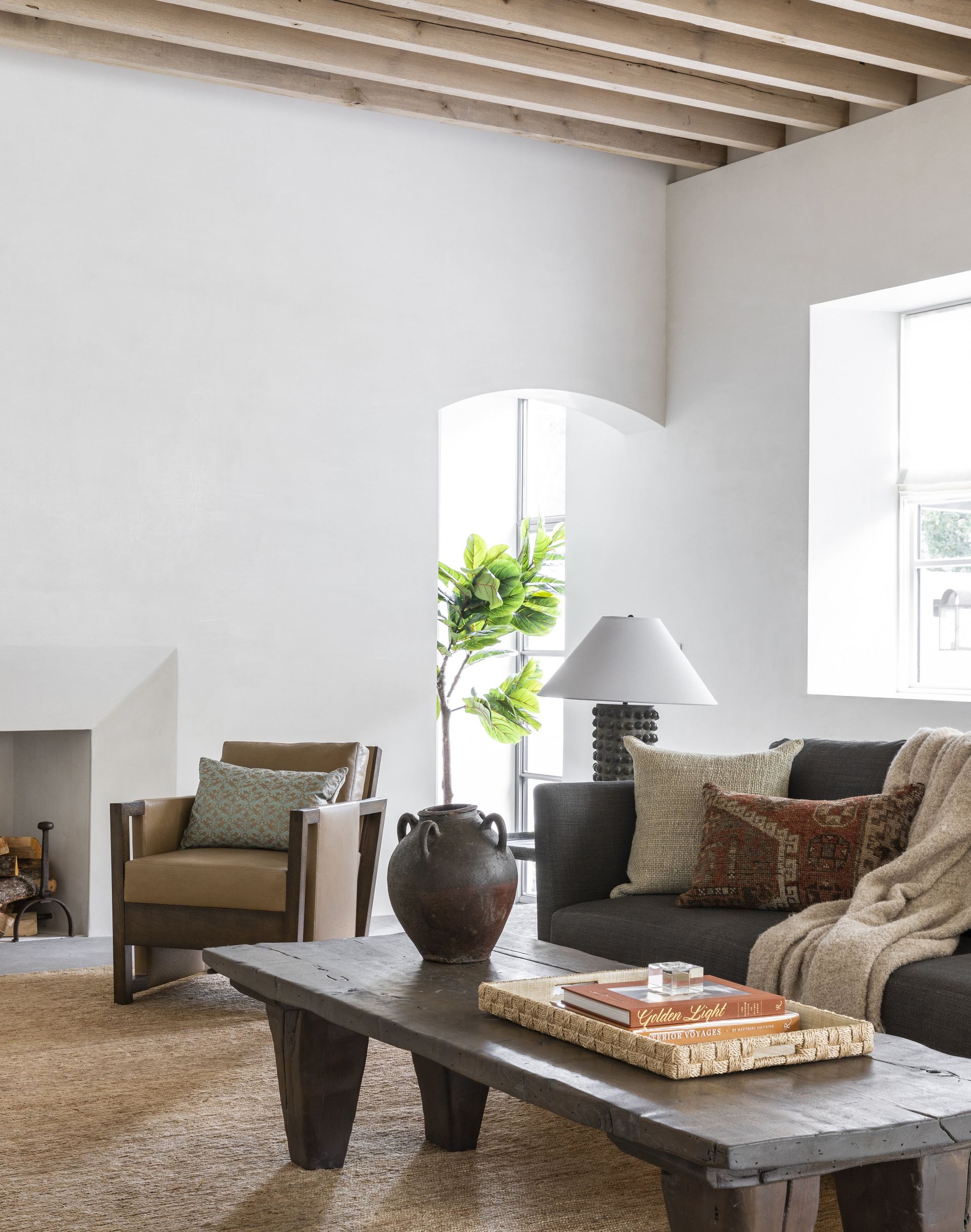 'Texture and layers are essential for a beautiful living room,' says designer Marie Flanigan. 'When an aesthetic looks inviting, it'll be perceived as beautiful. I always look for complementary natural materials like wood, iron, stone and wool to create the cohesive statement. Seating options are also paramount to the room's aesthetic and function. A few key elements that are always necessary in a living room include a large area rug, couch, armchairs, coffee table, table lamps for ambient lighting, pillows and throws!'
'This living room was made to feel like a boutique European hotel. From the plaster walls to the wood ceiling and knubby textures, everything feels comfortable and elevated. The design is restrained but not stark, which is a testament to the layers that make the space feel welcoming.'
11. Mix bold and muted shades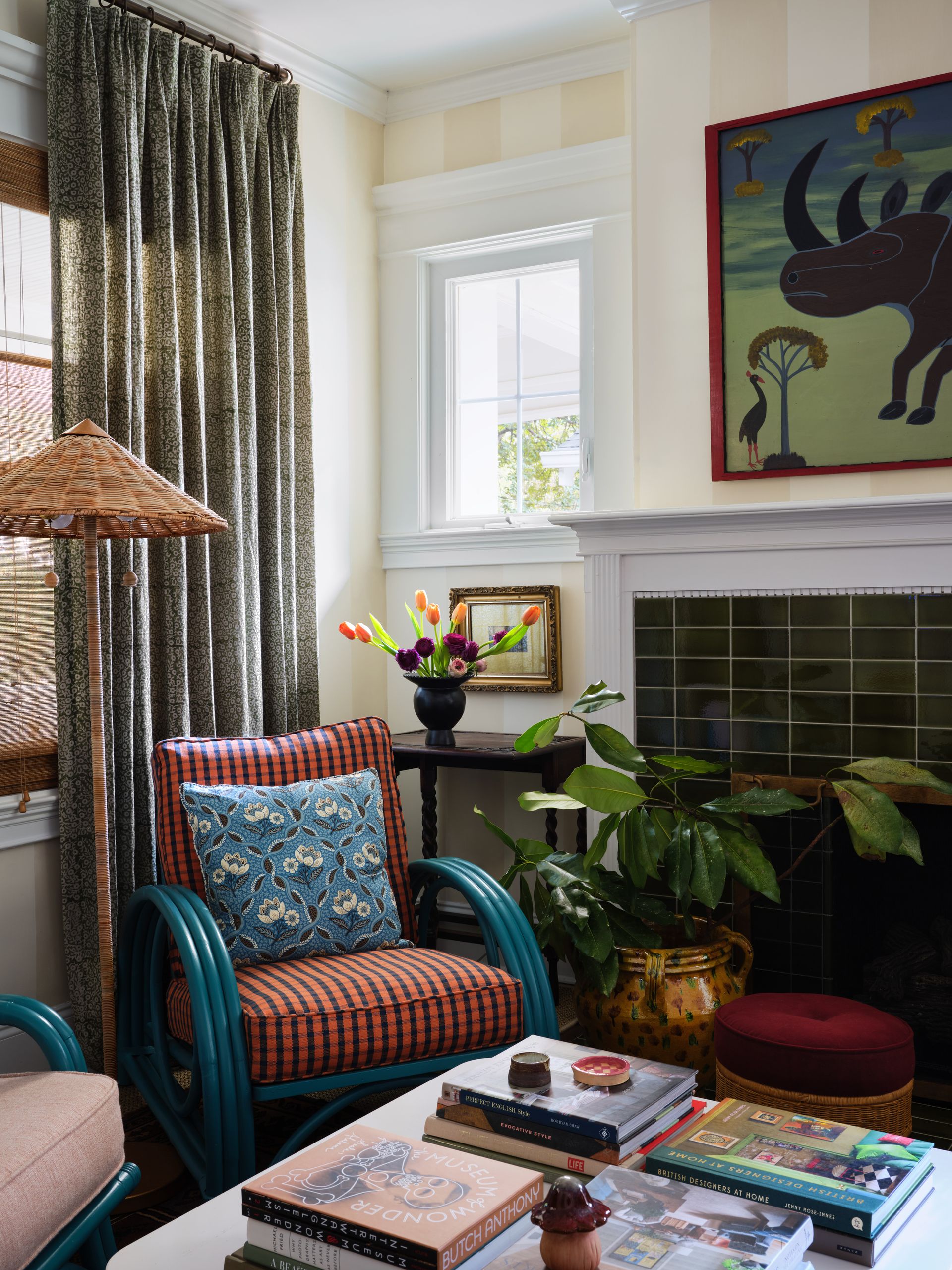 We keep going on about depth. But it really is the key to a beautiful space. And color can be used to add depth as well as shapes and materials. Mixing bold and muted colors in a living room can be a simple way to make a statement and yet keep it feeling soft, neutral, and livable. Keep it lighter and more neutral on the walls and let your decor and living room furniture be braver with the color.
'Consider that to use color effectively and not overwhelm the eye, it is important to have a mix of saturated colors and muted more earthy tones to balance out the scheme,' explains Avery Cox. 'Ensure each place to sit is comfortable and has a place to set a drink, has good light, and has a good view. Everyone will want to be in your living room if each seat has these things! Always layer texture, pattern, and materiality for a rich cozy feel and don't skimp on fresh flowers! They make all the difference.'
12. Decorate with greenery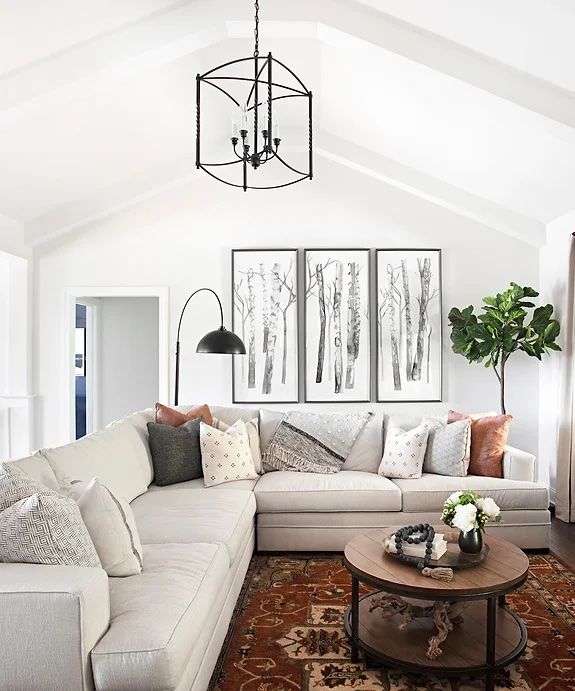 Bringing flowers, plants and trees into a living room is instantly going to make it look more beautiful. They add literal life to a space, as well as a pop of color and extra texture. We love the look of a large tree in a living room, it feels so unexpected and contrasts with the manmade elements of a room. But if you don't have the space, adding smaller trailing houseplants to living room shelving or surfaces can have just as much of an impact.
'I think any beautifully designed space comes down to layers and balance. In the living room—balancing shape and scale of furniture, mixing materials and layering textures, and always incorporating greenery, natural elements, and plenty of natural light whenever possible,' says Lauren Sullivan of Well x Design.
13. Switch your layout to encourage sociabilty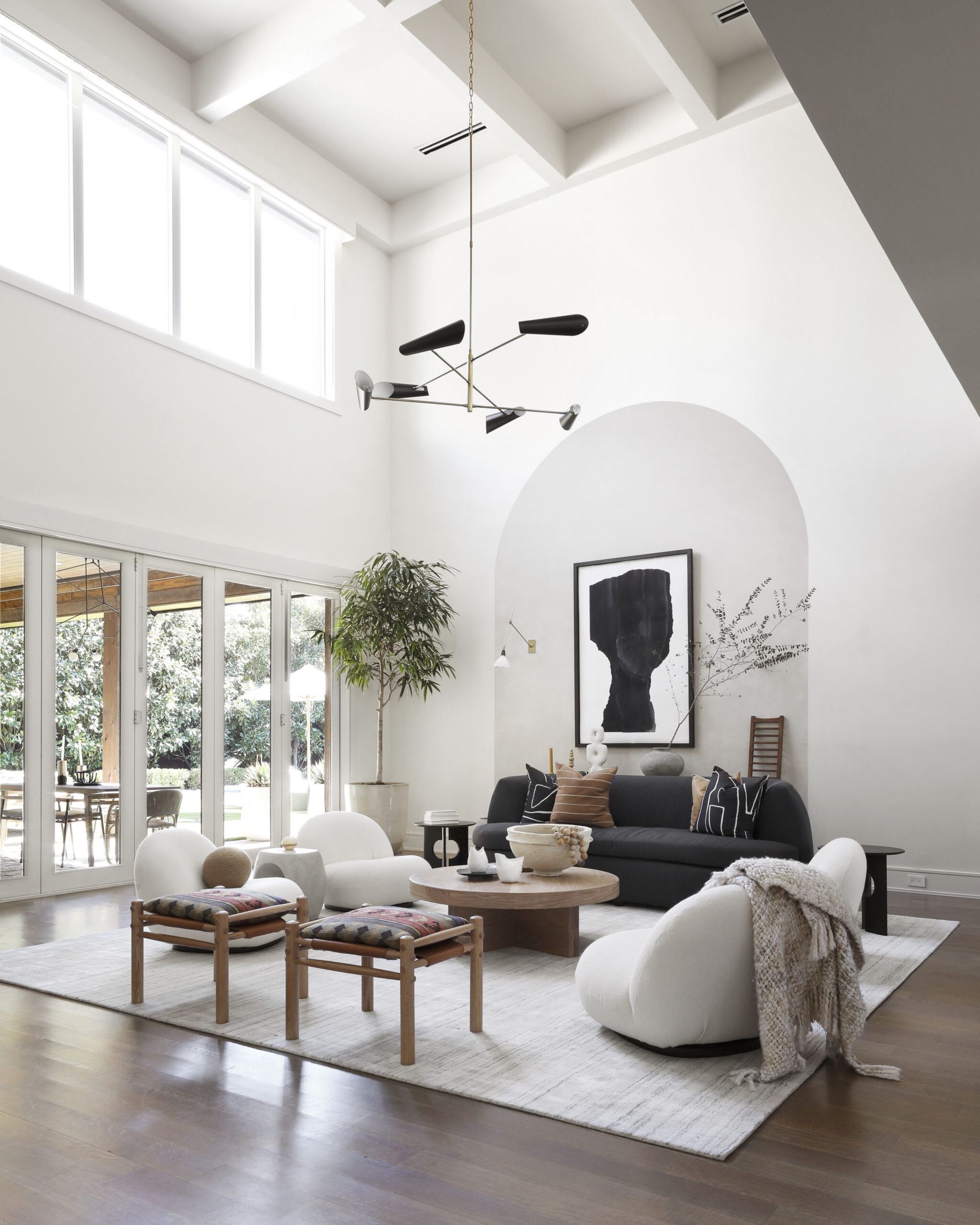 'Create conversation areas within your living,' says Lisa Sherry. 'I love open and inviting floor plans. At the same time, it's so important to create individual and private "moments" in a free-flowing space. Pairs of chairs can be clustered. Ottomans and benches are flexible, easily arranged and rearranged, as guests socialize and circulate.'
This space, designed by Urbanology Designs is the perfect example of how a living room layout can make a space more beautiful. There's no obvious symmetry going on here, but the seating all sits mirroring one another to encourage interactions. 'A conversational layout for the living spaces with kid-friendly materials and an interesting color scheme define this gorgeous home.The huge plaster arch, custom curved sofa, and contrasting chairs really stand out. Wood tones, stone side tables, and a steel black console table add texture and color to the room.' says Ginger Curtis, President of Urbanology Designs.
Our shopping editor picks some quick buys to make you living room more beautiful
The Livingetc newsletter is your shortcut to the now and the next in home design. Subscribe today to receive a stunning free 200-page book of the best homes from around the world.
Hebe is the Digital Editor of Livingetc; she has a background in lifestyle and interior journalism and a passion for renovating small spaces. You'll usually find her attempting DIY, whether it's spray painting her whole kitchen, don't try that at home, or ever changing the wallpaper in her hallway. Livingetc has been such a huge inspiration and has influenced Hebe's style since she moved into her first rental and finally had a small amount of control over the decor and now loves being able to help others make decisions when decorating their own homes. Last year she moved from renting to owning her first teeny tiny Edwardian flat in London with her whippet Willow (who yes she chose to match her interiors...) and is already on the lookout for her next project.