13 garden office ideas – plus everything you need to know before you get started
Stylish garden office ideas to help you create a little escape at home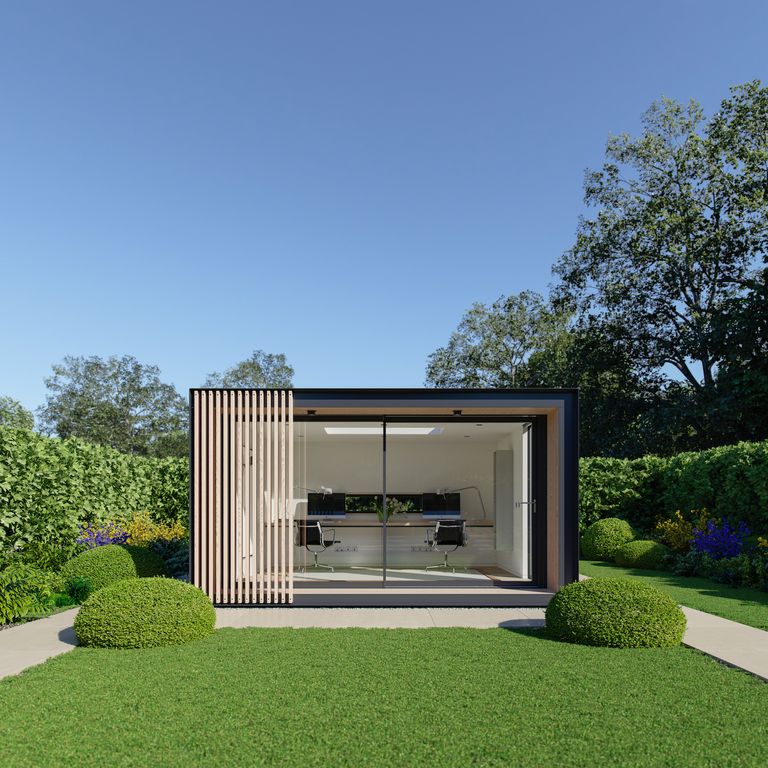 (Image credit: Pod Space)
We've pulled together 13 garden office ideas to create an inviting calm office space outdoors.
Working from home has, of course, become more common than ever and looks to be the new normal. With the trend for home and flexible working set to continue, it's no surprise that many small businesses and remote workers are setting up separate working spaces within their home. 
Whether you're setting up your own business, run your own successful company or are expecting more flexibility from your boss, building a home office can give you a quiet and functional space, away from the distractions of home life.
"Work From Outdoors" (WFO) is going to take over this spring. From working 'al desko' at outdoor dining tables to transforming sheds into offices or even investing in a brand new garden structure altogether – work from outdoors is the new work from home.
Interestingly, searches around 'garden office' have increased by 350% over the past 12 months. Now, as the UK is finally welcoming warmer weather, there's a rising trend in people moving outdoors to work 'al desko' from their gardens, and even invest in a more permanent garden office structure.
Keeping the space completely separate from the main house will help make it feel more like you're 'going to work', separating home life from work life. A garden office can be a much easier environment to work and concentrate in, away from family distractions.
We've found 13 garden office designs to inspire you, and spoke to experts to discover everything here is to know about building – or buying – a garden office. Scroll down to the bottom of the feature to learn more about the pros and cons, and things to consider before getting started.
Take home working into the garden with these garden office ideas...
1. You don't need a lot of space to create a functional garden office
As the garden office pods from workawayoffice.co.uk prove, you don't need a lot of outdoor space to create a functional home office to escape to.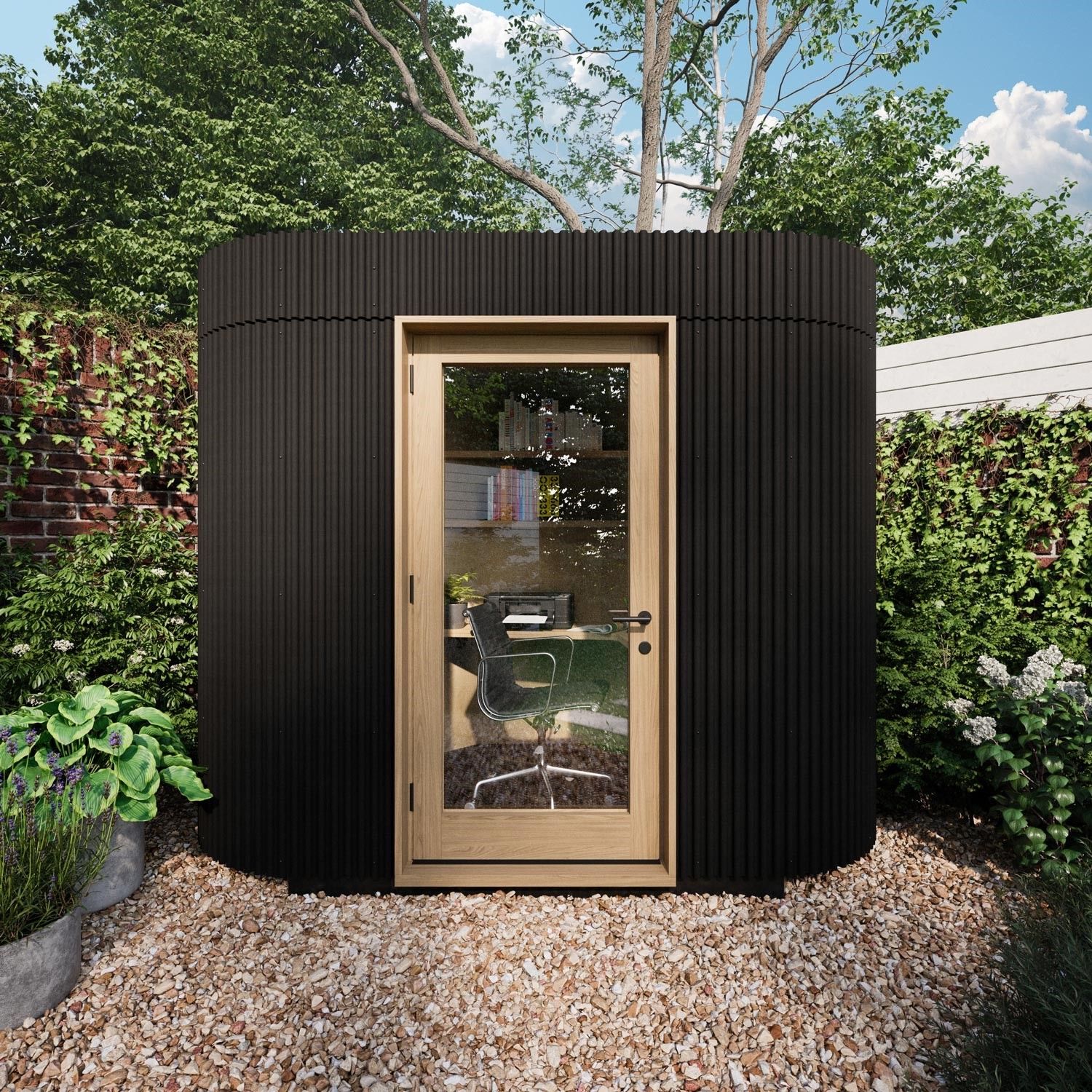 This Workaway 'Plectrum' office is a micro, single person work station perfect for small garden spaces.
These slick yet compact garden pods feature a curved shape, with smart vertical corrugated cladding and an Oak framed glazed door.
The structure is fully insulated, with double glazing, heating and natural ventilation allowing all year round use at no extra cost. The WorkAway Plectrum comes with lighting, power & internet-ready data socket as standard. 
It's super compact, with a footprint of just over 4 square meters, a max depth of under 2m and height coming in below 2.5m, so it falls within the threshold for planning application requirements.
The price (£5500) is aimed to be more affordable but with premium look and spec.
2. Build a custom garden office to maximise unused garden space
Building a garden office bespoke means that it can make the most of any dead / unused space at the bottom of the garden, turning it into a spacious home office instead. For tips on planning permission, scroll to the bottom of this article.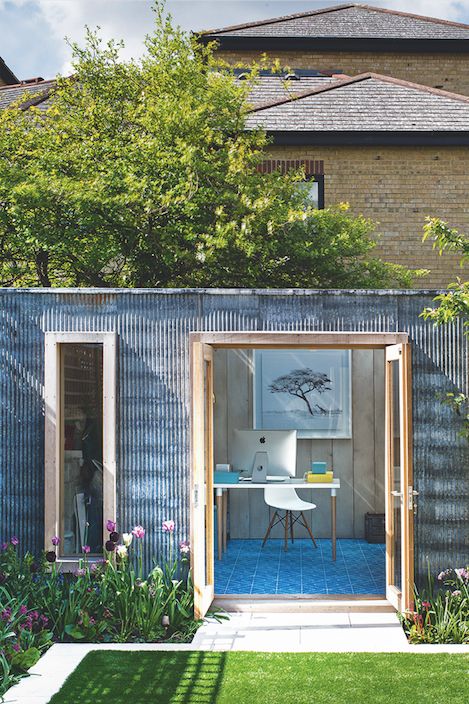 3. Play it safe with a traditional greenhouse inspired design
We love this garden office design by Trevor Brown Architecture, which takes on a more traditional garden room look.
4. Connect it to the side of the house
Having a garden office partially connected to the main house has its advantages. For example during cold, windy or rainy weather you can still easily access facilities like the loo, or pop to the kitchen for a cup of tea, without having to brace the cold.
Plus from a building perspective, it could work out easier and cheaper to connect electricity, plumbing, wifi etc as all the cables and wires will already be in place.
For side extensions like this we would still recommend a separate main entrance, as pictured below, to give separation, and to encourage this space to be treated as a place in its own right.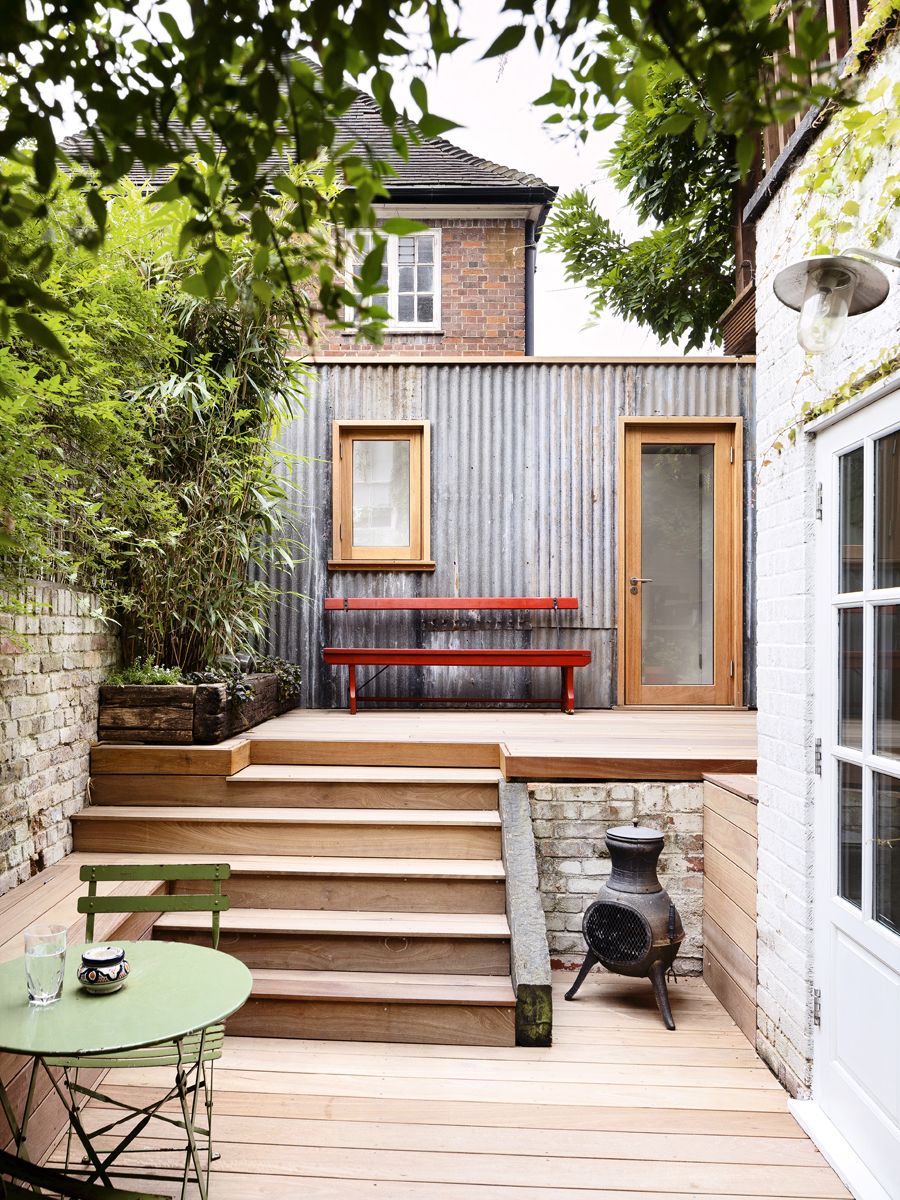 5. Go all out with a striking design
If you're going to build a structure at the bottom of the garden which can be seen 24/7 from both the main house and the garden, then it may as well be attractive to look at.
Pod Space create award-winning stylish studios for gardens – perfect as a chic garden office. 
Their pods come in four different sizes, starting from just 3.2 metres wide and 2.4 metres deep.
6. Maximise light and garden views with floor-to-ceiling glass
The below stylish home office features walls made of glass, making the office feel more like part of the garden, and maximising garden views.
7. Open up a garden office with bi-fold doors
This garden office project by Norwegian Log Buildings in Hampshire feels more like an extension of the garden, especially when the doors are fully opened. 
Opening up a garden office like this is great for the warmer months of the year when you can feel like you're sat outside, and get all the benefits of being outdoors and in nature, but from the comfort of a functional desk space with access to wall sockets.
8. Paint it white for a fresh look
Painted in Sandtex satin in pure brilliant white, this garden office below looks light, inviting and cosy, with a log burner and lounge seating. Perfect for throwing the doors open during warmer days, blurring the line between outdoors and in, but also cosy on cold, wet days, as a cosy garden office space to retreat to.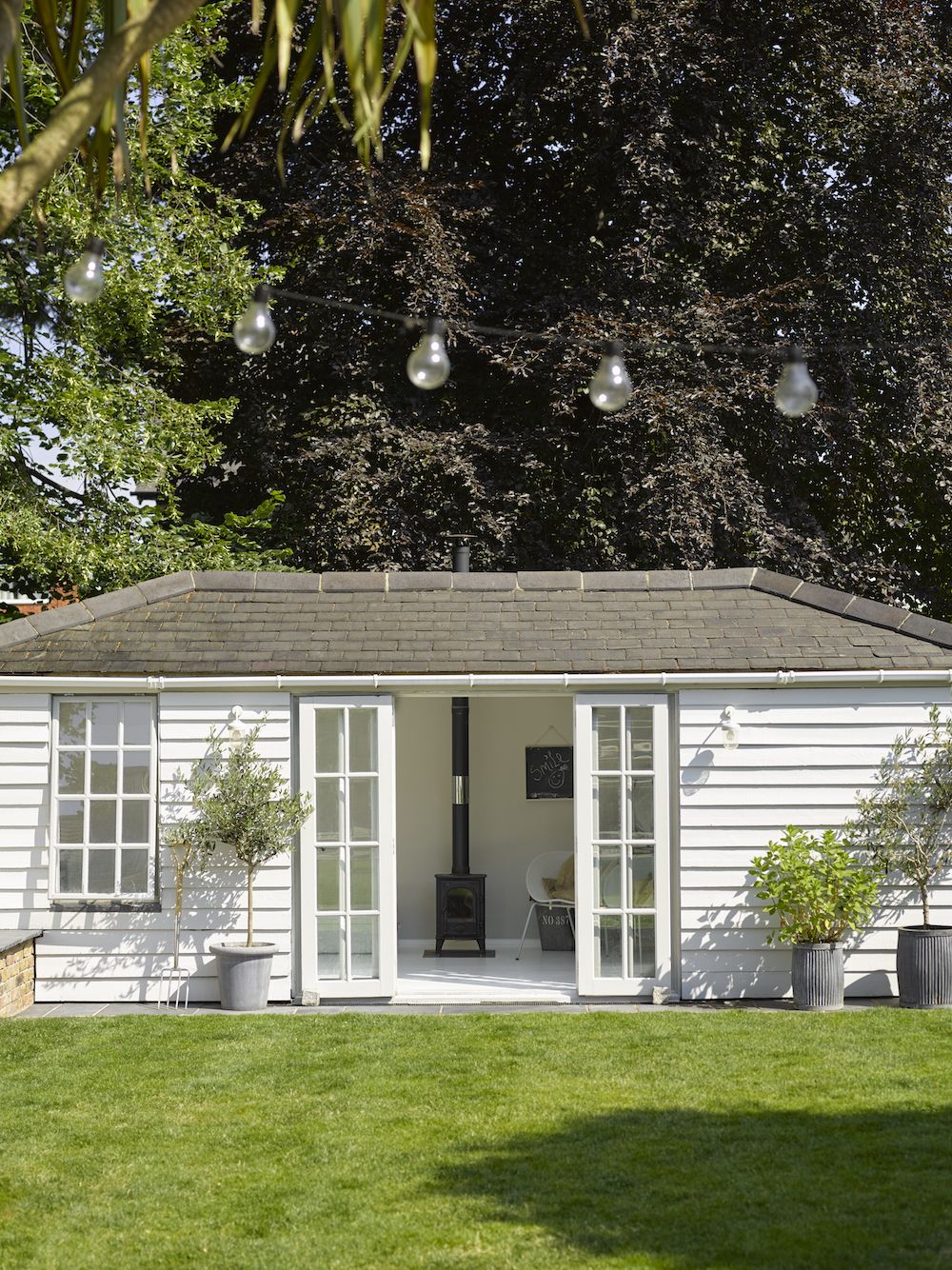 In the garden office below, floor boards, wall paneling and the pitched roof with exposed beams have all been painted in white gloss paint, giving the space a light and airy look.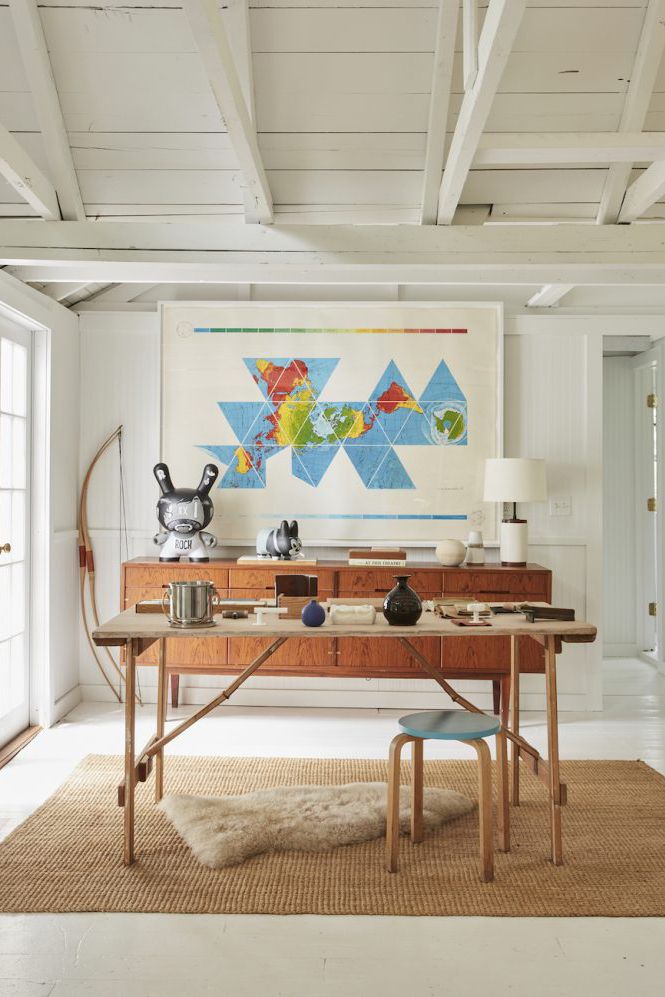 9. Keep things transient for a multi-functional space
If you don't think you'll be using the garden office during winter months, then set up the space in such a way that it can serve other purposes throughout the year.
The boho garden office below is the outdoor workspace of Wicklewood's co-founder Rosie Axford. A vintage desk and cosy rug is all it needed to transform this small cabin or shed into a home office space. Come the end of summer and these items can easily be packed away again, and the space used for other purposes like storage.
10. Consider a rooftop garden office for privacy and concentration
The top of this stylish home features a home office space that opens onto a roof garden. French doors swing open during warmer weather, blurring the line between the indoors and out. But the space is used during colder months too, and the conservatory is the perfect space to retreat to and concentrate in while listening to the rain pitter patter onto the glass roof.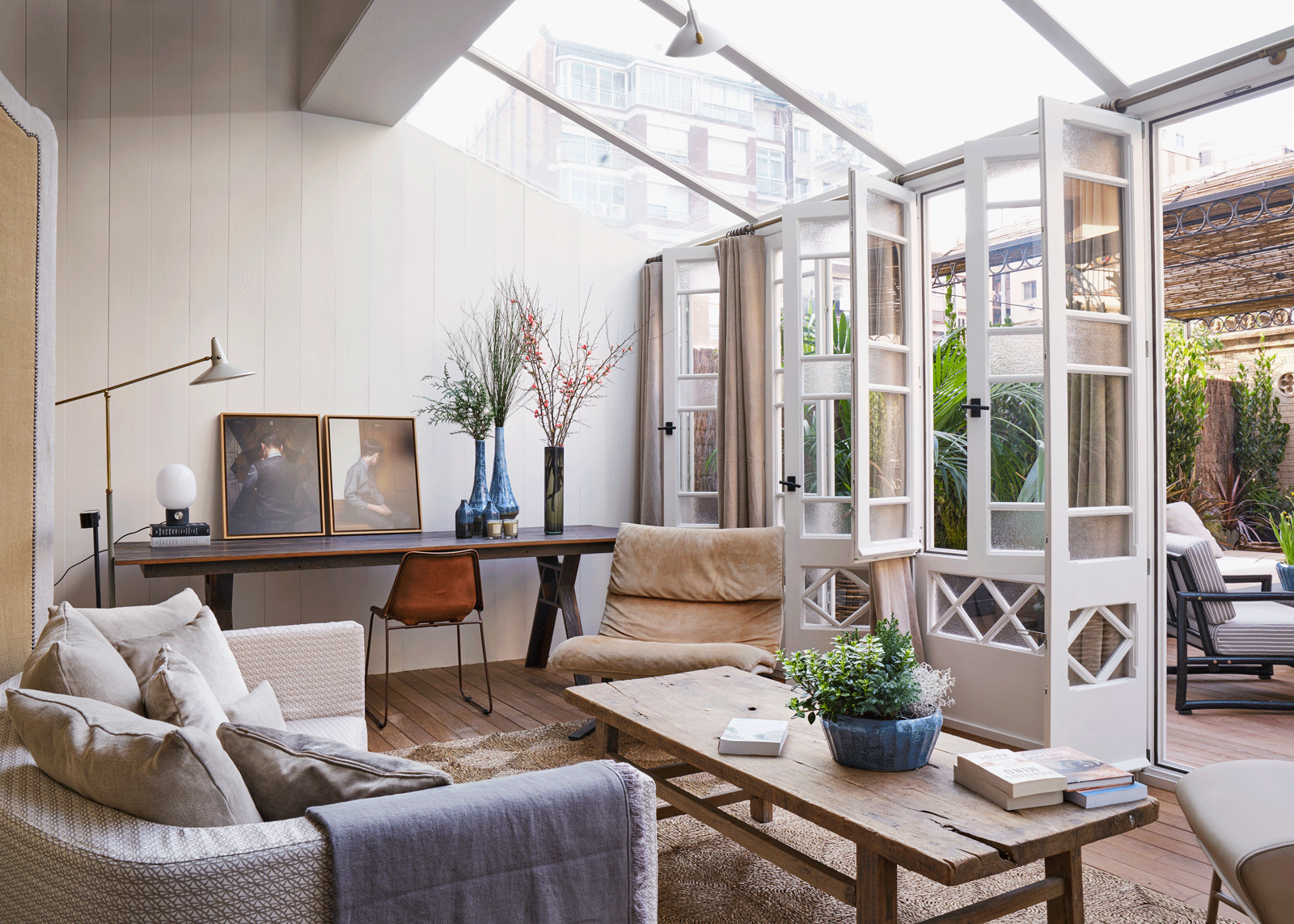 Taking a more modern approach, this historic home in Notting Hill is crowned by it's best feature: a roof garden with a rooftop garden office.
This space is accessed via a separate, modern staircase in the master suite, making it completely private, and free from distractions.
Architecture firm Boundary Space created a private home office where the owner could escape to and fully concentrate in, raised above the hubbub of both the street and the rest of the house.
Boundary Space worked with landscape designers FRLA to create a garden that you sat in and looked through, with grasses and ferns that somehow remove the feeling of being at height despite being on the 5th floor.
The wild, meadow-like grasses create a serene sense of isolation.
Wild, meadow-inspired planting outside the office gives it a garden office feel.
11. Incorporate greenery indoors
Adding potted plants to your home office will help to make it feel like part of the outdoors.
12. For larger garden offices, consider plumbing in a small kitchen and loo
If you're going through the effort and cost of creating a large garden office, it makes sense to incorporate a small loo and kitchen area. This way you can stay in the space for hours or even all day, without having to stop what you're doing and go in and out of the main house, creating interruptions to concentration and work flow.
13. Embrace working 'al desko'
Alternatively, keep things super simple and just set up a work station from the dining table or potting table outside.
"Although working from the hammock may sound cozy, if you're going to be working outside for a long stretch, your best bet is to set up shop at a traditional outdoor dining table. If you want a standing desk option outdoors, two alternatives are repurposing a potting bench or a bar height table. Consider the same ergonomics as your traditional desk setup," advises Mark Feldman, Chief Home Officer at Riverbend Home.
A study from Lenovo found that half of Brits will be working 'al desko' once the weather warms up. The below garden table from Habitat incorporates planters into the table – great as an outdoor desk, and a great spot for morning coffees or al fresco lunches too.
Everything You Need To Know About Building A Garden Home Office
Why should you create an outdoor office space?
There are so many reasons you might want to build an outdoor home office, or an insulated garden building, include wanting a space to concentrate without family distractions, or a place to write, draw, produce music, be creative or socialise. People want somewhere they can disconnect from their usual habits and routines in the house, somewhere to come and read and relax and get away from it all – without traveling too far.
"Investing in a garden office can be a great way to create a light and airy environment to work in, away from distractions, enabling you to benefit from the physical and mental health advantages of being closer to nature," says Karen Bell, Creative Director for David Salisbury.
And then there's the added bonus that building a garden office will add value to your home. According to DIY fanatics MyToolShed, building a garden office pod or shed will add over £12,000 to the value of your property.
Creating a garden office has tax relief benefits too. Specialists from Chartered Accountancy practice, Sheards Accountants weigh up the different tax benefits there are to creating a new work from home space:
If the building already exists (such as a garage or summer house), you can claim tax relief for any furniture or equipment installed within the building during the conversion - this could include items such as desks or shelving. In the majority of cases, you will be able to claim tax relief in the year purchase. 
It is also possible to claim a capital allowance for any improvements that are made during the conversion, such as thermal insulation, wiring and plumbing costs. This is also the case for the running costs of the garden office - for example, lighting and heating.  
However, if you are looking to build a new outbuilding or office space within your residential property, it would be classed as a structure. This means it is not usually possible to claim tax relief for the costs of the building itself. This is also the case for claiming against the costs of any planning or installation.
Last but not least, working outdoors can do wonders for your mental health too.
New research from Lenovo found that 45% have struggled with their mental health more during the third lockdown, compared to the previous two, and that 79% feel more productive once they've had some fresh air.
Do I need planning permission to build a garden office?
As a general rule, garden offices are considered to be permitted developments, so can be built without planning permission. However, you need to ensure you follow certain conditions, including ensuring the structure is a maximum height of two and a half metres and doesn't cover more than half the land surrounding the residential property. If your home is a listed building, there may be restrictions, so it is important to check the regulations before any construction begins.
Failing to comply with planning laws could land you in trouble with the council and your neighbours.
Essentially, outbuildings like sheds, cabins, greenhouses and garages don't need planning permission if they meet the following guidelines:
• It is single story with roof eaves no higher than 2.5 metres • It covers no more than half the area of land around the original house • It will only be used by members of the household • It is not used as living accommodation • It is made from timber
However, rules can vary between councils and they are tighter in designated areas, like Areas of Outstanding Natural Beauty or if you own a listed building.
If you're unsure, speak to your local planning office. It's also polite to let your neighbours know too.
David Salisbury's Creative Director, Karen Bell suggests: "Whilst most small orangeries and conservatories don't require planning permission, the exemption size is quite limiting, especially for a typical modern orangery. In seeking permission, there are certain rules to comply with, regarding the percentage of land covered, and the maximum heights and depths allowed in different scenarios.
There are ways you can help your planning application succeed though. Discussing your ideas informally first with the planning officer – before paying any fee or completing the application form – can save you time and money, and you may find that any potential objections can be overcome by agreement at this formative stage. It's worth sharing drawings and plans too, and emphasising the build quality.
Smaller orangeries or conservatories can often be built under what is known as 'permitted development,' which allows single storey rear extensions, within strict size limits, to potentially be built without necessarily the need for a full planning application.  Under these rules, the permitted size of single-storey rear extensions must not extend beyond the rear wall of the original property by 6m for an attached property or 8m for a stand-alone home.  Over 110,000 people have extended their home since 2013 under Permitted Development, subject to prior notification of the proposal to the Local Planning Authority amongst other additional requirements.
It's also a good idea to tell your neighbours in advance, to avoid them objecting. Having the courtesy to provide a heads up and providing a proper explanation of your plans can save misunderstandings further down the line.
Finally, remember that your designs should be sympathetic and subordinate, not overpowering – avoid schemes that would drastically change the history fabric of your house, and instead, pick out features of the house and introduce them into your design."
Where is the best place for a garden office?
Think about how the new outbuilding could impact the view from your house, and whether it will block light or limit the functionality of your outdoor space. The same goes for your office space – what do you want to look out on? And how can you maximise light?
Often, people place their home office at the end of their garden to tick both boxes. It's far away enough to feel like a separate space and means you aren't sacrificing too much of your garden either.
Garden structures are best built on level ground with concrete piles, so avoid sloping areas or parts of your garden that get water-logged after heavy rainfall. A south-facing office will also benefit from more natural light throughout the day.
Should I choose a bespoke or ready-to-build garden office?
Buying a garden pod or garden building can be pricey, and there are cost-saving benefits to be made from creating your own garden building vs buying a pre-made design. 
"However, for those who simply cannot find the time to build their own shed, an affordable pre-made shed still could pay for itself within a few years compared to renting office space," advises Ross Goodwin, Managing Director of MyToolShed.
Unless you're a builder by trade or an expert DIYer, get the help of a company to realise your home office dream. Most suppliers will also offer a supply-only packaging, allowing you to choose a local building contractor to help you construct it.
There are self-assembly kits available on the market, but these are often the most basic of designs and have limited functionality. If you have more complex needs for your garden office or grand design goals, a bespoke supplier can help create your perfect structure which fits in with your home's architecture, but bear in mind it will take longer to arrive and install… and, of course, cost more.
If you don't have external access to your garden, always check how materials will arrive at your property to make sure it's feasible. It also depends on your budget; home offices can range from a couple of thousand up to £30K+.
What tax relief benefits are there for garden offices?
Creating a garden office has tax relief benefits too. Specialists from Chartered Accountancy practice, Sheards Accountants weigh up the different tax benefits there are to creating a new work from home space.
If the building already exists (such as a garage or summer house), you can claim tax relief for any furniture or equipment installed within the building during the conversion - this could include items such as desks or shelving. In the majority of cases, you will be able to claim tax relief in the year purchase. 
It is also possible to claim a capital allowance for any improvements that are made during the conversion, such as thermal insulation, wiring and plumbing costs. This is also the case for the running costs of the garden office - for example, lighting and heating.  
However, if you are looking to build a new outbuilding or office space within your residential property, it would be classed as a structure. This means it is not usually possible to claim tax relief for the costs of the building itself. This is also the case for claiming against the costs of any planning or installation.
How can I keep my garden office warm in winter?
You'll likely be using your home office all year round, so it's important the space is easily heated in the colder months and stays cool as temperatures rise.
Walls at40mm por thicker with double glazed windows will help retain the heat in the winter, so too will underfloor and roof insulation. Most garden offices on the market have insulation already incorporated. Laying rugs and soft furnishing can also make the space feel cosier and warmer.
Timber structures are naturally highly insulated and have good ventilation too, which help keep them cool in the summer. In particularly cold snaps, install an electric heater which attaches to the mains supply to keep your working space at an ambient temperature.
Are garden offices safe from burglars?
Garden offices are a prime target for burglars, being empty at night and often filled with expensive equipment. But there are extra security measures you can put in place.
If you can, at the end of the day bring in any portable devices and sensitive documents to your house to reduce the risk.
There are also many deterrents you can install to stop thieves in their tracks, including motion sensor security lights above the entrance door, blinds to block their view of the inside, and a gravel pathway leading up to your office that makes a noise underfoot.
Most garden offices will have window and door locks pre-installed which meet recommended security standards, so check with your supplier.
Make sure to update your home insurer when you have a garden home office built and check to see if they have any additional security requirements. That way, you'll be covered if the worst does happen.
How to create a garden office, Step-by-step
Levelling: A solid, dry and level foundation will ensure that your office stays standing for as long as it needs to and in any weather conditions.
Base framing & Decking: Don't skimp on your joists! Use timber that is strong enough to support plenty of weight. "Get the timber merchant to pre-cut as MUCH as possible. Longer lengths have higher per-metre cost. It was anything over 5 or 6m in my case. I didn't factor this in and paid the price. Definitely avoidable," advise experts at MyToolShed. 
Wall Raising: You may need a helping hand for this part. Make your poles with reverse angled screws to hold them in place whilst fixing them to an OSB base and to each other.
Roof laying: Consider using a membrane all-around your roof before adding steel sheets. The wrap will stop any water that gets through the steel from wetting the OSB sheathing below.
Windows, Doors & Cladding: Want more windows? Unfortunately, this will cost more money and time to implement. If you've got the time and money - go for it - if not, consider focusing on lighting instead.
Electrics and internet: We would recommend leaving the electrics to the experts. Contracting a professional will cost around £500 but obviously, your safety is not something to compromise on.
Roofing/Sliding: Get your steel grinder out for this part. The best place to cut metal roofing is on the grass as it will prevent too much sliding. Add a piece of wood to one end of the metal for it to hang over. This will prevent you from cutting into your turf.
Insulation & Vapour Barrier: Fibreglass is a cost effective option for insulation. It is easier to find a deal on a large amount of fibreglass. However, consider wearing a mask when working with it, as direct contact with fiberglass or breathing airborne dust containing fiberglass, may irritate the nose and throat. Depending on your local climate you may also want to consider a vapour barrier to reduce the risk of condensation issues and maximise heat retention. 
Plasterboarding & Plastering: Make sure your plasterboarding work is neat and you have minimal gaps because these take a long time to smooth over. And hire a plasterboard lift if possible or call on more than one extra person.
Flooring: Hiring a professional for this can often double the costs of flooring, so look around for a deal on laminate flooring. You should be able to pick some up for around £6-8 per square metre and skirting for about £1 a metre.
How to be productive while working from the garden or a garden office
Mix things up: We know that working from home can be monotonous and the hours tend to run away from us. Getting outside can do so much good for our wellbeing and can help break the day up, but sometimes we forget to make time for this. Why not switch things up and take a phone call whilst you walk round the block, or finish your report out in the garden. Even moving your desk to face the window and letting the fresh air into the room could make a big difference!
Make sure you've got the right tech: We've seen from our research that people's productivity is boosted by getting outside, but many don't have the tech set up to do so. Products that don't rely on WiFi, such as the Lenovo 5G, are a great way to keep you connected whilst allowing you to mix up your office environment and take yourself outdoors. Devices that have a long battery life will also be preferable, to ensure you don't have to keep running back inside to charge you laptop.
Make sure you have a suitable workspace: While working outdoors is a great idea, ensure its still a space that allows you to concentrate and feel productive in. We've seen from the research that many are looking to re-vamp their garden to make it better for outdoor working. If you're one of these people, why not think about adding in comfortable seating, to ensure that you can be outside for longer, or even an umbrella to protect your screen when you're working.
Keep your body moving: We know that fresh air and exercise can do wonders for our mental health and wellbeing, so take advantage of the outdoor weather whilst you can! Before you set yourself up for a day of work in the garden, why not turn that outdoor space into a home workout circuit to get the blood flowing. If you're not a morning person, carve out some time before dinner or break up the day using your lunch hour.
Outdoors as inspiration: As Covid restrictions start to lift, why not meet up with colleagues face to face at a local park or outdoor café. Being in the outdoor surroundings and fresh air is bound to inspire new ideas and creativity. Making the most of a sunny outside spot, that gives you plenty of sunlight and access to vitamin D, can help to improve your overall mood and memory, increase your problem-solving ability and reduce overall brain fog.
And finally, six vital dos and don'ts when buying a garden office
What should you consider when buying a garden office and, more importantly, what pitfalls should you avoid? 
If you are crying out for more home-working space and looking for a lower cost alternative to building a bricks and mortar extension, then a garden room is a savvy solution. Planning permission is not normally needed, but there are rules to follow, and it's important to think ahead about what you want to use the space for. If designed and built correctly you should have a building that adds value to your home, and can be used not only as a great home office but by all the family too.
Spend a bit of time working out exactly what you want from your garden room before you make a final decision. Shop around and make sure you visit a showroom as some are more like sheds than buildings.
Here are six dos and don'ts on choosing a great garden room: