Fragrant plants for containers – we asked experts for their perfumed potted picks, these were the ones they all mentioned
These fragrant plants for pots not only look good and are easy to maintain, but also help in scent scaping the patio and other outdoor areas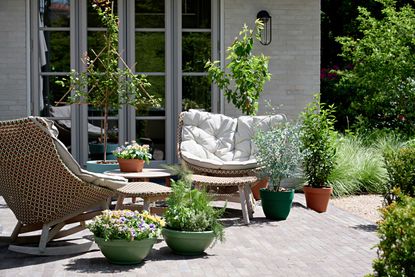 (Image credit: thejoyofplants.co.uk)
The Livingetc Newsletter
For style leaders and design lovers.
Thank you for signing up to LivingEtc. You will receive a verification email shortly.
There was a problem. Please refresh the page and try again.
Scent is a much overlooked element of landscaping, and beautifully fragrants plants and flowers are often to regarded as a happy accident, rather than something purposefully planned.
They're most underutilized around outdoor seating areas, surrounding alfresco dining spaces and anywhere you entertain in your backyard - after all, these are the places you'll reap the most reward from paying attention to your garden scentscape.
For a perfumed deck or patio, your best bet is to look to container gardening, so you've got potted plants that you can integrate among your outdoor furniture. We asked their experts for the top picks - these are the ones that kept cropping up.
1. Potted rose
A rose by any other name smells as sweet, remember? Roses are a good choice as most varieties can be grown in containers. Plus, the plant's fragrance changes throughout the day.
'The potted rose will thrive when placed outdoors or on a terrace in an area with good airflow,' says Whitney Bromberg, founder, and CEO of Flowerbx. 'Potted roses love sunshine and should be in a position that receives sun for at least half of the day to encourage the most luscious flowers.'
'Your plant should be kept evenly moist throughout the growing season and requires frequent watering,' says Whitney. 'In temperate conditions, water deeply once a week, increasing this as the weather gets warmer. Water at the base of the plant to avoid damaging the delicate flowers.'
'The fall is the best time to start winterizing your potted roses by placing them indoors in a cool space, then in the spring they can be moved back outdoors,' Whitney adds.
$7.90
2. Snow White Hyacinth
'There are few potted plants that are as deliciously fragrant as hyacinth plants,' Whitney tells us. 'The Snow White Hyacinth plants are beautiful in every stage of their growth and release the most magical fragrance as the buds unfurl. A symbol for peace, commitment, and beauty, in a soft and delicate ivory shade, hyacinths are a sure sign that brighter days are on their way, and will make the perfect spring-time gift for a loved one or treat for your own home.'
'Their bulbs should be kept in a light area, but not in direct sunlight,' she adds. 'Water as little as possible before flowering to keep the moss damp but to prevent the stems from growing too tall. When the flowers appear after 5-10 days keep them in bright, indirect light and water lightly whenever the moss becomes dry. After flowering, you can plant bulbs in the garden where they'll bloom the following spring.'
Due to their striking and beautiful appearance, these also look good as a window box variety. Hyacinths have sturdy foliage, so they can be shallow planted in pots and containers.
$7
3. Lavender
Lavender has a beautiful scent and also makes one of the best shrubs for containers. 'It's a fragrant herb known for its calming properties,' says Richa Kedia, gardening expert and publisher, and founder of Simplify Plants. 'It is easy to grow in pots and requires minimal care. To maintain it, choose a pot that is at least 12 inches deep and wide, and well-draining soil. Add some sand or perlite to improve drainage. Always remember to place the pot in a sunny spot, as lavender requires at least six hours of sunlight daily. Water the plant deeply once a week, making sure the soil is dry to the touch before watering. And, to prune the plant regularly to encourage bushy growth and prevent it from getting too leggy.'
'Lavenders are also great for attracting pollinators,' says Emma O'Neill, head gardener at Garden Organic. 'This plant also requires less water. They have a lovely silver foliage, and give the space a natural aroma and aesthetic appeal.'
There are several species of jasmine and they are all fragrant. These vines make excellent fragrant container plants, as long as they are pruned frequently. These also can be attached to a small trellis. Due to its soft appearance, it makes for a nice indoor plant too, that offers a lovely scent around. Perhaps consider making it a part of your garden office as well, to keep the vibe relaxed.
$24
4. Lemon verbena
'Lemon verbena is a fragrant herb known for its citrusy scent,' says Richa. 'It can be grown in pots and is relatively easy to care for. To grow one at home, choose a pot that is at least 10 inches deep and wide. You will have to use well-draining soil and add some compost or organic fertilizer to improve soil quality. Remember to place the pot in a spot with 6-8 hours of direct sun, and provide some shade during the hottest part of the day. Also, water the plant regularly, keeping the soil evenly moist but not waterlogged. Fertilize it with an organic fertilizer once a month during the growing season, and prune the plant regularly to encourage bushy growth.'
The plant is a beauty in the landscape and can look great on a patio or backyard deck. Lemon verbena has an elegant shrub that is 6 feet tall by 8 feet wide. The leaves release a refreshing fragrance each time they're touched, making this herb a good choice for planting the outdoors or close to seating spots. Native to tropical regions, the lemon verbena is perennial in frost-free areas.
$7
5. Gardenia
Gardenias not only look aesthetically pleasing but their scented white flowers and dwarf varieties are great for growing in pots. Place these potted plants close to the outdoor living room, and allow them to fill the space with natural scent.
These are great, ideally for warm, humid climates in a sunny or partially shaded position. These thrive in moist, but well-drained, acidic soil with plenty of organic matter. They require regular watering even after the plant has bloomed. Gardenia needs to be pruned after flowering has ceased to remove spent blooms and untidy branches. These require frequent fertilizing to ensure healthy growth; consider using fertilizers specifically formulated for acid-loving plants. Do not fertilize gardenias in the fall, which can stimulate growth. This tender, new growth will quickly die when exposed to cold winter temperatures.'
$19
For style leaders and design lovers.
Aditi Sharma Maheshwari is an architecture and design journalist with over 10 years of experience. She's worked at some of the leading media houses in India such as Elle Decor, Houzz and Architectural Digest (Condé Nast). Till recently, she was a freelance writer for publications such as Architectural Digest US, House Beautiful, Stir World, Beautiful Homes India among others. In her spare time, she volunteers at animal shelters and other rescue organizations.