Double kitchen islands – 7 luxurious ways to make your kitchen work even harder
Be inspired by these double kitchen islands to add even more surface space, storage and style to your space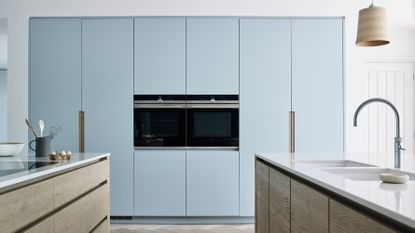 (Image credit: Roundhouse)
The idea of having a double kitchen island may at first seem excessive, but they can in fact be a really useful way of dramatically increasing both the functionality and practicality of your kitchen, as well as its visual appeal.
'A double island design is the ultimate luxury if you have the space,' says Graeme Smith, Head of Retail and Commercial Design at Life Kitchens. 'It will offer lots of additional work surface space without the imposing nature of having one very long island'.
Despite their feeling of grandeur and luxury, you don't necessarily require an enormous space to house two kitchen islands. In a smaller room, you can reduce the scale of the islands themselves and still gain the benefit of additional counter space. However, you will always need adequate space around them in order for your kitchen to feel comfortable and functional.
How can you fit in two kitchen islands?
First, work out if your space is wide enough for a central island. 'If the kitchen is going to have runs of furniture on each side, you need the room to be at least 4.2m wide in order to accommodate a useful island', says Richard Moore, Design Director of Martin Moore.
The next thing to assess is whether you have room for two. No matter what your existing floor plan or desired kitchen layout is, Allison Lynch, Designer at Roundhouse, explains the importance of allowing for adequate space between each island and surrounding areas.
'My professional opinion is to have at least 1.1m - 1.2m between the two working parts of the island', she says. 'For example, if you have a sink on one side and dishwasher on the other, you need to allow space for both to be used simultaneously. You must consider that the cook standing at the hob also needs space to safely prepare and cook meals without being bumped by a person trying to make a cup of tea or putting dishes into drawers within the island.'
So, if your room measures up, our experts have got you covered with genius ways to incorporate some island life into your kitchen…
1. Create clear zones for a practical layout
Double kitchen islands are a show stopping way to take advantage of a large space, but they should also be used as a tool to utilise space and help a room reach its fullest potential. One way to do this is to zone your kitchen by task, and allocate a designated area or island for each. Graeme Smith, Head of Retail and Commercial Design at Life Kitchens, explains.
'A double island allows you the surface area to create clear and separate zones for each of your kitchen's functions. You could have one island for cooking and preparing, and one to house the sink and dishwasher for clearing down,' he says.
In a large kitchen, having two islands is also one way to keep your amenities nearby when cooking, as well as establishing a clear direction of movement in a vast space. 'If you design all your work surface functionality into the islands, you'll have instant access to everything you need, without having to walk all the way round,' says Graeme.
2. Double kitchen islands are perfect if wall space is lacking
If you're short of usable wall space for kitchen cabinets, double kitchen islands could be a great way to still create a kitchen that has everything you need. Allison Lynch, Designer at Roundhouse, explains the thinking behind this particular project.
'This space has a lot of glass, as well as openings and doors to other areas of the house,' she says. 'So, to maximize room for storage and optimize the position of the hob and the sink, we felt the two-island concept was the perfect solution for this project'.
A run of tall cupboards on the available wall house the fridge, larder, and oven, while the remaining parameter of the room is uninterrupted thanks to the central kitchen islands. 'A single island wouldn't have provided the required practical worktop space around the sink and the hob respectively, so it made sense to split them.' says Allison.
If you're installing a hob into one of your islands, Allison has a top tip; 'Opt to have the hob on the island that faces out into the dining area. This will allow the cook to socialize and entertain while cooking'.
3. Take advantage of a wide kitchen
While having a large space is enviable, it can also be daunting and certainly comes with its own challenges. Being able to fill the room while achieving the right sense of scale is often a stumbling block, and double kitchen islands are one way to solve this. Manfredi Conforzi, Commercial Manager at Officine Gullo, explains how they were used in this particular project.
'The space we were working with was very wide but not very high,' he says. 'For this reason, we wanted to create a kitchen design that took full advantage of the width of the room and that would give structure to the large open space'.
Double kitchen islands occupy the space beautifully, and their structure can really help to make sense of a big room visually. 'Using two enabled a sense of symmetry to come in a very natural way,' says Manfredi. 'In dimensions, the islands are the same and they have been placed in the room in order to create a direct path around the kitchen - the symmetry wasn't created in terms of style but that is definitely one of the advantages of double islands.'
4. Make it moveable
If you love the look of a double kitchen island but require more flexibility, this could be the solution for you. 'In this project, the large central island is the heart of the kitchen and provides work surface, prepping space and boasts a sociable curved end for perching and informal eating,' says Richard Moore, Design Director of Martin Moore. 'Rather than introduce a second island, we decided to design a large multi-purpose 'cook's table' which can be moved around the room'. A free-standing piece means the space can adapt to your needs. It can be an extra prep surface nearby, or can be moved further into the room when entertaining.
Richard adds, 'Adding a second island also gives you the opportunity to choose a purpose-specific kitchen countertop. For example, you might want to choose marble worktops for an island that is perfect for baking or pastry-making'.
5. They don't have to be symmetrical
Daniel Bowler, Director of Eggersmann UK, also sees the inclusion of two islands as an opportunity to mix materials for some really purpose-specific kitchen design. 'There are no hard and fast rules on sizing and materials, and no reason why two islands should have to be symmetrical,' he says. 'In fact, two islands of differing heights or in contrasting materials can help with zoning a larger space and differentiating between a space to work and a space to rest.'
You might want a slightly lower island for cooking on a hob, while a higher island to prepare food and access the sink may feel more comfortable. If you use one of the islands as an entertaining space, allow for the type of island seating you choose to play into the overall height.
The layout of your room will also largely dictate whether it's possible to have the islands entirely symmetrical. 'Two coordinating parallel islands often work best in a large, square kitchen,' says Daniel. However, if the footprint of your room is different, lean into this and stagger the islands or position adjacently - and for additional visual interest, explore mixing your materials.
6. Go big on storage and added extras
Fundamentally, double kitchen islands hugely increase the size and potential of your kitchen, and this means more opportunity for kitchen storage ideas and some fun extras. 'Two islands in a kitchen provide excellent functionality by maximising all the available floor space and turning it into a valuable working area,' says Gary Griffin, Sales Manager at Rational UK.
'Additionally, they can provide extra storage space and the chance to include luxury secondary appliances such as a wine cooler,' he says. It's also a great idea to ensure that storage is accessible from both sides of the island with a comfortable clearance for ease of use.
7. Evaluate what you need from the space
With so much potential and choice, the main thing about designing double kitchen islands into your space is making sure they will really work for you. 'Kitchen islands are a perennial favorite, and are in even more demand as we increasingly require more from our kitchens - they often need to be workspaces and classrooms, as well as food preparation areas,' says Tom Howley, Design Director at the eponymous kitchen company Tom Howley.
Assess how you use your space, and make a list of your top priorities. Take note of your daily habits and try to think how a double kitchen island could support these. For example, if you often find yourself cooking dinner while someone else is having a zoom call, separate kitchen islands could offer comfortable space for both activities. 'I have designed kitchens where the island counter makes up just 15% of the worktop space but boasts 90% usage,' says Tom Howley. 'They can serve as impromptu dinner tables, bars, home offices, and food prep stations. Sometimes all at the same time!"
What is the purpose of a double island in a kitchen?
A double kitchen island can be such an asset to a kitchen, adding more surface space, more storage and more style. You can also use them to incorporate you appliances or a sink or hob to free up space elsewhere in the kitchen if you don't want to crowd your walls with cabinetry. They can also work wonders to help zone a large space or an open plan kitchen.
How much space do you need between two kitchen islands?
The general rule is that you should have at least 1.2m clearance around your island for it to be a functional addition. So you'd want to get a close to that between to islands too. Plus consider what you will use each island for as this will also dictate how much space you need.
The Livingetc newsletter is your shortcut to the now and the next in home design. Subscribe today to receive a stunning free 200-page book of the best homes from around the world.
Interiors stylist and journalist Amy Neason was the Deputy Style and Interiors editor at House Beautiful for years. She is now a freelance props and set stylist, creating work for a range of national publications and brands such as Imogen Heath. She has previously worked at Established & Sons, and her skills include styling still life and interiors shots for editorial features and sourcing unique products to create inspirational imagery.

She is particularly respected for interpreting seasonal trends into feature ideas and style stories.