Designers share secrets to making your TV console more stylish - little twists that make this unloved piece more elegant
Because it's a piece of furniture you look at - or just above - so often, we asked designers how they decorate a console table to turn tech into something far more stylish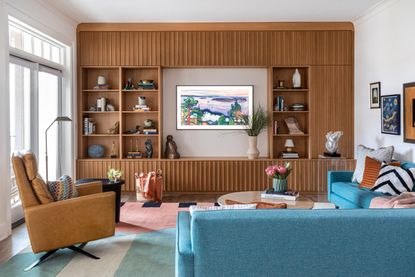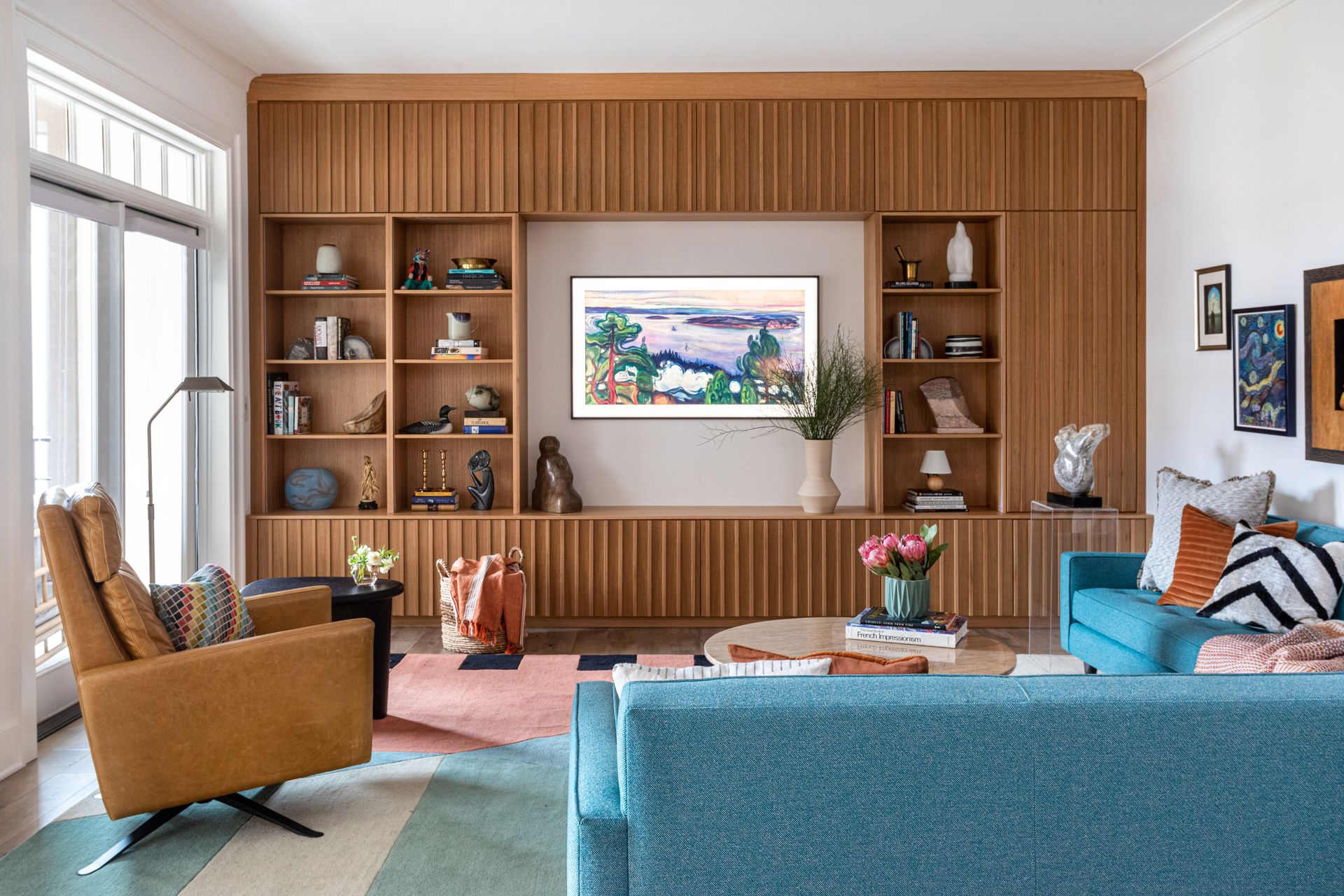 (Image credit: Heidi Harris)
The Livingetc Newsletter
For style leaders and design lovers.
Thank you for signing up to LivingEtc. You will receive a verification email shortly.
There was a problem. Please refresh the page and try again.
We have noticed one very clear similarity between all the living rooms we swoon after. They could have a totally different color scheme, totally different style but the thing they all have in common is you don't instantly notice the TV. It's either hidden in some bespoke unit, subtly integrated into a gallery wall or (and this is what we are going to focus on here) it's sat upon an expertly styled console.
Tech can be such an eye-sore and really distract from the rest of the room, but let's be honest, most living rooms do have a TV, and the most common home for a TV is a TV console. So it's down to this piece of furniture to do all the work in turning the TV into a stark black square to a less noticeable, more stylish part of the room.
Tv console decor ideas
We asked some of our favorite designers how they approach a TV console, and what tips and tricks they use to elevate this surface.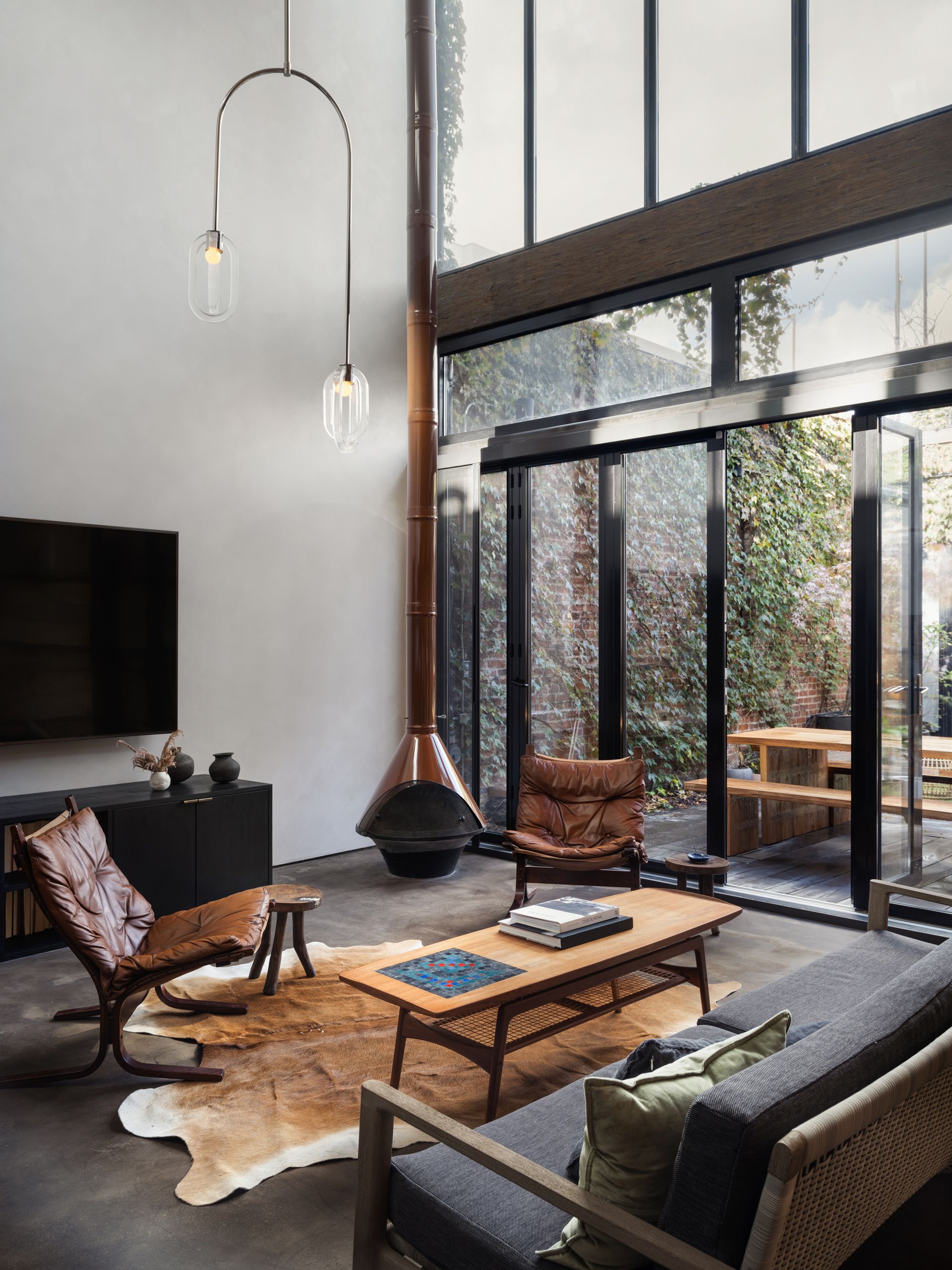 Designer Kati Curtis gets it spot on when she says, 'While designers often overlook them, TV consoles are undeniably a crucial and prominent aspect of our lives. Although you won't find glossy magazine photos showcasing their beauty, we all know they exist in every household.'
'But just like a chest or any other case piece in your home, TV consoles can be adorned with carefully chosen accessories. Embrace your creativity when it comes to the console itself – for instance, in my own home, I brought back a beautifully carved piece from Bali and modified it by creating cord outlets at the back. I proudly display my favorite books, a small bowl containing healing crystals (to counterbalance the TV's electromagnetic fields, at least in my perception), and various keepsakes from my travels. TVs are an integral part of our lives, and the space they occupy can be aesthetically pleasing as well.'
So with that in mind, here are plenty of inspiring TV console decor ideas...
1. Get the TV off the surface of the console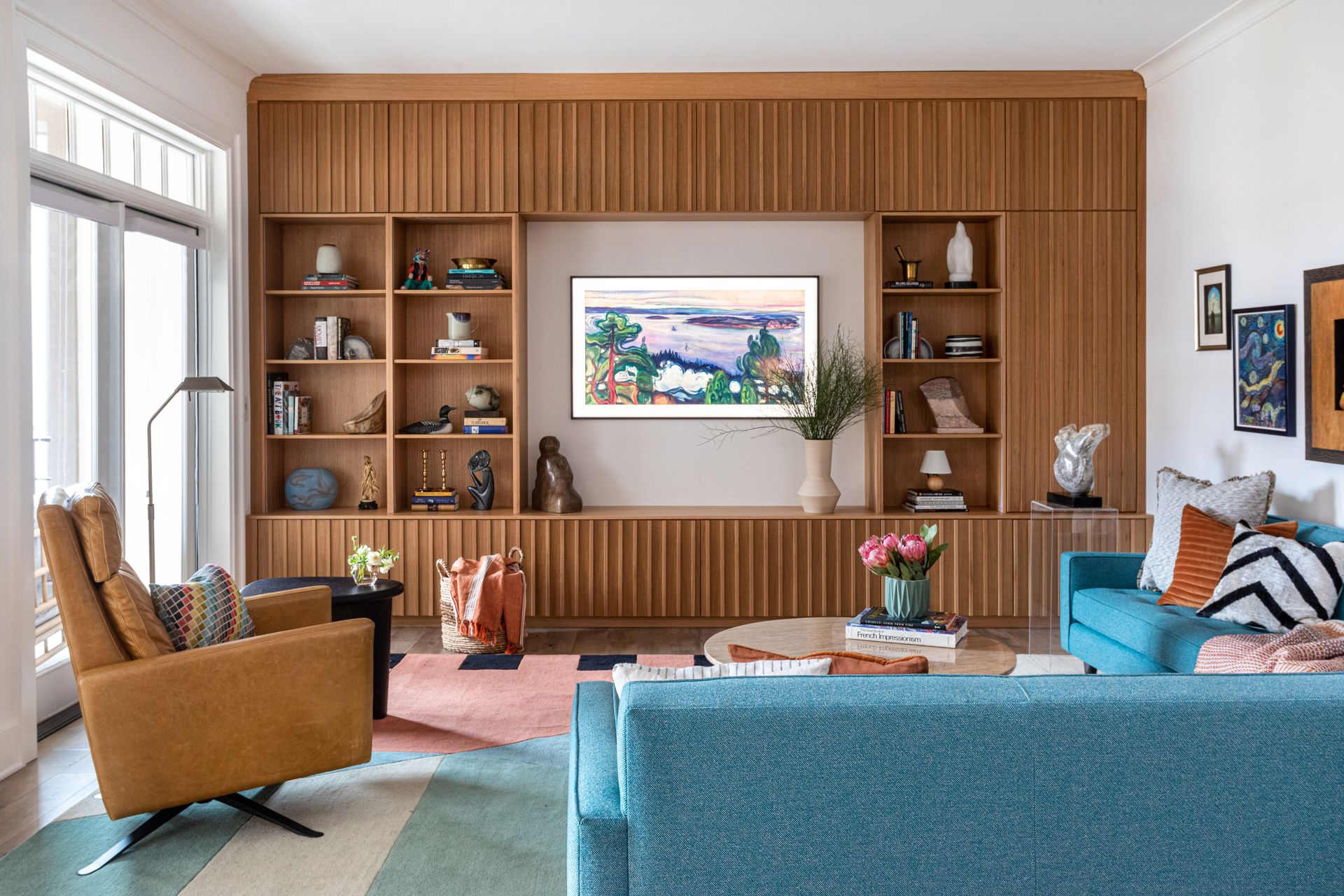 To add decor to a living room TV console, you firstly need the space to do so. If you want to add any kind of decor that has height, you need that clearance so the screen isn't blocked when in use. 'Lift the TV off the surface,' is the advice of Jessica Davis of Atelier Davis. 'That gives you a little space below it to style the surface with books, accessories etc. And if you have something like a cable box, make sure your TV console has closed storage as well.'
Design Marie Flanigan agrees that ''One of the best ways to integrate a television and console into your design is to make sure you mount your tv to the wall and situate the console centered below. Simply mounting your television makes it feel more like an installed piece of art and less like an entertainment piece. Style the actual console like a console with artwork hanging above it. I love the idea of a table lamp, stacked books, framed pieces or a beautiful piece of pottery.'
'We wanted this living room to be multi-functional – providing storage, display for the owner's art collection and a spot for the TV,' adds Jessica. 'It was a big wall and we didn't want the tv to just be floating on the wall with nothing around it. A built-in console with shelving seemed to make the most sense to provide a feature that wasn't just about the TV.'
2. Frame the TV with more interesting collections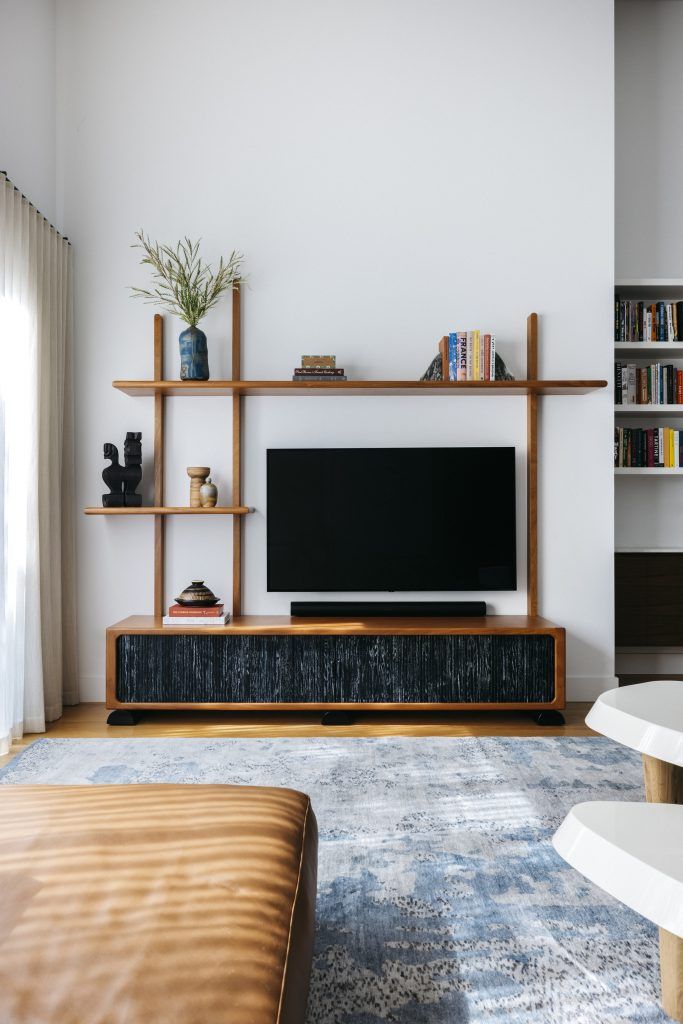 You'll notice a reoccurring theme here – console decor should help blend the TV into the room. The easiest way to do that is to choose a design that doesn't just sit under the TV, but wraps around and gives ample opportunity to add interest and lessen that contrast between TV and blank wall.
This design by Stelly Selway is the perfect example. Still minimalist and in fitting with the mid-century aesthetic of the rest of the room, it adds just enough surface space to bring in books and ornaments. The decor doesn't just distract by adding clutter, the display feels curated and balanced.
'This wall unit was custom built for a client out of mahogany floating shelving and serused tambor case piece as the base. The structure was designed in reference to mid-century wall units but with the use of some modernized materials and a color palette to bring some playfulness to the practical and necessary storage piece',' explains co-principal Benjamin Stelly. 'The primary focus for the piece is to house media equipment that we didn't need out on display and create a frame for the television so that it wasn't the primary focal point of the room.'
3. Keep it sleek and minimal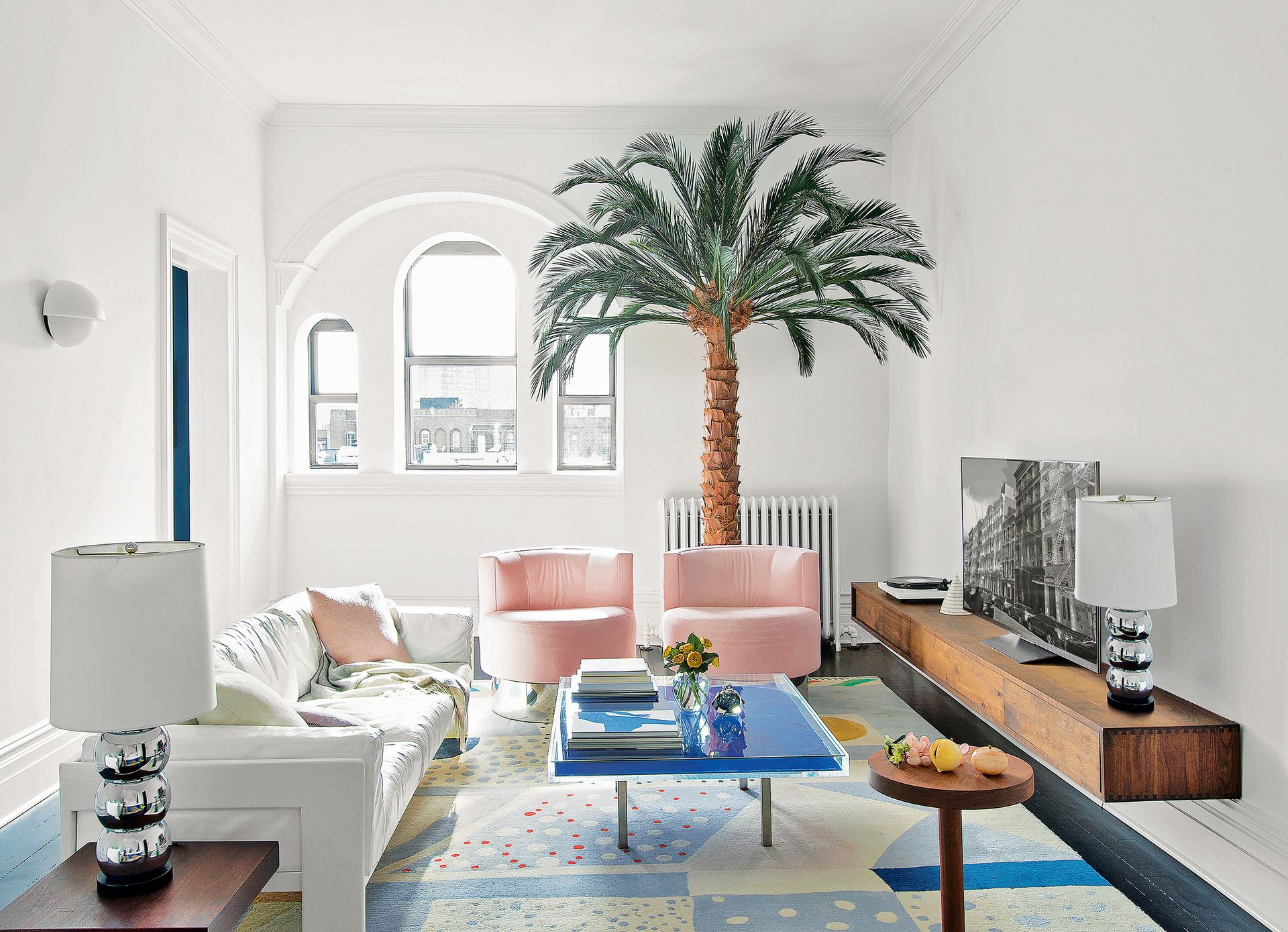 In a small living room, the best approach is to keep things simple. You don't want to make the room feel smaller by filling every surface with decor – stick to just a couple of pieces and leave plenty of the surface free. Negative space is an essential when space is tight.
See in this space, designed by White Arrow, the TV actually sits on the floating console. While wall mounting a TV in a larger living room gives you more opportunity to seamlessly blend it into the room, the same rule probably doesn't apply to a small living room if you want to keep the walls free of visual clutter. Instead, perch the TV on the console and use something of a similar height to sit next to it – here that's a lamp but a vase or stack of books could work too.
'Our goal was to have a larger scale statement coffee table by Yves Klein and given the width of the room we had to be strategic in the spacing and layout. We needed enough space to move around the furniture so we designed a custom floating walnut credenza under our flat screen TV. It keeps the footprint of the room light and open and provides a natural counterpoint to the light and bright vintage furniture,' explains co-founder of White Arrow, Keren Richter.

'We mounted our streamlined and minimal credenza design onto our wall. We originally had planned for hardware but decided we liked the more minimal look after it was installed. We can push or pull the sliding wood cabinet doors to access our TV hardware and accessories and use the credenza, which runs the length of our wall, as an opportunity for sculpture and art display as well as a place for our record player,' she adds.
4. Blend the TV into a gallery wall above the console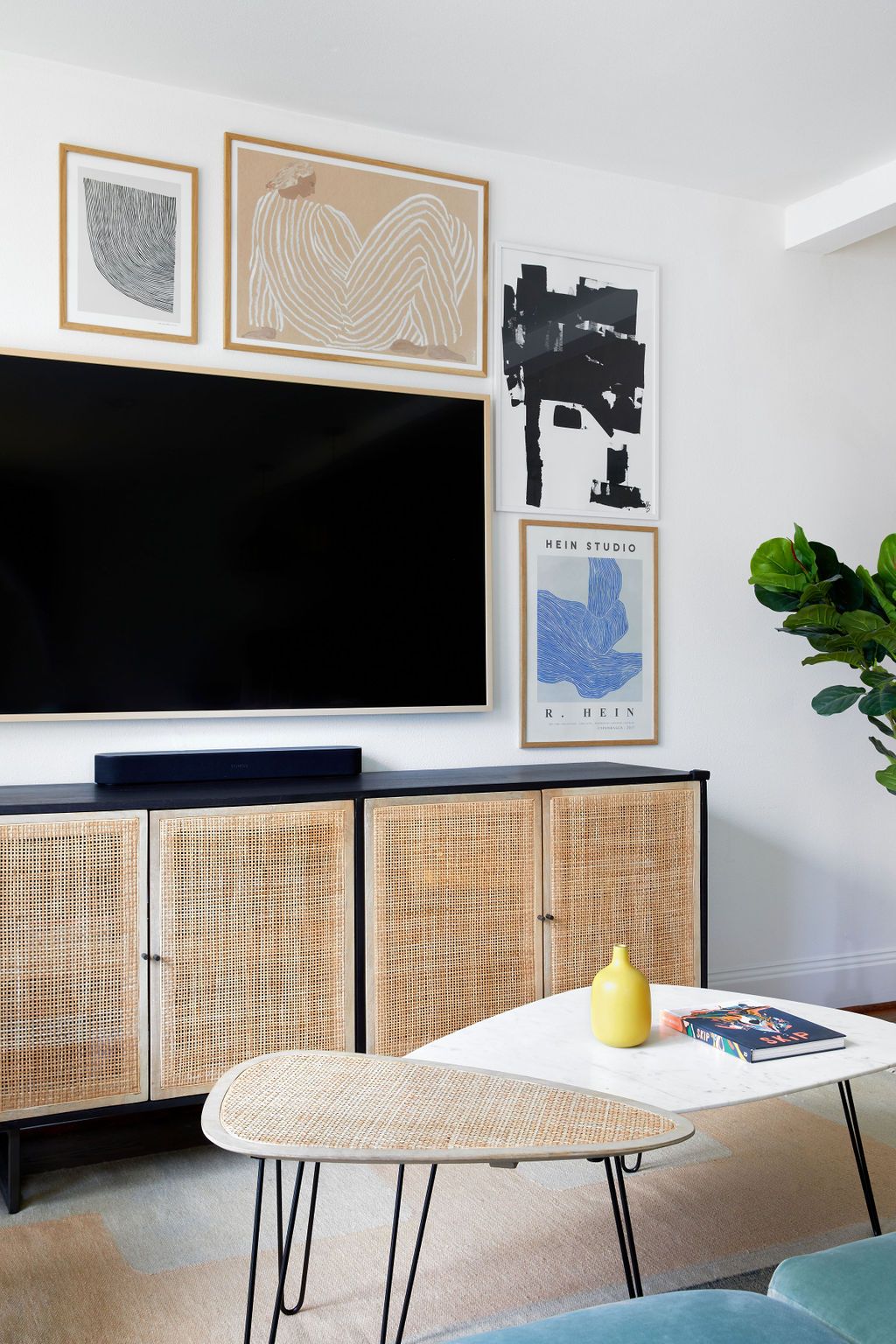 If there's not enough clearance for you to add decor onto the surface of your TV console, look to the space around it. This living room TV idea is so simple but so effective. As Jessica Davis says 'surround the TV with other items such as art. If you echo that shape of the TV in a gallery wall for example it won't stick out as much.'
One way to make this gallery wall effect so much easier is the right TV. And by the right TV we mean the types of TV that are now being coined lifestyle TVs – the Samsung Frame, Samsung Serif, etc. Essentially many of the best TV brands now make sets that don't look like TVs.
'We are huge fans of using the Frame TV which disguises your TV into looking like realistic artwork,' says Jen and Mar, founders of Interior Fox. 'This method is the absolute best for having the best of both worlds when you love to watch TV but do not want to dominate the room with it. Another method for taking the focus away from a TV is to mix in other framed artwork to create a gallery wall so the TV feels intentional and a part of a conversation.'
5. Curate collections with different shapes and heights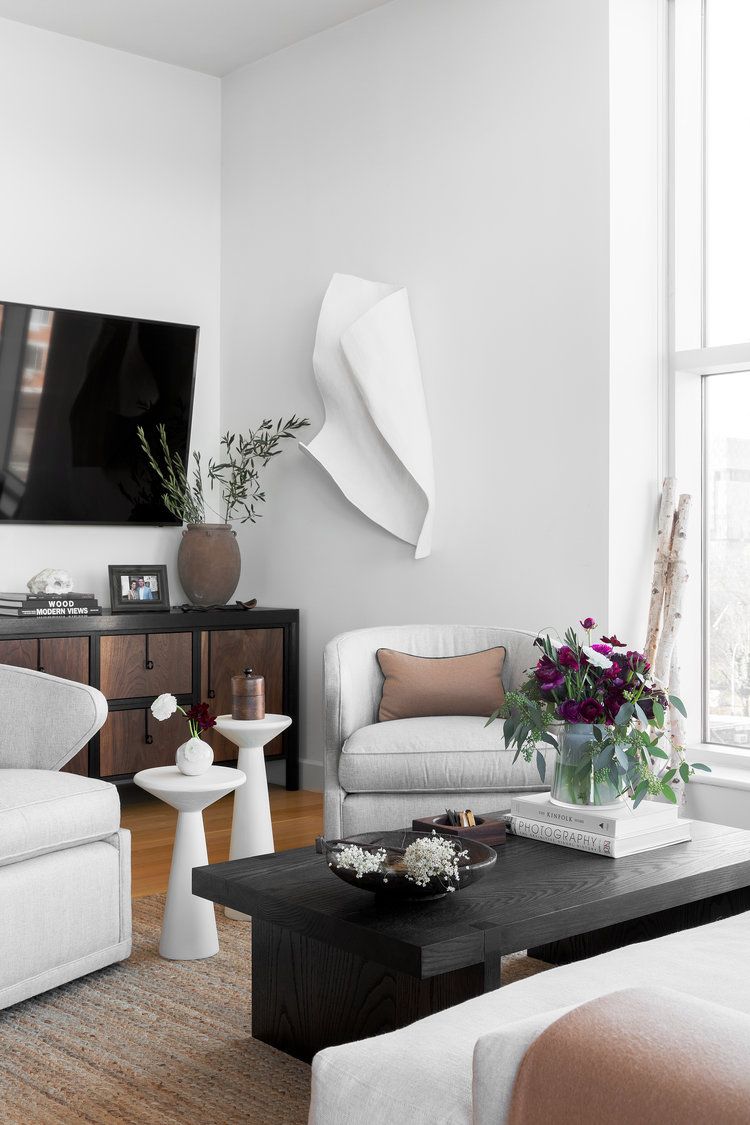 Treat a TV console as you would living room shelving. Even if you are adding just a few pieces you want to ensure there's interest and depth. Definitely avoid symmetry, never flank a TV with two of the same piece, this will only draw focus and make the TV the main feature of the display
'When styling, start by clearing the entire surface and bring your decor in one piece at a time, stepping back to review and make adjustments throughout. I tend to always include a short stack of my favorite coffee table books, which double as a platform for fun objects or a vase. The real trick is to not overcrowd the surface and use a mix of decor that is meaningful to you.' explains designer Becky Shea.
'When I'm adding decorative objects to the surface of a console table, I like to use a design trick called the 'rule of threes.' You can rarely go wrong by crafting a styled vignette with one vertical item, one horizontal item, and one sculptural item,' adds designer Kathy Kuo. 'So the combination of a vase of flowers, a coffee table book, and a decorative crystal sculpture is likely to work really well. I also always love a nice decorative tray when it comes to surface styling of any kind.'
'I would also recommend having some photo frames of varying sizes and rows of books and bookends to go alongside the TV screen. It's all about filling that space on the sides in a way that won't be too visually distracting while you're actually watching TV. I'd also make a plan for stashing your wires and cable boxes out of sight – nothing says 'did you know there's a TV right here?' quite like a massive tangle of exposed cables,' Kathy Kuo.
6. Reflect the style of the room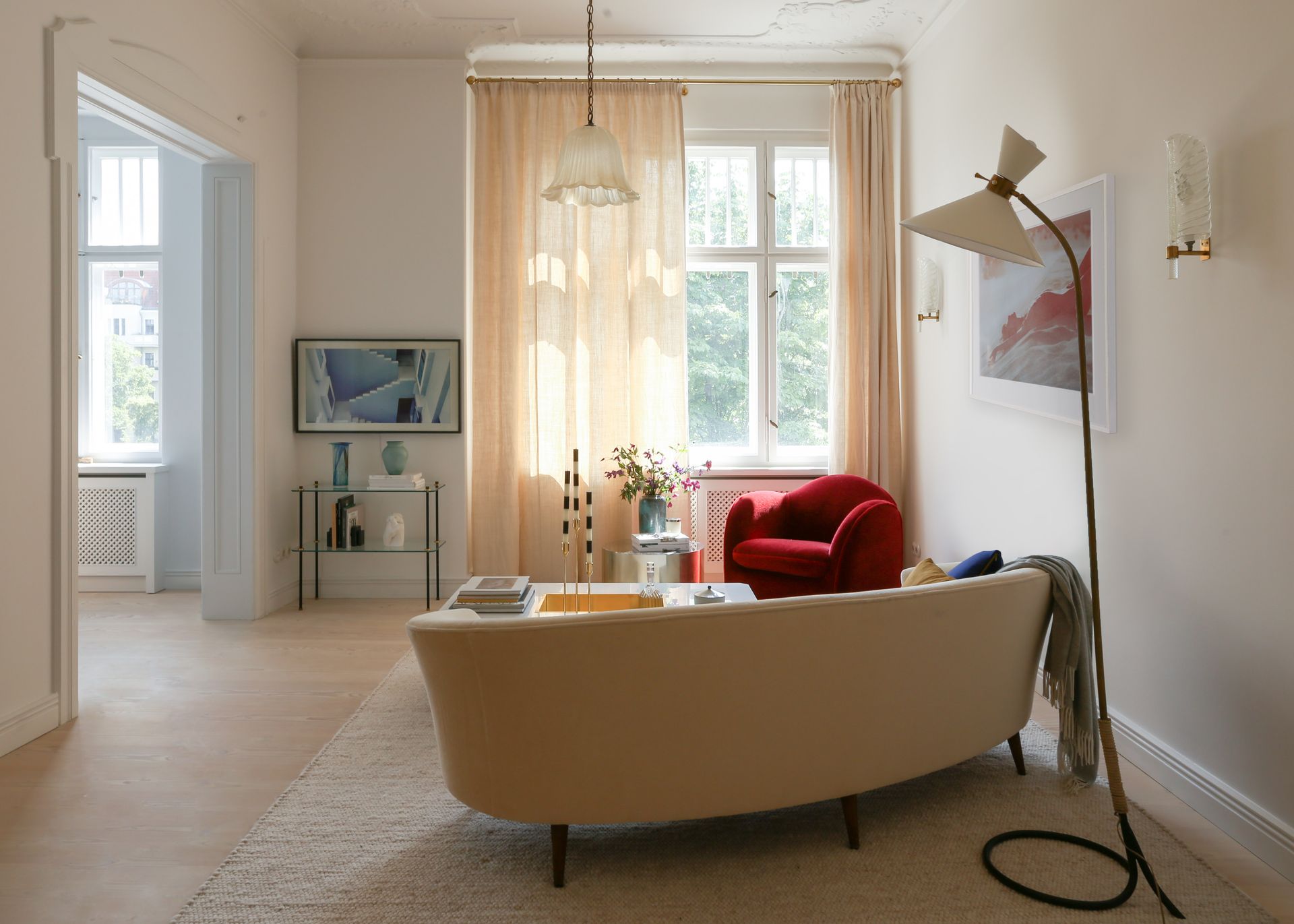 The TV set up in this minimalist living room, is well... minimalist. When choosing a console and the decor look to the rest of the room for inspiration on what is going to work. Imagine a heavy wooden console in this space? Firstly, where would it naturally fit? And secondly, it would be the first thing you noticed amongst all the slimline furniture. The super fine glass console and vintage decor that mirrors pieces throughout the rest of the room works perfectly.
'This is a project we designed in a pre-war apartment in Berlin. We opened the living room up to a brand new kitchen and breakfast area and wanted the curved sofa to enjoy the views of the adjacent canal as well as the kitchen's corner views overlooking the historic bridge,' explains Keren Richter.

'Given the placement of the sofa, we needed a discreet solution for a TV. A projector wasn't in the cards – the ceiling has ornate plaster and ceiling medallions, and we didn't want to interrupt those details with a screen or electronics. We ultimately decided on a flat-screen Frame TV with a matte finish. It's mounted on an arm so it can swivel toward the sofa. While the position of the tv is a bit awkward, we prefer having it feel discreet and "artful" when not in use. To that end, we selected a mid-century French console in iron, brass, and glass to display a collection of books and sculptural objects. It all feels light, open, and sophisticated.'
7. Double a TV console as a bench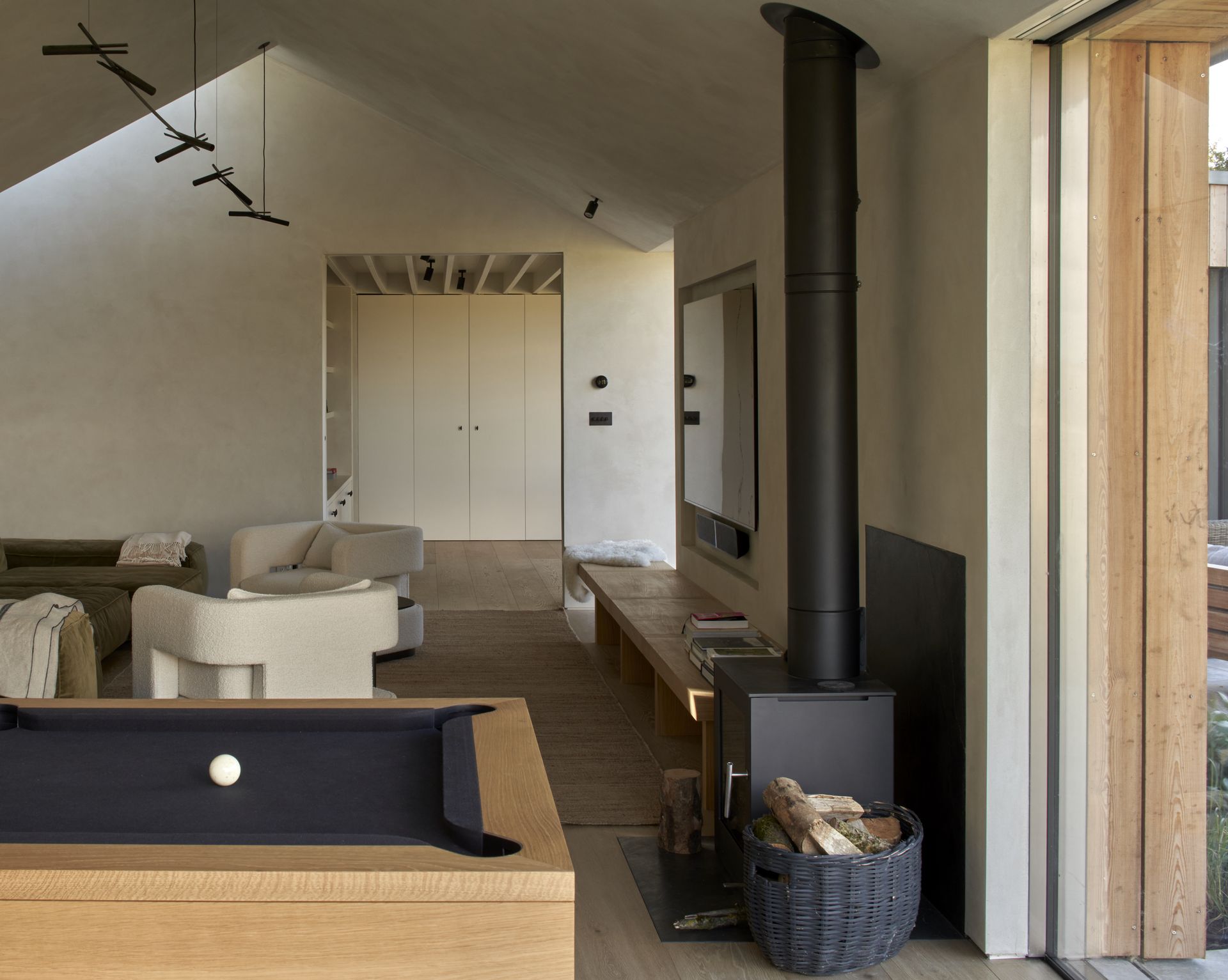 Consoles can add a certain formality to a room, and they are another piece of furniture to squeeze in if you are tight on space or after a more minimalist style. Low-slung long designs that run the whole (or almost the whole) length of the room like this one, designed by TR Studios, get around both those issues. The TV has some grounding, there's space to add some cute decor and it doesn't add any visual bulk to the room. Plus, this design doubles as a bench for when the TV isn't in use which makes the room far more of a sociable space.
'As with any surface you don't want to add clutter. A few well curated and chosen pieces of sculpture, objét and books are all you need to help a console feel styled so that when the TV is not in use, the eye is drawn to other decorative items,' explains Tom Rutt, founder of TR Studios.
'This project was a new build for a client who wanted an entertaining space for movie nights and a space for their teenage children to hang out with friends. A TV was always a must-have in the project brief, but we didn't want it to dominate the interior, which was designed to be relaxed, calming, and timeless in style,' explains Tom.
'We recessed the TV and its soundbar into the wall and integrated all of the electrics and wires in doing so in order for the TV not intrude upon the space. As an addition to the client's main cottage, there wasn't a huge need for lots of storage in the main living area. As such we designed a built-in low-format TV console from solid oak which also doubles as a seating area and with space below, there is room for books or storage boxes and baskets.'
8. Contrast the tech with nature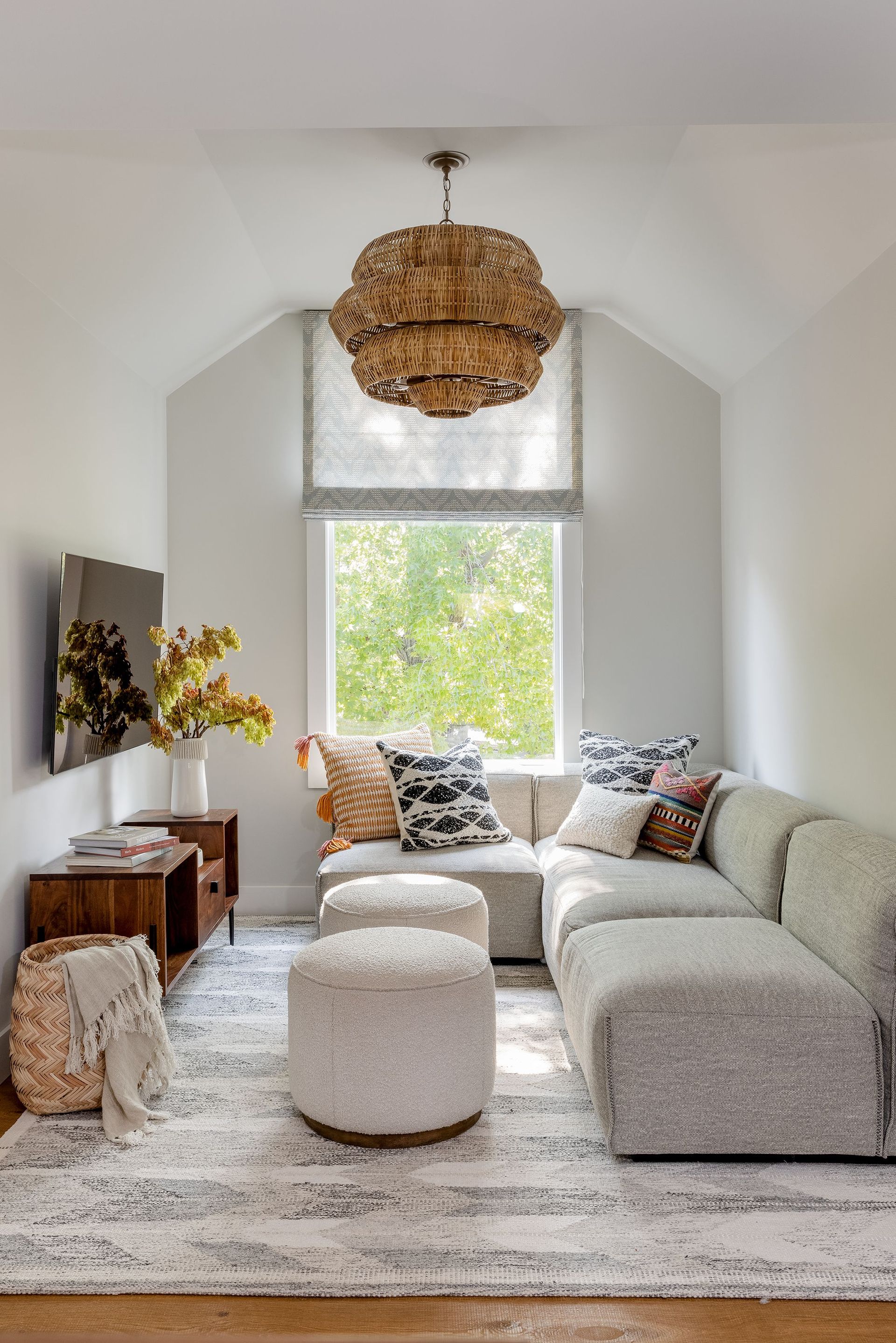 Adding a beautiful floral display or a houseplant to your TV console adds that height we've been talking about. It can fill that space next to the TV and it gives more than a lamp or ceramic piece because you get natural textures, shapes, and colors – the complete contrast to the clean lines and dark abyss of the tech it sits next to. And if you can bare it, we think it's no bad thing if nature ever so slightly encroaches on the screen – not enough to affect viewing but just enough to soften those edges just a tiny bit.
'We love to make a console as functional as possible so it can house the necessary items and therefore we can add the "pretty" on top. In order to distract from the TV above, we love dressing up the console by adding seasonal floral arrangements, decorative books, candles, layers of light - such as a table lamp, and even framed photos for a personal touch,' explains Kendra Nash.
How can you disguise a TV?
'A great way to make a TV less obvious is to use bespoke joinery to create shelving or sliding door cupboards that will completely conceal a tv when it isn't in use. If that isn't an option, setting the TV slightly into the wall is one way to make it feel less conspicuous. Also, consider choosing a TV with a slim frame and one which has built-in screensavers or the ability to upload photography so that your TV can also function as a piece of art.' suggest Tom Rutt.
And nothing makes a TV more obvious than wires. 'A styled space always makes a television less disruptive to a room's design. However, black cords running down the wall can look messy, so make sure any cables or wires are hidden. Try to keep the television mount as close to flush as possible, which creates a more custom feel. I also love the Samsung Frame televisions because you can turn the screen to one of the works of art that functions like a screen saver,' adds Marie Flanigan.
What can you use instead of a TV console?
There are loads of alternatives to the traditional TV console. In fact, often the most stylish consoles weren't originally designed to be media units at all. You can turn any storage piece of furniture into a console – we have seen some beautiful vintage sets of drawers and side tables being used to home a TV and you can quite easily add holes into the back if you need to run wires out. Floating shelving is another option if you are after a more minimalist aesthetic, or using a stable bookcase to help blend the TV into the room.
For style leaders and design lovers.
Hebe is the Digital Editor of Livingetc; she has a background in lifestyle and interior journalism and a passion for renovating small spaces. You'll usually find her attempting DIY, whether it's spray painting her whole kitchen, don't try that at home, or ever changing the wallpaper in her hallway. Livingetc has been such a huge inspiration and has influenced Hebe's style since she moved into her first rental and finally had a small amount of control over the decor and now loves being able to help others make decisions when decorating their own homes. Last year she moved from renting to owning her first teeny tiny Edwardian flat in London with her whippet Willow (who yes she chose to match her interiors...) and is already on the lookout for her next project.