How to build a home office in your garden
Working from home not quite working out? Building a home office in your garden can provide the perfect secluded workspace – here's everything you need to know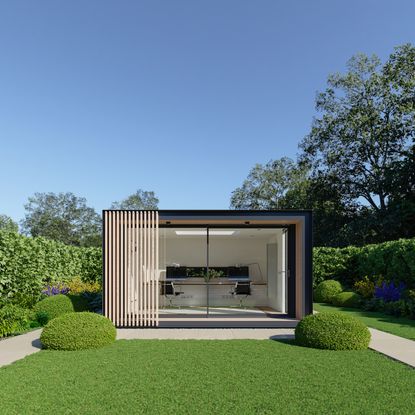 (Image credit: Pod Space)
Finding the perfect spot to work from home is no easy task. And it's a challenge so many of us have faced this past year – the kitchen table? The box room home office? And on some of the lesser motivated even the bed? But none of these options provide that really separate space, a place to go that feels far enough away from home life that you can properly concentrate and work (mostly) undisturbed. So unsurprisingly, we have all been looking to our outside space to provide this refuge.
'There are lots of benefits to having a garden office, including for your wellbeing. If you have a beautiful, purpose-built space, away from the distractions of the home, but still on your property, you have the best of both worlds.' explains Francis Eades, Managing Director at Baltic Bespoke.
'But most-of-all, the benefit is that you have an additional space that will add value to your home, just as an extension or loft conversion would, but without much of the disruption you would experience with those renovations.'
Garden offices, once seen as a luxurious bonus, are now becoming a must-have practical addition to a garden. But how do you go about adding a home office to a garden? Do you need planning permission to build a garden office? How much do they cost? Can you build one yourself? We have you covered, answering all the key questions so you know how to get started adding a stylish outdoor office to your garden...
How much does a garden office cost?
So let's start with the question everyone wants to know before starting on a new home project – what are the costs? Well, the price of adding a home office to your garden varies massively on the style, size, and spec.
'It really depends on the size and specifications of the customer. It also depends on costs of materials, but we would say at the moment our outdoor living spaces are coming in at between £15,000 - £35,000.' explains Francis Eades, Managing Director at Baltic Bespoke.
'The great thing about adding a garden office is that they really add value to your home, so that while you reap the benefits of having a great space to work from, you are making a long term investment into your property. Garden Rooms, including those used as garden offices, are an investment in your asset, which can make a lot more sense than renting an appropriate workspace. It also offsets other costs like travel and parking if you work in an office and makes that money work harder for you in the long run.'
The average cost is around £8,000 for a small home office complete with foundations, internal electrics, and insulation. But it can be done for cheaper if say you coming up with your own design and are DIYing the job. And likewise, costs can go way over that average figure if you want a high-spec bespoke design, you could be looking at over £15,000.
Should you go prefab or bespoke?
Of course, the price will massively be determined by whether you opt for a modular building (a pre-designed, kit form home office) or a bespoke garden office. Both have pros and cons and which you choose, really comes down to your budget as the prices between the two options can be substantially different.
Prefab garden offices: While modular garden offices are by far the cheapest option, you may find when it comes to design, you are limited. You can pick different styles, sizes, usually colours, and can often add extras like insulation, flooring and lighting at a cost.
These kinds of kit form garden offices start from around £5,000. But do check what the costs include as you might find that's just for the building and won't include things like foundations, installations, planning permission, insulation, lighting or flooring.
A huge benefit of buying a ready-made, just has to be erected in your space, garden office is that they are so quick to install and usually companies provide all the tradesman you need to get it up add running as part of the installation costs.
Bespoke garden offices: If you have a more generous budget, building a bespoke home office in your garden means you can create a design that perfectly suits your needs and the way you work. It also means you can create something that perfectly suits the style of your garden, picking the shape, the cladding, the materials, the layout and more. They can be a better option if you have a small garden or if awkwardly shaped.
'The great thing is that people have the option of buying something 'off the shelf' or investing in a custom-designed option, depending on their needs and budget. We see the benefit of our bespoke service as being totally flexible in terms of design and finishes.' says Francis Eades. ;For example, we recently created an L-shaped design for a customer who didn't want to remove established planting in their garden, so we built around it! Also, with a higher spec construction, you are likely to add more value to your property as an asset.'
Although it's likely going bespoke will cost more than buying a modular option, (the costs for a bespoke garden office start from around £10,000) you can save money if you are building the home office yourself, plus you can then have more control over the costs of materials and extra fittings. However, do bear in mind that there may be hidden costs you wouldn't encounter with a prefab build and you will likely have to source a number of different tradesmen to work on the project which will add to costs.
What are the benefits of adding a garden office?
There are so many reasons you might want to build a home office in your garden. Probably the main one being it would provide a quiet space to work, away from the distractions of the main house. Plus, you get that separate feeling, you don't have to jump on a train and endure a long commute but you still have the effect of 'going to work' which is really important for work/life balance. You can close the door at the end of the day, walk across the garden and (hopefully) forget about work for the evening.
'Investing in a garden office can be a great way to create a light and airy environment to work in, away from distractions, enabling you to benefit from the physical and mental health advantages of being closer to nature,' says Karen Bell, Creative Director for David Salisbury.
And then there's the added bonus that building a garden office will add value to your home. According to DIY fanatics MyToolShed, building a home office in your garden can add up to 5 percent to your property.
Creating a garden office has tax relief benefits too. Specialists from Chartered Accountancy practice, Sheards Accountants weigh up the different tax benefits there are to creating a new work from home space:
If the building already exists (such as a garage or summer house), you can claim tax relief for any furniture or equipment installed within the building during the conversion – this could include items such as desks or shelving. In the majority of cases, you will be able to claim tax relief in the year purchase.
It is also possible to claim a capital allowance for any improvements that are made during the conversion, such as thermal insulation, wiring and plumbing costs. This is also the case for the running costs of the garden office - for example, lighting and heating.
However, if you are looking to build a new outbuilding or office space within your residential property, it would be classed as a structure. This means it is not usually possible to claim tax relief for the costs of the building itself. This is also the case for claiming against the costs of any planning or installation.
Do you need planning permission to build a garden office?
As a general rule, garden offices are considered to be permitted developments, so can be built without planning permission. However, you need to ensure you follow certain conditions if you don't want to have to apply for planning permission. You need to ensure:
The garden office is a single storey.
Roof eaves no higher than 2.5 meters, 4 meters for a dual pitches roof, and 3 meters for any other type.
Any balconies, verandas, or raised patios cannot exceed 30cm.
The building must be two metres from any boundary walls.
It covers no more than half the area of land around the original house.
It cannot be used as a separate living space.


If you live in a listed building, an Area of Outstanding Natural Beauty or Conservation Area you will have to apply for planning permission regardless of the design. If you're unsure, speak to your local planning office. It's also polite to let your neighbors know too.
David Salisbury's Creative Director, Karen Bell suggests: 'Whilst most small garden offices don't require planning permission, the exemption size is quite limiting. In seeking permission, there are certain rules to comply with, regarding the percentage of land covered, and the maximum heights and depths allowed in different scenarios.'
'There are ways you can help your planning application succeed though. Discussing your ideas informally first with the planning officer – before paying any fee or completing the application form – can save you time and money, and you may find that any potential objections can be overcome by agreement at this formative stage. It's worth sharing drawings and plans too, and emphasising the build quality.'
'Finally, remember that your designs should be sympathetic and subordinate, not overpowering – avoid schemes that would drastically change the history fabric of your house, and instead, pick out features of the house and introduce them into your design.'
Do garden offices need foundations?
Yes, garden offices will need foundations. The type of foundation will depend on the size and weight of your garden office, but most suppliers will do all the foundations for you as part of the installation price. They will usually advise on what type of foundation to go for so you won't have to make any technical decisions but the most common foundation for a garden room or office is concrete slab foundations or if your garden is sloping a concrete pile foundation might be used.
Can you build a garden office yourself?
If you trust your DIY skills then yes, you can build a garden office yourself. You can choose to save money on installation and build a modular garden room yourself or you could start from scratch and build your own bespoke design. It's not the easiest job and we would only recommend building your own home office in a garden if you are a confident DIYer.
What about electricity and adding WiFi?
If you want your garden room to really function as a home office, electricity and WiFi are key. Some manufacturers will offer to connect the garden room to the main house's electrical supply for an added cost, however, if they don't you'll need to hire an electrician to do the job.
The options are either to run an armoured power cable through a trench underground or if it's suitable to do so you can run armoured cable above ground, say along the edge of a fence or hedge which is a less expensive option. A good electrician will advise you on what is best for your space.
When it comes to adding WiFi, you can either extend the WiFi from the main house using a booster or if that doesn't prove strong enough you can run an ethernet cable to the garden room with the main power cable.
And should you add water too?
Whether you add plumbing to a garden office depends on whether you want to be able to spend all day out there with zero need to go back to the main house. Having a sink so you can make a hot drink and a loo can make a garden office feel even more separate from home life. Plus a good idea if you intend to have colleagues work from there too.
The easiest option is to plumb sinks and toilets to the mains water supply and sewage system. However, you may also have to fit pumps to move waste away from the garden office towards the mains sewage system. If this would mean too much work or expense you could consider adding an eco compostable toilet.
How can you heat a garden office?
Another essential to ensure a garden office really works is heating. Simplest and cheapest option? Plug-in heaters. Electric convections heaters or radiators can be mounted to the wall so won't add too much visual bulk can easily heat a small garden office.
You could add a wood-burning stove if you want your home office to feel really cosy, or if it's going to double up as a guest house or garden room so style needs to be considered too. They might be more expensive than an electric heater, but they warm up the space quickly and of course, look lovely.
The Livingetc newsletter is your shortcut to the now and the next in home design. Subscribe today to receive a stunning free 200-page book of the best homes from around the world.
Hebe is the Digital Editor of Livingetc; she has a background in lifestyle and interior journalism and a passion for renovating small spaces. You'll usually find her attempting DIY, whether it's spray painting her whole kitchen, don't try that at home, or ever changing the wallpaper in her hallway. Livingetc has been such a huge inspiration and has influenced Hebe's style since she moved into her first rental and finally had a small amount of control over the decor and now loves being able to help others make decisions when decorating their own homes. Last year she moved from renting to owning her first teeny tiny Edwardian flat in London with her whippet Willow (who yes she chose to match her interiors...) and is already on the lookout for her next project.