A new home and renovation led to an exciting turn of events for one young family
Moving house can be catalyst for change - discover what selling with Savills could do for you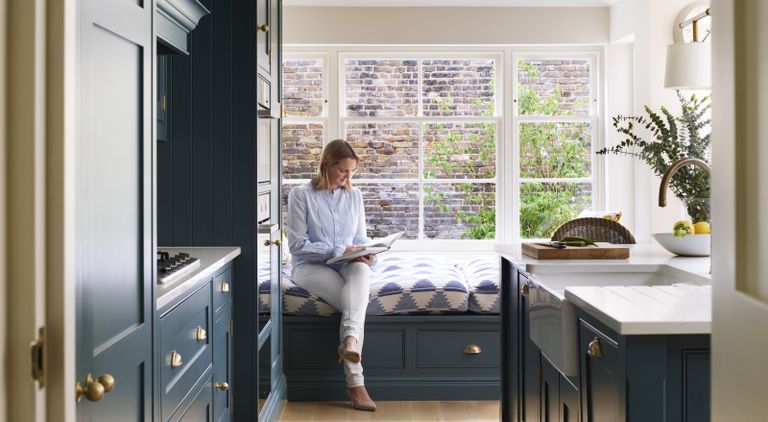 (Image credit: Rachael Smith)
It's a familiar story; couple seeks larger home for a growing family but for Amy Chance, a property lawyer, and her husband, Ben, who works in finance, it's had wider repercussions. Not least, a third child, more family time and a new career for Amy.
Having stayed in their former home in Battersea, south-west London longer than intended, the couple bit the bullet and started looking for a 'doer upper' in 2018. 'We wanted more space to have another child and had been considering moving further out,' says Amy. 'Finally, we decided to stay in Battersea, as it would mean less time commuting and we had great transport connections for visiting family in Sussex and South of France.'
The couple earmarked a patch of five streets they liked, and eventually found a three bedroom house just before the first lockdown in March 2020. 'It needed a lot of work but we didn't want to spend on things that would be torn out,' says Amy.
Despite the difficult timing, the couple was able to negotiate the sale of their home and purchase of the new property through Savills (opens in new tab), taking possession in September 2020. They submitted their planning application and the builders started work soon after, adding an extra bedroom, two more bathrooms and a study.
The family, which included two boys, then aged 5 and 2, were even able to stay in their former property while the building work began on their new home. 'Savills were able to find us a buyer who didn't need to move in straight-away, so we were able to rent our old place for six months,' says Amy.
Being in a conservation area, meant the couple had to work within the confines of the building. The beautiful front facade, side walls and a hallway arch remain, however, the height of an existing rear extension was increased, the floorplan reconfigured to create an open living area with bay window seating and the loft space converted to include a playroom. 'The children love it and when they're older it can become a teen den,' says Amy.
A new Tom Howley kitchen with a large island, a study and extra bedroom has made a big improvement to the family's lifestyle. 'I'm able to watch over the kids while I'm cooking,' says Amy. 'Ben can also make it back home for bath time, then go back to work in the study afterwards, which has meant more time as a family.'
The children love their rooms and the family bathrooms, with the fun blue triangular tiles in the shower room and starfish wallpaper in their own bathroom. They even had some input on the colour scheme.
'Our eldest son loves Chelsea football team, so wanted blue for the front door,' says Amy. 'We managed to get away with a lovely navy. They love the huge world map too and often discuss countries they want to visit and world events.'
If the renovation wasn't already enough to manage, Amy gave birth to the couple's third child, during the build too. 'Our families were concerned that we were taking on too much,' she says. 'But it worked out well as I was able to oversee the build while I was on maternity leave.'
With a background in property and a love of interior design, Amy enjoyed flexing her creative muscle, which has led to a new career. 'As a child, I drove my mum mad, always rearranging my room,' she says.
'At Uni I read history, specialising in classical architecture and as a property lawyer, dealt with some beautiful homes. I'd project managed our previous renovation, and over the years had teamed up with an interior designer friend to advise other friends and contacts on what they could do with their properties, both in terms of interior design tweaks and reconfiguring the floor plans to maximise space.
'We have since formalised the arrangement and set up our property company, Orbel Ursula Limited.'
So what advice would Amy give someone considering a similar move? 'Surround yourself with the best advisors you can afford,' says Amy. 'We had a great team with the builders, surveyors, architects and structural engineers. It's important to work with people you can communicate well with and who can visualise how the space can be optimised for your needs and how it can adapt over the years.'
Discover what selling your home with Savills (opens in new tab) can do for you.