I'm the pickiest person when it comes to cookware - here's my honest review of the Always Pan (that people seem to worship)
If you've ever wondered whether the Always Pan is really worth all the hype then this in-depth review might just help you make your mind up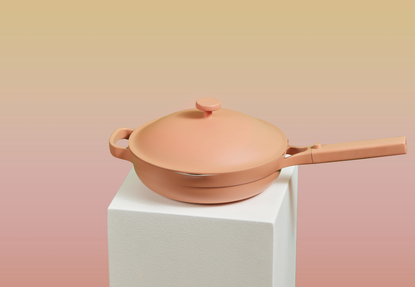 (Image credit: Our Place)
The Livingetc Newsletter
For style leaders and design lovers.
Thank you for signing up to LivingEtc. You will receive a verification email shortly.
There was a problem. Please refresh the page and try again.
We've all heard of Our Place's famous Always Pan. With enough social media hype to overwhelm a Kardashian, it's on the wish list of every homeware lover out there. That is, if they don't already have one (or several in different colorways) sitting in their cupboard.
So why have Always Pans been dubbed the perfect all-in-one pan by industry experts, content creators, and seasoned social media scrollers alike? The main feature that seems to attract everybody is the sheer amount of functions it can be used for. In the brand's own words, it's essentially a 10-in-1 cookware system that braises, sears, steams, strains, sautes, fries, boils, bakes, serves, and stores. If you're a little skeptical that one single pan could do all this then that would have made two of us.
View all the Always Pans here.
Aside from its impressive functionality, the Always Pan is also revered for its chic aesthetic. The elegantly curved design is complete with a matte finish and comes in 10 stylish colorways which range from neutral earthy shades to bright pops of color. It's lightweight yet has an impressively large capacity, and the ceramic nonstick coating on the base is supposedly far superior to similar models from other brands. The Thermakind™ technology featured in the new 2.0 Always Pan allows you to put it in the oven, offering even more culinary options than the previous model (like baking and roasting) and making one-pan dish recipes even easier!
With celeb collaborations like the bestselling Our Place x Selena Gomez collection which is back again this year with all-new colorways, the huge demand for the popular pan is clearly showing no signs of slowing down.
Now for the question on everyone's lips: is the Always Pan actually worth all the hype? If you fall under the 'it's on my wishlist but I'm not quite sure if it'll be worth the investment' category, then I'm here to help you out. After years of umm-ing and ahh-ing over which design to purchase (yes, I'm picky, and cookware has to be right, you know?), I've finally got my hands on an Always Pan in the lush sage green color (and we've already decided that green accessories are the most elevating) and am ready to give you a thorough no-holds-barred product review.
FIRST IMPRESSIONS
On first unboxing, I can confirm that the design is utterly beautiful – just as chic as it looks on social media. It has a large capacity (2.4L to be exact), and lightweight construction at 1.36kg body weight. I was genuinely surprised at how light it felt to hold, considering it's quite a large pan. It also features a secure fitted lid, so I can imagine myself cooking basically anything from stews to chicken and rice dishes with ease.
I was also surprised to see that a few accessories were included in the box – a steamer/strainer basket and wooden spatula. I already love how the spatula slots into place on the handle while cooking, and also can be stored that way so it doesn't get lost in your cutlery drawer when not in use.
FUNCTIONALITY
After pondering over what would best show off the Always Pan's multiple uses for this review, I settled on the simple-yet-satisfying dish that is pasta bake. The pan's boiling, straining, frying, simmering, and baking skills would be tested, plus I could see how large the capacity really was, as I would be cooking and serving the dish to a group of four.
I quickly learned that this pan truly was an all-in-one wonder! I boiled the pasta with no issues, strained the water (setting some aside for later) then cooked the sauce, stirred it all together, covered the whole thing with cheese to bake in the oven, then served my dish – all in the same pan. Yes, it all fit comfortably with no spillages, and yes, I was tempted to eat my portion straight from the pan. That's how good it looked bubbling away.
At no point did any of my ingredients stick to the base, and the detachable strainer and easy-pour edges meant I didn't have to use any extra appliances throughout the whole process.
Now that I was satisfied with the Always Pan's multi-use functionality, there was one feature I wanted to test a little more thoroughly. I'd seen a few TikTok videos of how fried eggs simply slide around the satisfying slippery base, so of course I had to put the nonstick claims to the ultimate test. After heating a little oil in the pan I cracked my egg directly onto the base and as expected it slid around like a dream once cooked – no broken yolks to be seen!
My favorite design features include: the easy-pour edges, the comfy soft-grip handles on both sides which make carrying heavier dishes far easier, the matching fitted lid, and the wide base which offers plenty of cooking space. I also have to give a special shout out to the nesting spatula. I hate using spoon rests (they're just so fiddly!), so the fact that I can keep the spatula comfortably out of the way in its designated spot on the handle is incredibly useful.
For my next dishes I'm excited to cook steak, an upside-down baked dessert (just imagine the caramelized base – no soggy bottoms here!), and deep-fried chicken once I have my hands on the Fry Deck attachment.
AFTERCARE
In terms of immediate aftercare, while the Always Pan is not dishwasher friendly, it's incredibly easy to wash by hand – the remaining oils from my pasta dish mostly slid off with only running water! My pan has stayed looking fresh as the day it was unboxed, even though I've been using it non-stop for weeks.
While I haven't had mine for very long, I can already tell that with a little care it will stand the test of time. To prolong the wear of the Always Pan, Our Place recommends that you don't use metal utensils, use a low-medium heat to preserve the nonstick coating, and hand wash the pan only once it has fully cooled down.
If you want further assurance on its longevity, Livingetc's editor Pip Rich has owned an Always Pan for a while and has certainly put it through its paces: "I use it all the time - for frying, poaching and braising. It's so versatile. But unlike my cast iron pans it cleans up really well, and still looks as good as the day I got it. I'd wholeheartedly recommend it to anyone who just wants to cook and not spend ages using a specialist cleaning product (like I had to with my Dutch oven)."
FINAL THOUGHTS
I think you can probably tell by this point in my love letter to the Always Pan – ahem, I mean article – that I am obsessed.
It has fast become a staple on my stovetop (it's so pretty I don't even store it away – it's basically a piece of decor IMO). It's the only pan I ever reach for nowadays, and I'm already eyeing up the Perfect Pot and new Mini models to match! I can confidently say that this aesthetically-pleasing pan isn't just a pretty face, but has made an excellent functional addition to my kitchen.
By the way, it's also ridiculously giftable. I can't imagine a mom, dad, sibling, friend, newlywed, new home owner, extended family member, or well-deserving neighbor that wouldn't be simply thrilled to receive an Always Pan as a gift. And yes, gifting one to yourself definitely counts. So if you're thoroughly convinced and now want one for yourself, you can find a link to purchase it (including all the colorways and compatible accessories) below.
My beloved sage green Always Pan comes in 9 other colors (including 4 limited-edition shades!), so you can choose the perfect one to suit your kitchen's aesthetic.
OUR TOP PICKS FROM THE REST OF OUR PLACE'S COLLECTION
The ideal companion to the Always Pan, the Perfect Pot also has multiple functions and the same high-performance nonstick coating. Buy one in a matching shade to complete your set.
These mini versions of the Perfect Pot and Always Pan aren't just adorable to look at – they have the same Thermakind™ technology and are great for smaller dishes.
For style leaders and design lovers.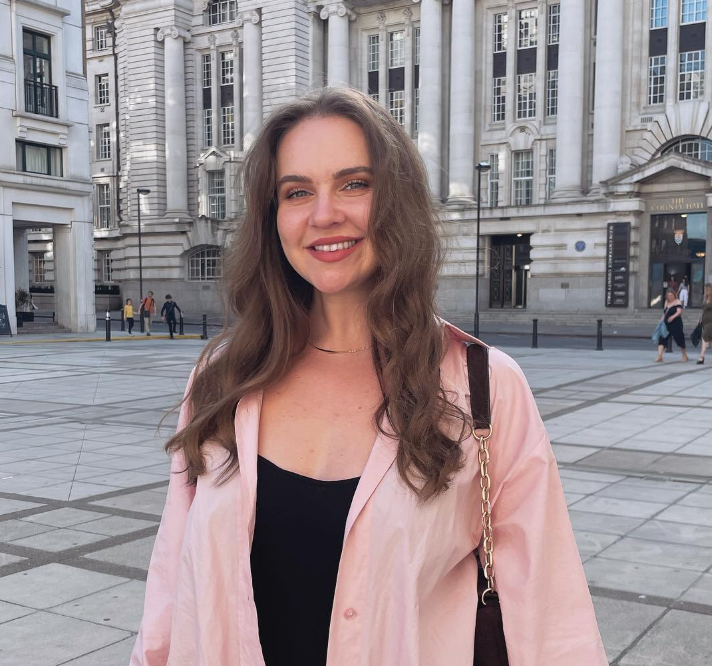 Contributing Shopping Editor
Valeza Bakolli is an experienced shopping editor. She previously worked at BuzzFeed where she honed her skills in all things shopping - from gift guide curation to spotting top home trends. Finding the best bargains online is her happy place (you won't believe how much she got her Nespresso machine for!) and when she's not romanticizing her morning coffee routine, you'll probably find her creating a tablescape for yet another alfresco dining event in her backyard.