Glassware: types of drinking glasses every home needs
Glassware comes in all shapes and sizes, and this shopping edit of the types of drinking glasses will help you decode when to use what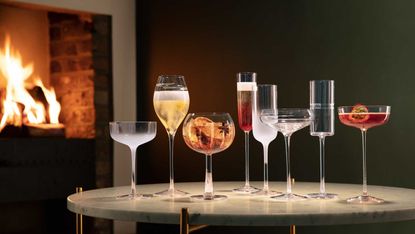 (Image credit: LSA)
Glassware is an interior decorator's secret weapon. From the tumblers that get pulled-out of the cupboard on the daily (those hard-wearing glassware pieces which often encounter the rough and tumble of a daily dishwasher cycle) to the stemmed 'fancies' that are purchased for special occasions and to adorn the credenza at your New Year's eve soiree. A nicely designed drinking glass, of any shape or style, can be the tactile finishing touch to your dining room ideas that guests hold in their hand, and that takes their experience of your home from being nice, to 'wow'.
However, glassware has the tendency to be something of an enigma. There are a lot of different glassware styles out there in the marketplace. Understanding what size, shape, and style to purchase? Well, it can leave people feeling like they need to enroll in nothing short of a sommelier course.
Fear not, we have rounded up all of the latest versions of the different glassware styles – from the essential to the extraordinary – and asked the experts and designers what to use: when, why, and how. So, get ready to say, bottoms up!
Types of drinking glasses
Whether you are quaffing Champagne for a special occasion or just getting your recommended eight glasses of H2O, taking pride in your drinking vessels means a chance to add something special to your tableware collection. Consider this your guide to every type of glass you could ever need.
Everyday water glass
Sure, there are some colourful and wacky designs out there, but that's not necessarily great if you're planning a grown-up dinner party. Keep it small, and make sure it's stackable. Something that offers a 'thimble' is ideal. Opting for a classically elegant design in clear glass and with an effortlessly chic aesthetic will bode well for all situations.
The White Company's Moreton Tumbler (it comes as a set of 4) is ideal everyday-ware. Stackable, durable, and neat; representing the ideal 'go to' short tumbler. Chief creative of The White Company Mark Winstanley says, "Moreton is a truly versatile shape that looks just as great for breakfast juice as it does for an informal glass of wine in the evening - because wine in a tumbler is a very acceptable fashion these days!"
Handmade in India they are made from recycled soda-lime glass, giving them a certain weight. "The trend, as we have noticed at The White Company, is for heavier weight in everyday glassware for home use. This is what customers find easiest and most effective for day-to-day use."
Shot glass
Let's face it, if you're venturing into shots then you're going to be starry eyed before long anyway, so why not embrace the vibe fully and knock 'em back in a distinctly galactic themed glass?
Having said that, these Star Cut Shot Glasses, designed by Richard Brendon, manage to avoid novelty glassware territory (which is a fun quip, but often a flash in the pan design choice) by embodying an air of classic sophistication, thanks to their simple and classic cut glass star design. Put it this way, they won't look out of place sitting beside your best crystal coupes.
Gin balloon
That balloon shape tends to look a little cumbersome when lined up next to the sleek and slender flutes and angular martini glass styles, but there are undeniable benefits to the balloon shape - the main one probably being the sheer size and amount of gin that you can pour into it! Chin-chin to that, we say.
The designers at Oliver Bonas have conjured a very stylish version of a gin balloon design, opting for a dashing lustre blue finish with coordinating indigo stem and base. Perfect more so if your favourite tipple comes in a Sapphire blue bottle. These would look particularly striking displayed in a home bar setup against a dark and moody paint scheme.
"The large bowl gives plenty of room to pack full of ice, berries and botanicals while increasing the aromas and enhancing the flavour of your Gin," explains Lois Vincent, designer at Oliver Bonas.
Whisky glass
Design connoisseur and tastemaker Tom Dixon makes a beautifully designed drinking glass, that's for sure. For this glassware vessel, named the Nosing design, Tom has gone to great extent to research the perfect whisky glass shape, style and size. Nosing now sits under the wider Puck glassware range, and it's a must-have whisky glass design for design and malt connoisseurs.
Tom comments that the Nosing was designed, "in response to a recent project we're working on with Devonshire House. Working with a whisky specialist, the shape of the nosing glass is derived from the traditional nosing copitas used in Scotch and Irish whisky labs and distilleries. The shape of the glass has a tapered mouth which allows the drinker to appreciate the nose and palate of the whisky, and the wide bowl provides a solid base which can be easily held."
Brandy glass
A brandy glass can also often be referred to as a snifter or a short balloon glass. Sink back into a Chesterfield club chair and cup the brandy glass in the palm of your hand. This is why it has been designed in this shape. The shorter stem on the glass (which gives it the distinctive stout stance, often looking a little rotund compared to other tall and svelte glassware styles) has been specifically designed this way so the heat from the palm of your hand keeps the brandy in the glass warm. You're supposed to gently swirl brandy in the brandy glass, awakening the aromas and flavours of the brandy.
Best used in a cosy living room, during a relaxed and intimate evening at home, or, if you're lucky enough, at your members club.
Cocktail glasses
Margarita glass
IKEA has been producing the STORSINT martini glass design for years. It's a forever favourite. That classic angular cone shape has all the "shaken, not stirred" Bond vibes that everyone loves, and priced at £1.50 - yes, I repeat, £1.50 per glass - a set of 6 is a very affordable party piece. It's the distinctive cone shape of the glass 'bowl' that allows that sharp martini taste to spark.
However, don't go thinking that just because they are £1.50 that means they are throw-away. Quite the opposite, IKEA designs such simple everyday pieces so that they are usable and be handed down to the next generation of Martini drinkers, and be cherished forever. The IKEA Raison d'être is to design expertly designed and functioning products at mass market prices, but that will last a lifetime. Isn't that oh-so clever!
Added to this, IKEA are quick to point out that they have designed the STORSINT to have a particularly pleasing "reverberation when toasting", and we'll raise a glass to that.
Hurricane or cocktail glass
The classic cocktail glass? It has to be a hurricane shape. Serve up a multitude of colourful cocktails in the curvy hurricane. We've found a set of classic clear glass hurricanes for the very reasonable price tag of £10. Pina Colada, Singapore Sling and Blue Hawaii - they all look retro served up in this glass style. So, embrace the late 1970s, and why not pitch these up on a tiki-style bar in your living room? Del Boy would be oh-so proud.
Highball
Perfecting the art of some seriously chic highball glass design, New-York based designer Jonathan Adler knows a thing or two about serving a party throwdown. With a mouthwatering range of bar and tabletop glassware to choose from we won't blame you for wanting absolutely everything from Adler's website.
The Stockholm Highball Glass, however, might be the ultimate glass piece from Adler's glassware collection. Why do you need a highball glass in your glassware collection? Quite simply it is the classic do-all cocktail vessel, ideal for serving spirits with a longer (larger quantity) of mixer. A long refreshing vodka tonic, or even a casual gin and tonic, a highball is an ever-acceptable way to serve a refreshing and thirst-quenching refreshment.
"In the age-old battle of cocktail versus mocktail, there's one sipping silhouette that bridges the gap: a highball. I'm partial to our mouth-blown Stockholm glassware, of course. It features two of my favorite colors – blue and blue – and the stackable stepped design allows it to fit perfectly in your hand and your cabinet. They're soulful, saturated, and stylish (if I do say so myself)", says Adler.
Beer glasses
Beer stein
...but not necessarily as you know it. A beer stein is usually the big, clumsy, heavy-weight glass that weighs a ton. It's the ultimate beer drinking glass, and as such, can more often than not be found in traditional pub aesthetics. This style of glass isn't exactly known for being stylish or aesthetically glam, until now that is. Herald the arrival of The Of Kings and Queens Beer Mug is designed by Fustenberg. Designed as a bit of a play on the fact that beer brewing and drinking used to be a sport reserved for royalty, this beer mug is made of fine porcelain, and inside is coated in a metallic gold lustre.
Ok, so this isn't a beer mug that you'll be keen to thrash into other beer mugs when toasting, particularly not with this price tag, but it is arguably the chicest beer mug ever designed - and if you're going to drink beer in the most glamorous way possible then, frankly, you'll want to do it with this.
A little warning. These mugs are to be hand washed only, so, definitely avoid throwing them on a dishwasher cycle.
Liquor glasses
Well, when it comes to making quirky glassware the Italian's arguably do it best. Bringing a serious dose of contemporary Italian design flair to glass design these Maggiolini liquor vessels banish any misconceptions that liquor glasses are just to be kept in a box at the back of a dusty cupboard. These have a distinctly modern and contemporary vibe about them, thanks to the unique splatter effect design captured by Italian designer Massimo Lunardon, and they simply scream to be used and out on display! Our analysis? The perfect dolce vita glassware accessory for that evening liquor.
Coffee glass
Read our best coffee makers guide for advice when it comes to investing in a high-quality machine
Coffee mugs
A set of two classic coffee cups are great to have in the kitchen cupboard for everyday use. Simple clear glass, but with a 'double wall' design for improved heat insulation, are user-friendly glassware items for the whole family to use. Plucked from highstreet favourites Lakeland, these cups are durable, penny-friendly, and contemporary and stylish in design too!
Heat resistant up to 150 degrees, these little coffee glasses are perfect for indoor and outdoor entertaining.
Latte glass
The latte glass has the distinct conical shape with a low-level handle. It's height (it's taller than a standard coffee glass) allows for a milkier coffee - essentially, there's more glass to fill. Sure, you can find fancier latter glasses, but for day-to-day use why not opt for the Glass Latte Mugs from Argos? They're £14 for all four, and are dishwasher and microwave safe. There's really no contest, surely?
Espresso glass
Bijou and incredibly pretty, these little espresso cups are handmade by glass artist Helle Mardahl in her studio in Copenhagen, Denmark. It's an espresso cup, but basically the coolest version we have ever seen. Helle designs her pieces so that every one is like a miniature sculpture, and if your morning coffee is a bit of a religion for you then what a nice way to enhance the experience, by sipping your espresso in a chic, handmade, glass coffee cup. There's a subtle range of similar colours to choose from, so you can either cosset one, or begin collecting a family of Bon Bon Espresso Cups. Tres chic.
Given that these pieces are handmade and delicate, it's advisable to handle these pieces with care and avoid putting them in the dishwasher. If you're looking for something less precious, scroll back up to the previous coffee glass examples from Lakeland and Sainsburys.
Carafe and glass set
A go-to carafe and drinking glass set is key accoutrement for the home and office. Think about it this way, if you're inviting somebody into a meeting in the office, or indeed having an intimate lunch for two at home, a carafe and water glass set avoids using wasteful disposable water cups or novelty office mugs! It's also a lovely accessory to have at home for more intimate lunch gatherings.
Multi-discipline design studio Space Copenhagen have expertly crafted the ideal carafe and coupe set. Co-founder Signe Bindslev Henriksen says, "This is part of the Collect line that we have collaborated with &Tradition to design. Collect is a line of everyday home items that are elevated by thoughtful use of materials, such as this set of Glass and Carafe that explores the inherent properties of glass. Simple and decidedly modern in appearance, the Glass and Carafe pieces boast a subtle whirlpool motif that mirrors the swirling nature of water - perfect for serving water. Nodding to a common feature in Asian design, the glasses include a small lip on their edge that creates a natural place for the lip to rest."
With such thought and time having been put into the aesthetic and tactility, this is a carafe and water glass that's a must for any office or home cupboard.
Red wine glasses
Classic wide bodied red wine glass
Glassware brand Zalto say their standard Bordeaux design is the most popular everyday wine glass, however, if you're pouring a full-bodied Burgundy (a Pinot Noir, perhaps?) then opt for that classic bottom-heavy shaped style.
Why? Charlotte Wright, dining and kitchen buyer for The Conran Shop, notes, "When sourcing the latest red wine glass designs I always look for one with the large bowl shaped design. It has a wider mouth which allows a greater surface area for the Pinot Noir, Nebbiolo, or Barbera red wine to oxidise and evaporate, two processes which improve the often complex flavours that characterise a red wine."
Not sure where to put what? It can become a little confusing, admittedly, when approaching a dinner party table layout for glassware. Seb Bishop, creative director at party-maestro brand Summerill and Bishop (please visit their website to satisfy any queries of how to style and lay the perfect table, says, "It's best to combine a mix of tumblers and highball glasses with your traditional stemmed glassware for the most inviting, elegant table. As a general rule, pop your white wine glass on the far left, followed by a red wine glass and then a tumbler for water. Voila, you're ready to party."
Standard red wine glass
Looking for more of a 'one glass suits all' approach from a red wine vessel? The wide bodied glass (above) is certainly the favoured choice by sommeliers for the Pinot Noir and Barbera categories, but what if you only have space for a set of straightforward red wine glasses which can be used for any red grape?
Lalique, the esteemed glassware brand who have a long-standing history producing outstanding glassware, have worked tirelessly to curate a range of glassware which can be bought, used daily, looked after with minimal hassle, and handed down through the generations. International wine critic James Suckling who collaborated with Lalique on the 100 Points collection, says, "It's one glass for any wine whether it's a fine first growth Bordeaux or a hearty nero d'avola from Sicily" says James Suckling, "I have tried it with just about everything. It works, and it makes life easy". Lalique Managing Director Frederick Fischer says that it's "the velvet frosted ribbed texture on the stem" of the glass which really makes this a tactile red wine glass to own.
White wine glasses
Classic white wine glass
Umut Sinan Karaca, the designer of the Stem Zero range for Nude, says, 'boasting an elegant, oval silhouette and compact bowl, the perfect white wine glass has to be designed for light-bodied wines such as Sauvignon Blanc and Riesling."
It's all in the narrower design and shape of the classic white wine glass, as Umut comments, `the narrow rim of the Delicate White Wine Glass directs white wine towards the tip of the tongue, enhancing those fruity white wine notes whilst balancing out the grapes natural acidity."
Keep it chill. Umut notes that in order to maintain the correct cool temperature, "Holding the glass by its stem ensures the flavour and temperature of the wine remains unchanged by heat from your hand, this is especially important when it comes to delicate whites." Good to know. Additionally, Umut advises that you must always store your wine glasses upright, in order to avoid any breakages or cracks to the rim of the glass. "Purchasing a wine rack is a really useful way of keeping heavier wine and alcohol bottles away from the more delicate glassware", he says.
Champagne glasses
Champagne coupe
Cut a dash with leading London-based designer Lee Broom's update on the classic champagne coupe. Designed in Shoreditch,London's hip East End design quarter, Lee Broom says that, "Originally, the Half Cut Champagne Coupes were made with antique decanter stoppers left over from all the vintage decanters I had been collecting."
However, having that initial batch proved hugely popular, and the aptly named Half Cut Champagne Coupe range is now made from scratch using hand blown and hand cut glass, in order to keep up with the demand.
"I actually store my Half Cut Champagne Coupes in the freezer! So that I can have them ice cold ready for a martini. However, it is not recommended to chill crystal to such temperatures. What I particularly like about them is their versatility in that they can be used for champagne or cocktails. They are striking pieces and they look great on show in a display case or bar cart", says dinner party maestro Lee.
Top maintenance tip for these somewhat special little coupes: clean them carefully with warm water, and dry them with a glass cleaning cloth. Do not use any remotely abrasive clothes or cleaning materials.
Champagne flute
Want your bubbles to be in their best form? If you're looking to maximise the flavour then it's all about the narrow flute shape. That elegant and classic glassware contender has to be one of the most iconic glassware styles available, and it's for good reason too.
John Lewis tabletop buyer Charlie Murray says that when it comes to the classic champagne flute it's all about "allowing the bubbles and aromas to develop fully thanks to the narrow shape of the glass". "The elegant and classic flute shape is favoured by top sommeliers" she says. "Authentis is made in Germany. These flutes are crystal, but they're dishwasher safe and therefore very easy to clean", notes Murray.
---
Where to buy the best glassware?
High street favourites such as John Lewis and Heal's have excellent selections on clear stem glassware ranges, often offering 'one stop shop' appeal for both classic and modern design styles, and boasting great levels of quality too. Next and H&M are great for everyday glassware items, and Marks and Spencer forever delivers reliable, usable glassware pieces that suit everyday family life.
Hop to Zara Home if you're looking for a wide range of glassware that's fun and funky (Zara regularly change their glassware stock by season, and put on a display of colourful, quirky glassware to adorn your tabletop at home!).
If you're looking for contemporary, scandi-style, chic and affordable, check out the relatively-newly arrived Arket homeware offering. They approach their glassware with a sleek designer touch, and it has a very upmarket aesthetic at a reasonable highstreet price tag.
Fancy yourself as an upmarket glassware kinda girl or guy? Matches Fashion caters for customers seeking unusual, hand-crafted or hand blown drinking glasses. Yes, they do homeware too, and - digitally - house a selection of really fabulous glassware; champagne coupes from La DoubleJ and murano tumblers from Campbell-Rey. Quite delectable bits of homeware design.
Vintage glassware and crystal
Of course, purchasing vintage or antique glassware is the most sustainable form of purchasing glasses. Where should you look? Columbia Road, London, is best known for its Sunday flower market, but few are aware of Glitterati @gliteratti_treasures. Having been in the glassware industry for decades, the long-term owners have consistently changing stock, sourcing vintage glass and crystalware from all over the world. Top tip: if you see something you like then snap it up quickly, remember this is the antique and vintage market, so most of the glassware you see is rare or unrepeatable! From Edwardian stemmed champagne coupes, to 1970s highballs, Glitterati is a must for those seeking rarity.
There's also a buoyant online presence of vintage and antique glass and crystal, for those that might want to shop online and from the comfort of their own home. Try websites such as Ebay, Etsy and Vinterior if you're in the mood for a bit of bargain hunting and bidding.
If you would prefer to buy new crystal glassware then this is also possible. Try Dartington, Royal Worcester, and Waterford.
---
Essential glassware cleaning and storage tips
Shoreditch-based designer Lee Broom warns that - particularly when it comes to crystal glasses - it's best to clean them with warm water, and dry them with a glass cleaning cloth. They specifically warn to avoid using any remotely abrasive clothes or cleaning materials. Why? Because certain cleaning products can actually dull your crystal and glassware. Instead it's best to wash them with warm water and, if necessary, a weaker strength washing liquid.
Likewise, for storage purposes, we would heed the advice of Umut Sinan Karaca, the designer of the fabulous Stem Zero glassware collection for Nude. Umut advises to store glassware in an upright position, to avoid the rim of the glass picking up unwanted small chips, cracks or breakages. It does make sense.
Want to avoid glassware becoming dusty when on display? Well, unfortunately, glassware does get dusty if left out, however introducing a glassware cabinet might be a wise idea to keep cleaning efforts to a minimum?
There's lots of cabinet styles to choose from; from the distinctly traditional to the confidently futuristic and bold, however we rather like this Ferm Living Haze Vitrine with Reeded Glass design. It's relatively compact, it's beautifully slender and svelte, and we bet it would look equally good in a Victorian alcove as it would in a modern, open-plan apartment. Available in neutral Cashmere or the distinctly architectural Black colour choice, it's this eye-catching Poppy Red hue which we're smitten over. Powder coated and with reeded glass, it feels distinctly modern, and opening those fine doors to unveil a clear view of the glassware inside will add a little theatrical drama to your evening soiree.
---
Designing a home bar
If you are considering setting up a home bar then consider these helpful design tips.
Jack Pannell, director of architecture firm Common Ground Workshop, has recently designed and delivered a fully specified cocktail bar for a commercial client in Battersea's Nine Elms development. "The key to designing a successful cocktail bar, whether it's high-end professional setup or if you're simply designing it for fun at home, is to first and foremost make it theatrical! Mood lighting like LED uplights (shown above, lighting up the alcohol bottles in full-colour glory) can be built into a home bar, and setting the perfect bar and stool height, the choice of materials and product placement within easy reach of the mixology station, all of these factors are fundamental design considerations that serve to enhance participation and achieve the perfect bar experience.''
There's also the option to have more of a mobile bar. An old fashioned drinks trolley with all your finest champagne coupes and highballs displayed on the top tier. Our advice would be to look for something with wheels so you can zoom around from room to room at home, dishing out those liquid treats. We love the Art Nouveau lines on this chic four-wheeled number from Rockett St George. Call off the bar cart search, this curvaceous steed is perfect for all your lovely new glassware to ride into the room on?
Co-founder Jane Rockett says, "Home bar's are a fantastic little design cue for your home. It says party, fun, and frivolity. Exactly what everyone wants to see when they arrive at your home for an evening party. Style your home bar anywhere from the kitchen to the living room, or even outside when entertaining. Don't be afraid to add quirky ornaments, plants, books, and even treasured mementos to your display. It's the perfect place to show off any vintage or glamorous cut-glass designs that would usually be hidden away in your cupboards. From champagne coupe glasses to tumblers, highballs, and everything in between, your collection deserves to be displayed! Stack in odd numbers and use varying heights by mixing your display with cocktail shakers, jugs, and carafes for a ready-to-party look."
---
Finishing touches
Ok, these aren't for drinking out of, but to fully accessorize a dinner party table you might want to consider a couple of extra glassware vessel accessories to complete the look…
The tabletop tealight holder
The Cotswold Company really embodies that distinct aesthetic, capturing the essence of a lovely, relaxed, outdoor dining scenario with their bucolic glassware range. It's all about the post-work feeling of contentment that comes during dusk hours: think alfresco evening drinks with family and close friends, with some twinkling candlelight or festoon lighting, and voila! That's the desired aesthetic.
A bon bon or truffle coupe
What?! We hear you cry. Yes, this is a thing, and we kind of love it. A specially designed fine-stemmed pedestal glass dish with a very low side profile edge. It's a sort of fancy glass-dish blend. The Champagne Theatre Pedestal Dish has been designed by LSA to be the ultimate in decadent glassware for the centre of a party tabletop. Adorn with truffle - or might we suggest a petite bon-bon for those with a particularly sweet tooth? - and revel in your guests' amusement that such a glassware item exists. Très bon-bon sweetie!
The pitcher
A cocktail or water pitcher is a useful piece of glassware to have to hand, and nothing is as fun as a quirky squirrel design where the tail is actually the handle! Beautifully crafted by glassware maestro's Ichedorf Milano, the hand blown Animal Farm Pitcher design makes for an interesting and fun addition to your glassware cupboard. It's a bit of a fun take on traditional - colourful! - Murano glassware. We can just imagine serving Pimms out of this funky jug during the summer months, or indeed a dark and moody rum cocktail mix in the depths of winter. Yum yum.
On a practical note, a pitcher needs to be cavernous and good at pouring, but that certainly doesn't mean it needs to be boring. We love that these are so well made and beautifully crafted too, which is why we think this pitcher design is the perfect balance in pitcher design. Have it on display or squirrel it away, it's a fun thing to pull out for a party, whatever the weather!
The Livingetc newsletter is your shortcut to the now and the next in home design. Subscribe today to receive a stunning free 200-page book of the best homes from around the world.
Rory Alastair Robertson has a long-standing history working across the interiors industry. Raised in Morningside, Edinburgh, Rory grew up surrounded by classically grand Scottish Georgian and Victorian architecture.
His first appreciation for interior decoration sparked when his mother hired scaffolding and decorated their three-storey Victorian staircase in Farrow & Ball Picture Gallery Red, by herself. She then painstakingly gold leafed the drawing room - by hand - over a base coat of Sudbury Yellow. This was the era of Jocasta Innes and Kenneth Turner, when paint techniques and maximalist style were the decorating raison d'être.
With this inherited gene of creativity, Rory went on to study Interior Architecture at the University of Edinburgh, and later, Theatre Set Design and Architectural Illustration at The Rhode Island School of Design on America's East Coast.
Rory's foray with the editorial world started a decade ago at Livingetc magazine, a title which he regularly contributes to today. Specialising with a deep-seated appreciation for historical homes and interiors, Rory often travels far and wide to be inspired by unique properties with a fascinating history.
If he's not uncovering an unusual National Trust property in the UK, then he's seeking out a Neo-Classical clifftop villa in Capri or a Palazzo in Florence.
Based in London's Shoreditch, working as a Senior Interiors Editor and Consultant, Rory's portfolio of work is a creative melting pot of residential and commercial interior design projects and a plethora of editorial writing work. Rory is also Guest Interiors Lecturer at the prestigious KLC School of Interior Design in Chelsea, London. His most cosseted possession is a ramshackle Citroen Deux Chevaux, which he has reupholstered in Pierre Frey yellow and turquoise silk fabric.
Discover more at roryrobertson.co.uk and @rory_stylist.