This mini-trend is the easiest way to elevate your living room - here are 8 ways to add a luxe feel, fast
Designers love using bar carts to create fun and fabulous spaces, but there are some little tricks to make them even more glamorous. Experts explain the secrets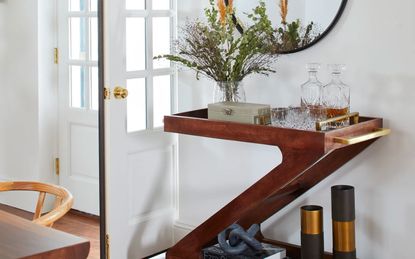 (Image credit: Kathy Kuo Home)
The Livingetc Newsletter
For style leaders and design lovers.
Thank you for signing up to LivingEtc. You will receive a verification email shortly.
There was a problem. Please refresh the page and try again.
A bar cart is a luxury addition that brings a feeling of glamor and sophistication to your home. As well as sitting pretty, your own mini bar represents a moment of relaxation in the home, and can work as a smart design device to bring life to a bare wall or unused corner, creating a focal point and design destination.
As with any spare surface in the home, we encourage you to use this space to get creative, putting together an elegant vignette that speaks to your style, using a combination of functional and decorative objects. 'I love a story behind the bar,' says Gianpiero Gaglione of Gianpiero Gaglione Interior Design. 'So collected items from your travels, adventures, or old friends are most welcome.'
To help you style your bar cart to perfection, we've spoken to the designers for some top bar cart decor tips to try out in your living room.
1. Pick the perfect cart for your space
First up, think about the bar cart you have and whether it works for the wider room and style of your home. Go for the classic drinks trolly look with wheels for something a little kitsch, try a gleaming gold cart for an Art Deco twist, or for minimalist living room, wood can work wonders.
Alternatively, upgrade to something more permanent, with doors for concealed storage. 'Choose from open vs. closed approach,' says Kristin Bartone, creative director and principal designer of Bartone Interiors. 'Open could be an open shelving cart or even a tray placed on a console, whereas the closed option could be a freestanding piece of furniture that has doors that open to reveal the bar area.'
'Personally, I like the freestanding furniture pieces,' says Annie Obermann from Forge & Bow. 'I love the detailing that a nice credenza adds to the space.'
2. Use your favorite bottles as decor
From colored or intricately carved liquor bottles to aesthetically pleasing labels, you can use your bottles as decor in itself - even when you've drank the contents.
Just be picky, warns Gianpiero Gaglione of Gianpiero Gaglione Interior Design. 'I think being selfish is key. You'll want to leave some room for pretty bottles, but for me, there's nothing worse than a full bar filled with obscure liquors no one cares to drink.
'Make a feature of your favorite drink. One of my clients is very into tequila, so we displayed a wide assortment of tequilas front and center. It not only works as a commanding talking point, but it also gets a lot of use,' says Gianpiero.
3. Play with height and scale
When it comes to filling the space with decor, play around with shapes and height, just how you would with your coffee table design or console table decor. 'Levels are your design eye's friend,' says designer Emily Henderson. This is the golden rule to creating any vignette, and applies to the bar cart too.
'This bar cart (above) was styled as part of a beautiful dining room makeover in a renovated modern farmhouse project,' says Kathy Kuo of Kathy Kuo Home. 'The client wanted every styled vignette to feel sophisticated and welcoming and I think the way we arranged all the elements on this bar cart reflects that.
'The top shelf is all about function so we have everything you need to make your favorite cocktail. We have a decanter, chic glassware, and a box to house things like swizzle sticks and garnishes.
'On the bottom shelf we added decorative touches to reflect the client's personality so coffee table books and a fun sculptural object.'
Emily also has a foolproof formula to follow. 'On the top shelf, on one side we go for something tall and sculptural, in the middle we put our bar tools and on the other side, because we want to create levels, we add liquor bottles.
'On the bottom shelf, on one side we put tall or specialty liquor bottles. In the middle we place a tray (it's like the rug of the bar cart) with extra glassware on top with something like a candle, and on the other side a fun tall sculptural piece.'
4. Give your bar cart a stylish background
Emphasize the zone by giving your bar cart a background on the wall. From mirrors to wallpaper or bold living room wall art, this is a space to have fun.
'We like to add a bold pop of color or a specialty wall treatment, whether that's paneling or wallpaper,' says Ginger Curtis, president of Urbanology Designs. 'We like to layer that with artwork or a tapestry to make it feel like it's part of the living space.'
'I love including a big mirror over the mini bar that adds an infinity effect to the surface,' adds Annie Obermann of the design house, Forge & Bow.
5. Don't forget to display fresh ingredients
Let ingredients like fresh lemons, limes, rosemary, cinnamon sticks and pomegranates be your decor - anything that you might put in a cocktail can help recreate the feeling of a real bar.
'Fresh is always best,' says Kristin. 'Add a rosemary plant, a mini herb garden, oranges with cloves, and other fresh fruits that add color and are edible and functional for the space. This is a sustainable approach by using edible decor, whatever doesn't get used can be juiced or composted the next day.'
Soil type: Dry, well-drained soil
Moisture needs: Moderate watering
Price: $31.99
6. Bring some greenery to the space
To help you bring height and scale, always remember to add a botanical element to the space. A bud vase for a single stem flower might work well on a small cart, or a larger jug with a bouquet can feel summery and playful.
Otherwise, a trailing plant that dangles down your bar cart will look dramatic. Try silver pothos or devil's ivy for something that's super easy to look after.
A tall plant placed next to your cart on the floor can add height and sculpture too - the best indoor tree for me is is always a fiddle leaf fig or classic monstera, but this silvery-toned cactus works with the palette of this space by Chango & Co.
7. Show off your finest glassware
Use your bar cart as an opportunity to show off your favorite glassware, or even antique heirlooms. 'We incorporated this bar cart (above) as a means to showcase our client's treasured family heirlooms and created a beautiful coffee and tea station vignette,' says Regan Baker, founder and principal designer at Regan Baker Design.
'Our client had so many beautiful antiques that had been passed down from his family and we were passionate about finding the perfect place for them within the home.'

A bar is also a great place to add artisan homewares that you want to showcase. 'A specific example of artisan items can be handmade bowls and appetizer plates, crystal champagne glasses, a unique sculptural moment, or a vintage decanter. Incorporate things that would naturally be in a bar that have stories behind them or are handmade by an artisan,' says Ginger.
Don't forget that all-important cocktail mixing set. Nothing gives you cocktail credentials quite like a shaker with the added accoutrements.
8. Light the space
Finally, as with all spaces, statement lighting is key to bringing it to life. Bring that cocktail bar glow to the space with a couple of tealights or taper candles in candle holders.
The beauty of a bar cart is that you can move it around so it's not necessarily a permanent fixture, but if you are dedicated to your new bar cart spot, why not light the space with a plug-in sconces or wall lights that shine light downwards, bouncing off all that beautiful glassware. Keep the lighting low and avoid anything too bright. 'Low-dimmed LEDs can really set the mood of your bar cart space,' says Gianpiero.
$329
Colors: Butterscotch, black, shell white, lichen
Material: Brass
Price: $329
For style leaders and design lovers.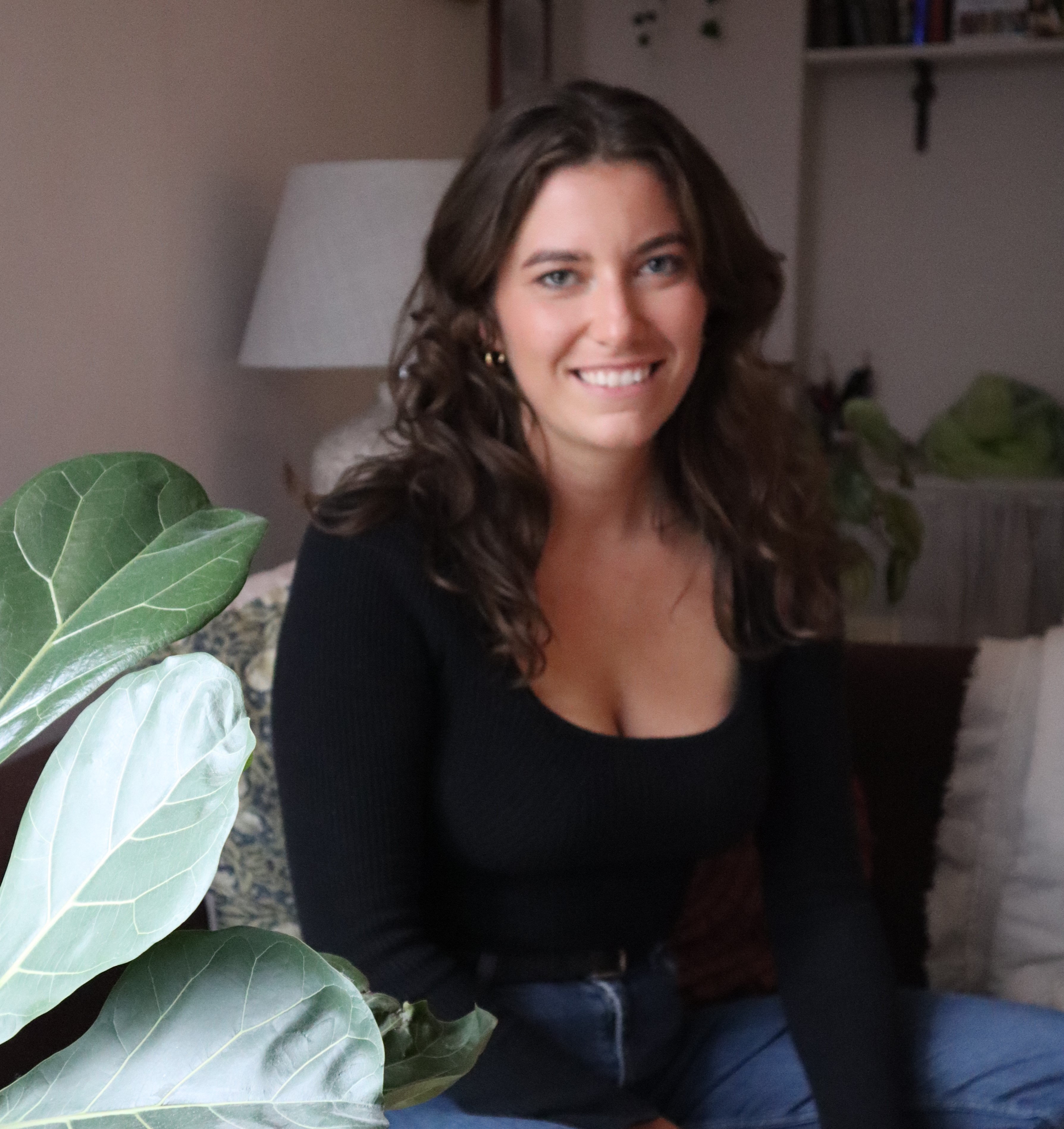 Livingetc content editor and design expert
Oonagh is a content editor at Livingetc.com. Previously, she worked on a London property title, producing long-read interiors features, style pages and conducting interviews with a range of famous faces from the UK interiors scene, from Kit Kemp to Robert Kime. In doing so, she has developed a keen interest in London's historical architecture and the city's distinct tastemakers paving the way in the world of interiors.