Shopping Edit: 10 coffee station buys you'll want to display on your worktop
Create a coffee station in your kitchen and take a look at these must-haves. To store and display everything from your pods and grounds to utensils – all in style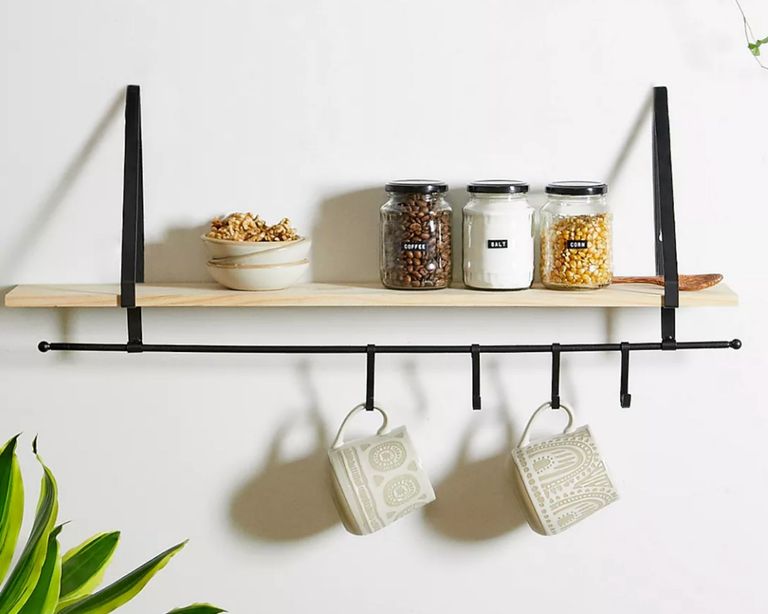 (Image credit: Urban Outfitters)
By Annie Collyer published
Can't function without your morning brew? You need to create a coffee station on your kitchen worktop! Why? This is the only way to conveniently – and stylishly – store and display your coffee, as well as the copious amount of accessories that come with craving a fancy brew. Not to mention that having a coffee station will transform the way you make your coffee in the AM (or PM) as having everything you need, from mugs to pods and syrups, all in arm's reach really is a no-brainer. Especially when it comes to sleepy mornings.
Our Shopping Editor has been searching for coffee station must-haves to deck your kitchen out in style. Peruse our favourite finds, whether for style practicality purposes – or both! – below. Think glass straws for your iced coffee, pod storage, fancy mugs and more. For enjoying anything from a chai latte to an iced americano and of course, we can't forget about the classic espresso.
Yet to invest in your own coffee machine? Head to our best coffee makers buying guide for our top recommendations.
10 coffee station buys you'll want to display on your worktop
1. First up: something to pop your machine atop
Homiu Chopping Board White Marble
The first thing you will need to consider, after a coffee machine if you are yet to invest in one, is where your coffee station will live in your kitchen. Then, you need to choose something for your machine to sit atop. We say some sort of chopping board like this marble one. It measures 40cm by 30cm and it's easy to wipe clean, while it comes in black marble, too.
2. What about some mug storage?
Samuel Iron & Wood Hook Wall Shelf
Storing your mugs somewhere close to your coffee could be a smart idea, especially for those mornings when your snooze button has taken a hit. This wall shelf doubles as both a shelf and mug storage, with hooks underneath and space on top for canisters, syrups and... more mugs?
3. Buy some glass straws for iced coffee
MIXIAO Glass Drinking Straws
Iced coffee lover? These glass straws can turn an average iced latte into a fancy affair. They come in a pack of six with a cleaner included in the box, while they can also be used for sipping OJ, enjoying Pimms and more. Put them on display – they're a little too nice to hide away.
4. A utensil pot for your new straws
RETREAT Sand Curve Utensil Pot
Buy a utensil pot that matches your kitchen decor to hold everything from your straws to your spoons and stirrers, in style. Place this pot beside your machine or near to your syrups for easy access.
5. Buy some syrup pumps to make the bottles look fancy
MONIN 10 ml pump
Spruce up your Monin coffee syrups with these matching pumps – each press gives a 10ml serving into your cup. An easy way to dispense syrup as oppose to inevitably pouring too much in, and it turns an ordinary bottle into something quite fancy. You can also buy the bottles of syrup with the pumps at Amazon.
6. What about some pod storage?
Nespresso Versilo dispenser
If you have a pod machine and need somewhere to store said capsules, then this transparent dispenser can hold 40 at any one time. It would tuck in nicely next to a machine, while having your pods in easy reach will prove to be handy. Simple yet very effective, it will also add a pop of colour to your coffee station depending on the colour of your pods.
7. Pick some storage jars for ground coffee, sugar...
BESTonZON Glass Jar
Use this glass jar – with its wood ball lid – to store anything from sugar to ground coffee in style. Display it on your worktop or on a shelf, and pop a coffee spoon right next to it. These jars come in three sizes, this is the medium one.
8. Treat yourself to some glass mugs
Giftgarden Drinking Glasses
Drinking your coffee – and serving your coffee – from a glass mug will make all of the difference. When in use and when on display in your kitchen, that is. These glass mugs look way more expensive than their price tag, and they have a handle for easy carrying and holding. They have a 500ml capacity and they are great for drinking juice, water and more, too.
9.Buy a coffee spoon for easy scooping
Zeare Coffee Measuring Spoon
Place this coffee spoon next to your ground coffee for an even scoop each and every time. It has a long handle so you can reach into the bottom of bags or jars with ease, and it has a 20ml capacity. Not just that, but it comes in three finishes – silver, gold or rose gold. Practical and stylish.
10. Don't forget new mugs!
Mateus Bubbles mug
We are obsessed with these bubble mugs from Nordic Nest – made by Mateus. They come in lots of colourways and they are so lovely to hold, not to mention they make your coffee instantly Instagrammable. We think they would look incredible on display by your coffee station. Unique is a word that springs to mind, and one that your guests will definitely use when you serve them a brew in one of these.
Annie is the Deputy Ecommerce Editor at Livingetc, with the majority of her time spent advising you on what to buy for your home – whatever the season, or the latest trend. Whether that be a design classic floor lamp for your cinema room, a comfortable new chair for your home office, or a high-quality exercise bike for your home gym. Otherwise, you can find her forever painting the walls and reorganising the furniture inside her modern London flat, or going on long walks with her pug.